Did you know that the average person spends 90% of their time indoors, both at home and at work?
A few years ago, this might have been an unbelievable statistic. But since COVID-19, we've become all too aware of our indoor restrictions and access to natural environments.
Serenity now!
While biophilic design has been around for years, it's quickly rising in popularity since the pandemic, focusing on incorporating natural elements in architecture and home building with the goal of enhancing our overall well-being. 
Continue reading about this important design trend that dominated in 2022 and is increasingly featured in multi-million dollar mansions and everyday homes alike.
What is biophilic design? Definition and core traits
The word biophilia is defined as a love of nature. And biophilic design reflects just that. It is the use of natural resources to create a sense of balance between modern architecture and the natural world.
Biophilic design brings the serenity of the outdoors inside by using natural elements such as indoor plants, fountains, terraces, gardens, aspects of water, and mountain views.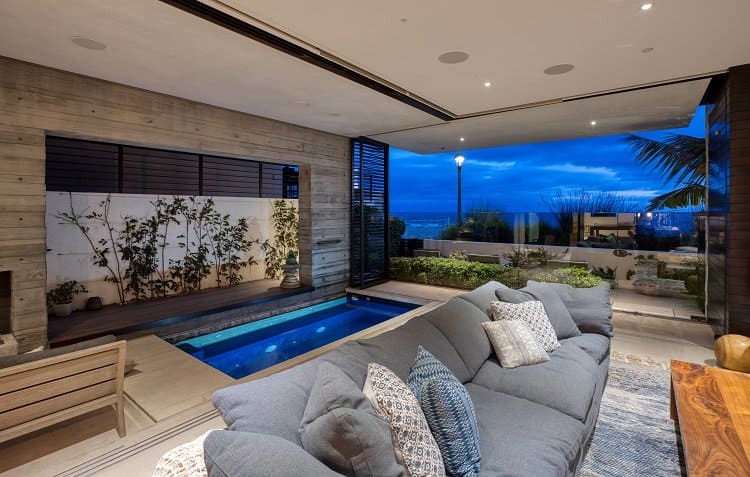 "Biophilic design is a movement today, not a trend," celebrated designer Clodagh who has worked on biophilic-focused projects for the last two decades, shares with Architectural Digest.
Biophilic design uses nature throughout a building, fulfilling our innate need to connect to nature.
And since most of us neglect the need for nature 90% of the time, biophilic design provides those elements to enhance our overall well-being.
Experts say that COVID-19 has awoken our senses to this neglectful behavior.
"People have woken up and realized that being surrounded by nature can have a positive impact on their mental and physical health and boost their mood," Clodagh says.
"You should be able to touch plants and flowers, hear the gurgling of water, and be looking at something beautiful."
And the stats are in! Research reveals that biophilic design leads to improved overall health.
According to Build with Rise, experts observed a 37% improvement in mental health from audible stimuli such as sounds of nature versus common urban noise after stressor exposure.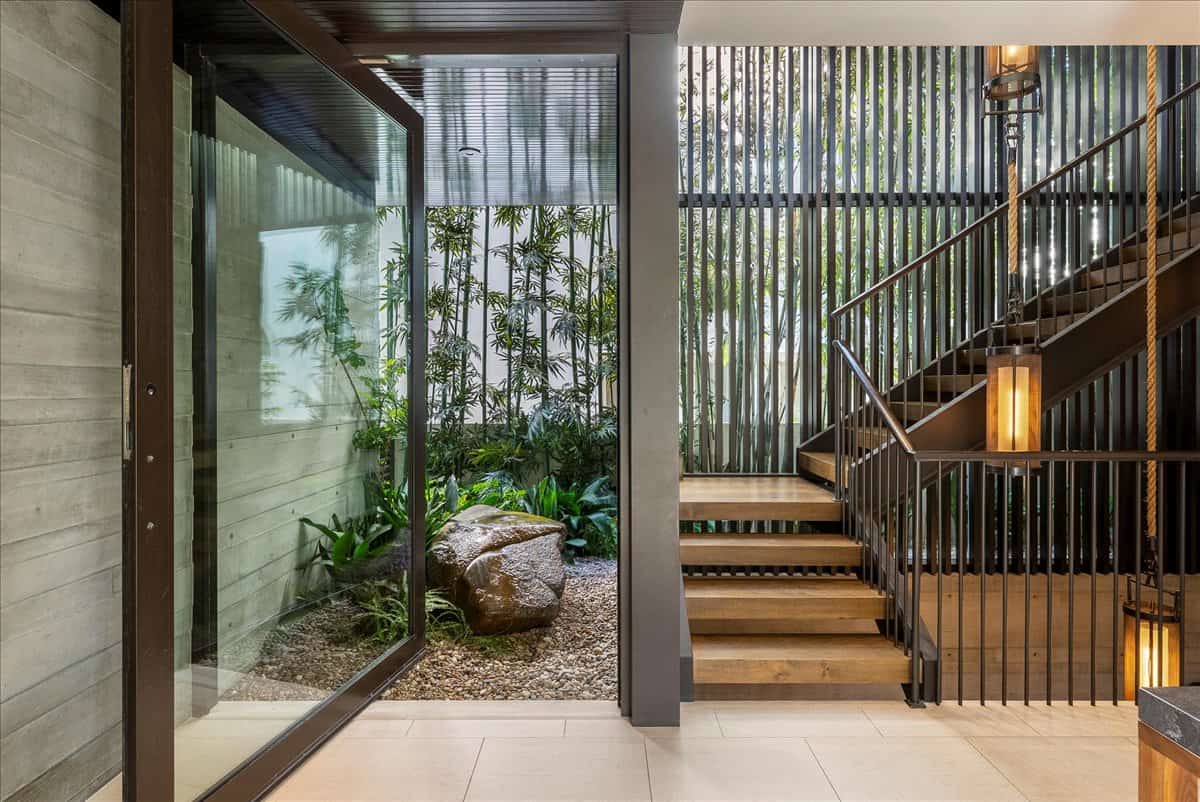 And in another study, adding plants in interior spaces reduced stress and increased pain tolerance.
Bringing biophilic design into any space
Whether your home boasts thousands of square feet or fits a more humble budget, elements of biophilic design can be added to any indoor space.
Following are three ideas for biophilic designs that anyone can incorporate indoors.
1. Visually connect with nature
One of the most critical components of biophilic design is the visual connection to nature. And while most front windows of a home look toward traffic on the street, it's important to make a conscious connection with the natural landscapes from all of the windows in your home.
2. Connect with touch as well
Nature is experienced not only by sight, but also by touch. Be mindful of the materials and fabrics you use in your home. For example, using wood, bamboo or cork flooring as opposed to carpet can help with feeling connected to nature.
3. Integrate water wherever possible
One of the most fundamental elements of the natural world is water. Incorporating moving water inside your home through fountains, sprays or other innovative features is an easy way to embrace this key component of biophilic design.
Examples: Biophilic design done right
While elements of biophilic design can be achieved on any budget, we're taking a look at some million-dollar homes that have been built on the principles set forth by biophilic design.
A Manhattan condo building with self-irrigated balcony gardens
A newly built residential building in New York stands out as a striking example of biophilic design.
The Manhattan mid-rise called Flatiron House was designed — both inside and out — by COOKFOX Architects, a leader in biophilic design, in collaboration with Anbau Development.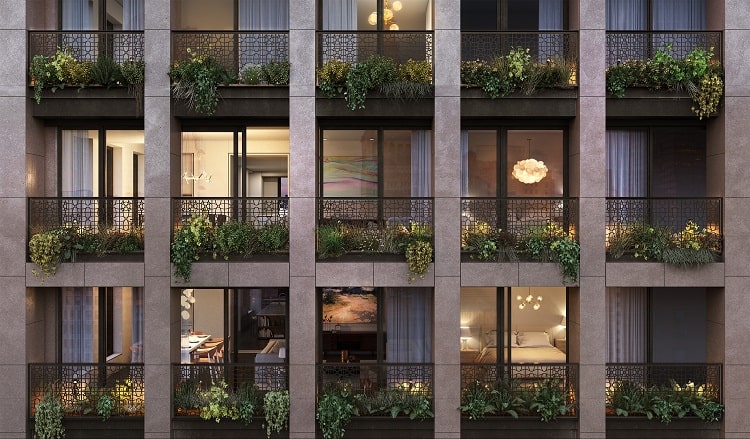 Drawing upon the aesthetic of its landmarked neighbors through a distinctly contemporary lens, Flatiron House consists of two residential buildings connected by a central garden.
With planted and irrigated Juliet balconies in all of its residences, a lush central garden, and a distinct focus on biophilic design, the condo development aims at bridging the gap between luxury city living and a much-needed connection to nature.
Bringing the outside in with its self-irrigating balcony gardens, the luxury condos inside the Flatiron House prioritize wellbeing and a connection to nature. We've written extensively about them here.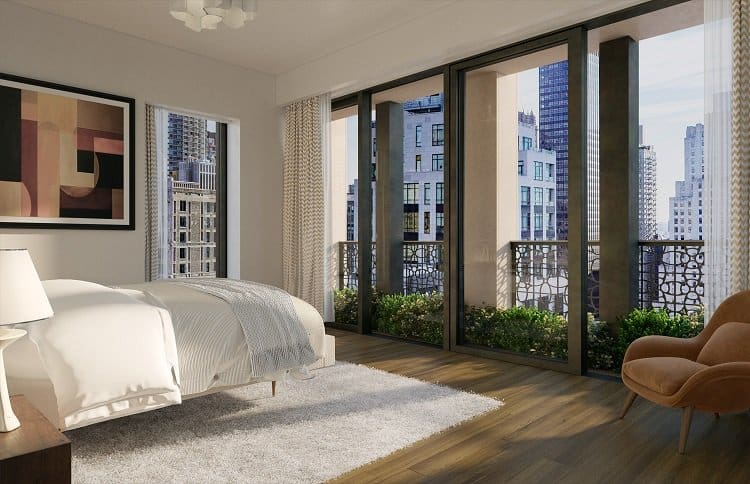 A mid-century modern 'Treehouse' that incorporates sycamores and native oaks in its design
While the property itself was built well before this design trend was born, this midcentury modern abode set in the tree-lined Rustic Canyon neighborhood of Pacific Palisades in Los Angeles takes the principles of biophilic design to another level.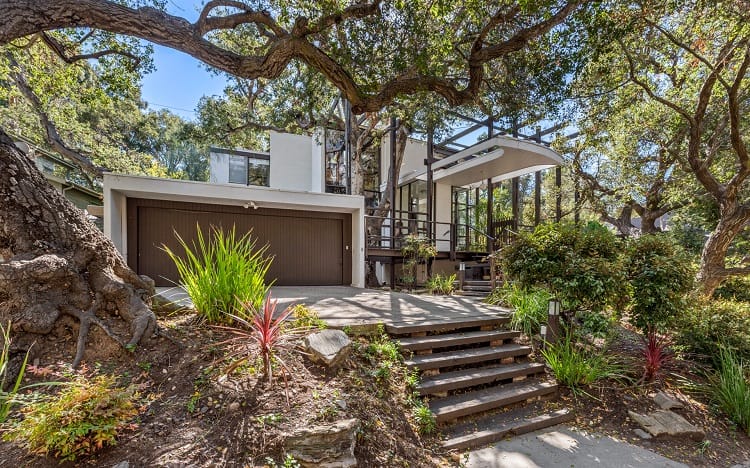 Envisioned by lauded architect David Hyun, the 'Modern Tree House' takes things a step further by integrating the magnificent native Oaks and the giant Sycamore which graced the site into the home's design.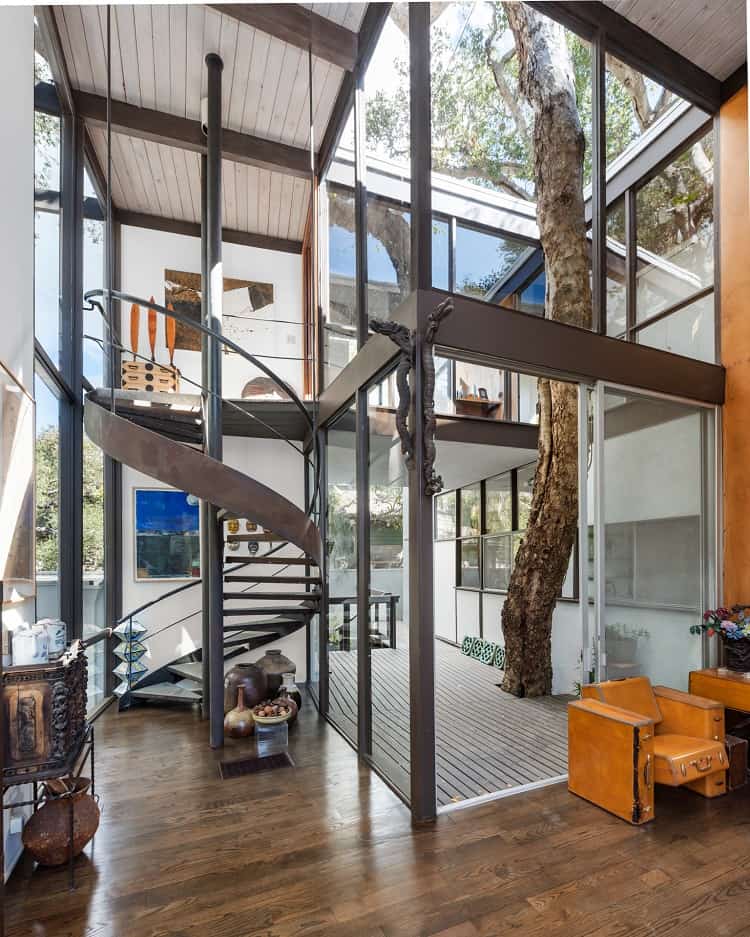 The residence is anchored by a dramatic two-story-tall living and dining area with massive glass windows, further establishing the home's connection to nature — and the elements.
With natural light pouring in from four directions, there's "a constantly changing play of light throughout the day and a variety of subtle moods in the room as the light gradually lessens or weather changes."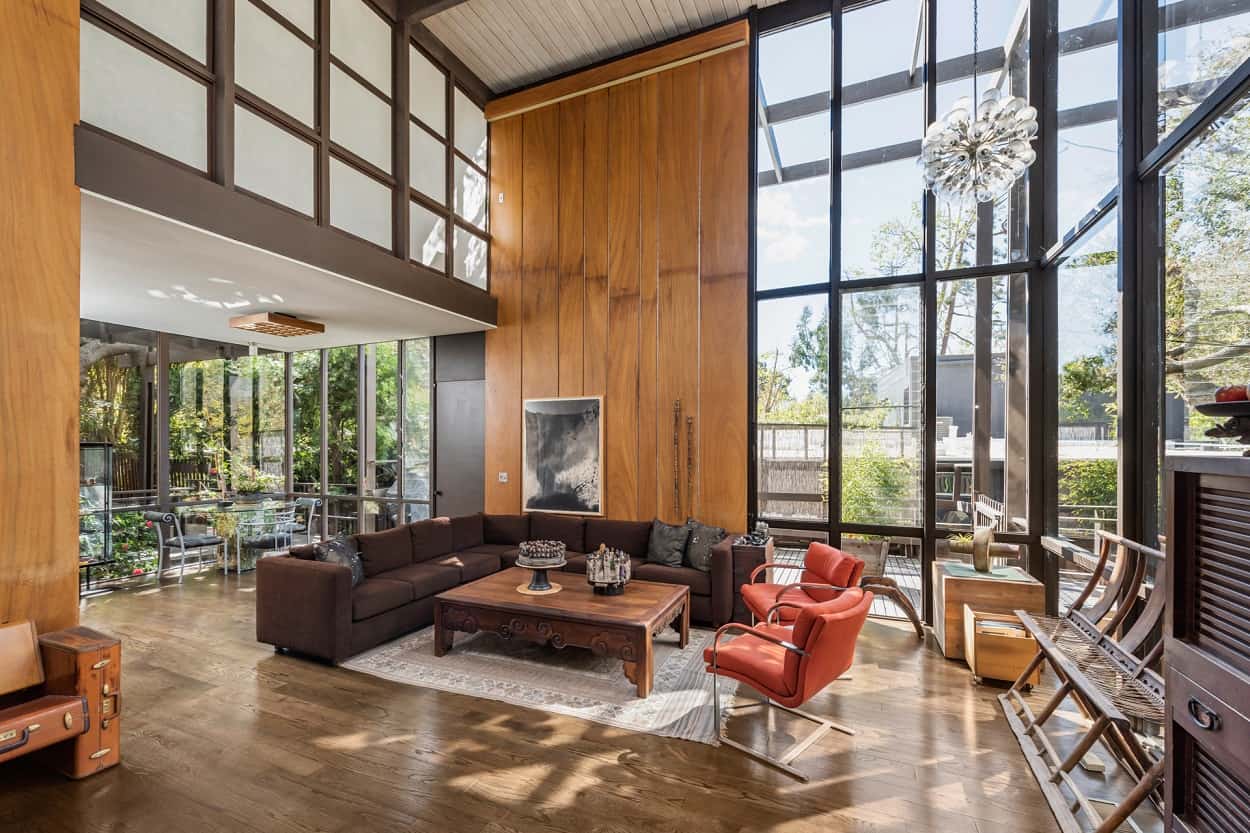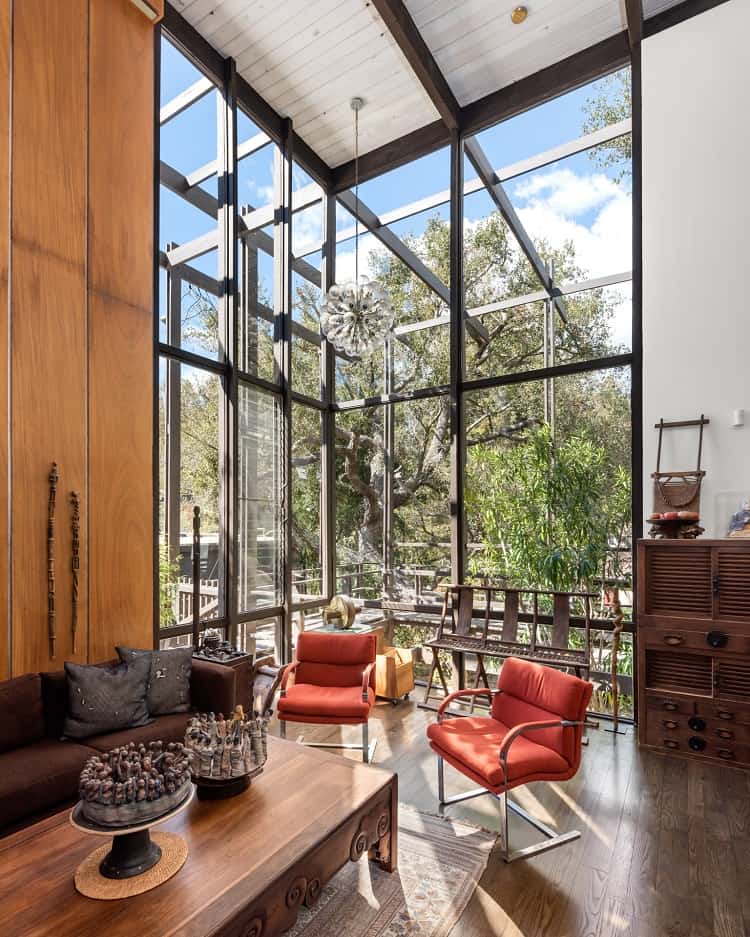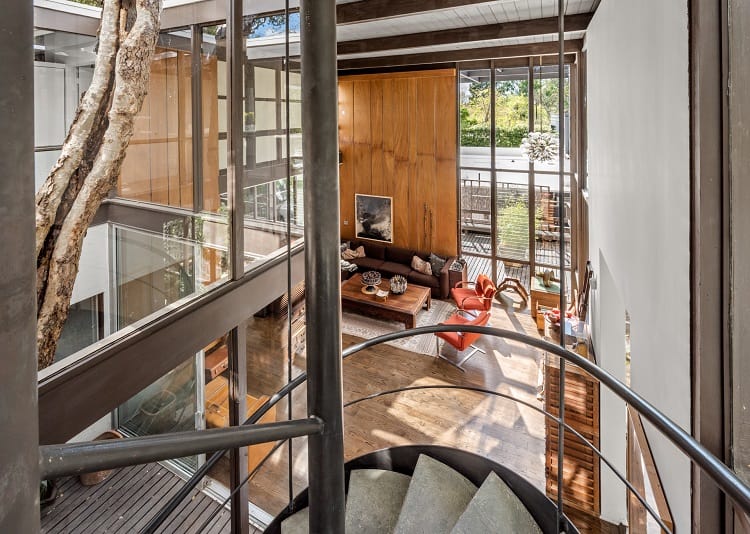 Tour the rest of this spectacular home here.
A striking modern desert home that builds on its surroundings
Sitting on a 0.56-acre lot in Desert Palisades, touted as the last hillside enclave in Palm Springs, the unique property known as the Woods House is deeply connected to its environment.
Making the most of its unique setting, "the house sits gently on its sloping site, anchored to the hill by the garage on the mountain-facing side yet floating above the land on the side that faces the valley," AD reports.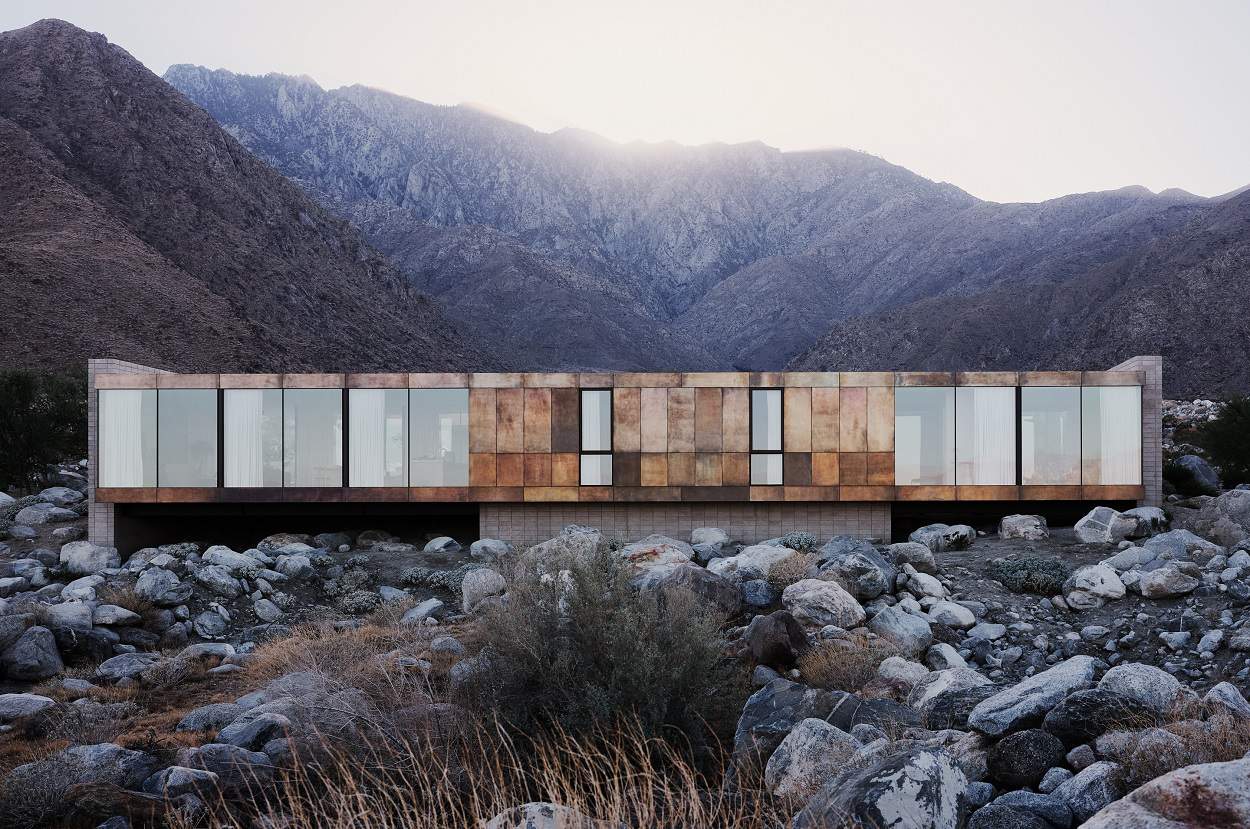 The home's design employs some of the best features of desert modernism — an aesthetic that embraces the desert environment — and uses low, sleek lines that make buildings blend in with the scenery, while featuring open interiors that keep that airy desert feeling.
But it also incorporates a great deal of biophilic design principles, with natural elements standing at the core of its design.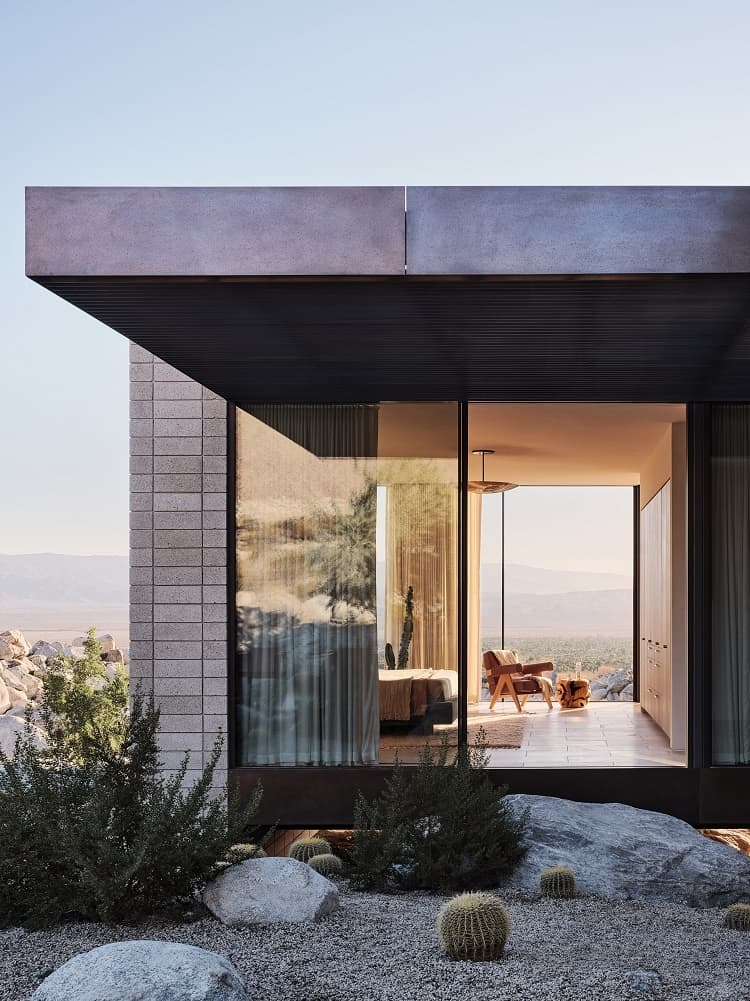 It was even elevated so as not to disrupt the arroyos that run underneath it — and that have been on the site for thousands of years.
A glass-enclosed bridge connects two wings of the home and creates a central atrium that can be viewed from nearly every room.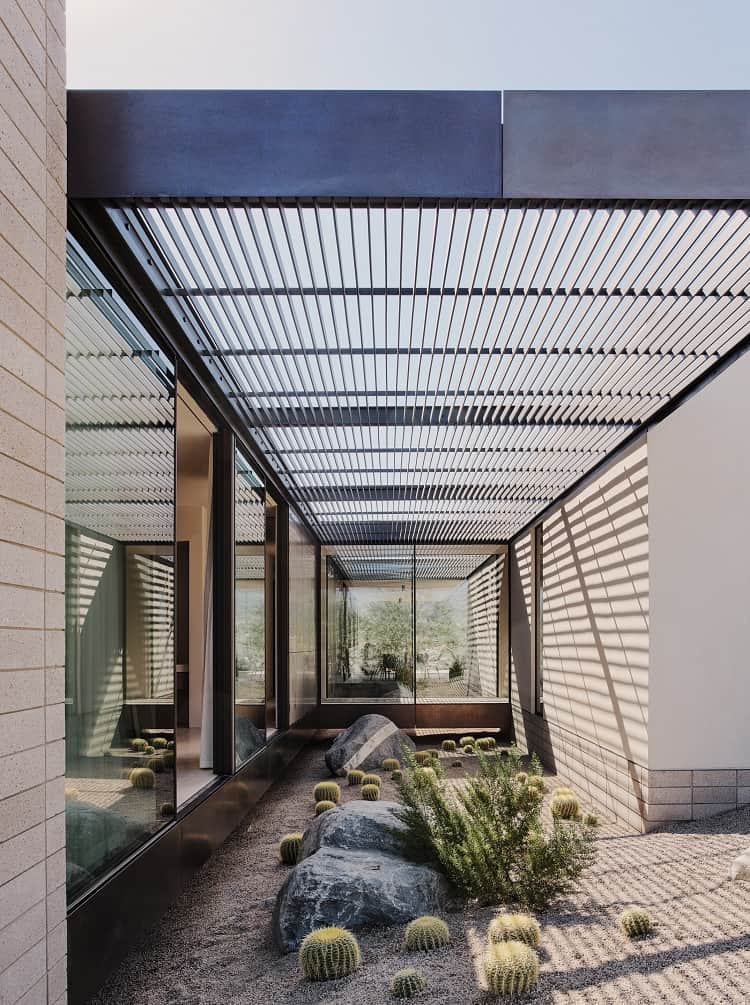 The single-story home's interiors span 3,310 square feet and take cues from the desert landscape, incorporating a muted palette of colors ranging from sage green to sandy brown and pink hues.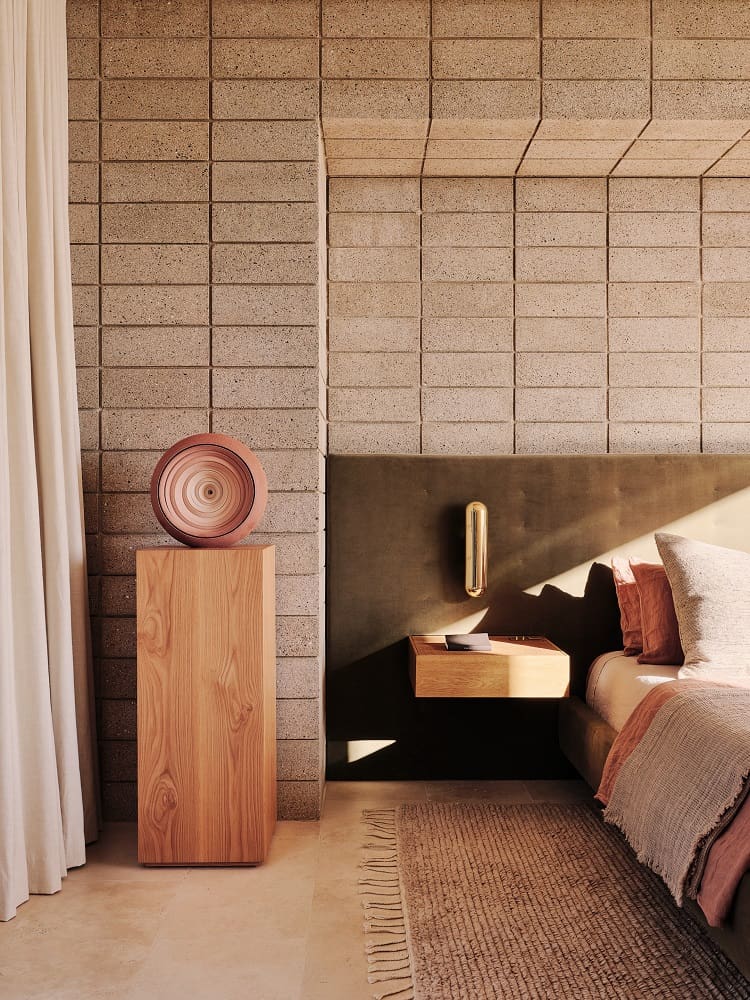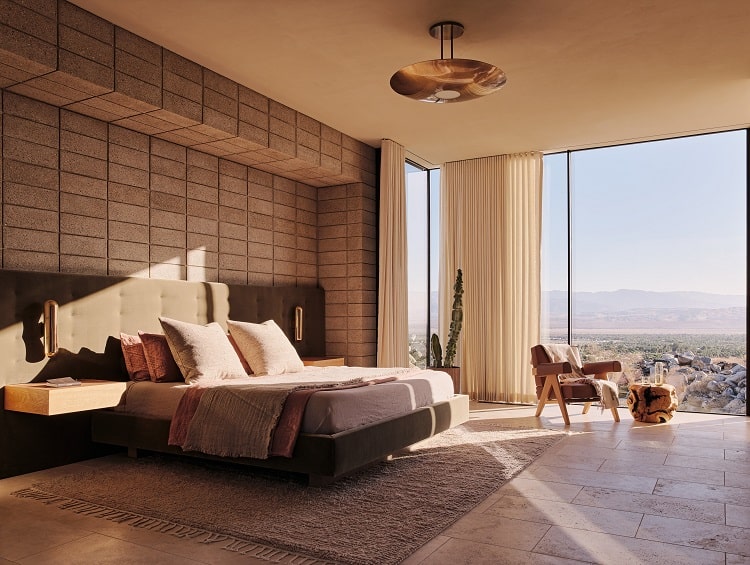 Read more about this minimalist desert home, designed by leading LA-based architectural firm Woods + Dangaran.
A contemporary architectural marvel offers serene living in La Jolla, CA
In the hilly, seaside neighborhood of La Jolla in San Diego, a new cliffside mansion created by Blue Heron's BH Elite custom home division boasts a striking contemporary design.
If you're not familiar with the architectural firm's celebrated past projects — like the VM001 in Las Vegas and the dramatic 3eleven, also set in La Jolla — Blue Heron is a design-led development firm that accentuates aspirational living through personalized home experiences.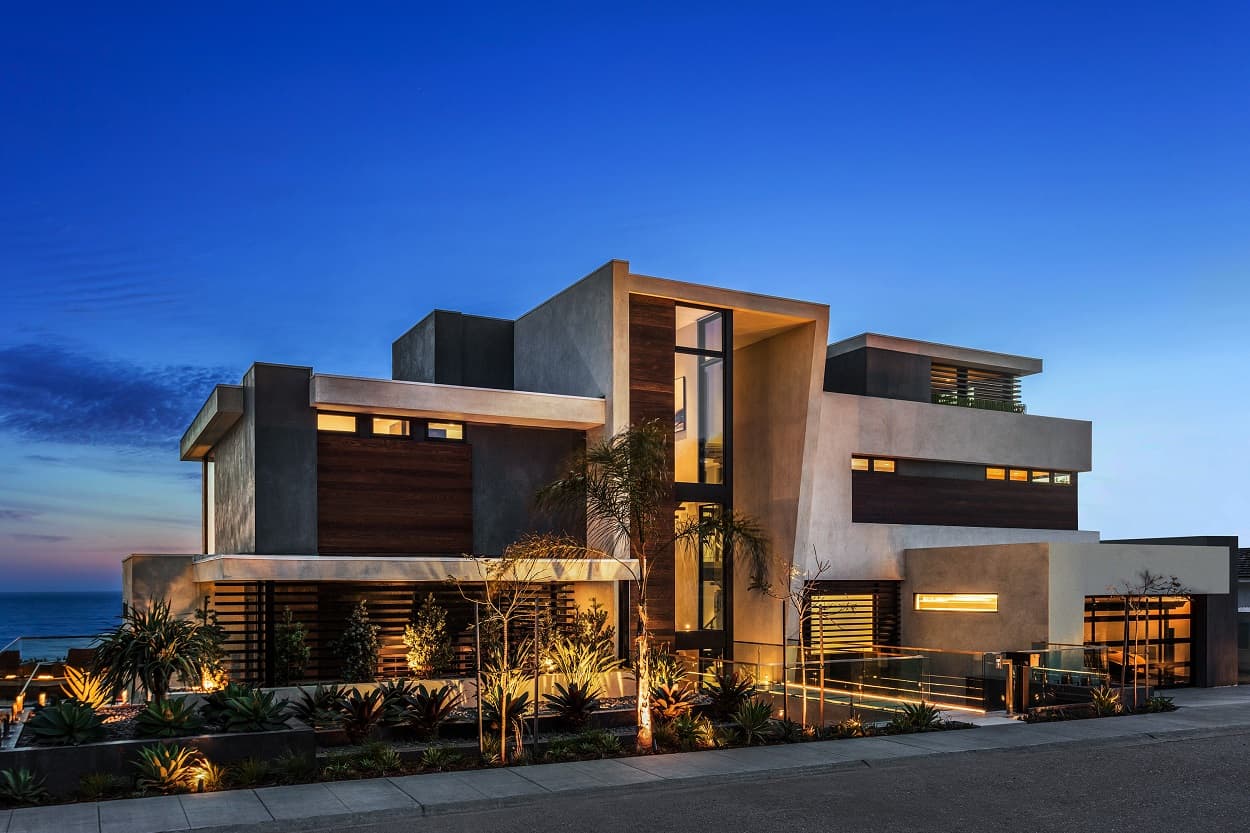 For the Ora House, the stellar design team incorporated the same innovative biophilic design and advanced Savant technology used in Blue Heron's flagship home, VM001 in Las Vegas, to "enhance the flow of life while creating an overall sense of peace and natural wellbeing."
"Every time the future residents enter this home, they will experience the carefully considered journey and the attention to detail that connects this space to the ocean and the surrounding environment," he added.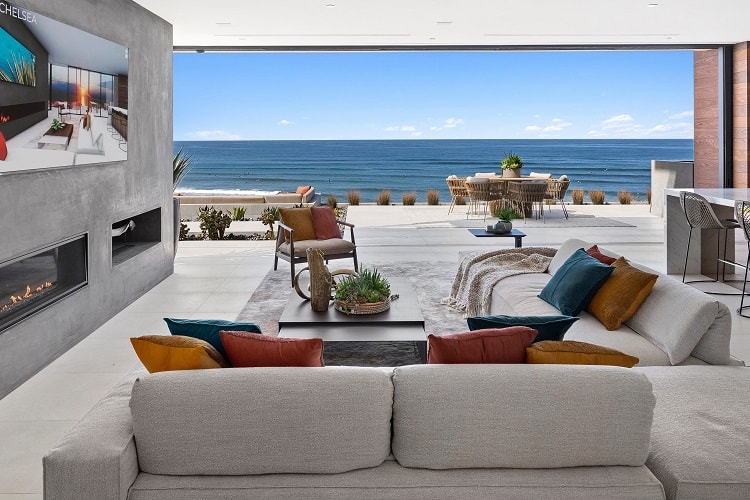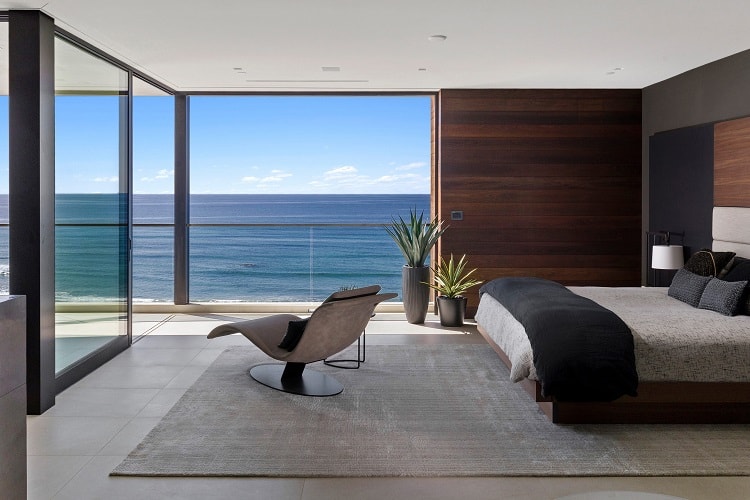 The cliffside estate is set in La Jolla's exclusive Bird Rock Waterfront enclave (in the San Diego area) and totals 8,878 of living space. You can take a tour of this spectacular home here.
More stories you might like
What Are Spec Homes? A Recent History & the Biggest, Boldest Spec Mansions to Come to Life
San Francisco's Most Famous Houses: How Much are the 'Painted Ladies' Worth?
The Architect of Hollywood: the Irresistible Appeal of Paul Williams-Designed Homes
The Complete History of Hearst Castle in San Simeon