Known for his distinctive and avant-garde architectural designs, Harry Gesner often pushed the boundaries of traditional norms, incorporating unique shapes, materials, and spatial arrangements into his projects.
His work defied conventional architectural styles and embraced a more organic, free-flowing approach that was ahead of its time.
And design was not the only pioneering element of Gesner's work.
Long before sustainable design became a mainstream concern, the California-born architect was incorporating environmentally friendly principles into his designs. He used natural materials, passive solar techniques, and energy-efficient features to minimize the environmental impact of his buildings.
His most famous project, the Wave House in Malibu, is one of the most recognizable homes on the California coastline. Designed to resemble the ocean's waves, the cresting house (formerly owned by musician Rod Stewart) is said to have been the inspiration for the Sydney Opera House, and has recently landed on the market for an eye-watering $49.5 million.
Next to his most famous creation, we find the pioneering architect's personal home, an equally striking architectural home that's currently on the market for $22,500,000.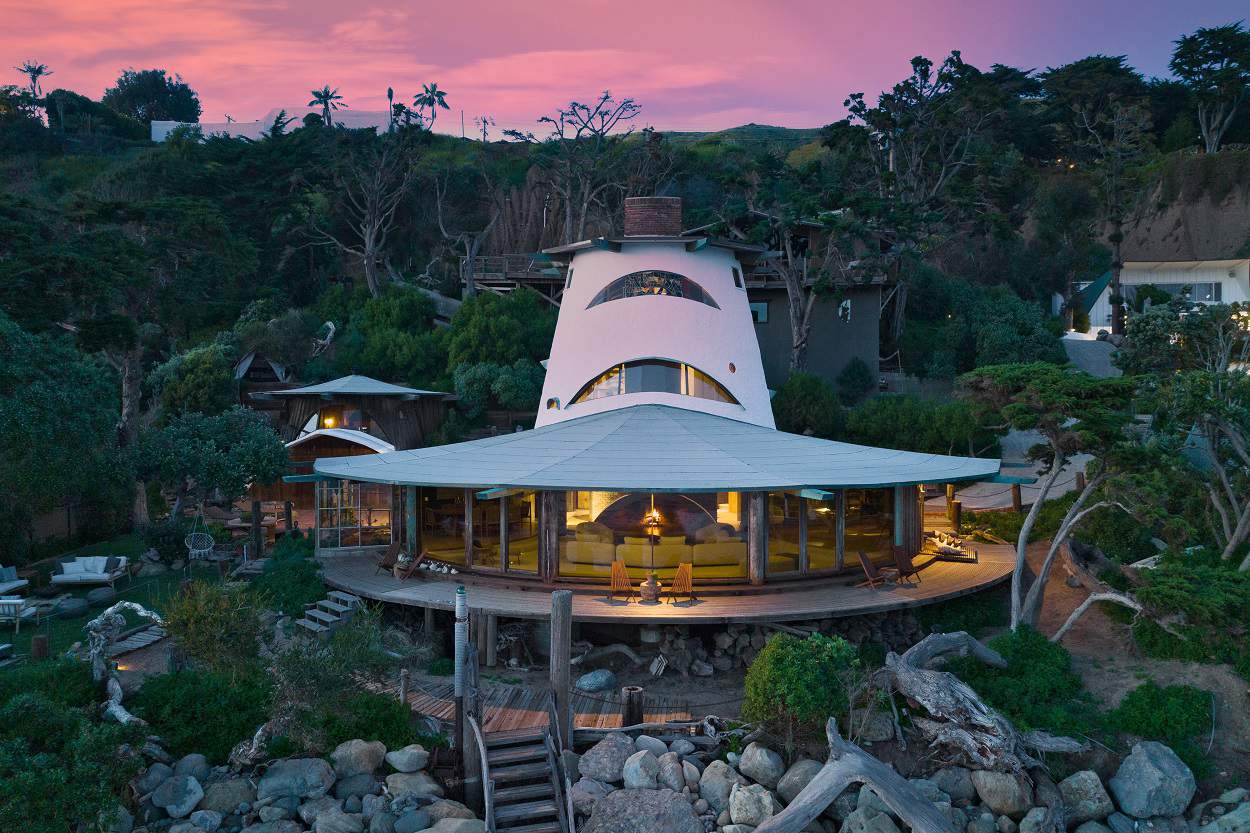 Visionary architect Harry Gesner's personal home: The Sandcastle House in Malibu
Known as the Sandcastle House due to the roofline's unique design, inspired by sandcastles, Harry Gesner's house in Malibu is a true architectural feat.
With 122 feet of beachfront land, this uniquely cylindrical 6-bedroom, 6-bathroom property comes with 3 additional small living units and so many unique features that it would "take a few pages to list them all", Zen Gesner — the architect's son and one of the listing agents for the property — admitted in an email. He did, however, add that "I'd be happy to share them all with whomever is curious to hear about them."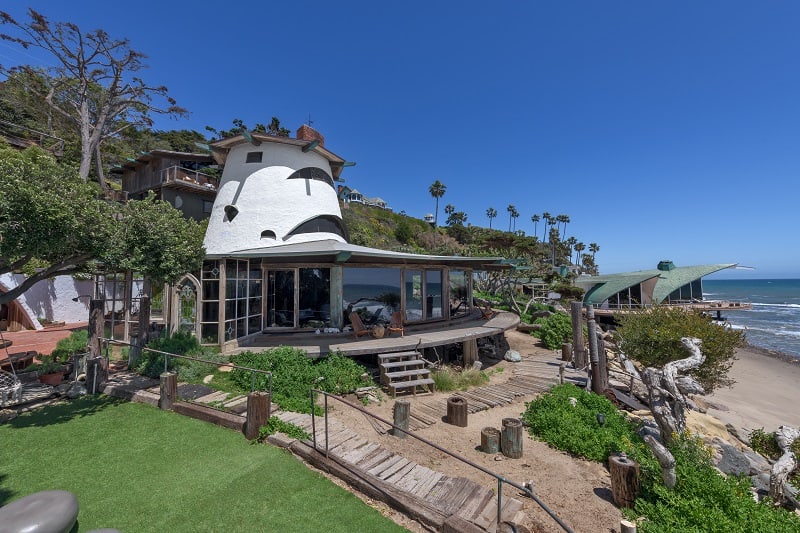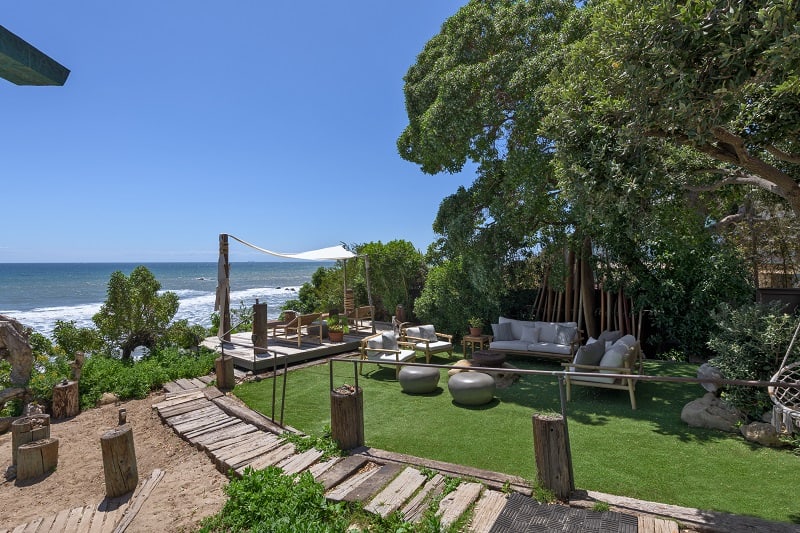 The main home's entry features a library sitting area with floor-to-ceiling bookshelves and panoramic ocean views, while the heart of the home features beams and a wood-plank ceiling wrapped by windows with large living and dining areas, and a Hollywood Bowl-inspired brick fireplace with a large concrete hearth that was designed as a stage. 
See also: The Sowden House, an architectural gem with a grim backstory and ties to the Black Dahlia case
"The Fireplace was built to resemble a Greek Theater Shell with the cantilevered concrete hearth as the stage, and the sunken living room in front of it becoming the theater house," Zen Gesner shares.
The space was "Built for my mother, Nan Martin (his wife), who was a well-known Broadway actress", to act as her stage, complete with a large, polished concrete hearth.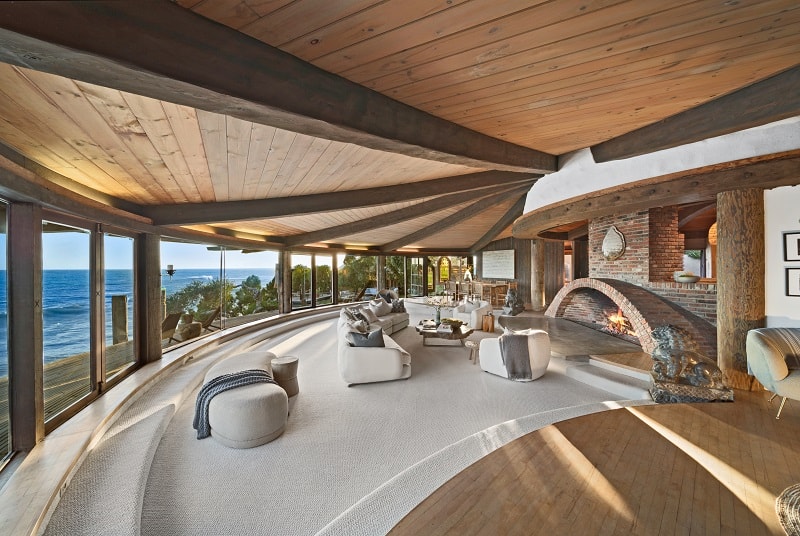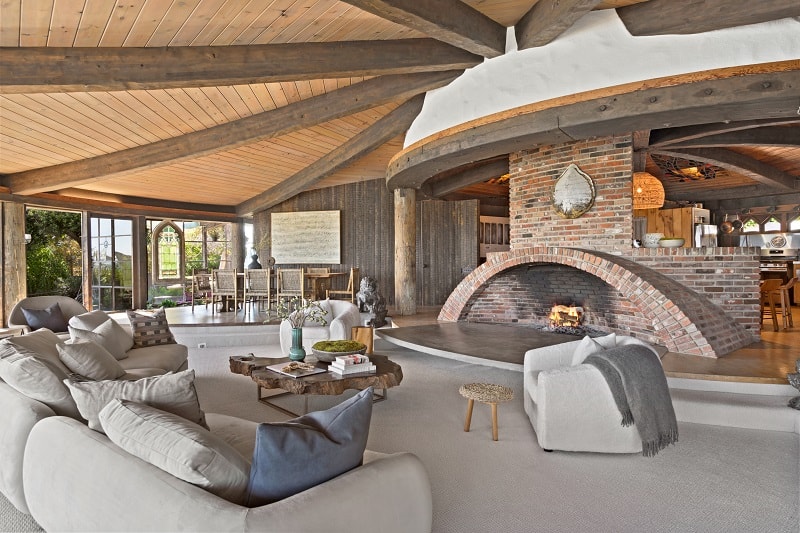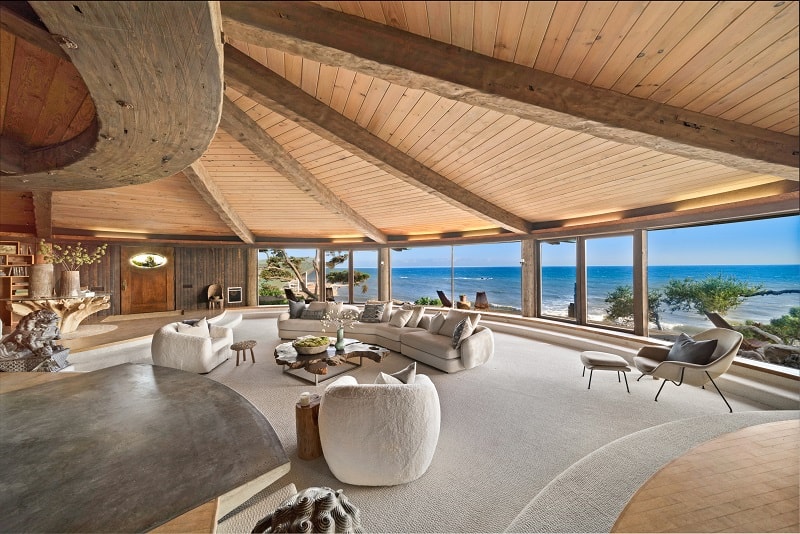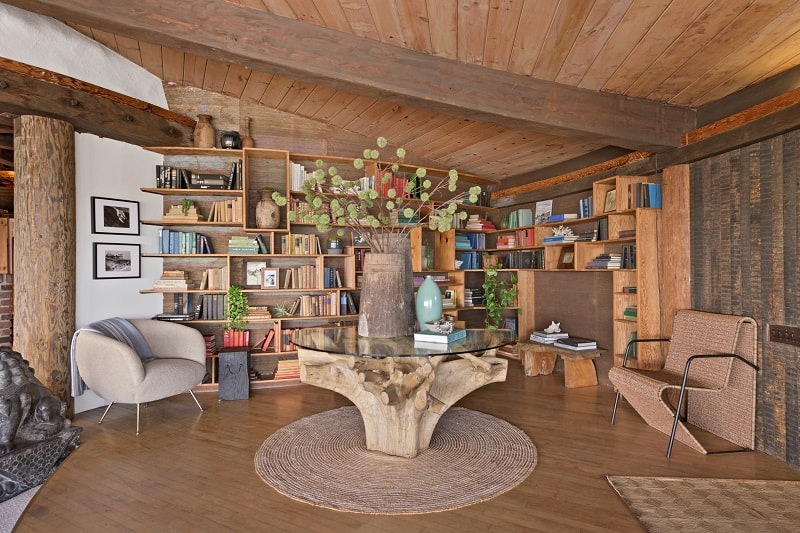 A solarium with stained glass panels flanks the dining area, and the kitchen wraps around a circular island featuring stained glass lunettes fitted into the overhead beams, a fireplace, new appliances, a breakfast bar, and a walk-in pantry.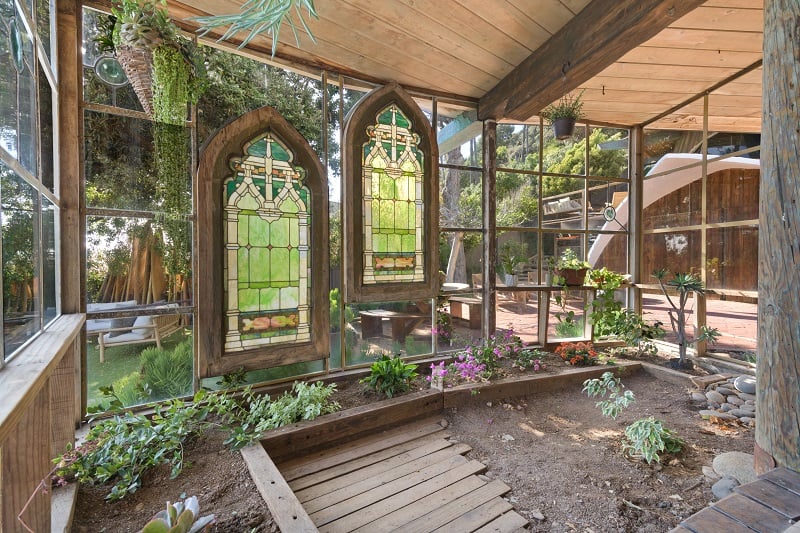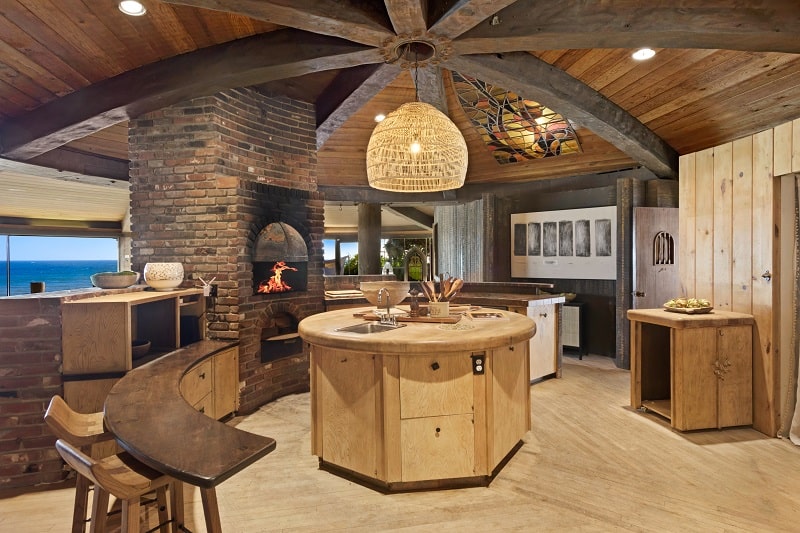 Two ensuite bedrooms are located on the main level, while the primary suite tower is located upstairs, boasting high ceilings with large beams, eyebrow windows, a brick fireplace, a sitting area with ocean views, and a spiral staircase that leads up to a loft space.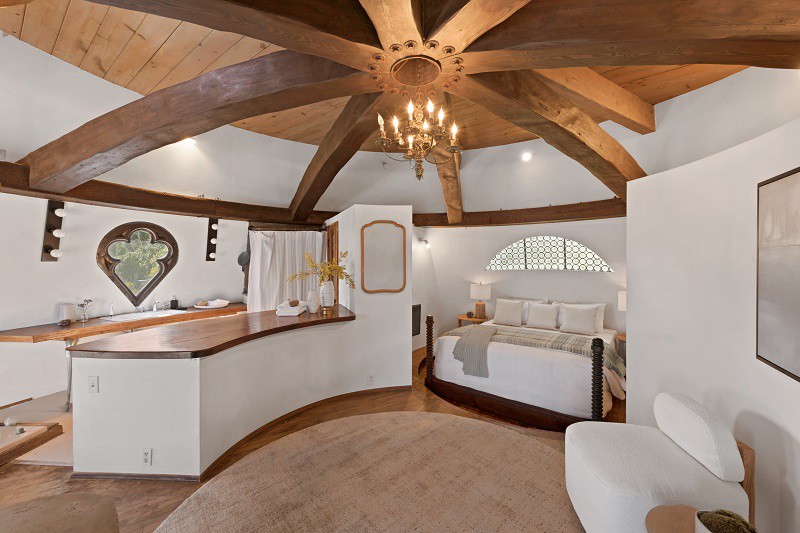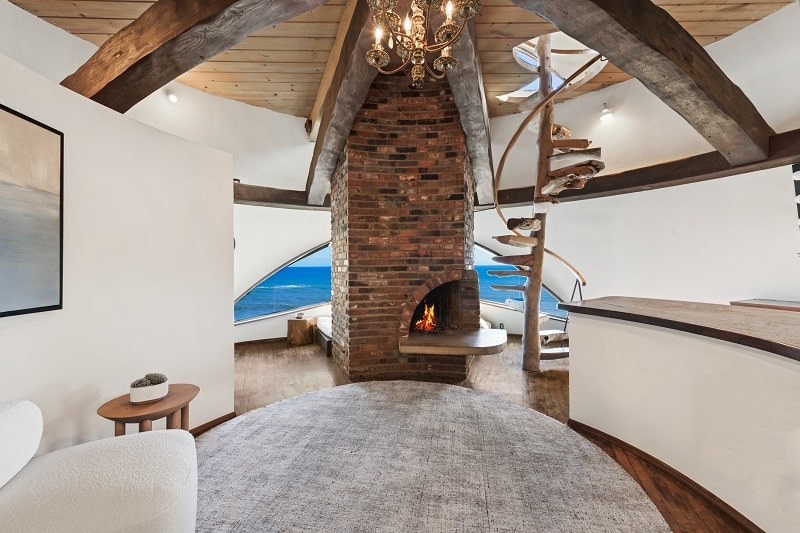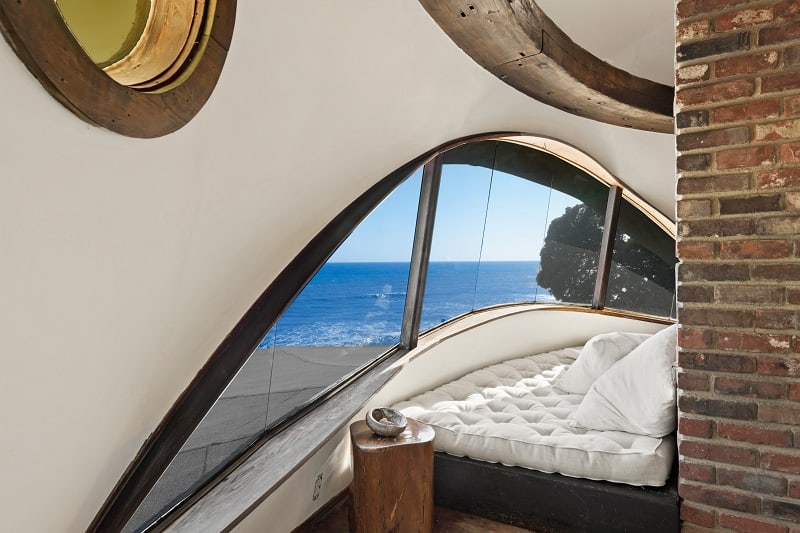 In addition to the main house, there's also a "tree house" apartment with a kitchenette, living and dining room area, a bedroom and bathroom, and a wraparound deck with ocean views.
Also on the property, a "boat house" adds extra space that includes a full kitchen, an ocean-view living and dining room area with a full bathroom and a bedroom, while the third addition is a smaller, one-bedroom "nest" apartment that features an open-air living area, deck, teepee-covered daybed as well as stained glass above an indoor-outdoor cabana.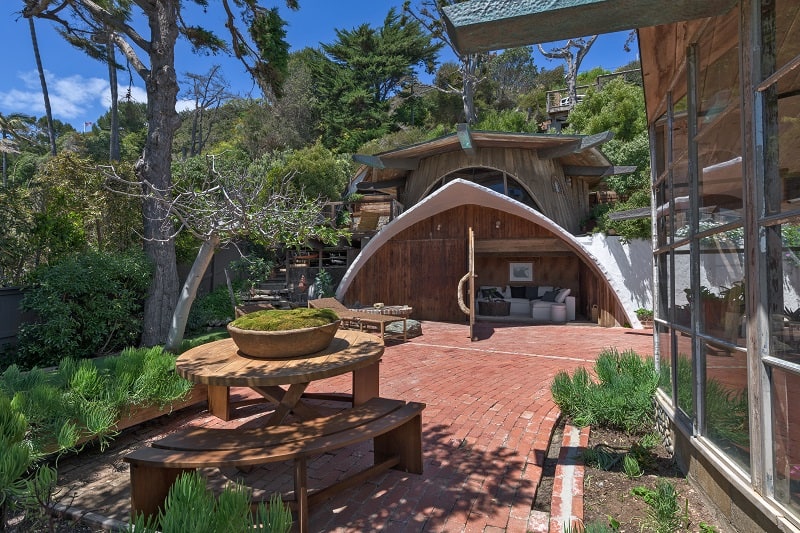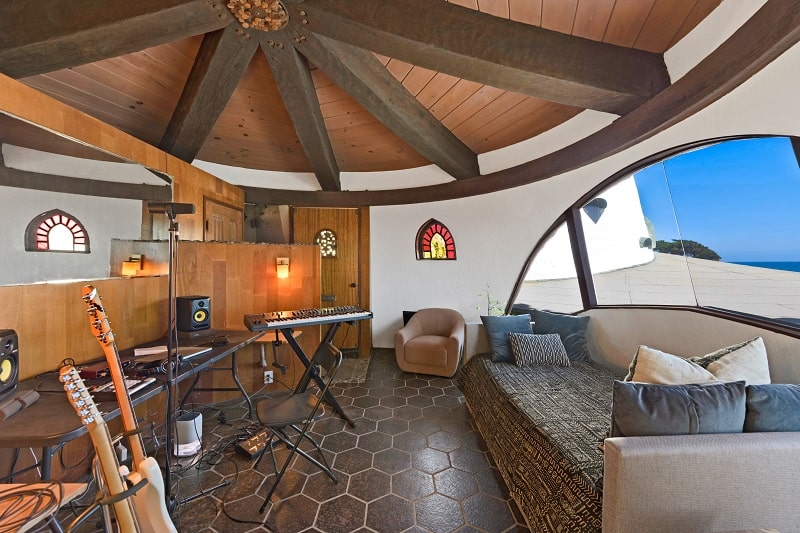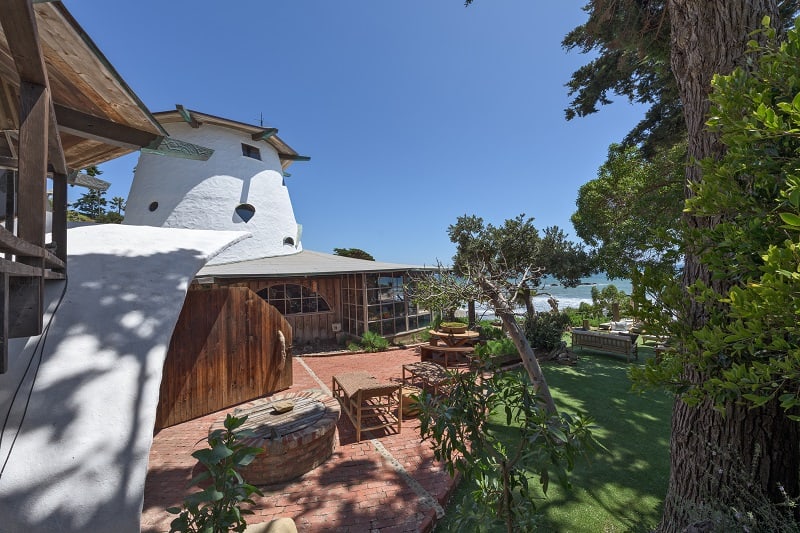 Built almost entirely out of salvaged materials, the Sandcastle House stands as testament to Harry Gesner's commitment to sustainable construction.
When building his cherished family home, the architect used telephone poles, reclaimed bricks, wall panels made from aqueduct pipes, birdseye maple from a high school gym, old-growth redwood harvested in the 1800s, and windows and doors saved from one of Hollywood's silent film theaters.
Related: The Chemosphere House and 6 other striking John Lautner-designed homes
As Gesner said about Sandcastle in Houses of the Sundown Sea: The Architectural Vision of Harry Gesner (the book about his life and work): "The spirit in the design and materials are what you immediately feel in this house. All people who enter and spend a brief period or long time here immediately feel at home and relaxed. The experience never becomes commonplace or boring because over everything is the sound and rhythm of the waves breaking on the shore in front of the house."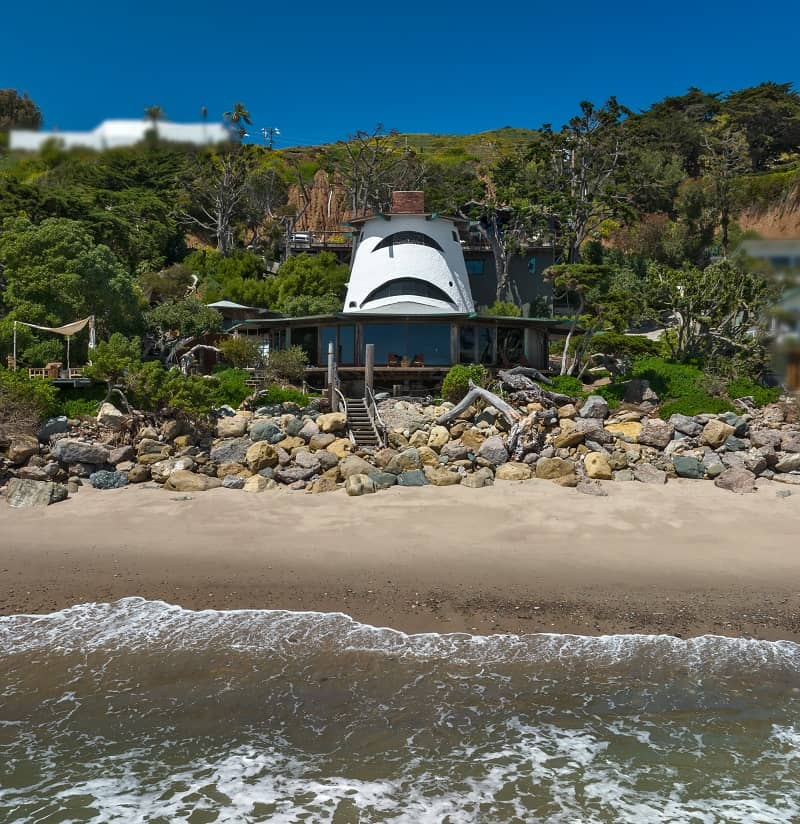 Now on the market for $22.5 million
The architectural marvel has remained in the Gesner family ever since it was built in the early 1970s.
Following Harry Gesner's passing in 2022, the property landed on the market in May 2023 with a $27,500,000 asking price and a stellar team. The price has since dropped to $22,500,000.
Leading Malibu real estate agent Chris Cortazzo shares the listing with the architect's own son, Zen Gesner. The two Compass agents are also part of the team repping Gesner's neighboring masterpiece, the $49.5 million Wave House.
"Malibu CA has a tendency to defy market trends because it's one of the greatest places to live in the world. People who visit tend to fall in love with the beautiful beach community, incredible scenery, and the lifestyle," Zen Gesner tells us, adding that "There is nowhere else like it."
Adding to the appeal: living in a house that's worthy of a James Bond villain and owning a piece of architectural history.
Are you reading this article on your mobile device? Watch our web story on Harry Gesner's house (in a more mobile-friendly format).
More Malibu houses
You're invited: step inside a jaw-dropping $95 million house in Malibu
'Indiana Jones' producers Kathleen Kennedy and Frank Marshall list $18.5M Malibu estate with views for days
See Lady Gaga's house in Malibu, which she calls her 'Gypsy Palace'