One of the most magnificent mansions in all of California, Hearst Castle has a rich history that captivates audiences just as much as its striking architecture.
Built more than a quarter mile above the Pacific Ocean, the California castle that was formerly known as La Cuesta Encantada (Spanish for The Enchanted Hill), is a historic estate in San Simeon, Calif.
Perched on a hill halfway between San Francisco and Los Angeles along the Central Coast of California, Hearst Castle was originally built as a private home for publishing tycoon William Randolph Hearst.
Hearst, who was one of the wealthiest people alive at the time, is said to have been the inspiration for Orson Welles' iconic Citizen Kane movie — whose protagonist lived in "the world's largest private estate," called Xanadu.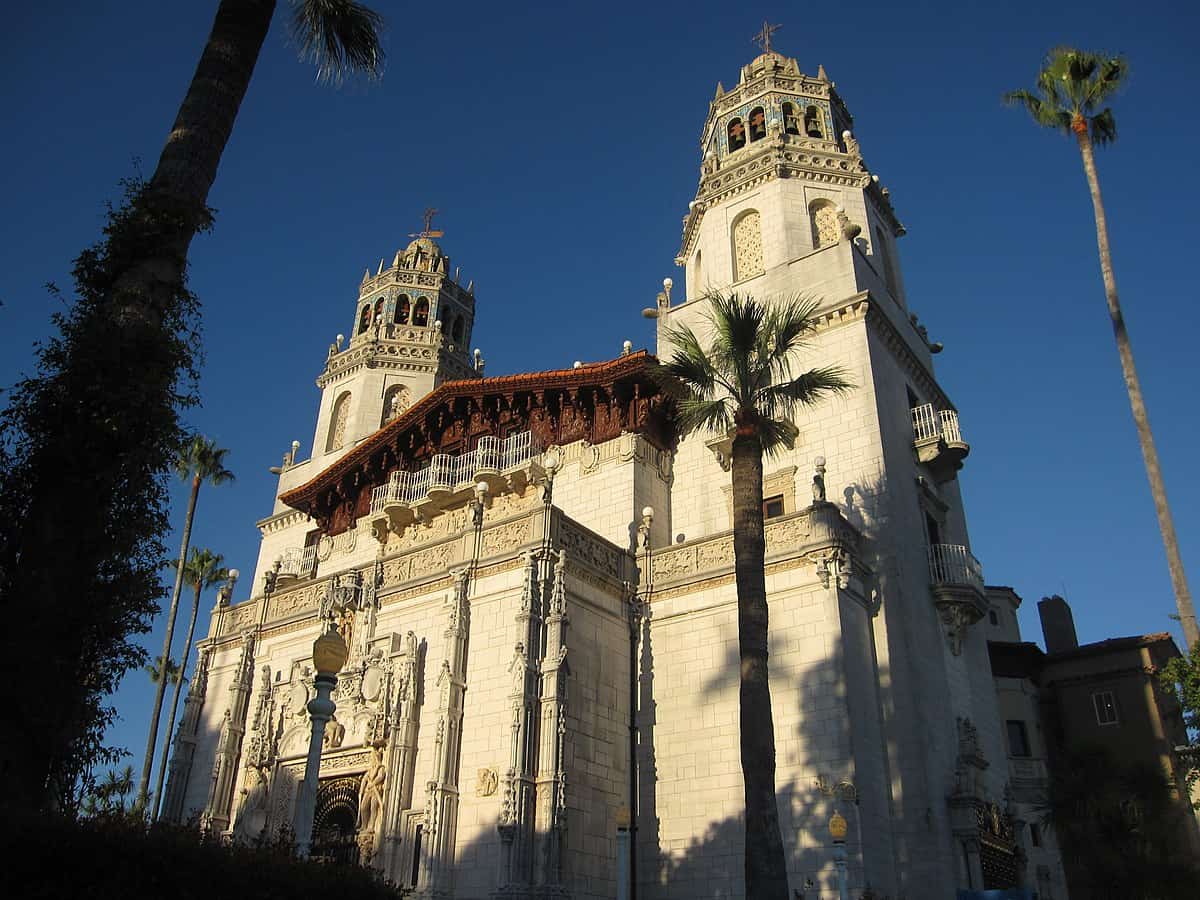 While Welles' portrayal of Hearst was less than favorable, Xanadu — a name inspired by the ancient city of Xanadu, known for its splendor, and later picked up by Bill Gates as a moniker for his longtime home near Seattle, WA — captured the grandeur of the publishing magnate's palatial estate.
Now, one century after W.R. Hearst started building his opulent home, Hearst Castle is registered as a National Historic Landmark and California Historical Landmark — and is welcoming visitors who want to revel in its illustrious past.
So we thought we'd delve into the storied history of one of the grandest private homes ever built in the Golden State.
The history of Hearst Castle
Construction of Hearst Castle took nearly thirty years, from 1919 until 1947.
Conceived by publishing magnate William Randolph Hearst and his trusted architect Julia Morgan, Hearst Castle would become a mansion worthy of one of the wealthiest men alive at the time (named Casa Grande).
The main estate was surrounded by three guesthouses (called Casa del Mar, Casa del Monte and Casa del Sol).
But the property traces its history all the way back to 1865, when William Randolph Hearst's father George Hearst purchased the original forty thousand acre estate and Camp Hill, the site for the future castle.
In 1919, William Randolph Hearst inherited $11 million and the family's estates — including the land where his future castle would sit on.
With his fortune, Hearst created a publishing empire of newspapers, magazines and radio stations.
To this day, the Hearst family remains involved in the ownership of Hearst Communications. Some of their common-day magazines include ELLE, Cosmopolitan, Good Housekeeping, O, the Oprah Magazine, and Men's Health, as well as newspapers such as San Francisco Chronicle and The Advocate, and websites such as Delish.com and BestProducts.com.
But, back to the castle.
Due to the popularity of his publishing empire, Hearst was financially able to build his dream house. And with the help of "America's first truly independent female architect," Hearst and Julia Morgan began dreaming up Hearst Castle.
Morgan was a pioneer.
The first woman to study architecture at the School of Beaux-Arts in Paris and the first to have her own architectural practice in California, she was also the first female winner of the American Institute of Architects Gold Medal.
For over twenty years, Hearst and Morgan collaborated as close friends and business equals on the grand castle, making it her most well-known creation.
Hearst Castle's many rooms and endless amenities
The end result was beyond spectacular: when it was finally completed, the Hearst estate had a total of 42 bedrooms, 61 bathrooms, and 19 sitting rooms.
The sprawling grounds of the castle spanned 127 acres, encompassing gardens, indoor and outdoor swimming pools, tennis courts, its own private theater (a rarity back in the day), and an airfield.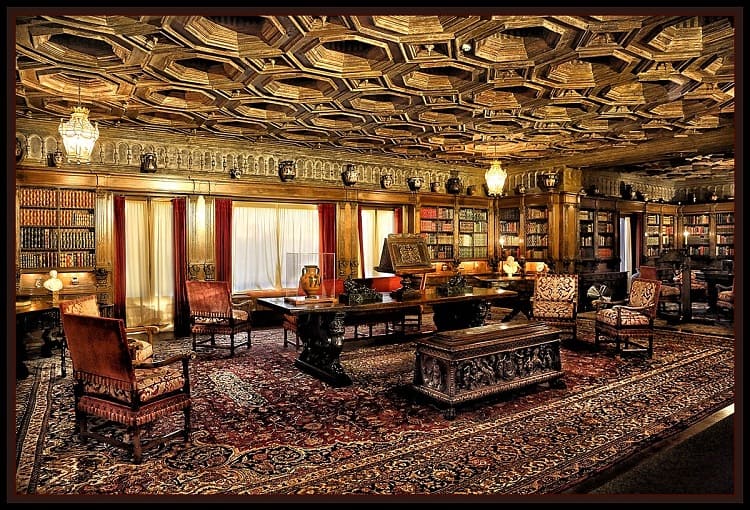 The pools alone are so magnificent they'd warrant a visit to the castle just to revel in their beauty.
The Roman Pool — the castle's indoor pool — was built to mimic an ancient Roman bath.
Featuring shimmery glass mosaic tiles inspired by the Mausoleum of Galla Placidia in Ravenna, Italy (created by British muralist Camille Solon, according to Architectural Digest), the pool resembles a mesmerizing sea of blue and gold.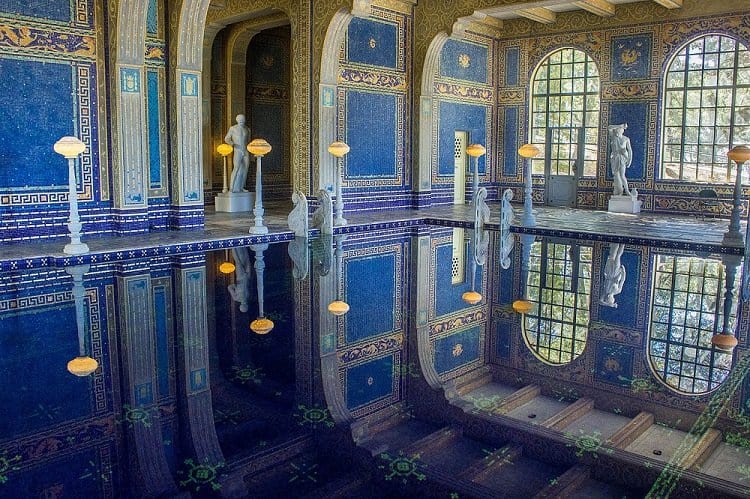 The outdoor Neptune Pool — which has its own Wikipedia page — was built and rebuilt three times, each version a larger size.
In its now final form, the pool is 104 feet long, surrounded by Ancient Roman Revival and Greek Revival style pavilions and colonnades with 17th-century bas-reliefs.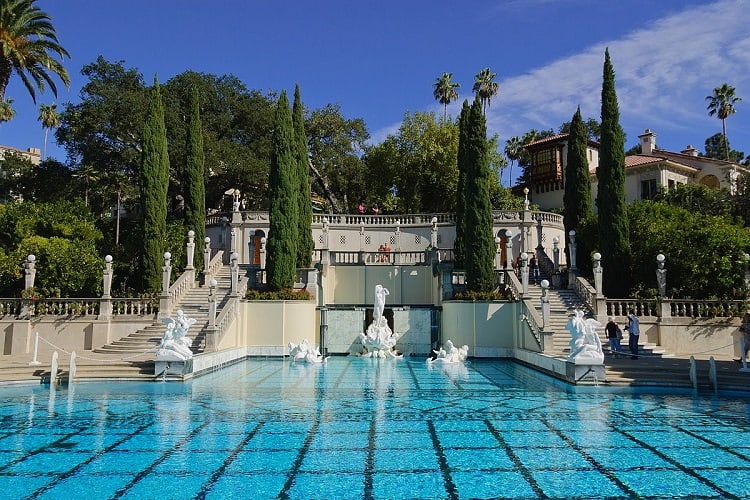 During Hearst's lifetime, the property was also home to the world's private zoo.
Even today, visitors who tour the castle are taken aback by its grandeur.
A tour of the grand rooms of the Hearst Castle will have you walking 2 to 3 miles to visit just the essential places, like the Assembly Room, Refectory, Morning Room, Billiard Room and Theater. But the effort would be worth it, as you'd be stepping in the footprints of some the most well-known people of the 20th century.
Who lived (and socialized) at Hearst Castle?
Hearst Castle was originally built as a family home for Hearst, his wife, vaudeville performer Millicent Willson, and their five sons.
But after years of Hearst's longtime affair with actress Marion Davies, the couple separated.
With Millicent out of the picture, Davies moved into the castle and the couple hosted A-list parties with some of Hollywood's elite stars, including Charlie Chaplin, Cary Grant, the Marx Brothers, Mary Pickford, Jean Harlow, Greta Garbo, Buster Keaton and Clark Gable, to name just a few.
Politicians such as US President Calvin Coolidge and British Prime Minister Winston Churchill, as well as other notables including Charles Lindbergh, P. G. Wodehouse, and Bernard Shaw were also guests at the castle.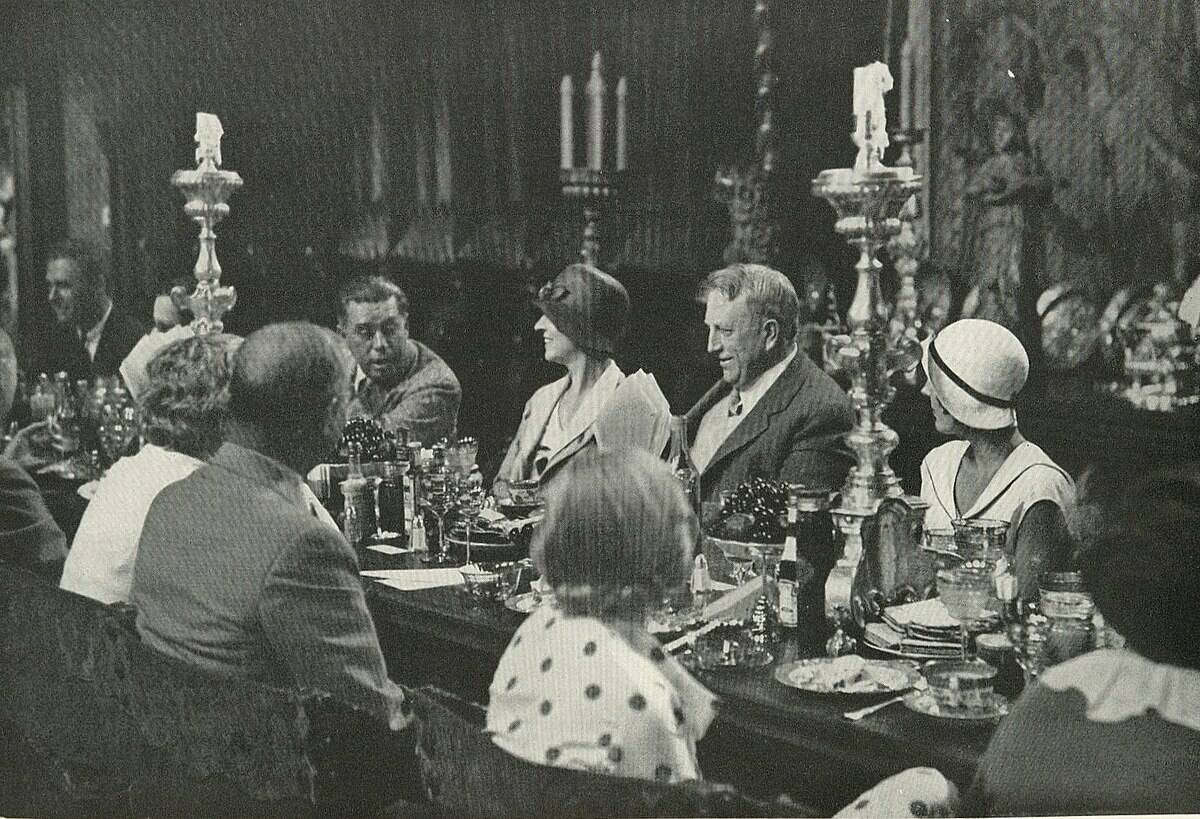 Typically, guests gathered at Casa Grande for beverages in the Assembly Room and dinner in the Refectory.
During the day, guests were left to fend for themselves and enjoy the elaborate grounds. They played tennis, went horseback riding, and played croquet or golf while enjoying the views.
Of course, everyone packed their swim trunks for a dip in the outdoor pool. And in the evening, guests watched the latest Hollywood films in the private theatre before retiring to the luxurious accommodations provided by the guest houses of Casa del Mar, Casa del Monte, and Casa del Sol.
None other than Charlie Chaplin once commented on the impeccable hospitality he experienced at Hearst Castle.
"Dinners were elaborate, pheasant, wild duck, partridge and venison," Chaplin reportedly said. "[Yet served] amidst the opulence, we were served paper napkins, it was only when Mrs. Hearst was in residence that the guests were given linen ones."
During the elaborate social gatherings, Morgan continued to build the castle until its completion in 1947.
Hearst died in 1951 at the age of 88.
What happened to the castle after Hearst's death?
As they say, all good things must come to an end.
After Hearst's death, his longtime lover, Marion Davies (who was excluded from his funeral) was forced to move out.
And his trusted architect and close friend, Julia Morgan, closed her San Francisco office after a successful 42-year career and reportedly became a virtual recluse until her death in 1957.
In 1958, the Hearst Corporation donated Hearst Castle — including the gardens and most of its contents — to the state of California.
That same year, Hearst Castle was opened to the public for the first time.
In 1972, Hearst Castle was added to the National Register of Historic Places, and in 1976 it became a United States National Historic Landmark.
Currently, at Hearst Castle…
You'd think Hearst Castle would be a hot location for Hollywood films.
However, commercial filming at the castle is rare. Since 1957, only two big projects have been granted permission to film here.
In 1960, Stanley Kubrick's film Spartacus used the castle to stand in as Crassus' villa, and in 2014, Lady Gaga's music video for G.U.Y. was filmed at the Neptune and Roman Pools.
Since its opening in 1958, Hearst Castle has become a major California tourist attraction, attracting crowds of close to one million people every year.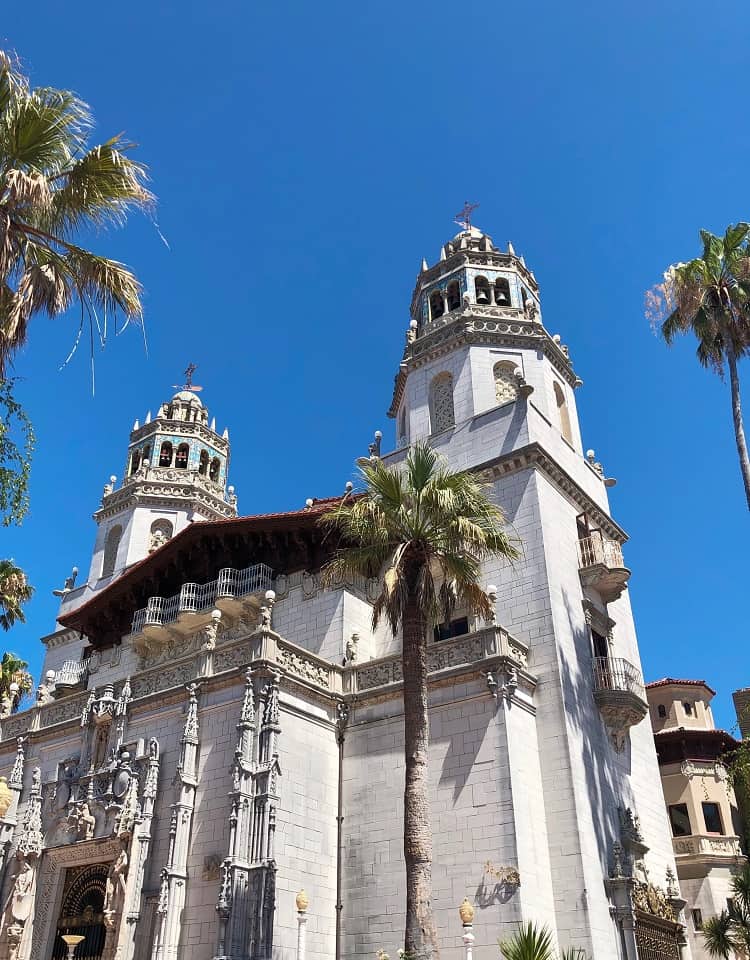 Who owns Hearst Castle?
While the Hearst family maintains a connection with the castle, the estate is now a historical landmark owned and operated by the California State Park system.
In 2019, socialite Amanda Hearst, W. R. Hearst's great-granddaughter, married Norwegian film director Joachim Rønning at the castle (which was closed to the public only for that one day).
But the castle is now a museum open to the public as a California State Park and registered as a National Historic Landmark and California Historical Landmark.
And it's quite a spectacular spot.
From a north-facing terrace, visitors can look out into the Santa Lucia Mountains and as far as Junipero Serra Peak.
Not to mention the art.
There are four original 16th-century tapestries from the Deeds of Scipio Africanus series hanging on the walls of the Assembly Room, CNN reports.
With most of the original objects on display, Hearst Castle is a magnificent museum not to be missed if you're in the San Simeon area.
And if you happen to be planning a visit to San Simeon, with the Hearst Castle as the main attraction, here's a handy map with all your accommodation options nearby:
More stories you might like
The Iconic Beverly House: where Jackie O & JFK Honeymooned, 'The Bodyguard' was Filmed, and where Beyonce Shot 'Black is King'
Bob Hope's Sprawling Toluca Lake Estate is Back on the Market Asking $29M
The Troubled History of Gianni Versace's Mansion, a Miami Beach Treasure
Spotlight On: Graceland, Elvis Presley's House in Memphis