Recently brought to market by an all-star agent team, this 17,000-square foot modern residential oasis in Brentwood is redefining luxury living.
With a never-ending amenity list (centered around wellness, entertaining, and green living), a luxury yacht-inspired design, and a great amount of respect for its surroundings, "Sky Lane is a true triumph in design and has been crafted for its residents and guests to live a healthy lifestyle and enjoy special moments throughout the home," says Santiago Arana, Managing Partner at The Agency and one of the top brokers in the country.
Arana, along with The Agency's founder and CEO, Mauricio Umansky, have been tasked with finding a buyer for the striking property — that recently came to market with a hefty $42 million price tag.
"It is the most coveted new home to come to market and Mauricio and I are humbled to work with de Loren & Associates and are looking forward to finding the perfect owner for this remarkable property."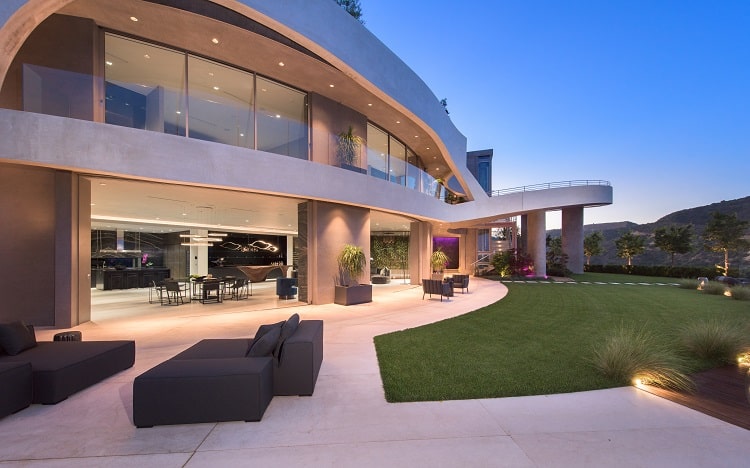 Stand-out features meet sleek design
Southern California-based architectural firm de Loren & Associates purposefully designed the building by superior wellness standards, without sacrificing on design but rather adding to it.
With a luxury yacht-inspired design, the mansion boasts seven bedrooms, eight bathrooms, and three powder rooms across three levels.
Featuring a massive list of upscale amenities, the Brentwood home offers a 610-bottle wine cellar, commercial speed glass elevator, movie theater, state-of-the-art gym, a 300 sq. ft. green wall and a lower-level entertainment area with a full bar, pool table and more.
Each room and element of the house has been carefully designed to meet the Delos Well Building Certification standards, which emphasize key performance requirements in seven main areas related to indoor health, including air, water, nourishment, light, fitness, comfort, and mind.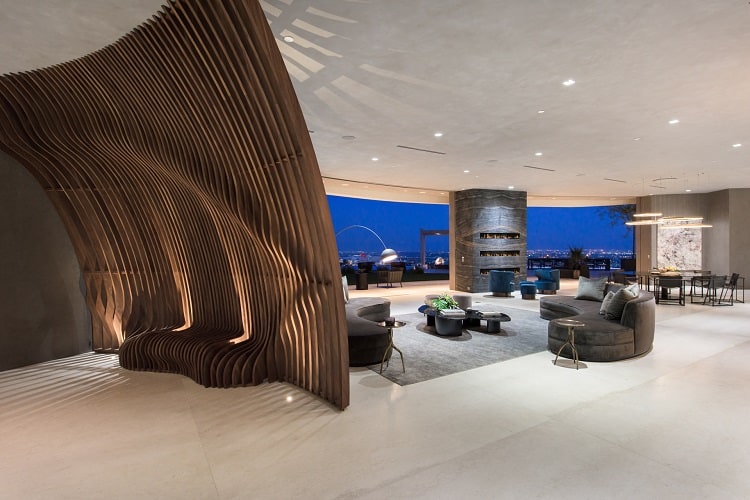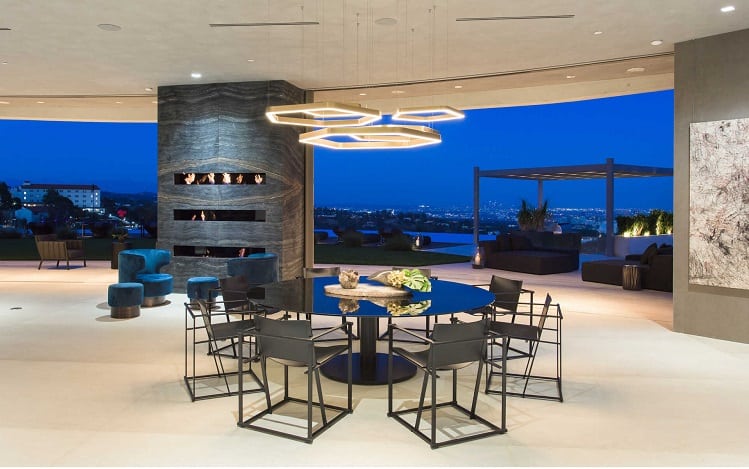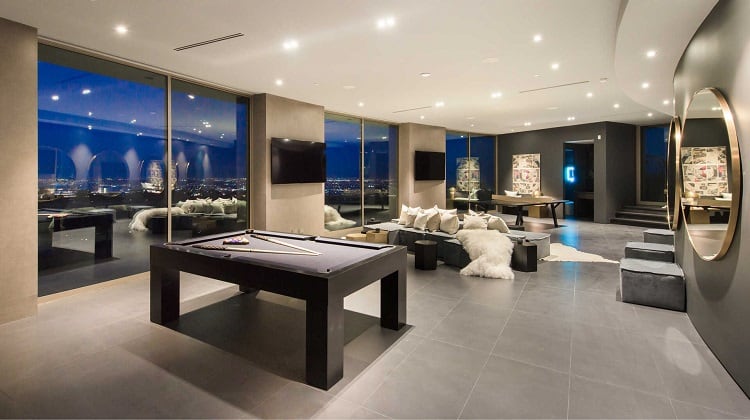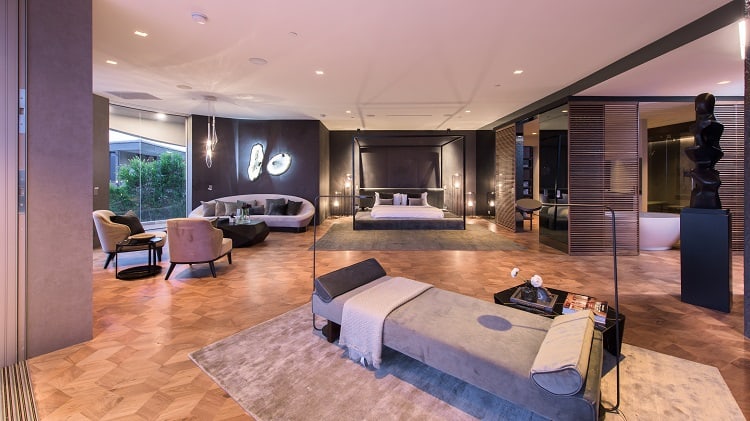 To add to the flair of the property, renowned Japanese artist Toshi Kawabata created three custom pieces for the home including a curving, walnut bar.
All marble elements were hand-selected and imported from Italy while Vesta created custom, marquee pieces that can be purchased with the home.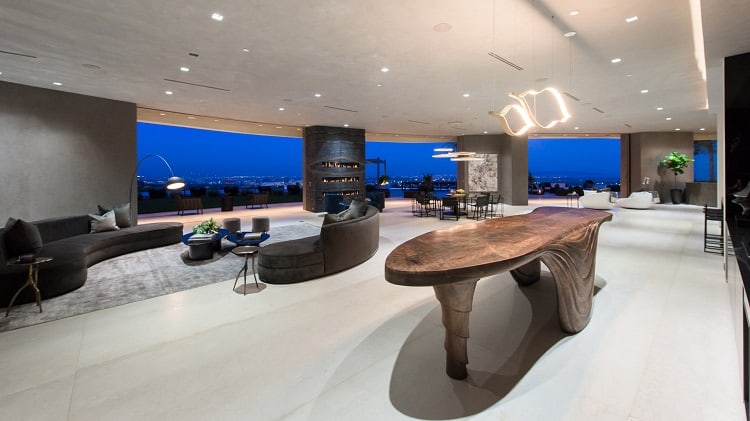 But don't let the special attention given to the interiors fool you; the outdoor area is equally impressive, with its 10,000-square-foot garden featuring a 70-foot infinity edge pool with an underwater sound system, Jacuzzi, tranquil 400-square-foot Zen garden, stunning water wall designed by Mario Romano and ample entertaining and dining space.
There is plenty of room for the car enthusiast with a three-car enclosed garage and space for more than 15 cars in the outdoor motor court.
Design inspiration: Ocean waves, math, and the Getty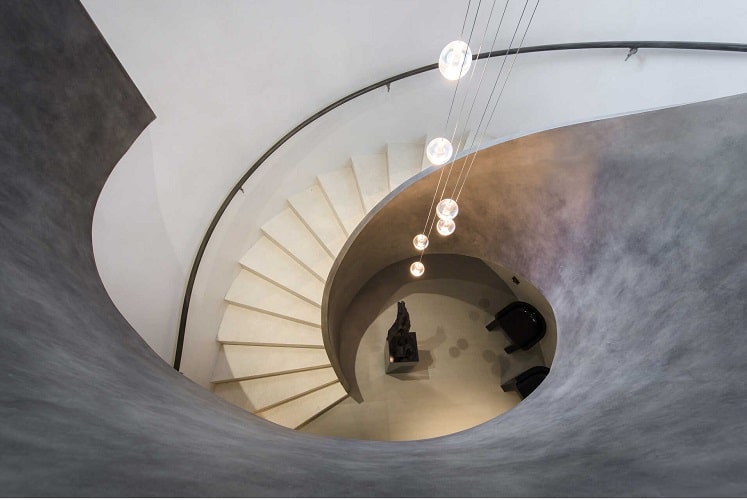 Developers de Loren & Associates and Channel Development never lost sight of the fact that the home is visible from The J. Paul Getty Museum and approached the design knowing it will be an extension of the artistic experience for museum guests.
Inspired by the clean lines and interior spatial layouts of yachts paired with the motion of the sea, the curving exterior facades are reminiscent of ocean waves, wind and clouds that make not only for an exhilarating lifestyle but also appealing to the eye.
Additionally inspired by mathematical forms found in nature, the Fibonacci spiral is seen in the grand driveway as well as in the sprawling 300-fruit tree orchard.
A dream setting for high-profile events
And just in case you were wondering what it's like to entertain guests here, the property recently hosted two star-studded events.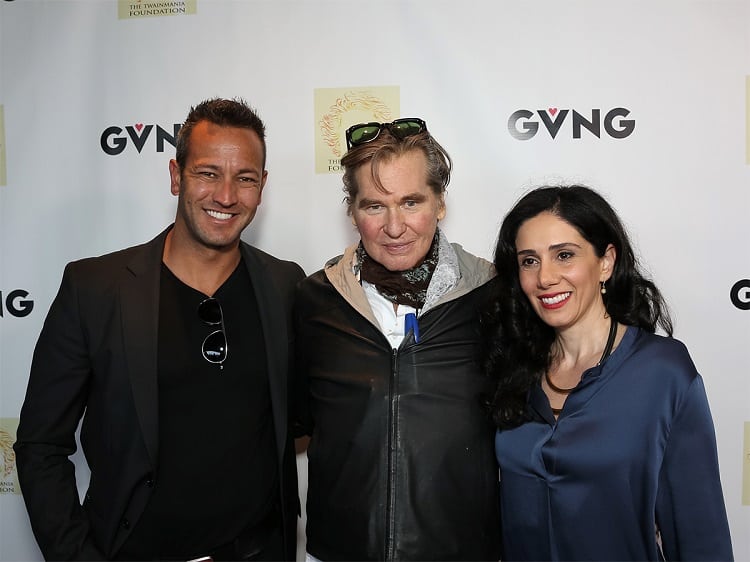 The first was hosted by actor Val Kilmer to celebrate the launch of his new charity, the TwainMania Foundation. During the event, guests sipped cocktails and enjoyed gourmet bites as they took in the 17,000-square-foot residence's panoramic vistas, which span from Downtown to the Pacific Ocean.
Inside, an art gallery offered guests a chance to bid on work created by Kilmer — with proceeds going to his charity, TwainMania — and a recording of Kilmer's one-man show, as well as clips from his films played in the mansion's screening room.
The second charitable event held at the property was a brunch hosted by the General Manager of Roc Nation, Hank Fortener, to support his foundation, AdoptTogether — a non-profit crowdfunding platform that bridges the gap between families who want to adopt and children who need homes.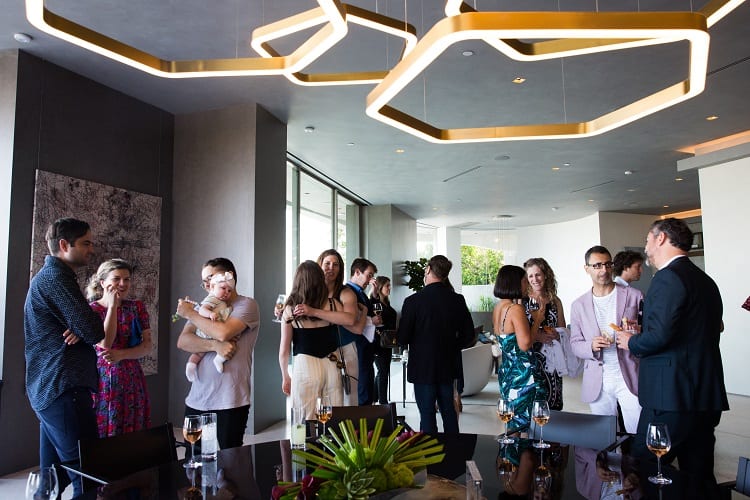 For this daytime event, celebrity chef Curtis Stone provided light fare and a summery cocktail called the Gwen 3005, a mix of yellow chartreuse, mezcal, lemon, pineapple and sage.
More stunning modern homes
Artsy Mid-Century Home Turns into Art Gallery for Open House
The House that Zaha Hadid Built: The Story of the Only Residence Ever Designed by "The Queen of the Curve"
Once America's Most Expensive Home, This Bel-Air Mansion Sold for $94 Million
Maria Sharapova's Japanese-Inspired House on the Beach is a Minimalist's Dream Come True