Marron 5 lead singer Adam Levine and wife Behati Prinsloo recently opened the doors of their stylish home to the Architectural Digest crew — and left us all day-dreaming about their cozy abode in the hip Los Angeles neighborhood of Pacific Palisades.
But we didn't want to settle with the details the couple shared during the interview, so we set out to find everything there is to know about the Pacific Palisades ranch-style house (and how it became home to two of the most attractive people in Hollywood).
Behati Prinsloo and Adam Levine's house was formerly owned by Ben Affleck and Jennifer Gardner
The house is one of two major purchases the couple made back in 2018, when they spent more than $65 million (!) on real estate.
Half of that went on a lavish $34 million estate in Beverly Hills, and the other $31,950,000 million bought them the sprawling — and equally expensive — ranch-style home in Pacific Palisades that was once the love nest of an equally famous couple: Ben Affleck and Jennifer Gardner.
When it came time to pick one to call home, the former Ben-Jen house won over the Beverly Hills mansion (which the couple listed for sale immediately after renovations were finished). Apparently, Beverly Hills was a little "too hectic" for Adam and Behati, who wanted to live someplace quiet and more laid-back.
So they moved into the Pacific Palisades house, which is only minutes away from where Adam Levine went to high school. They then tapped Clements Design to renovate the home and truly make it their own.
Their style of choice: simple elegance and cozy, livable interiors punctuated by statement art pieces.
"We didn't want a palatial McMansion. That's just not who we are"

Adam Levine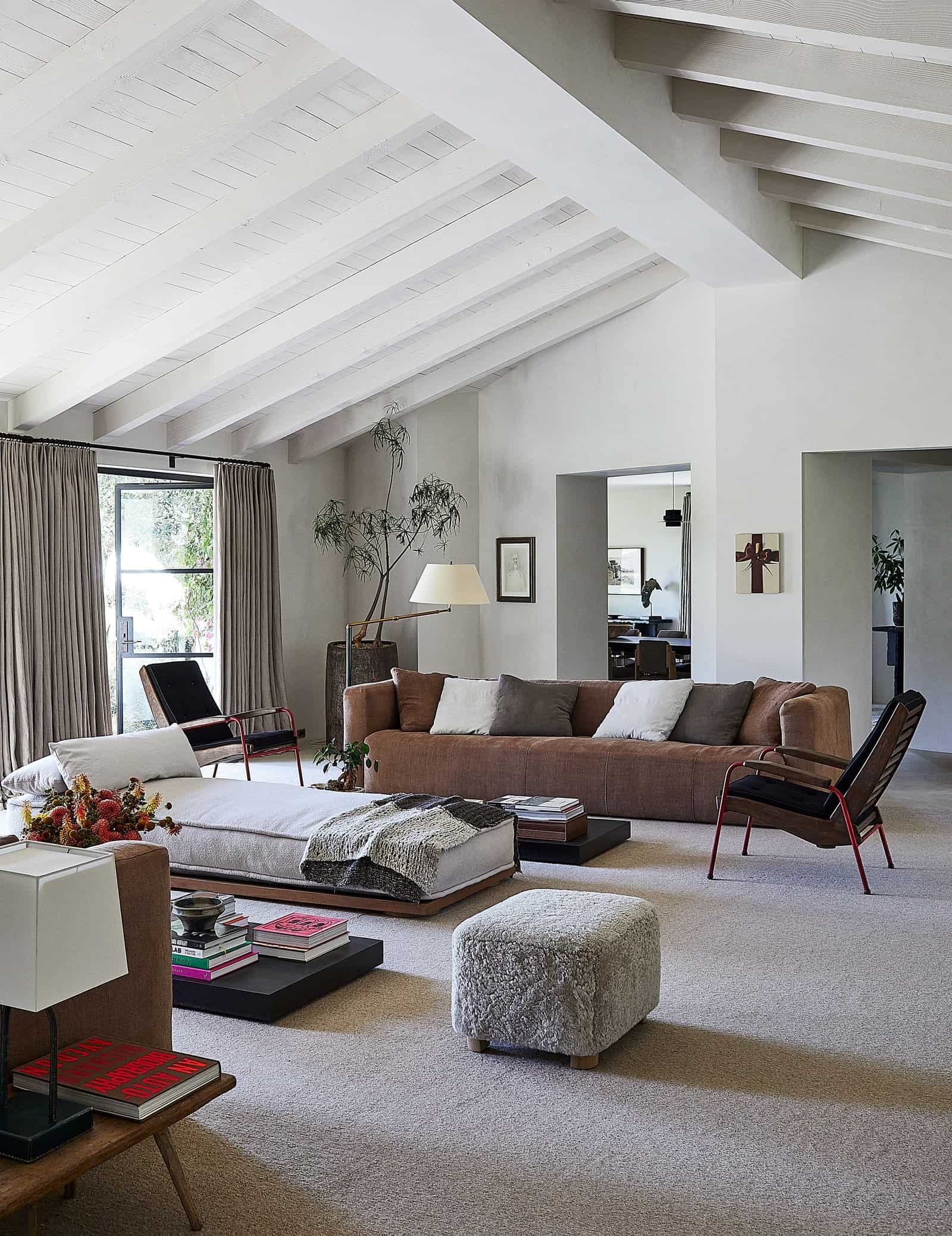 The house was initially designed by Cliff May
Built back in the 1930s, the couple's family home bears the signature of lauded architect Cliff May, best known and remembered for developing the suburban Post-war "dream home", and the Mid-century Modern.
The prolific architect sold designs for about 18,000 ranch homes and over 1,000 custom residences, with many of his projects being heavily featured in magazines including House Beautiful, Sunset, and Architectural Digest.
However, not much remains from the original architecture. The ranch-style home underwent a series of extensive renovations, with each of its past owners altering the design to better suit their needs and lifestyle choices.
The one element that was clearly retained was May's penchant for outdoor areas. He built houses for individuals who want to erase the lines between indoors and outdoors and embrace the spectacular Southern California climate — and Adam Levine's house is the perfect embodiment of that.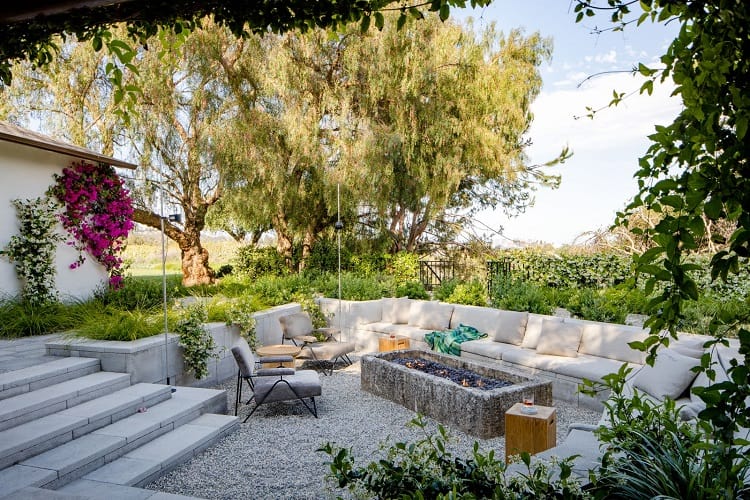 Clements Design takes credit for the elegant interiors
Levine, who's in the habit of buying homes, gutting them, then flipping them for a profit, likes to work with Clements Design for interior upgrades.
The mother-and-son design duo Kathleen and Tommy Clements have renovated the artist's previous home in Beverly Hills, and were again tapped to customize the ranch-style home before the couple moved in.
"We basically stripped it all down. We simplified the materials and color palette and exposed the bones of the house to create a beautiful, neutral backdrop for their collections of art and design."

Tommy Clements told Architectural Digest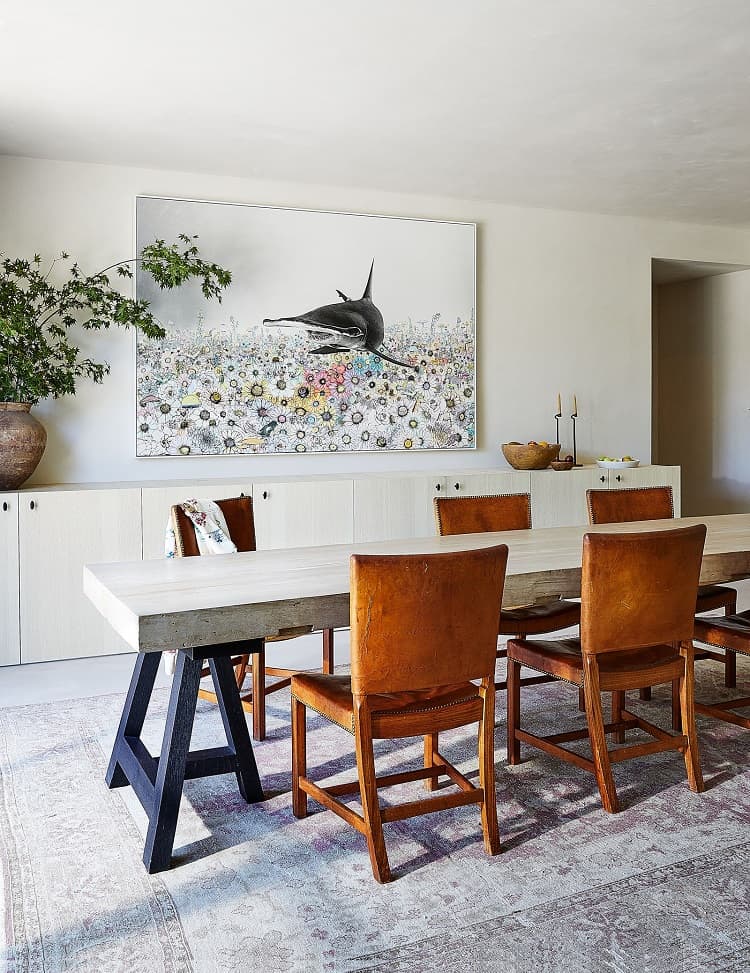 Cool takeaways from Adam Levine's house tour
There are many things to swoon over when it comes to this spotless celebrity house. From the many works of art that adorn its walls (by artists like Rashid Johnson, Sage Vaughn, or Andrew Zuckerman), to the Streetfighter and Pac-Man Machine that sit proudly in the home theater, the couple's abode is equally inviting as it is stylish.
The office / makeshift little studio is the perfect space for a creative artist — an has a huge rhinoceros painting (the work of Andrew Zuckerman) which is also a tribute to Behati's foundation, dedicated to saving the endangered species.
A special shout-out goes to Behati's favorite room in the house: the bar, whose walls are adorned with pics of Adam's favorite people in the world, including Bob Dylan, Miles Davis, Pearl Jam, and The Beatles.
Closets, closets, closets
Both the Maroon 5 lead singer and the former Victoria's Secret angel have reasons to gloat about their closets.
Their Los Angeles home has dual walk-in closets. Adam's is bursting with color, with entire walls full of sneakers, sweats and T-shirts. The artist himself admits that he took inspiration from Kanye West's closet, toured by David Letterman on an episode of his Netflix show.
Behati's closet is equally massive and is, in her own words, "a dream come true".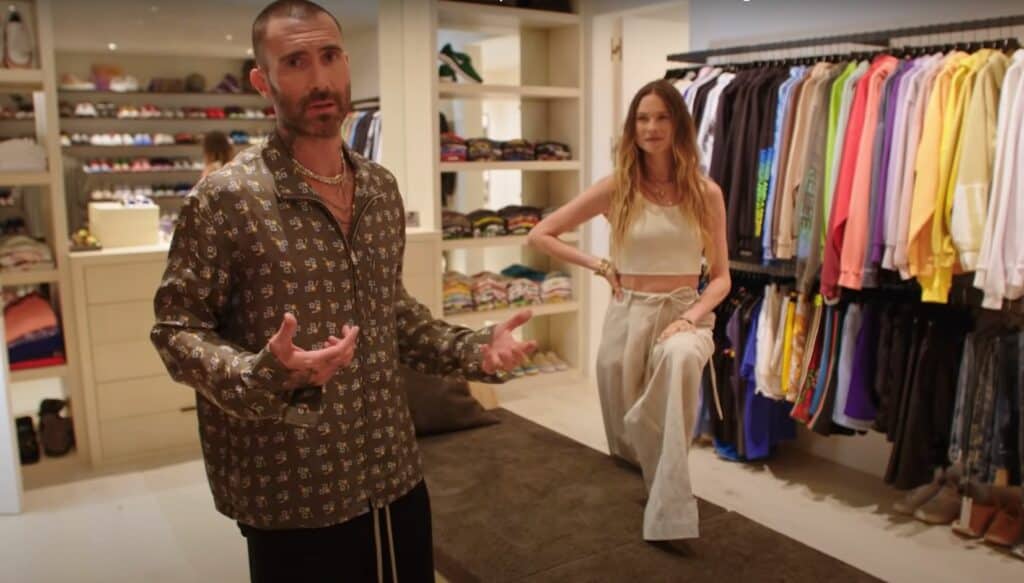 Nevertheless, the selling point of the house is its huge back yard, a feature that isn't all that easy to find in Los Angeles. The house also an awesome gym and yoga studio (and both Adam and Behti seem to be making the most of this space) and a cool guest house to welcome visitors.
More celebrity homes
Where Does Lady Gaga Live? Check Out Her 'Gypsy Palace' in Malibu
Spotlight: The Razor House — Alicia Keys and Swizz Beatz' Crazy Mansion
Dwayne 'The Rock' Johnson's New $27.8M Mansion Is a Piece of Real Estate Heaven
See Dakota Johnson's House in Hollywood, which She Calls 'Her Anchor'