Celebrities have a hard time staying out of the spotlight. Their photos, daily habits, and personal lives are always gracing the pages of gossip magazines, whether they like it or not.
And with the so-called paparazzi always lurking, it's no wonder that Hollywood celebs value privacy above all else when buying homes.
For celebrities who have to stay close to the spotlight but still want to enjoy some quiet beach time away from the prying eyes of the media, Malibu is a highly sought-after destination.
This exclusive beach city has been a Hollywood favorite since the 1930s, and nowadays its private beaches are lined with stunning celebrity homes (and some quite memorable TV show homes, including Charlie Harper's beach house on Two and a Half Men).
The Malibu lifestyle even appeals to real-life royals, as Prince Harry and Meghan Markle were checking out properties in the area a few years year — before they decided to settle down in Montecito. And while the two may have gone another route, there are still plenty of celebrity homes in Malibu for us to gawk at.
Let's take a closer look at the long list of famous people that live in Malibu and their million-dollar homes, shall we?
17 Celebrities that live in Malibu
Celebs love living in Malibu because, even though it's just a stone's throw from Los Angeles, it offers a lot more privacy and seclusion than, say, Beverly Hills, not to mention some downright gorgeous beachfront views.
Some of our favorite movie and music stars have lived here on and off over the years, while some have no plans of ever leaving. Let's check out 17 of the biggest celebrities who live in Malibu right now, in no particular order.
Kanye West
In 2021, rap superstar Kanye West joined the Malibu homeowners club.
Shelling out a whopping $57.3 million in an off-market deal, the father-of-four couldn't resist the stunning beachfront property that is one of only a handful of Ando-designed homes in the United States.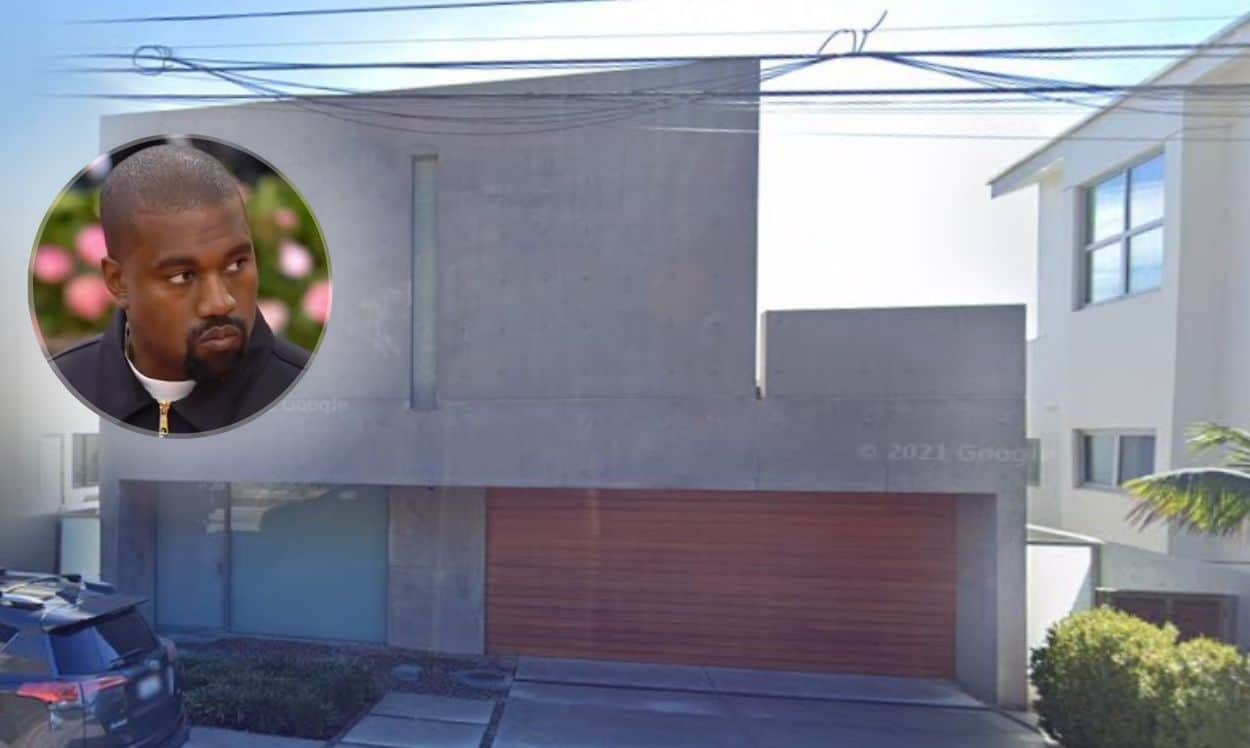 The Grammy Award-winning star is a huge fan of the Japanese "art island" designs of Pritzker Prize-winning architect Tadao Ando, Dirt reports.
Since he was then worth an estimated $2 billion (recent controversies and businesses deciding no longer to be associated with him brought his net worth down to about $400 million since then), Ye was able to cough up the big bucks for the Malibu mansion.
And it sounds like the Famous hitmaker got a deal. The nearly 4,000-square-foot house was initially listed at a whopping $75 million in 2020, before being removed from the market.
The luxurious beachfront property spans 3,665 square feet and includes 4 bedrooms and 4.5 bathrooms.
Spanning three levels, the waterfront home was sold by retired Wall Street financier Richard Sachs, also known as the ex-boyfriend of Full House star Ashley Olsen.
Reportedly, the structure required 1,200 tons of poured concrete, 200 tons of steel reinforcement and 12 pylons driven 60 feet into the ground in order to prevent the heavy house from sinking into the sand.
Jonah Hill
Don't Look Up star Jonah Hill is another prominent resident of Malibu.
As it turns out, the Superbad actor has a supergood real estate portfolio!
According to Architectural Digest, the actor-comedian purchased his first Malibu home in 2021 for $9 million. He loved the seaside community so much, he also purchased another (pricier) waterfront home in the exact same neighborhood and then offloaded his previous home for $11.1 million.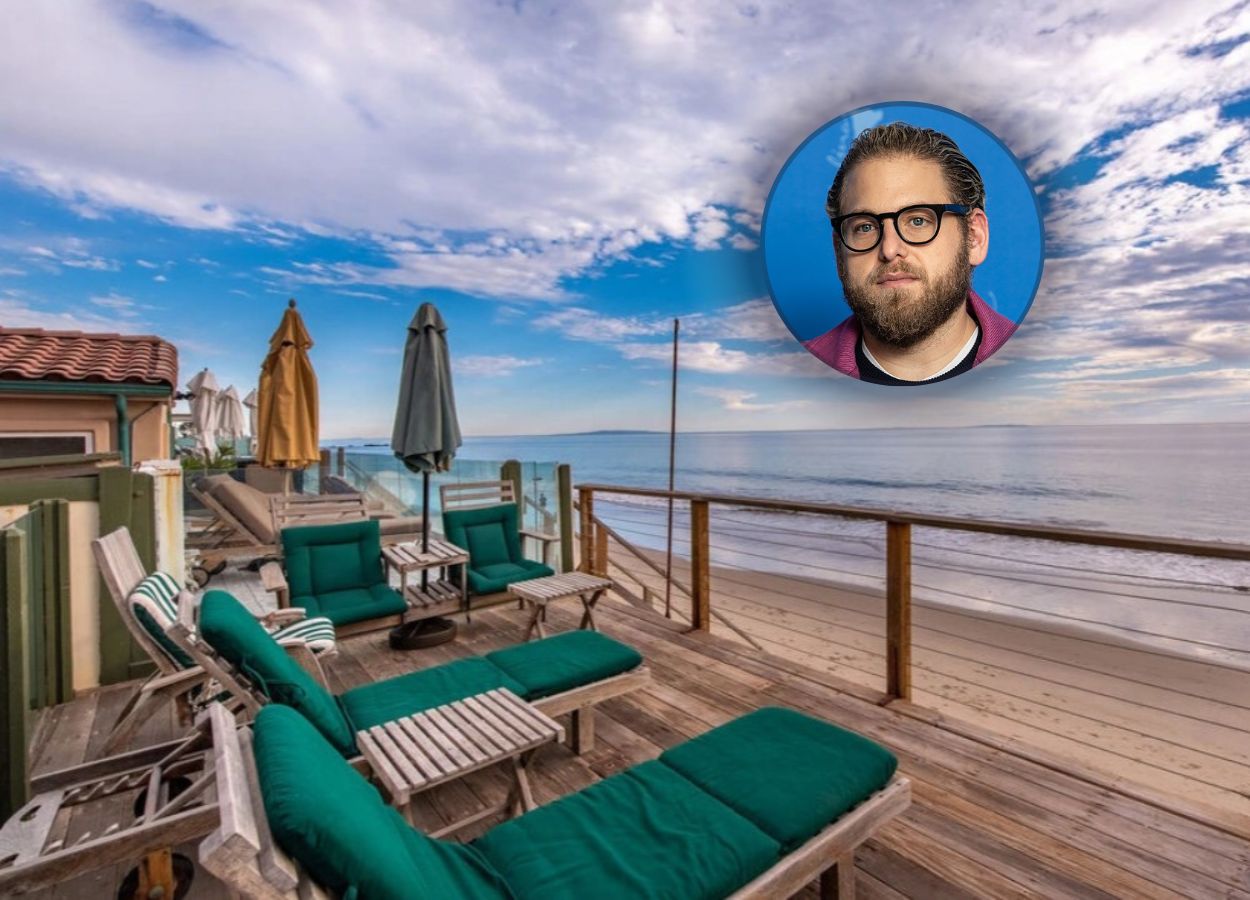 Hill's new home spans 3,100 square feet of living space. The four-bedroom, four-bathroom property sits on a 0.16-acre lot of land and features a three-story stucco and wood-shingled structure with a two-car garage and brick driveway.
According to Dirt, the funnyman shelled out $15.5 million for his "beachside" Malibu home (while his original Malibu purchase was situated on the "land side" of Malibu Colony).
Sergey Brin
According to New York Post, Google co-founder Sergey Brin and his wife Nicole Shanahan purchased a $13.5 million Malibu estate in 2020 (which happens to be one year before they separated).
Six months into the COVID-19 pandemic, the then-couple purchased the beach house in September 2020. Then in December 2021, the couple separated.
The Malibu mansion includes five bedrooms, seven bathrooms and was previously owned by none other than pop superstar Pink.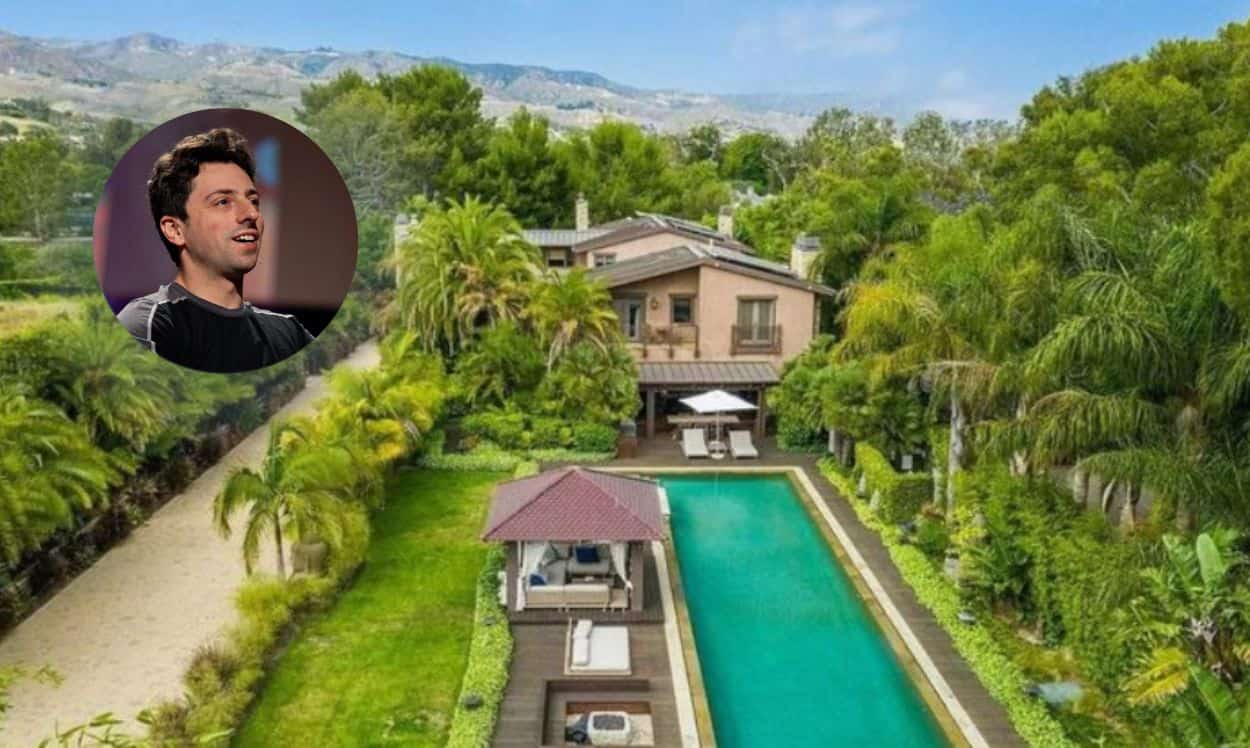 The rocker mother-of-two sold the Malibu mansion in 2016 to French investment banker Matthieu Pigasse for $11.9 million before Brin took ownership.
Offering tropical island vibes, the indoor-outdoor Asian-eque home includes a Balinese-style pool cabana and a walking path through the back gate that leads to the beach at Zumeriez.
Julia Roberts
Pretty Woman star Julia Roberts has been the proud owner of a beautiful blufftop home in Malibu's upscale Point Dume neighborhood since 2003.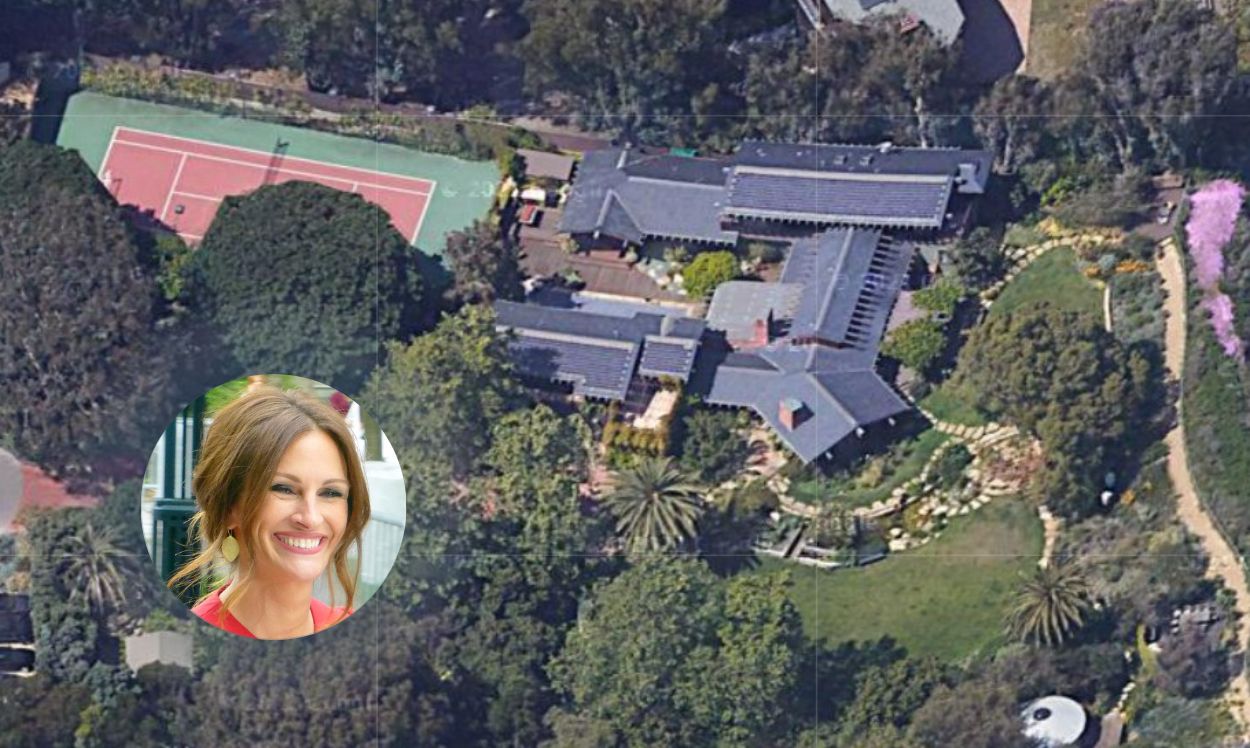 According to Dirt, the mother-of-three also owned a smaller "spare" Malibu home across the street, which she sold for $8 million in 2020.
Roberts' main blufftop estate is over 6,000 square feet and offers stunning water views. The Academy Award-winning actress purchased the posh hillside pad for $6.4 million in 2003.
As for her previous abode across the street, the Malibu home is described as a casual beach bungalow, featuring four bedrooms and three bathrooms.
Ellen Pompeo
In 2014, People's Choice Award-winning actress Ellen Pompeo purchased a plush property in Malibu for $6.365 million and joined the long list of celebrities living in Malibu.
The waterfront home is located on a low bluff in the semi-remote, far western end of Malibu.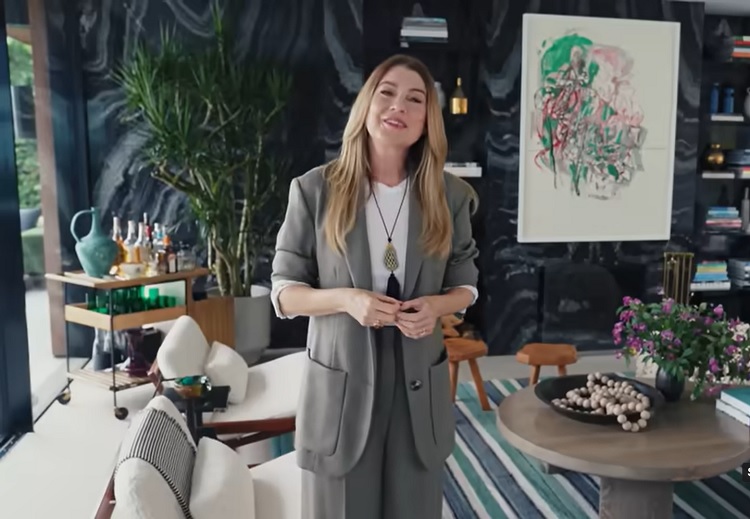 The Grey's Anatomy star bought the Buff and Hensman-designed house from Friends co-creator/ writer/ producer Marta Kauffman.
Featuring jaw-dropping ocean views and an infinity pool, Pompeo and her family-of-five enjoy unrivaled privacy on the westernmost tip of Malibu.
And just in case we made you curious, you can check out Ellen Pompeo's house and real estate portfolio here.
Chris Martin and Dakota Johnson
According to Dirt, Chris Martin and his longtime love Dakota Johnson owned, quickly sold, and purchased two different homes in Malibu's Point Dume neighborhood in recent years.
In 2020, the Coldplay frontman and the Fifty Shades actress sold their one-acre property which includes a 5,300-square-foot, Nantucket-inspired mansion. The A-listers closed the deal at $14.4 million, a whopping $1.9 million more than they paid a few months earlier.
The couple loves the seaside community so much, they purchased another Point Dume house just a few blocks away. Since the property traded hands in an off-market transaction, there aren't any pictures of the house available online. But we know quite a bit about the house itself.
@justjared on instagram
"Chris Martin has sold the Malibu mansion that he reportedly shared with Dakota Johnson and already bought a new one blocks away. To see more than 50 photos from inside the stunning home they sold, tap this pic at the …#ChrisMartin#DakotaJohnson" pic.twitter.com/elG6fAWNMF

— OnlyDakota (@Tzu_5911) December 28, 2021
Reportedly paying around the same price, Martin and Johnson settled on a smaller home.
Spanning 3,500 square feet, the 1.5-acres lot boasts a coveted "beach key" that provides exclusive access to Malibu's scenic Little Dume Beach. (Technically a public beach, most of the access points for reaching this beautiful sandy beach are guarded by locked gates).
Paris Hilton
Paris Hilton and husband Carter Reum have also landed in The Bu.
In 2021, the couple coughed up $8.4 million for an oceanfront house on Malibu's desirable La Costa Beach, Dirt reports.
Fans of the socialite can see her whipping up meals on her Netflix show, Cooking with Paris, in her beautiful Malibu kitchen.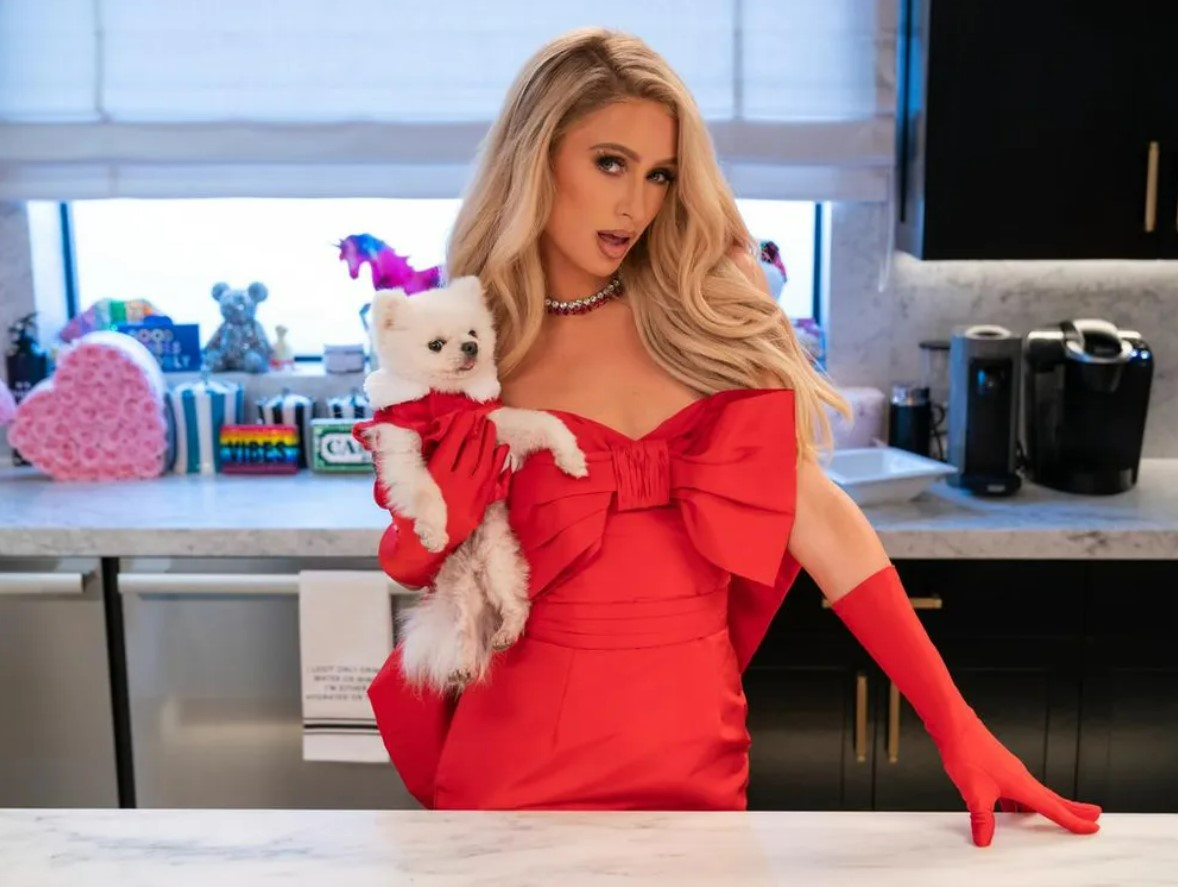 Spanning nearly 3,000 square feet, the beachfront home offers 3 bedrooms and 3 bathrooms of luxurious living space.
Courteney Cox
Hollywood darling Courteney Cox has a lot in common with our favorite F.R.I.E.N.D. One thing is that both Courteney and Monica, her character in the iconic sitcom, are highly attached to their homes. The actress has been living in Malibu for more than a decade, and she doesn't have any intention of ever leaving.
Over the years, she has put in a lot of work into her forever home, a Malibu beach house that features guest cottages, a movie screening room, as well as a tennis house, among other things.
We've also tracked down the homes of her cast mates, in case you're curious to see where the rest of the Friends actors live.
Lady Gaga
Owning one of our favorite celebrity Malibu homes, Lady Gaga's full-time residence is a 10,270-square-foot stunner set right across from Zuma Beach.
The singer paid $22.5 million for her home in 2014, and she's become so fond of it that she's dubbed it her 'Gypsy palace.'
We've recently taken you on a tour of Lady Gaga's house in Malibu, which was also featured in the Netflix documentary Gaga: Five Foot Two.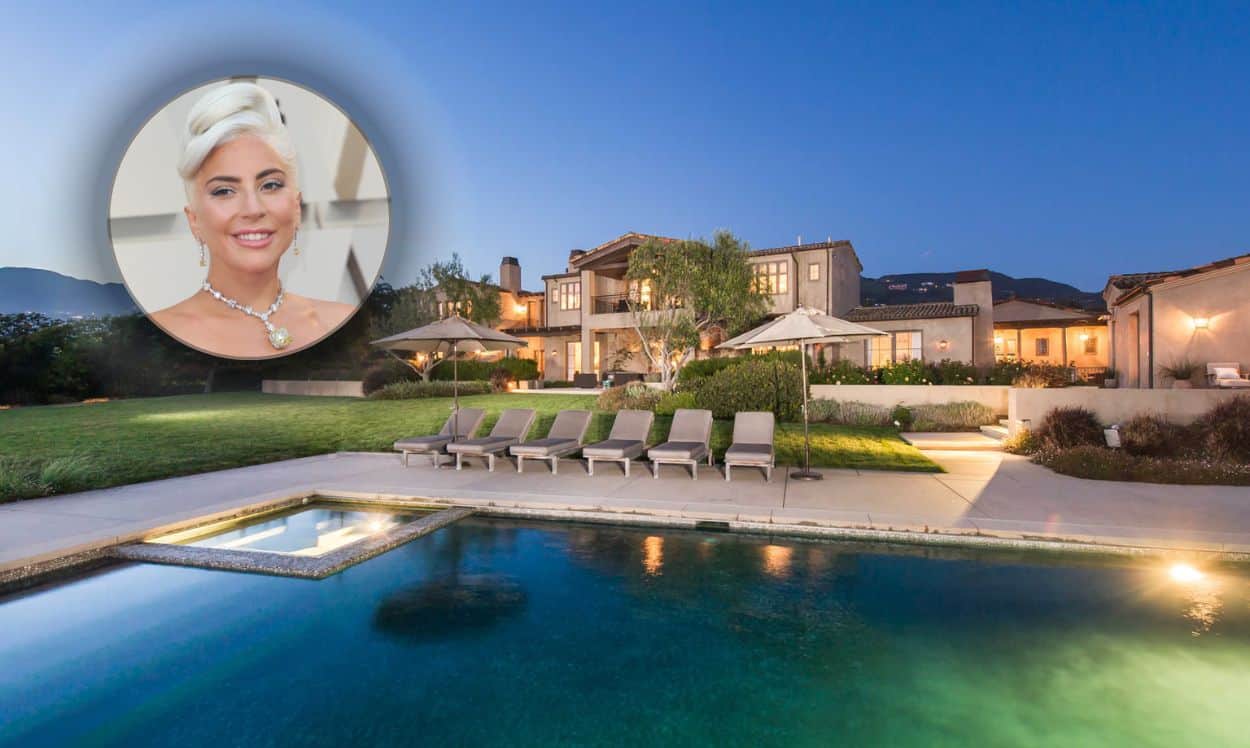 Spoiler alert: the house isn't as wacky as you might expect it to be, at least not when compared to the homes of other celebs on this list.
Leonardo DiCaprio
At one time, Hollywood leading man Leonardo DiCaprio owned three Malibu mansions (all of them oceanfront), including a lavish oceanfront home in a part of Malibu known as 'Billionaires Beach.'
DiCaprio bought his first 1,765-square-foot Malibu home in 1998, presumably after hitting it big with Titanic, and invested in upgrades over the years.
The actor, whose roles include Rick Dalton in Once Upon a Time in Hollywood and Gatsby in The Great Gatsby, decided to list the three-bedroom bungalow as a rental in 2017, for 'just' $25,000 a month.
In 2009, the Titanic star sold a blufftop contemporary home in The Bu for $7.4 million. And in 2013, the Academy Award-winner sold a larger home located in the upscale Malibu Colony gated community for $17.4 million.
Located on Carbon Beach, Leo listed his third home for $10 million in 2021. According to TMZ, he purchased the house in 1998 for $1.6 million, and in 2021, he sold it for $10.3 million.
The Revenant star sold his longtime residence in exchange for a bigger and more expensive Malibu spread, New York Post reports.
Inside Leonardo DiCaprio's new $14M Malibu beach house https://t.co/tmSpkVg9qj pic.twitter.com/dXk9Y24w1B

— New York Post (@nypost) September 9, 2021
Mindy Kaling
In 2020, Mindy Kaling purchased Frank Sinatra's former home for $9.55 million, joining the many other celebrities who live in Malibu.
After selling two other homes in the Los Angeles area in less than five years, The Mindy Project star seems to have settled in the Broad Beach neighborhood with her young daughter Katherine and son Spencer.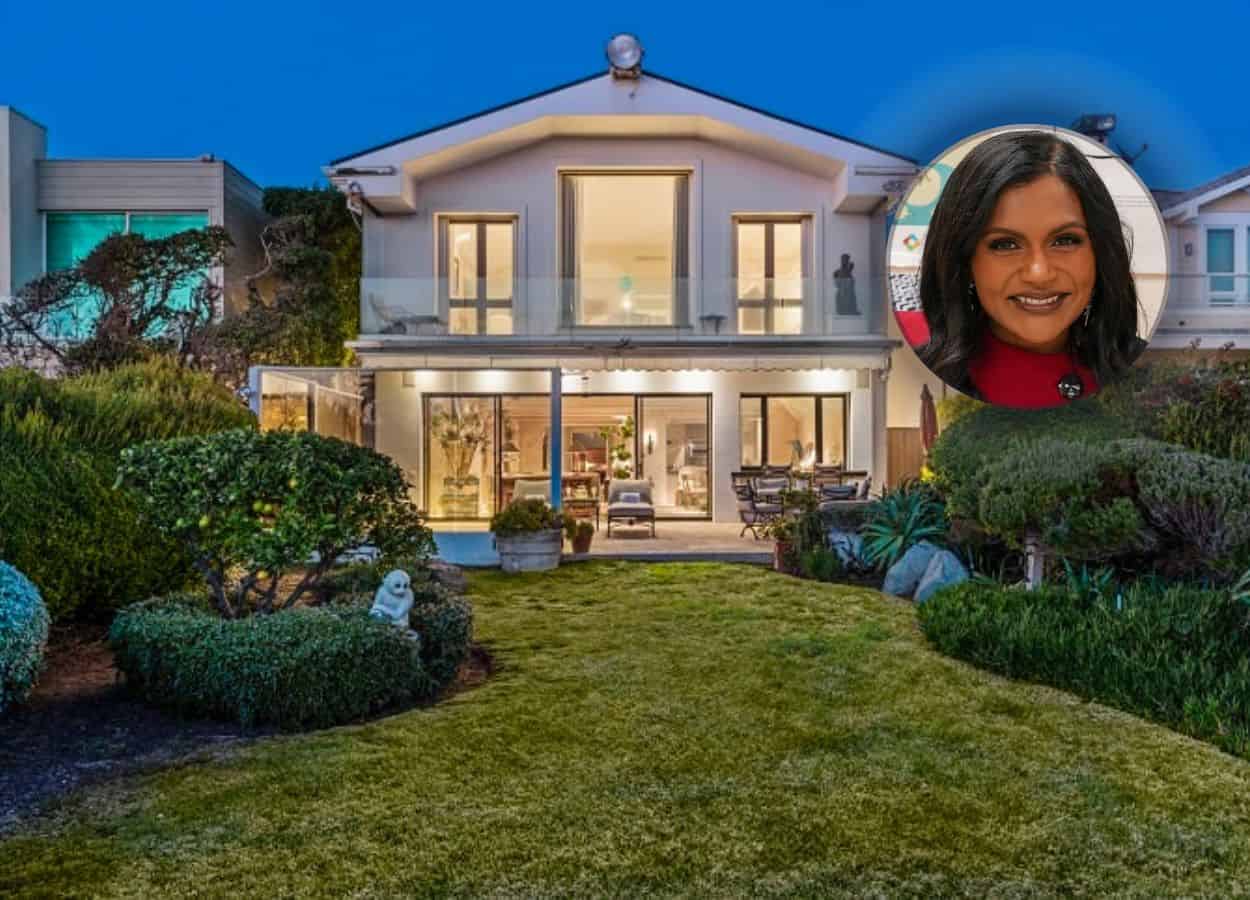 The coastal estate features seven bedrooms and nine bathrooms, 5,824 square feet, and plenty of outdoor spaces to soak in the vast ocean views. For our full coverage of the funny lady's Malibu beach house, go here.
Caitlyn Jenner
You might remember that during season 10 of Keeping Up With the Kardashians, Caitlyn Jenner (back then, Bruce) moved into a stunning home in Malibu, yearning for seclusion and getting away from all the media hype.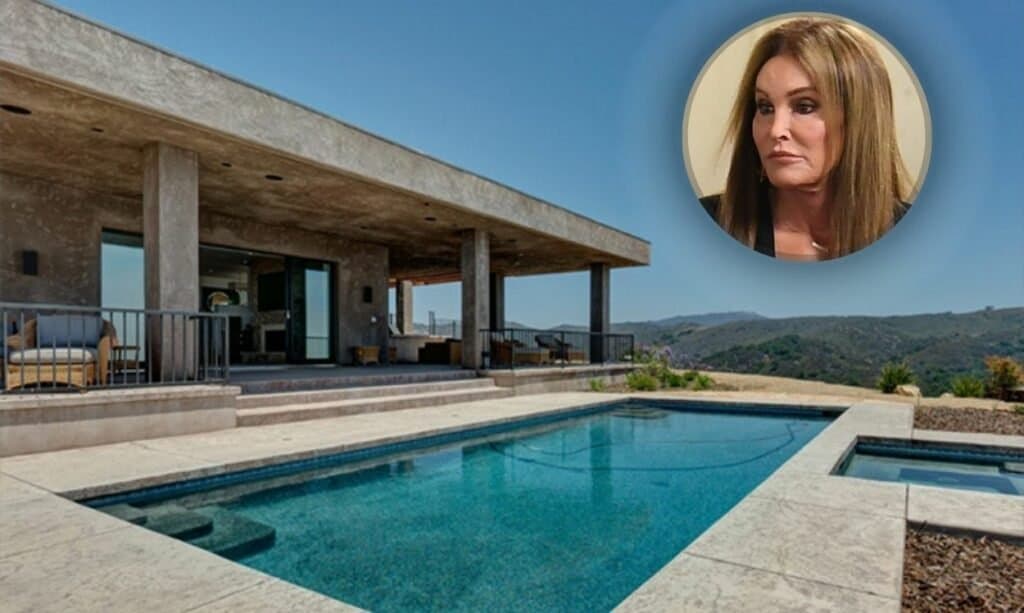 Not long after, Jenner moved on to a stunning hilltop mansion (also in the Malibu area) that came with awesome views of the ocean, which she now shares with her dogs and current girlfriend, Sophia Hutchins.
The 2018 Woolsey Fire nearly destroyed her idyllic home, but luckily the damage was contained and Jenner can continue enjoying her Malibu peace and quiet.
Robert Downey Jr.
Robert Downey Jr., better known as Tony Stark from his iconic run as Iron Man in the Avengers franchise, has been living in Malibu for quite some time now.
He purchased a massive $13.4 million property in 2009, which includes pretty much everything you could ever dream of, including a zoo, playgrounds, swimming pools, and jaw-dropping car collections. The actor must have seriously fallen in love with the area since he snapped up another Malibu home in 2017 for $3.5 million.
Alongside wife Susan, Robert Downey Jr. took on a lengthy and quite unique project to expand their Malibu home — by building an energy-efficient, dome-shaped house on the lot next to their main house.
Inside @RobertDowneyJr and Wife Susan's Futuristic Malibu Dome House: Our 'Passion Project' #PEOPLEtheTVShow pic.twitter.com/BRq4lQGynK

— People (@people) April 9, 2021
Interestingly enough, RDJ's house shares the same zip code as Tony Stark's fictional home near Point Dume. Coincidence? We think not.
Rick Rubin
Def Jam Recordings co-founder and iconic music producer Rick Rubin is no stranger to luxury Malibu living. The producer purchased the legendary Shangri-La recording studio, which once housed Bob Dylan, in 2011, and he also bought several homes in the nearby area over the years.
Peek inside Rick Rubin's minimalist Malibu retreat with coastline views. For more photos and info: https://t.co/q7O3muqg37 pic.twitter.com/eGjCG5j5Rw

— Dirt (@DirtDotCom) February 26, 2022
Rubin seems to also have a hidden talent for interior design, as one of his Malibu projects was highly praised and featured by the Wall Street Journal in 2017.
One of the most unique features of his Malibu oasis lies in its emphasis on music — every room in the house is fitted with a state-of-the-art speaker system that ensures uninterrupted listening experiences.
Mel Gibson
Mel Gibson's Malibu mansion looks like it was built centuries ago, but it actually dates back to the 1990s.
The actor paid $11.5 million to buy it from actors David Duchovny and Tea Leoni in 2008, and has continued to own it ever since, even though he's put it up for sale quite a few times over the years.
In 2017, Gibson listed his 6,578-square-foot home for $17.5 million, but didn't find a buyer for it. He then listed it again in 2019 for $14.5 million, but the discount didn't take the property off his hands (at least not yet). But there were some rumors flying around a while back that Prince Harry and Meghan Markle were eyeing the property — turns out they were just that… rumors.
HAVE THE SUSSEX'S BROUGHT MEL GIBSON'S MALIBU HOUSE?
Reports have been circulating that Prince Harry and Meghan Markle have bought Mel Gibson's 6,600-square-foot Malibu home but could this be the worst kept secret or simply fake news!!
Read More: https://t.co/djeSC8376L pic.twitter.com/xD20qp8DDi

— Billions Luxury News (@BillionsPortal) April 14, 2020
Cindy Crawford
Supermodel Cindy Crawford and her husband Rande Gerber own quite a few properties in California — and a soft spot for Malibu.
Among them is a gorgeous Malibu home that they bought in the 1990s, and which they've been using as a summer rental for $45,000 a month.
They listed the property for sale at one point, and even managed to find a buyer who was going to acquire it for $6.5 million. Unfortunately, the buyer had to back out of the deal due to the global pandemic, but Crawford was very understanding of the whole situation, and graciously let the buyer out of the deal, even returning their deposit.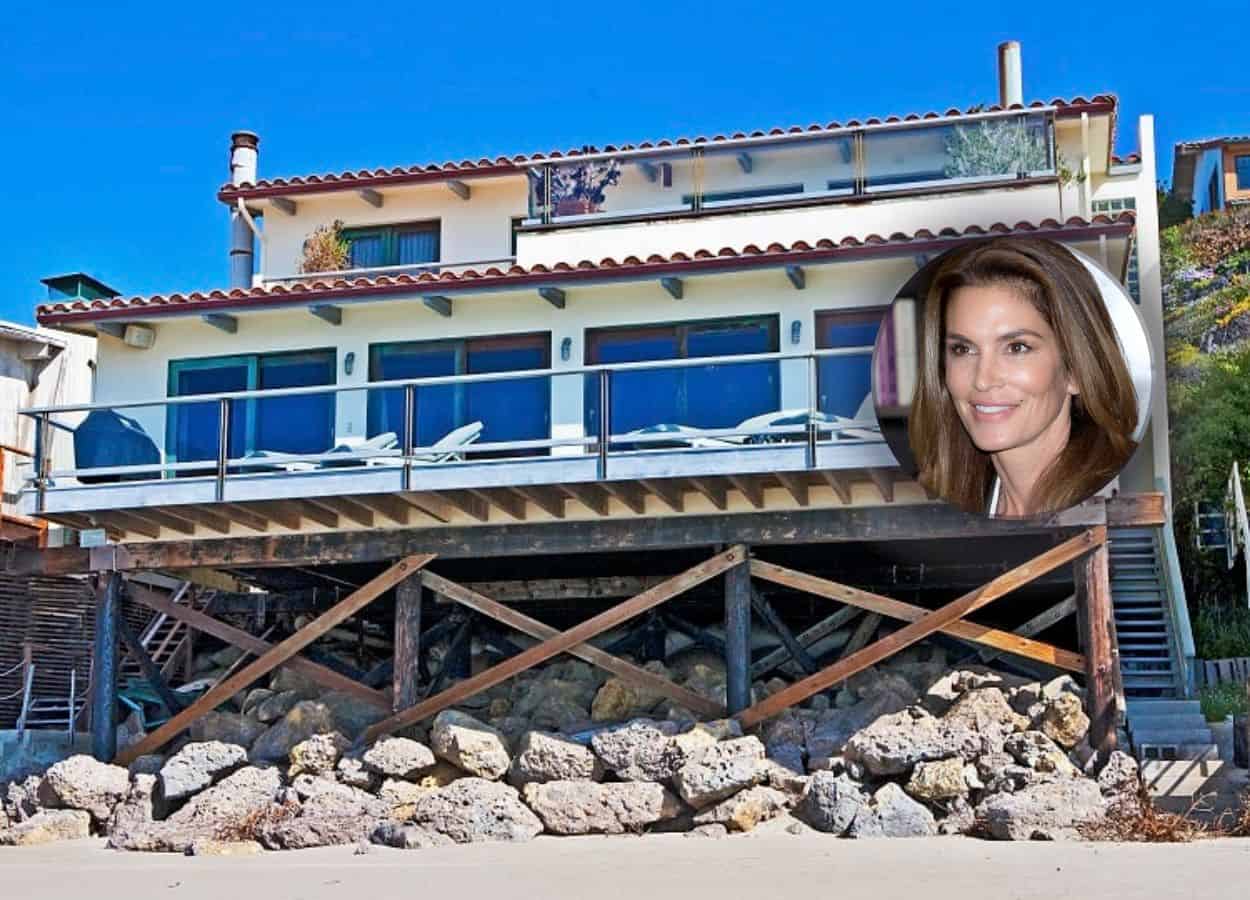 Crawford is so in love with the area that she's got another gorgeous Malibu property to enjoy with her lovely family, which Vogue toured in 2017.
These are just 17 of the biggest Hollywood celebrities living in Malibu at the moment. But since the area is unlikely to lose its appeal among the rich and famous, expect to see many more A-listers and famous people flocking to its sandy beaches and oceanfront location.
However, if Malibu doesn't tickle your fancy, then be sure to check out our list of the biggest celebrities who live in Beverly Hills.
More stories you might like
The biggest celebrities living in Atlanta and their million-dollar mansions
Brentwood, one of LA's most glamorous neighborhoods
Celebrities that lived at the Chateau Marmont in Los Angeles
The Bird Streets in Los Angeles: West Hollywood's top celebrity magnet