The 23,000-square-foot steel, concrete, and glass masterpiece that was once home to comedian/actor Bob Hope is one of the most unique celebrity homes of all time.
Custom-built for Dolores and Bob Hope by one of the most noteworthy American architects of the twentieth century, John Lautner, the property is well known for both its architecture and the many famous guests that it entertained throughout the years.
The architecturally distinct house — located at 2466 Southridge Drive in Palm Springs, California — was owned by the Hope family for well over 30 years.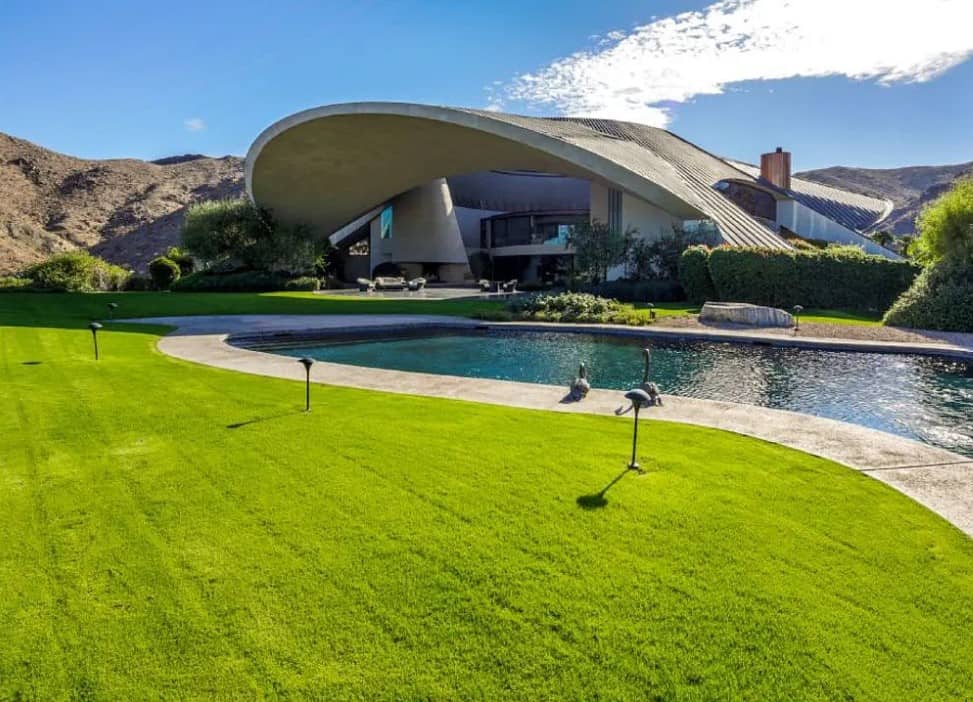 Despite its unique appeal, the spaceship-like mansion has had a hard time finding a new owner in recent years. But we'll get to that in a minute.
First, we want to take some time to go over the house's many attributes — and its history as home to one of America's greatest entertainers.
Bob Hope's house was designed by legendary architect John Lautner
The modern structure is the largest home ever to be built by Hollywood's favorite architect, John Lautner.
SEE ALSO: The Chemosphere House and 6 other striking John Lautner-designed homes
Known for combining cutting-edge tech with humane design and dramatic space-age flair, Lautner is the creative mind behind architectural masterpieces like the Elrod House, the Chemosphere, and the exquisite Silvertop home — all of which have made their Hollywood debut in movies like Diamonds Are Forever (007), The Simpsons, Less Than Zero.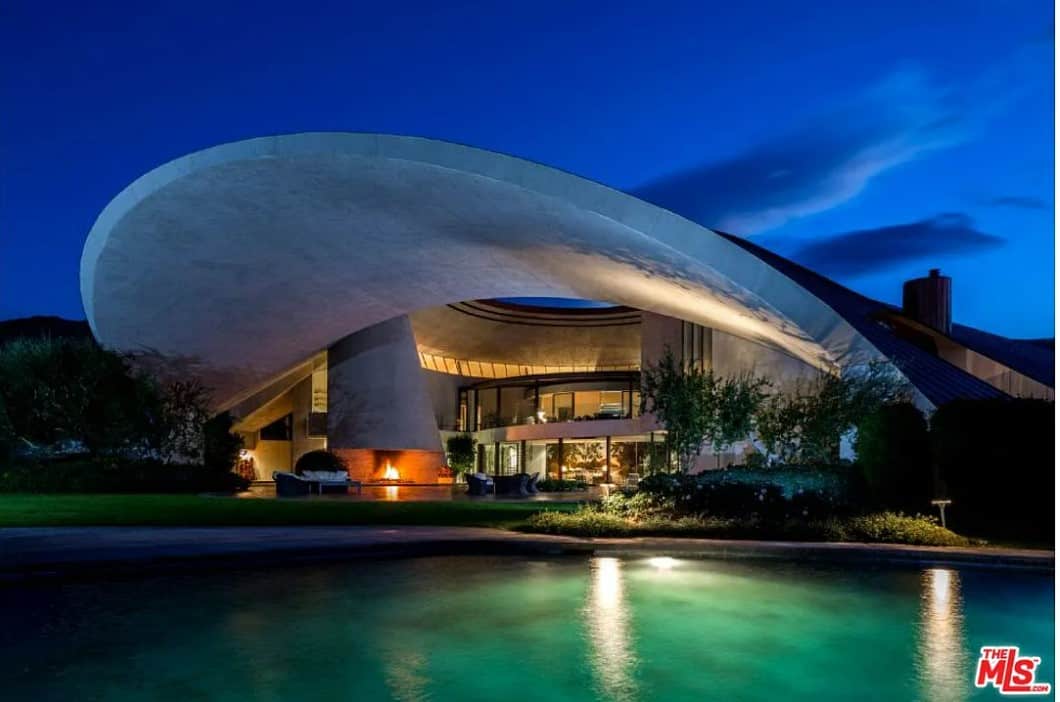 In fact, it was Lautner's neighboring Elrod House that caught the eye of Bob and Dolores Hope, who then hired the architect to build an equally interesting home for them. And they got exactly what they wanted.
When John Lautner first presented Hope with a model of his Palm Springs home, the comedian was taken aback and expressed his bewilderment and admiration by saying "Well, at least when they come down from Mars they'll know where to go."
The UFO-like home boasts architectural drama throughout, starting with the enormous natural boulder that juts into the living room, and peaking with a massive oculus cut out of the curved roof stretching above the courtyard.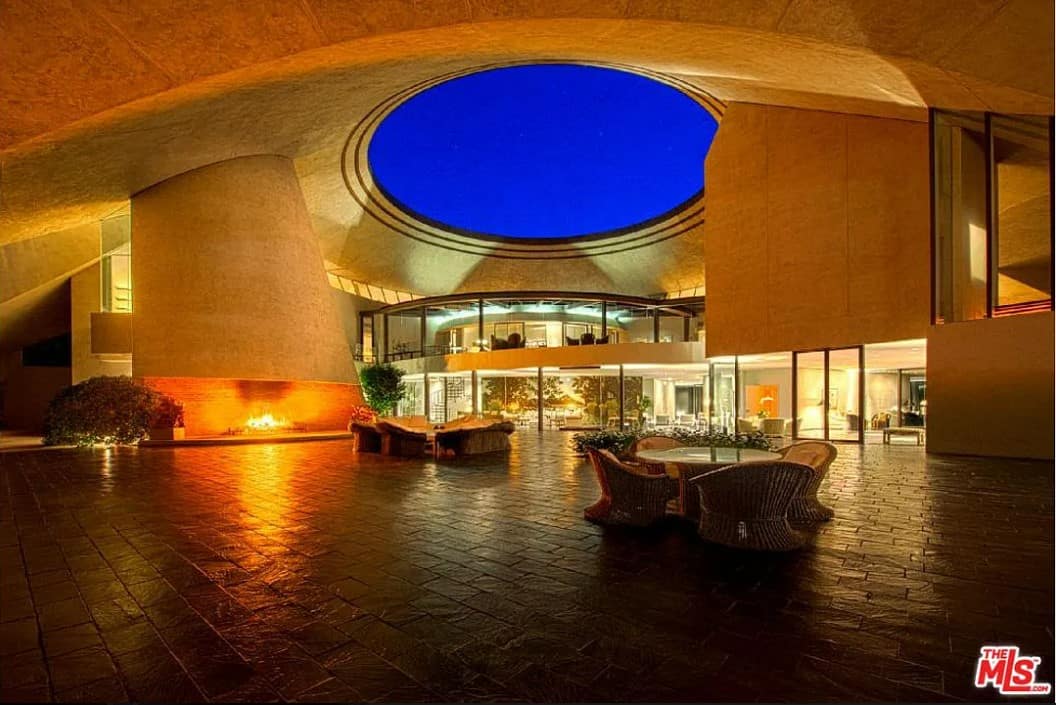 The house quickly became famous thanks to its distinct design and the large undulating triangular roof, with a large oculus at the center.
But its many attributes extend beyond Lautner's unique architectural choices.
With an impressive total of 10 bedrooms and 13 bathrooms, the former celebrity home sits on a 6.18-acre lot in a gated community in Palm Springs.
SEE ALSO: Bob Hope's Sprawling Toluca Lake Estate, Worth $29 Million
Its elevated location offers stunning views of Coachella Valley and the San Jacinto Mountains, which can be enjoyed from many parts of the house.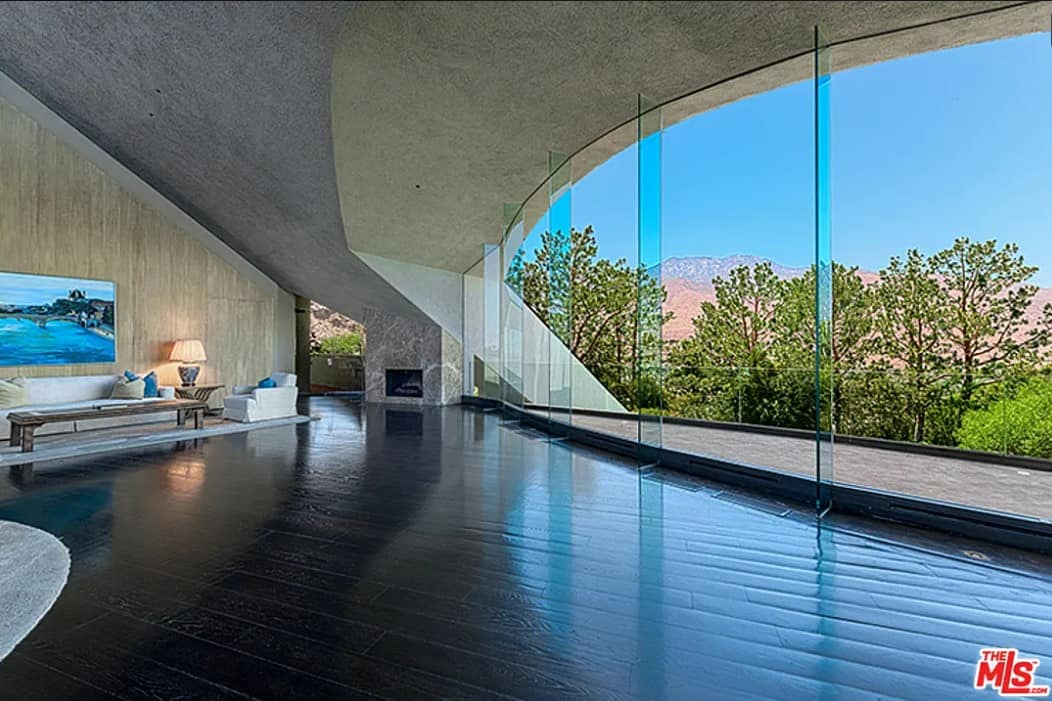 Outdoor amenities abound outside Bob Hope's house in Palm Springs. You'll find everything from a swimming pool to putting greens, a tennis court, and even a massive exterior terrace with an outdoor fireplace in a large conical chimney.
Who owns Bob Hope's Palm Springs house now?
Following Dolores Hope's passing in 2013 (10 years after Bob Hope), the Hope Residence was put up for sale.
Initially listed in 2013 for a whopping $50 million, Bob Hope's house in Palm Springs bounced on and off the market before settling for a $25 million ask. That translates into roughly $1,070/sqft.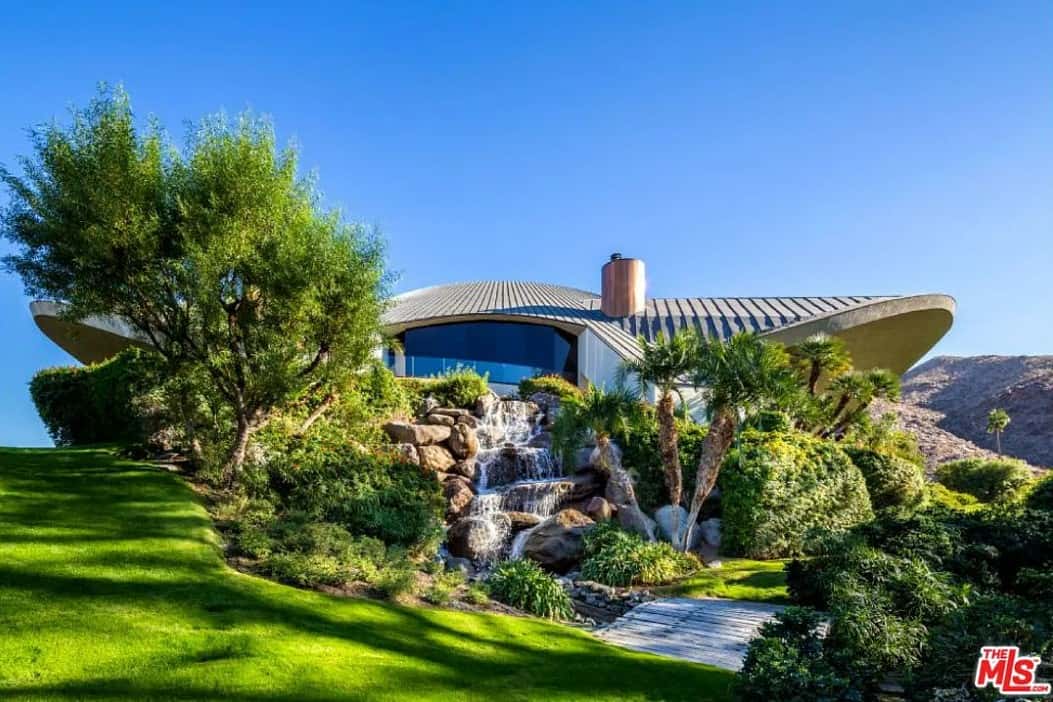 But despite its glamorous past and architectural pedigree, the property sold three years later for nearly half its asking price.
In November 2016, billionaire Ron Burkle bought the former Hope Residence for $13 million, a far cry from the $25 million the property was looking to fetch.
Burkle, a prominent investor best known for forming the investment firm Yucaipa, and for his winning bets on tech firms like Airbnb, Uber and Foursquare, is quite a collector of pop culture-relevant properties.
He famously owns Michael Jackson's Neverland Ranch (which he bought in 2020 for $22 million), and previously owned Frank Lloyd Wright's Ennis House — also known as the Blade Runner house.
Ron Burkle also owned the neighboring Elrod House (another John Lautner masterpiece) before selling it in 2003 for $5.5 million. Perhaps parting ways with the Elrod House is what prompted the billionaire to buy the former Hope Residence.
Either way, the new owner of Bob Hope's Palm Springs house is known for the attention and care he puts into his homes, carefully restoring the properties without altering their unique traits.
More stories you might like
The Troubled History of Gianni Versace's Mansion
Graceland, Elvis Presley's House in Memphis
The Playboy Mansion: the full story of Hugh Hefner's party palace
The Complete History of Hearst Castle in San Simeon