Ever since we've taken a peek at Poppy and Cara Delevingne's L.A. house, we can't seem to get the "Welcome to the Jungle" song out of our heads. Bear with us and you'll see why.
The 27-year-old British model and actress Cara, along with her fellow model sister Poppy (33), recently gave Architectural Digest an exclusive look inside their lush California home — and you're not going to want to miss it!
The whole house was designed to match both sisters' tastes and architect Nicolò Bini of L.A.–based Line Architecture worked closely alongside Poppy and Cara to bring their fantasy home to life, nailing the specifics all the way down to a pair of beautiful, yet different master bedrooms that have separate entrances.
"I wanted to create a true L.A. moment for them, with nods to California midcentury modern, Laurel Canyon bohemia, Beverly Hills swank, surfing culture, and a little Mexico. Then we tied all that in with Cara and Poppy's Englishness to give the house another layer of Delenvigne charm." Bini told AD.
The sisters are originally from England, but they often come to L.A. to work on new projects, so instead of constantly renting, buying a house together seemed like a great idea.
"Since one of us was always coming here for one reason or another, being with family just made sense." Cara told AD.
They bought the house from singer and actor Jared Leto, and after redecorating it to fit their own needs, the result is a two-story mansion that reveals a killer combination of quirky retro stylings and brightly colored interiors spanning over four bedrooms, three and a half bathrooms, a spacious living and a private pool and spa surrounded by lush greenery.
The emerald dining room
Aside from all the living green surrounding the house, the emerald-lacquered dining room has the real jungle feel.
With its rattan monkey chandelier, emerald green armchairs, and the vintage cocktail table, this room only lacks the exotic jungle natural sound (some surround sound speakers should do the trick though).
Two master bedrooms
While they might look alike, the sisters definitely have divergent personal taste, and the differences are more than obvious once you check out the master bedrooms – they went in completely different directions.
The big sis' describes her bedroom as "zen" and "relaxing". The room lets in all the natural light, the walls are white so everything is so bright that it almost "burnt" Cara's skin.
Poppy's bedroom features a wall covered in a hand-painted de Gournay paper featuring monkeys and toucans. This was just something to make her feel more at home, since she has one of these at their house back in England.
"For my bedroom here, I wanted to create a calming atmosphere, with pale pinks and blues, Moroccan rugs, and super soft fabrics. It feels like heaven."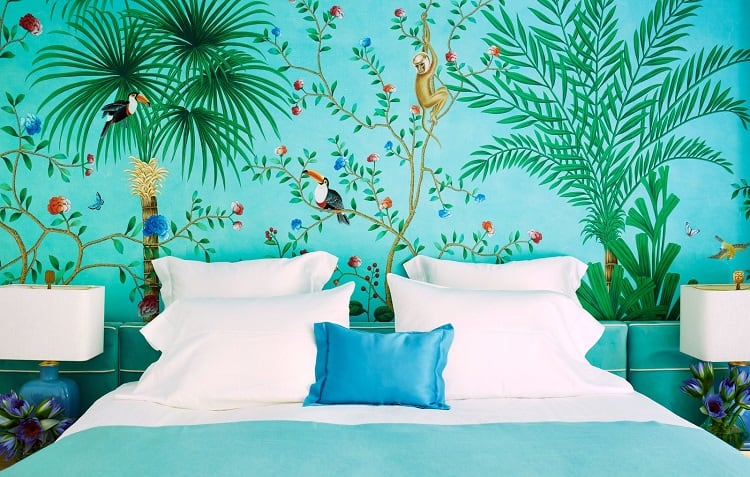 As we've mentioned above, Cara's master bedroom design has nothing in common with her sister's. There's a lot of burgundy and velvety stuff going on in there so she obviously opted for sex appeal in her creation.
Inside the spacious room there's a sitting area and an 11 feet-wide bed, set on a mirrored platform that can easily fit Cara's long legs and all her dogs at once.
"Feels like the Playboy mansion with a touch of Art Deco and a David Hicks pattern thrown in for good measure", Cara says.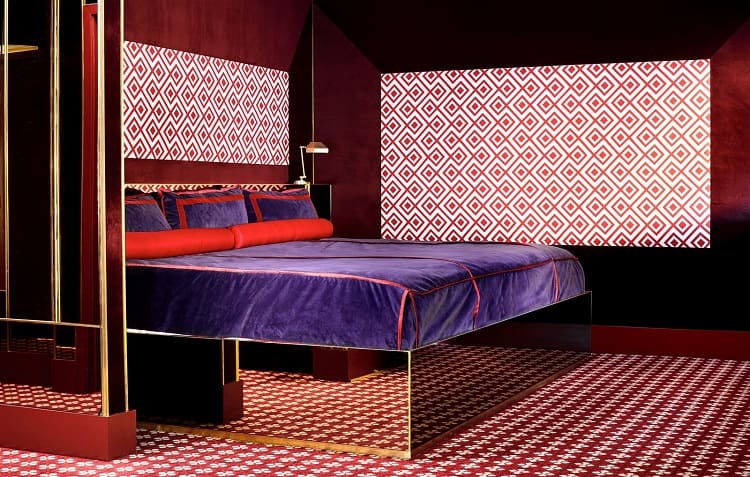 Soundproof party bunker
Cara's dream house needed to have a luxurious "soundproof party bunker" that opens off her bedroom.
And while you're thinking "sure, she's young, funny and loves to party", we'll give you some more details on why this bunker is more than you'd expect.
The room features disco lighting, some black velvet painting (nudies), a mirrored ceiling and wait for it… a stripper pole! Not for Cara because she seems to be really bad at pole dancing, but everyone else is encouraged to show off their talent.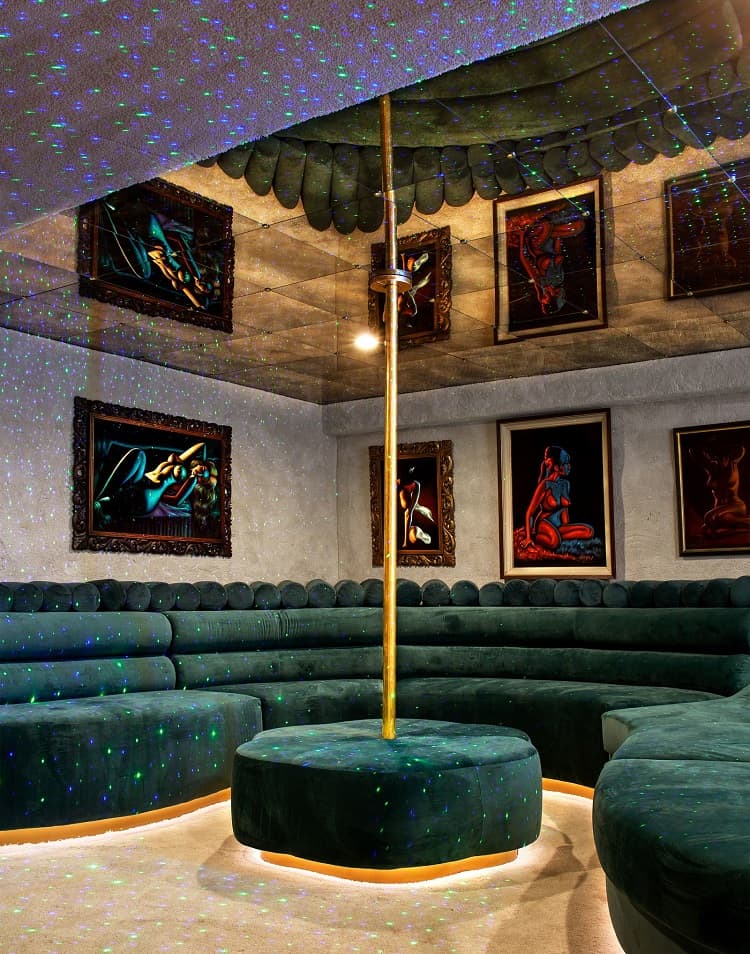 The bar aka "play room"
The nautical bar straight out of Gilligan's Island has its own keg – "true brit style". I guess we all love our beer. The whole space is decorated in leaf print.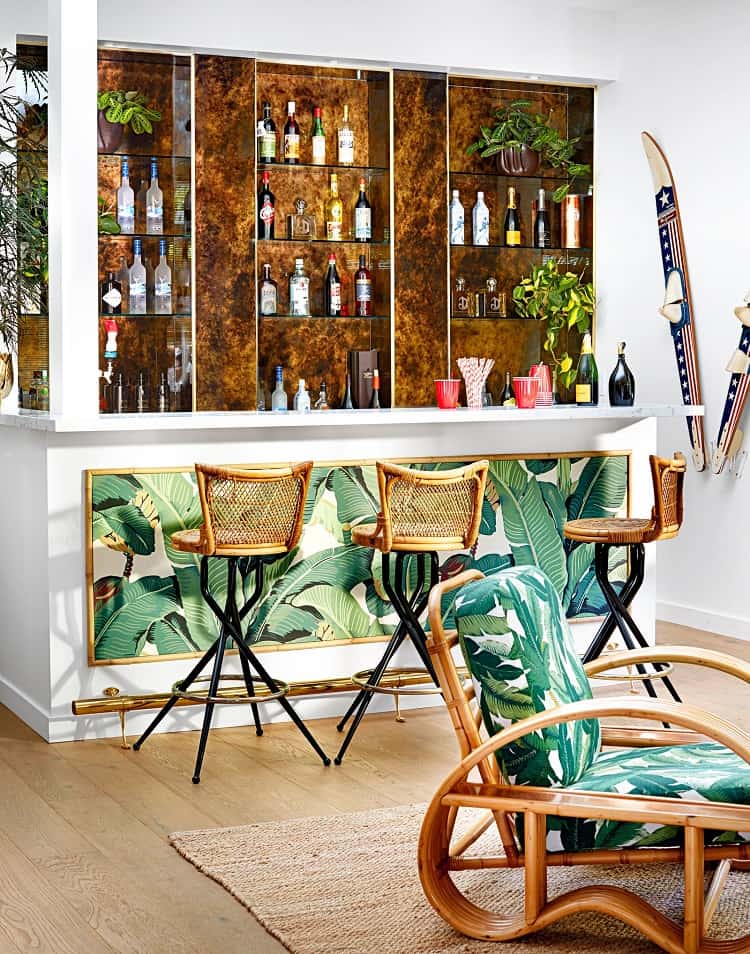 Since they called it a play room it had to have something more than just a bar, so Cara's favorite piece in this particular space is a Playboy Pinball Machine. Cool!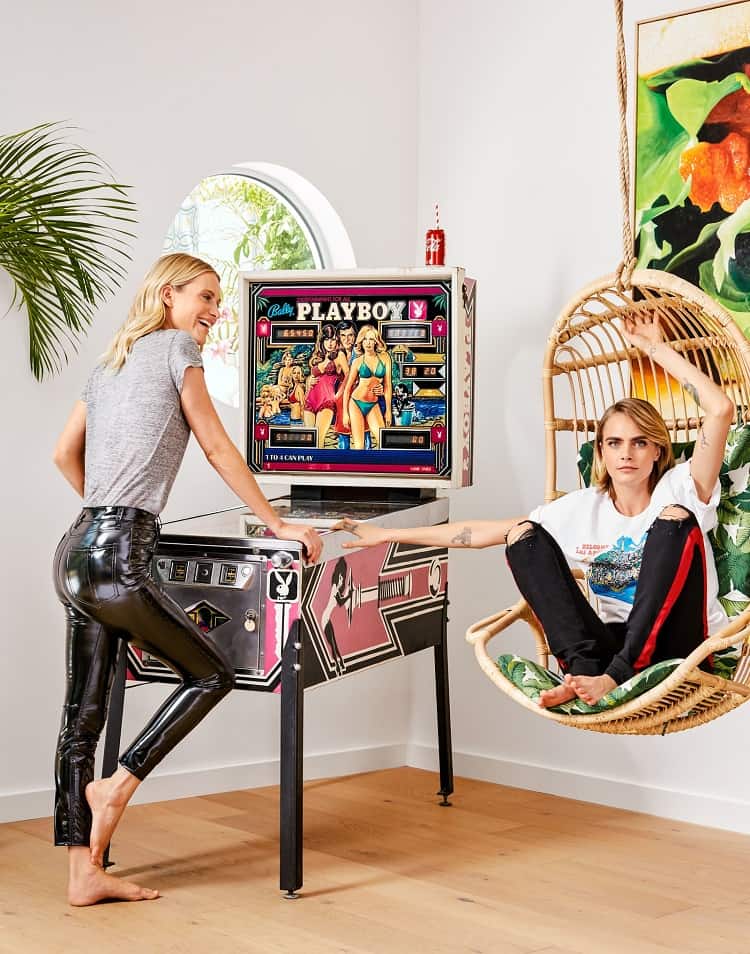 Bunk beds in the guest room
For the guest room, it was Cara's idea to design double bed bunk-beds so they could have as many friends over at once.
Featuring a leafy wallpaper, the room is not too spacious, but big enough to welcome some of the sisters' dearest friends.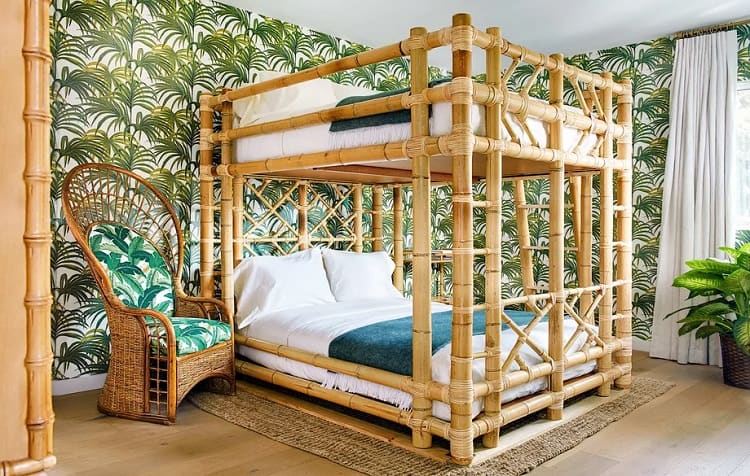 The house has a wrap-around balcony that connects everything and the whole courtyard is filled with luscious green foliage — a dream come true since the two sisters "don't really get a lot of gardens situations going on" in England.
More celebrity homes
Spotlight On: the Razor House — Alicia Keys' Crazy New Mansion
Where in the World Do George Clooney & Amal Clooney Live? A Closer Look at the Couple's Many Houses
Inside Ellen Pompeo's House and Multi-Million Dollar Real Estate Portfolio
A Look Inside JoJo Siwa's $3.5 Million Mediterranean-Style Mansion