Now, happy you're here, but if I hooked you with that title and that description, I'm guessing you're gonna want to get right into it.
Christie's International Real Estate is the luxury real estate arm of Christie's, the fine art auction house. It was founded in 1995 and it has grown into a huge international network of high-end real estate brokers and affiliates. It mostly deals with luxury properties priced over $1 million.
At the end of each quarter, Christie's puts out a list of the biggest sales recorded by members of its network. And since there's quite a few stunning celebrity homes in the list, we thought you might like a peek.
---
Australia's crown jewel, the Fairwater, sets new records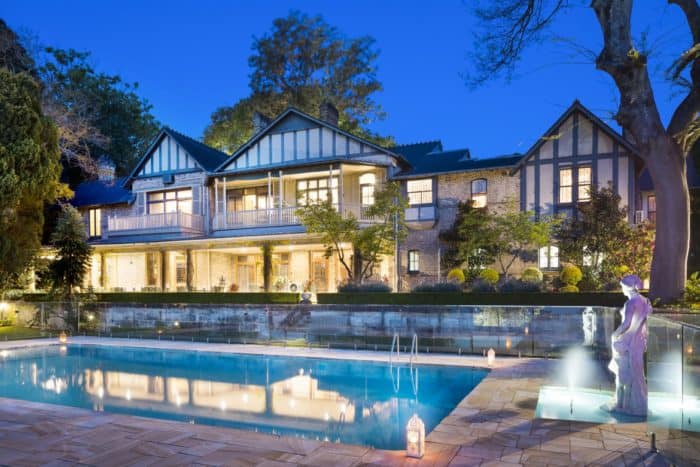 Leading the list of most expensive homes sold by Christie's International in Q3 is Australia's most expensive home, the sprawling Point Piper mansion Fairwater, now under contract for a mind-boggling $71 million (A$100 million).
The sprawling estate — often referred to as the pinnacle of Australian real estate — was first built in 1882 and is a rare example of a stately residence from a bygone Sydney era. The mansion had been the residence of the Fairfax publishing family since 1900, when it was bought by James Oswald Fairfax, grandson of the founder of the Sydney Morning Herald, John Fairfax. It was the home of Lady Mary Fairfax until her death in September last year.
The lucky buyer: tech billionaire Mike Cannon-Brookes, the co-founder and co-CEO of the software company Atlassian (most known for its flagship product, JIRA.) Cannon-Brookes will be moving in right next door to fellow Atlassian founder Scott Farquhar, who previously held the record for buying the most expensive home in the country, after buying the Elaine in 2017.
Mike Cannon-Brookes' $71 million purchase of the Fairwater estate ended 117 years of Fairfax family ownership.
---
Danny DeVito's former Beverly House compound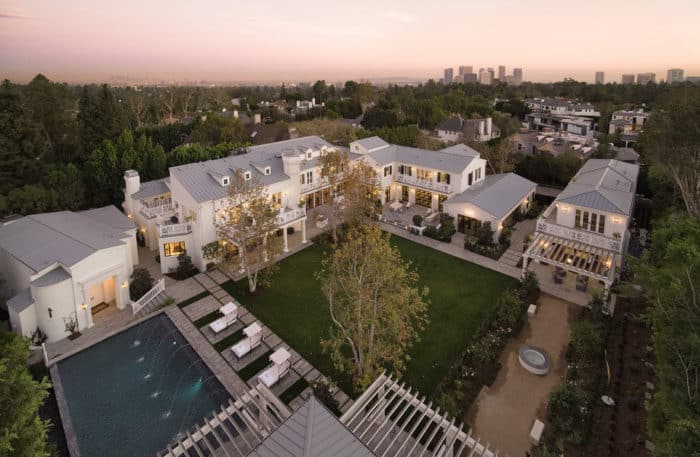 Once home to beloved couple Danny DeVito and Rhea Perlman, the massive home at 1028 Ridgedale Drive in Beverly Hills was recently bought by Australian billionaire James Packer — former executive chairman of Publishing and Broadcasting Limited (PBL) and Consolidated Media Holdings — for $66 million.
That's quite a steep jump from $28 million — the amount DeVito and Perlman sold it for back in 2015. But that's because the previous buyers were real estate developers Stuart and Stephanie Liner, who extensively renovated the property. Not only that, but Mansion Global also reports that the Liners have increased the overall square footage by 29,000 square feet.
Located at the top of a cul-de-sac near the Los Angeles Country Club, the massive home includes a seven-bedroom main house, several guesthouses and an eight-car garage. Not to mention a standalone entertainment building that comes with a wine room, a lounge, a cigar room, and Danny DeVito's original screening room.
---
The French Regency-style mansion in Beverly Hills cutely named Maison 613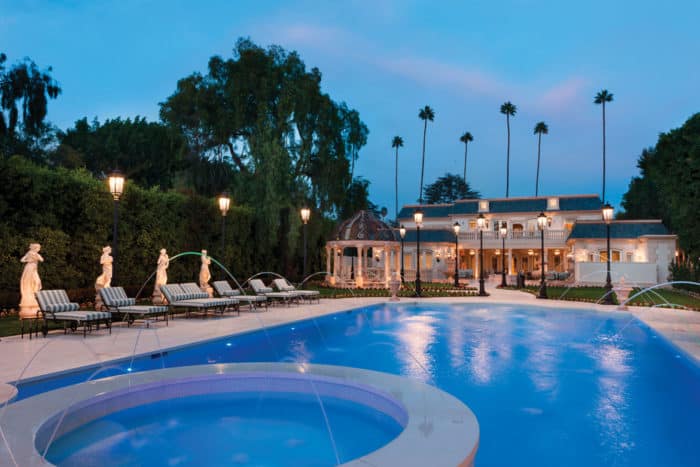 While I won't be dropping any celebrity names this time around, the incredible home deserves its own celebrity status. This French Regency-style mansion epitomizes the elegance and sophistication of Beverly Hills, and goes by the glamorous name of Maison 613.
With seven bedroom suites plus a master suite with an outdoor jacuzzi, Maison 613 is equipped with a state-of-the-art theater with star roof, an indoor basketball court, a beauty salon, a two-lane bowling alley, gym, multiple imported fireplaces, self-contained one-bedroom guest house, resort-size swimming pool and spa, and a commercial-grade elevator.
And while we don't know who the buyers are, we do know that they paid $27 million for the sprawling estate and that Jeff Hyland of Hilton & Hyland mediated the sale. According to Christie's International, the sale price is among the highest ever in this area of Beverly Hills.
---
Chateau du Pine – The newly-built real life castle in Vancouver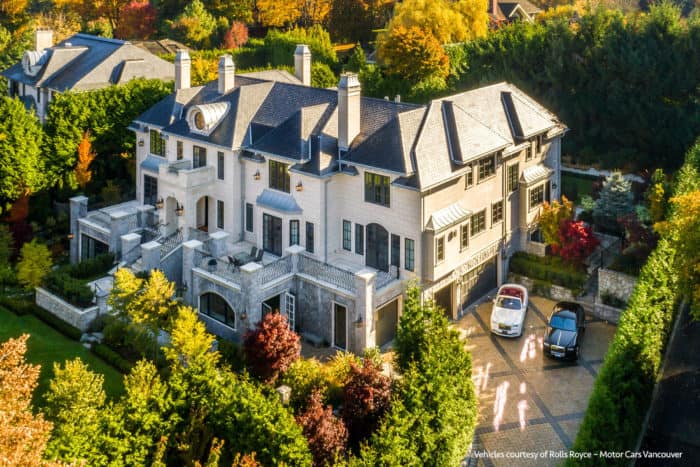 I would have been utterly disappointed if no real-life castles made it to the list of most expensive homes sold by Christie's International in Q3.
And here's our winner: With its commanding presence, this newly-built 12,619-square-foot family residence exhibits the finest pedigree and unique sense of style and elegance inspired by the sovereign homes of Europe's nobility.
The 6-bedroom, 8-bathroom Chateau du Pine is located in Vancouver's prestigious Shaughnessy neighborhood and commended an impressive sale price of close to $20 million (C$26 million.)
---
Ellen DeGeneres' old-Hollywood trophy mansion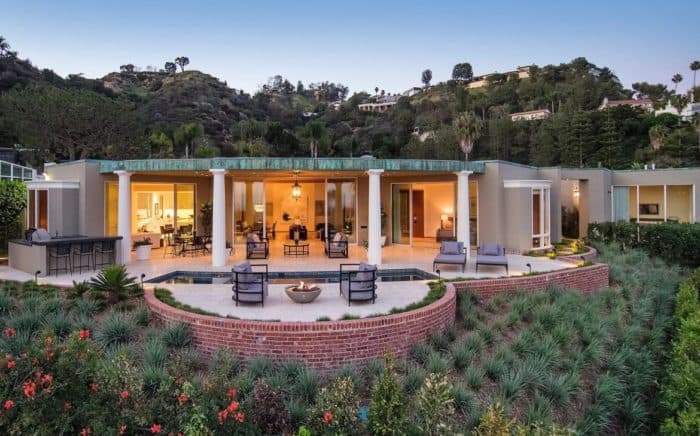 And since the cherry only goes on top at the end, Christie International's list of top 5 most expensive homes sold in Q3 ends with Ellen DeGeneres and Portia de Rossi's new home.
The couple bought an old Hollywood trophy mansion, once home to sitcom actress Marjorie Ford. In fact, the "Make Room for Daddy" actress lived in the mansion for over four decades.
Ellen DeGeneres paid $15 million for the Regency-style home that's steeped in old Hollywood glamour. Set in Trousdale Estates, it comes with breathtaking views, a rear covered patio, and several outdoor areas, including one fitted with a new pool.
---
More celebrity homes:
The Story of the Opulent $120 Million Manor that Aaron Spelling Built in Holmby Hills
Beverly Park, a Privacy Haven for Hollywood's Biggest Celebrities
Spotlight On: the Razor House — Alicia Keys' Crazy New Mansion
The Thrilling History of The Breakers, the Vanderbilts' Iconic Summer Estate in Newport