Dakota Johnson's first home (or at least, first she's ever bought) is a lovely wood-framed house, with vintage furniture and wall-sized windows in the living room, that we got to tour thanks to Architectural Digest — who just featured Johnson in their latest issue.
But what stands out most about Dakota Johnson's place is that IT ACTUALLY LOOKS LIKE SOMEBODY LIVES IN IT!
Most celebrity homes — especially when inviting the press in — often seem so perfectly appointed and spotless that it feels like you're in an IKEA showroom with restricted access.
Dakota Johnson's house in the Hollywood Hills is the exact opposite of that.
From the messy bookshelves in Dakota's home office to the lovingly restored vintage furniture, everything about Johnson's Hollywood house screams (or yet, calmly communicates) that you're home.
No wonder it helps ground the actress, giving her a space to retreat to when her hectic schedule allows it. "This place is my anchor," Johnson admits.
Dakota Johnson's Sunset Strip home
The actress quietly bought the property in 2016 for $3.55 million, in an off-market deal.
She was so secretive about the purchase, that even celebrity stalkers had a hard time identifying her as the buyer of the Sunset Strip home; news about Dakota being the buyer of the midcentury home only broke about a year after the purchase.
Built in 1947 by revered mid-century architect Carl Maston, the wood-framed house features a living room with floor-to-ceiling glass walls and a kitchen with top-of-the-line appliances and Carrara marble countertops.
It was previously owned by Glee and American Crime Story creator Ryan Murphy.
"I was immediately drawn to how it was clean but also cozy," Johnson told Architectural Digest. "I thought, I'll never want to sell this place." And we hope that's still the case.
The house comes with 3 bedrooms and 3 bathrooms within 3,210 square feet of living space, with a spacious master suite that has wooden walls and a generous view of the city lights.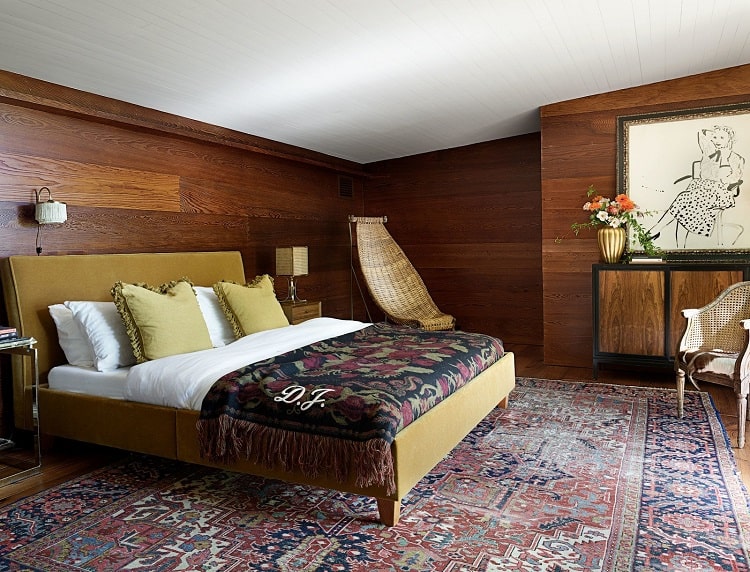 House fit for Hollywood royalty
Beyond Dakota Johnson's own acting nods, she's also the daughter of two Hollywood icons: Don Johnson and Melanie Griffith, while her grandmother is none other than Tippi Hedren, whose illustrious film career includes classic films like Alfred Hitchcock's The Birds and Marnie.
While growing up, Johnson was constantly on the road with her two famous parents, which taught her a different kind of appreciation for home life.
She remembers a time when she was delivering an Easter basket to Madonna in 1996, as her then-stepfather, Antonio Banderas, was filming Evita in Budapest.
And as wonderful of a memory as that might be, it's completely understandable why a childhood on the road left Johnson wanting a more grounded life.
Dakota's home office
While the entire home is delightful, the one room where Dakota seems to feel most at home is her office — lined with books and memorabilia close to the actress's heart.
The most notable pieces: a seating card Patti Smith gave her with her phone number on it; a note from grandmother Tippi Hedren signed, "Love, Mormor" (which is "grandmother" in Swedish); and a a photograph from her appearance on Saturday Night Live's 40th-anniversary show in 2015, where she's surrounded by the likes of Taylor Swift, Derek Jeter, Sarah Palin, Steven Spielberg, George Lucas, and 50 Cent.
A special place on the walls of Dakota's home office is reserved for the photo of Hunter S. Thompson, who was a dear friend of Dakota's father, Miami Vice actor and 1980s heartthrob, Don Johnson.
Thompson — an acclaimed author who penned books like Fear and Loathing in Las Vegas or The Rum Diary — shared a special bond with Dakota, the actress calling him "a very dear godfather figure".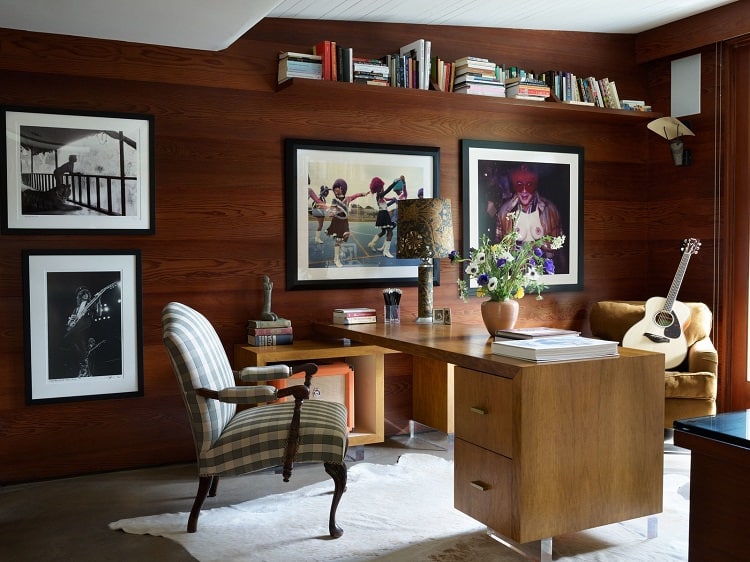 In fact, without Hunter S. Thompson, we would have never had Nash Bridges, to begin with.
For those too young to remember (daaamn, I feel old), Nash Bridges was a hit TV show that propelled Don Jonson to stardom, a show that Johnson and Thompson came up with together, as Johnson turned to his creative neighbor for help when he needed an idea to pitch to executives for a 22-episode show.
More stories like this
Selena Gomez's house in Los Angeles
Celebrities that lived at the Chateau Marmont
Zendaya's house is fit for a Disney princess