The 5-star Setai Hotel & Residences in Miami Beach has recently added a new celebrity name to its tenant roster.
Over the summer French DJ, record producer and songwriter David Guetta paid $9.5 million for a unit on the 37th floor of the upscale residential building that he's now looking to share.
The Setai apartment, now fully redesigned by famous Italian architect and designer Piero Lissoni, will be available for short-term stays throughout the year, when the DJ is not using it.
Make sure to scroll all the way down to see how much it would cost you to stay here and who to contact to lock down a time.
Here's the property scoop:
Location: The Setail Hotel & Residences, 101 20th Street, Miami Beach, FL
Size: 2,521 square feet
Bedroom: 3
Bathrooms: 3
Coolness factors: 2 master suites with king-sized beds, motorized shades, wrap-around balconies, Nest, Sonos speakers throughout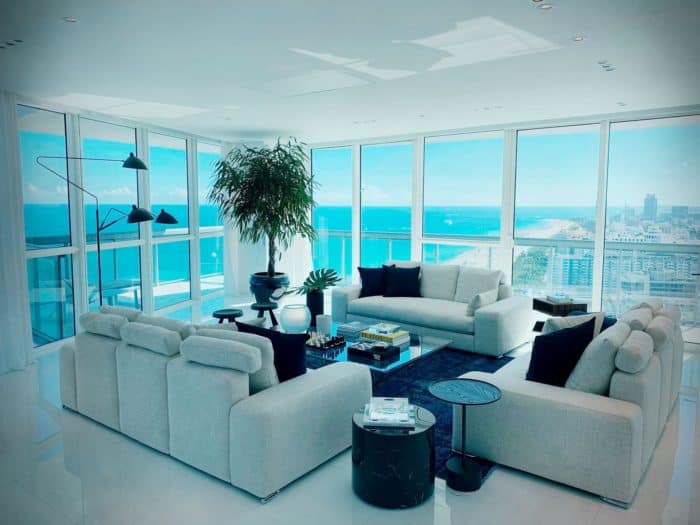 David Guetta's long search for the perfect Miami Beach home
According to the artist's real estate agent, Michael Wiesenfeld (@mikewiesenmiamirealestate) of Barnes International Realty, Guetta was looking for a Miami Beach home for quite some time, but was not willing to settle on just any home.
He wanted one with modern, contemporary interiors, set in an exclusive building with luxury services and top-notch security, that also offered unobstructed views. With David Guetta only planning to spend a few weeks every year in the Miami Beach condo, finding a building that allows for short term rentals was also key. And while there may be no shortage of luxury real estate in the Miami Beach area, nothing felt quite right.
But neither Guetta nor Wiesenfeld were ready to throw in the towel. So they played it smart, looked at the buildings most likely to tick all the boxes, then started hunting for off-market deals. In the end, they managed to convince the owner of the Setai apartment, none other than billionaire Richard LeFrak (one of the largest real estate developers in the New York area) to sell his own Miami residence to the French DJ.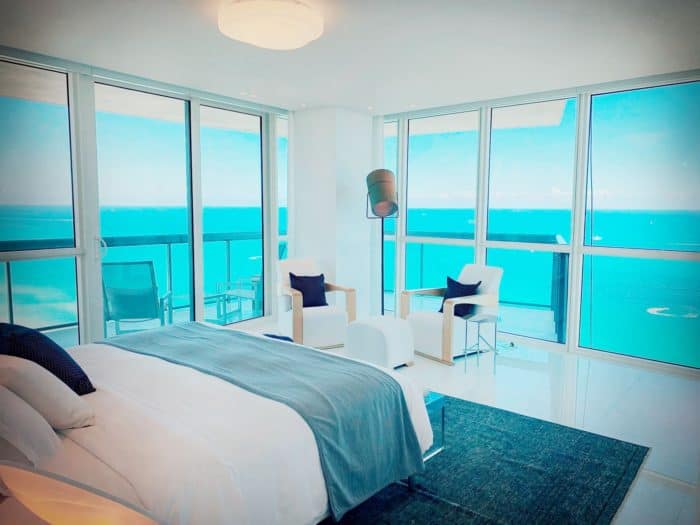 The Setai apartment comes with star-studded interiors
Since David Guetta would only spend a few weeks each year in his Miami Beach home, the DJ is looking to rent the apartment for the rest of the year.
And to attract the right kind of renters, the Setai apartment recently underwent an interior upgrade that bears the signature of famous Italian architect and designer Piero Lissoni, wildly known for his contemporary furniture design, which is now showcased throughout the Miami Beach apartment.
Soon to follow: in preparation for Art Basel, the apartment will be fully curated by Mr Brainwash — a moniker for popular filmmaker and street pop artist Thierry Guetta.
Mr Brainwash, who has been pushing pop culture's envelope for almost a decade by bringing his art to the street, the gallery, and on-screen, will be the one to add the final touch of character to David Guetta's Miami home.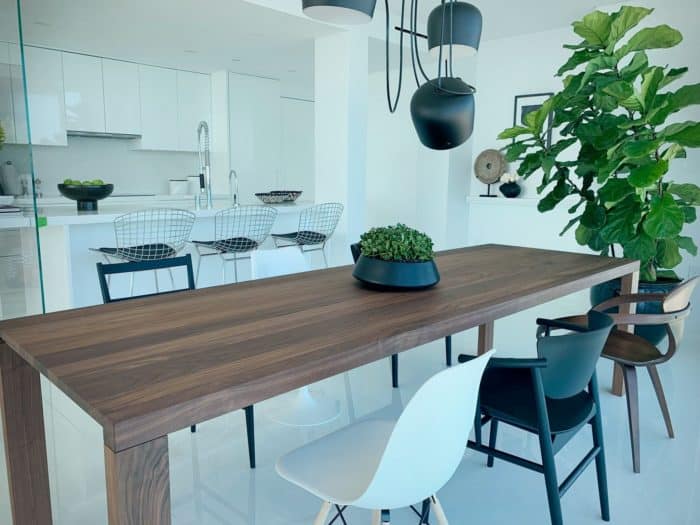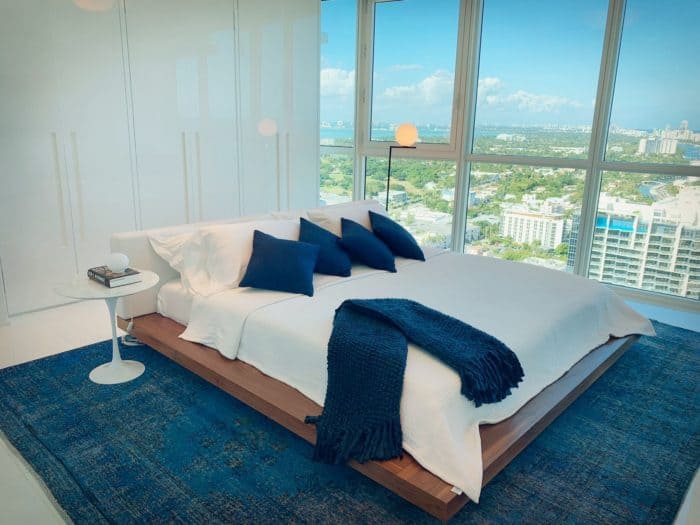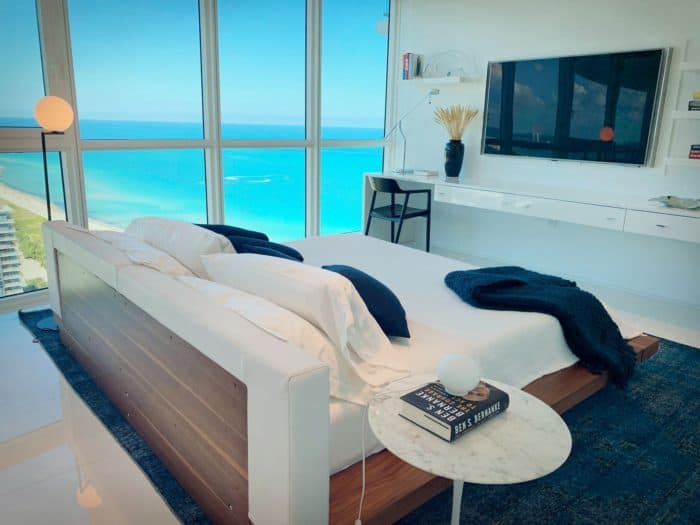 Living like David Guetta, in David Guetta's apartment
You might not be able to make a stadium full of people dance, but if you want to take a stab at the celebrity life, it doesn't get any better than this.
Now that the interiors have been updated, David Guetta is renting his Miami Beach home for the biggest part of the year. And just in time for Art Basel, America's most notable art show, which takes place in Miami Beach on December 6 – 9.
If you want to stay in David Guetta's apartment during Art Basel, it'll cost you $4,000/night, with a minimum 5-night stay. Same rates apply for the holidays.
The Setai apartment can be booked for weekly rates between $12k and $30k, or $25k to $55k for month long stays, depending on the time of the year (reach out to listing agent Anita Freud Wiesenfeld at 646-785-5388 for more information).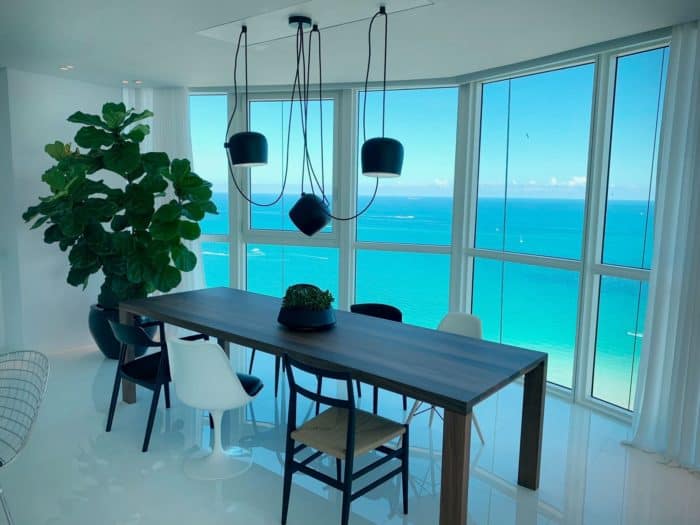 More celebrity cribs:
Music Mogul Scooter Braun Buys $65 Million Manse to Call Home Following Split from Wife Yael Cohen
It'll Cost You $60K/Month to Call Ryan Reynolds Your Neighbor
Inside the $10M Hell's Kitchen Penthouse that Trevor Noah Bought
Pharrell is 'Happy' to Finally Sell Stunning Brickell Condo for $9.25 Million