Looking to recreate the massive success of 2017's Tidying Up with Marie Kondo series, Netflix has now partnered with The Home Edit to bring us a brand new home organizing show.
Get Organized with The Home Edit is stepping away from the minimalist, keep-only-what-brings-you-joy style that Marie Kondo promoted, and instead focuses on practical (and brightly colored) organizing solutions for the home.
On top of that, it lets us step into some pretty awesome celebrity homes and makes us feel just a little bit better about ourselves by showing us that famous people too struggle with keeping things neat and tidy.
If you weren't already familiar with The Home Edit — or if the name rings a bell, and you're not quite sure why — the brand is the brainchild of Clea Shearer and Joanna Teplin, two California transplants currently living in Nashville, TN, that have gained a massive social media following, with their Instagram posts being followed by three million people.
The two business partners are the stars of Hello Sunshine's Mastering the Mess, and have authored the New York Times bestsellers The Home Edit and The Home Edit Life.
With clients all over the country, their services bring together conventional organization with tasteful interior design, and their work has often been featured in People, House Beautiful, and Architectural Digest.
Get Organized with The Home Edit
With their new Netflix show, Get Organized, Clea and Joanna aim at conquering clutter with their unique brand of interior styling, practicality and humor.
From their home state of Tennessee, to New York and California, each episode dives into an organizational project for a celebrity and a civilian, while showcasing the influential duo's unique form-meets-function approach providing inspiration to every aspirational organizer.
And since the show goes into the homes of some of our favorite celebrities like Reese Witherspoon, Eva Longoria, and Neil Patrick Harris, we couldn't help ourselves, and looked up every house featured on the show. Here's what we found out about the celebrity homes on Get Organized with The Home Edit:
Reese Witherspoon's house in Nashville, TN
On the show, actress Reese Witherspoon hires Clea and Joanna to help organize and properly display her memorable movie and TV looks — including her iconic Legally Blonde outfits.
And while the closet space turned out amazing, it left us wanting to see more of Witherspoon's house, which the show didn't really provide a lot of information on.
Luckily, the Internet was quick to fill in the gaps: while Reese Witherspoon is a prolific real estate investor, with lots of homes in her portfolio, the Big Little Lies actress had The Home Edit team work on her Nashville, TN home — which she had just moved into before filming the show.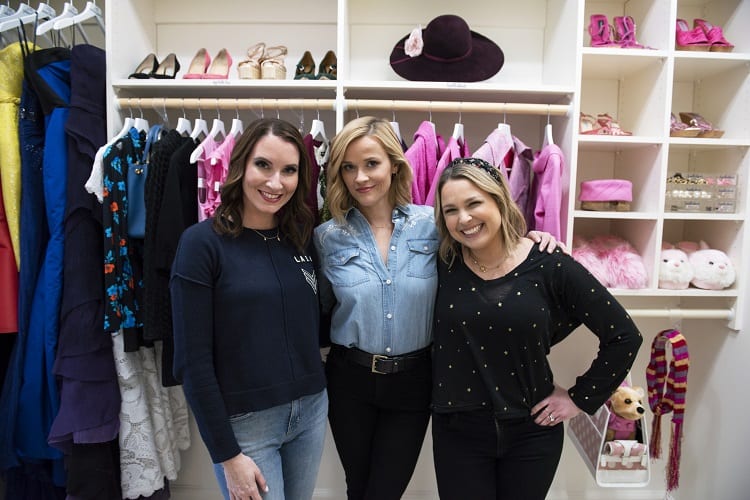 A recently renovated historical mansion, Reese Witherspoon's house reportedly sits on a whopping 6.5 acres of land in Nashville's Oak Hill neighborhood.
The four-bedroom, 3.5-bath home cost her $1.95 million back in 2014, though updating and decorating the property must have brought those numbers up significantly.
An interior design fanatic, Reese Witherspoon decorated the house herself, leaving her personal touch throughout the home.
More celebrity homes
Rachel Zoe's home in Beverly Hills, CA
In the second episode of the show, Clea and Joanna and their skilled team are tasked with organizing the closet of stylish/fashion designer Rachel Zoe — and organize her massive shoe, clothing, and bag collection.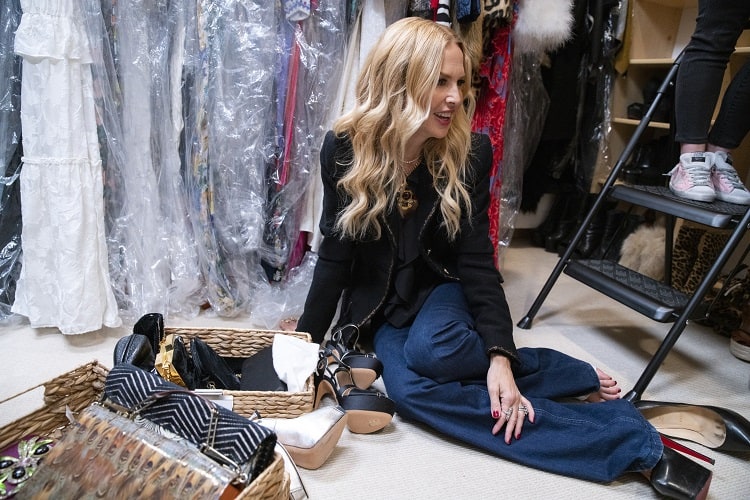 Now, we might not get to see much of Rachel Zoe's house (and not because we wouldn't want to), but a little research reveals that the Zoe Report founder was last reported as living in a mansard-roofed pseudo-chateau in Beverly Hills, CA.
The house was built in 1987 and has a total of 6 bedrooms and 6.5 baths, and oozes Zoe's personal style, best characterized as rebellious rich boho chic.
It's worth noting that Rachel Zoe moved into this home back in 2014, and this is the last publicly available account of her living situation, after which the trail goes cold.
However, since the Home Edit girls are re-organizing her (the same) closet for the second time — with their last visit going a few years back — and with the intro scene walking us through Rodeo Drive (the favorite shopping grounds of the rich and famous), set in Beverly Hills, we think it may just be that the fashion icon still lives in her opulent Beverly Hills rental.
And she's in great company: here are some other high-profile celebrities that call Beverly Hills home.
Khloe Kardashian's house in Calabasas, CA
Keeping Up with the Kardashians fans might already know that Khloe, the Good American clothing line co-founder, has a serious need for cleanliness and order.
That's why she keeps a close relationship with master organizers Clea and Joanna, and has worked with the girls several times to put her home in order. And since the two have "already worked our way through most of her house", there wasn't much left for them to do — except the garage.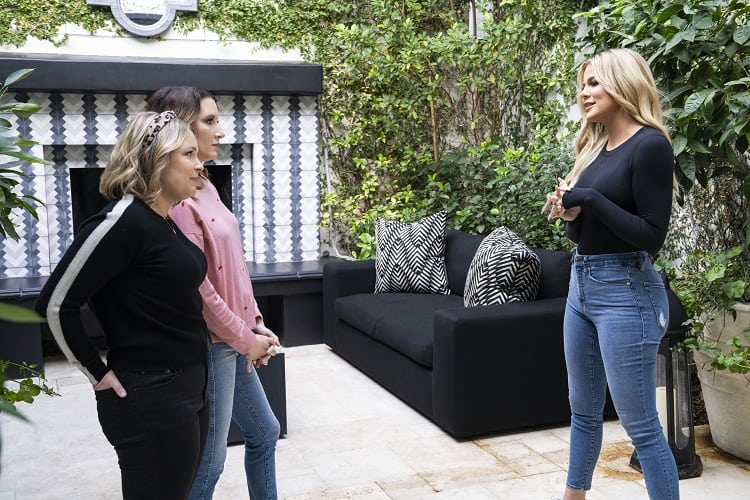 Outside of the messy garage, we catch glimpses of Khloe Kardashian's house in Calabasas, CA, a breathtaking estate with some serious real estate pedigree (Khloe bought it from Justin Bieber, with Eddie Murphy owning it before him).
The house was listed for sale back in May for a whopping $18.95 million, and features a private walking path, breathtaking views of the Malibu Canyon, a pool, meditation trail, and a guesthouse. It clocks in at six bedrooms and seven bathrooms, and is located around the corner from where sister Kourtney Kardashian lives.
On top of its KUWTK spotlight, Khloe Kardashian's house was also featured by Architectural Digest in 2016 and made an appearance on Scott Disick's home renovation show Flip It Like Disick in 2019.
Eva Longoria's house
In the 4th episode of Get Organized, The Home Edit girls pay a visit to our favorite Desperate Housewife, Eva Longoria, to help her transition her young son, Santiago, from nursery to big-boy room (aww, how adorable is that?) and organize his clothes, toys, gadgets.
And while this gives us a short peek into Eva Longoria's house, it just made us all the more curious to learn about the star's home — especially given her flawless sense of style.
A quick search reveals that the Eva Longoria lives in a snazzy mansion set privately behind a long, gated driveway, high in the mountains above Beverly Hills.
According to Trulia, the Desperate Housewives alum traded her Hollywood Hills villa (which was previously owned by Tom Cruise) for a contemporary home with a 90210 zip code.
The actress lives in a sprawling eight-bed, eleven-bath home in Beverly Hills, CA, which she bought for a whopping $13.5 million.
Clocking in at 11,000 square feet, Eva Longoria's home features soaring ceilings, steel custom doors, and oversized windows that contrast with the rich oak flooring. There's also plenty to see outside the house, as there's an outdoor kitchen, tennis court, a pool house for guests, and stunning canyon views.
Retta's house in Los Angeles
In what's arguably the most interesting project the team will tackle this season, Parks and Rec fan favorite, Retta, hires the girls to help her set up a media/recreation room.
As Retta opens the door to her home, she welcomes Joanna and Clea with a copy of their bestselling book, admitting to being a fan of theirs (and an Instagram follower).
It then comes as no surprise to hear her say that she recently finished a home renovation — that she spearheaded herself — with only one room of the house left untouched: her media room.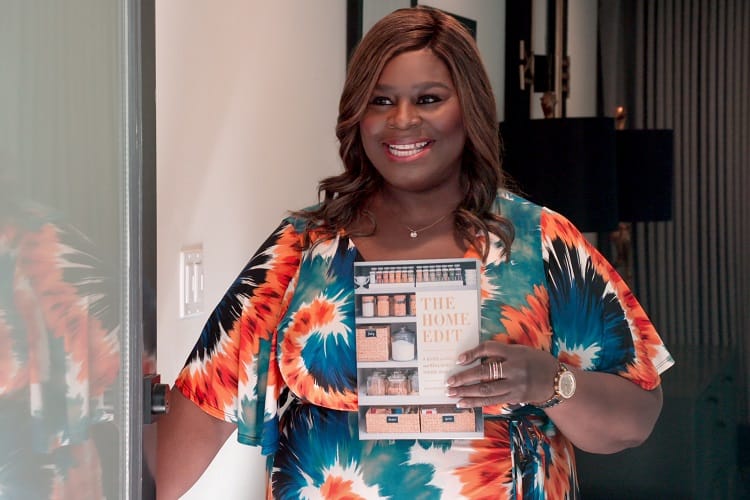 Thanks to the prolific celebrity stalkers at Virtual Globetrotting, we've learned that Retta, born Marietta Sirleaf, lives in the beautiful Sherman Oaks neighborhood of Los Angeles, but other than that, there's not much info out there on the Good Girls actress' home.
Oh, except that she has an impressive closet and shoe collection that she showed off on Instagram!
Luckily, the actress doesn't shy away from showing most of the rooms in her house (post-renovation) on the Netflix show, so make sure to watch the episode if you want to get a feel for Retta's house and her décor style.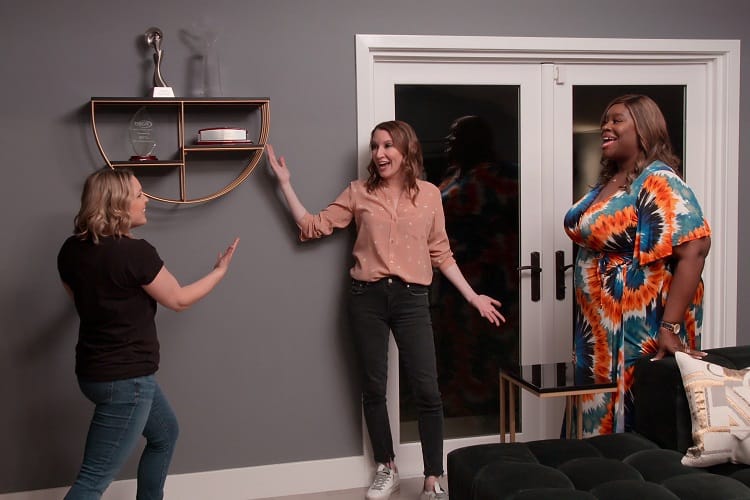 Neil Patrick Harris' brownstone in New York
Joanna and Clea's next stop is a home we've previously toured — though at the time, Neil Patrick Harris' house was donning its finest Christmas decorations.
Now in a quest to properly organize their twins' playroom, the multi-talented NPH and husband David Burtka invite The Home Edit team into their Harlem brownstone to transform the basement into any kid's dream.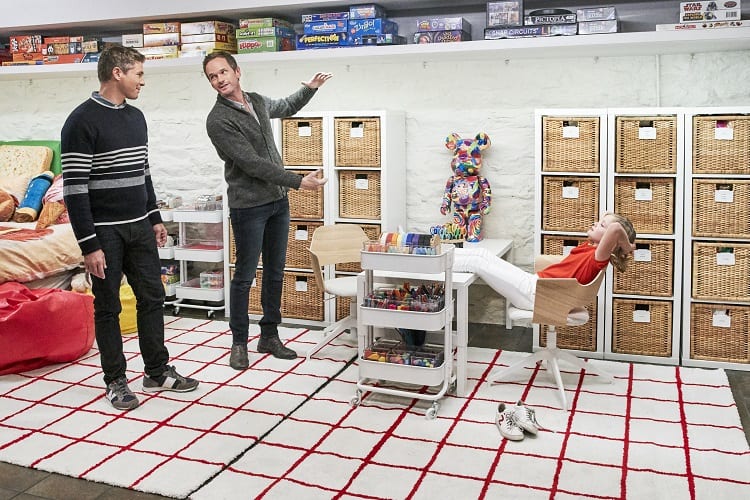 The couple bought the four-story, 8,000-square-foot townhouse for $4 million back in 2013, and even set a neighborhood record at the time. With five bedrooms, five bathrooms, and a generous 8,000 square feet of living space, Neil Patrick Harris' house has a large living room with a built-in bookshelf, plus a spacious white ceramic kitchen.
The brownstone has two terraces, a backyard, and a chef's kitchen. It's also a regular media darling, with many appearances in design magazines and two Architectural Digest features so far.
Jordana Brewster's house
It's easy to fall head over heals for Jordana Brewster's kitchen on Get Organized; so you might be surprised to hear that the Fast and Furious actress designed and built the home herself — with the help of her husband, producer Andrew Form (A Quiet Place, Jack Ryan) and long-time friend, interior designer Chiara de Rege.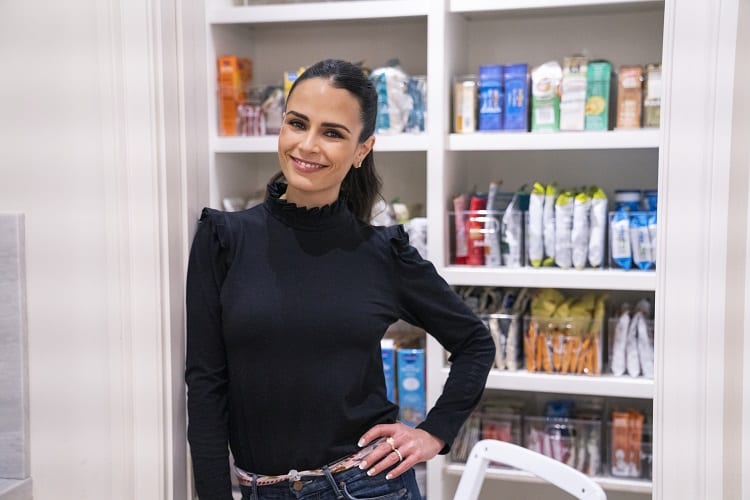 Spanning 8,000 square feet, the beautiful home is set in the posh neighborhood of Brentwood, Los Angeles, and features distinct details like expansive windows, high ceilings, wood floors, and French doors. For the interiors, Jordana drew inspiration (and actual furniture) from her parents' New York apartment, bringing a subdued East Coast vibe into her Los Angeles home.
Kane Brown's house
The last stop on The Home Edit's tour in the first season brings the girls back home, in Nashville, TN, where country music star Kane Brown and his wife, Katelyn, want to make their pantry 'sing'.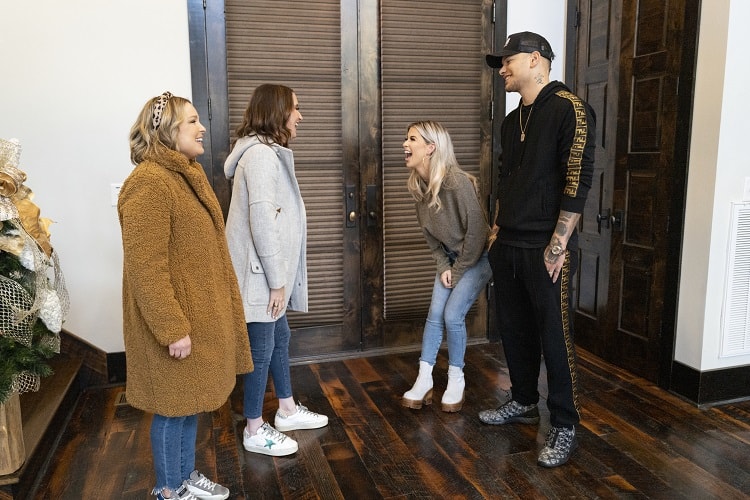 As they welcome Clea and Joanna into their home, the couple admits to having recently moved in and that they're still settling into the new home. This somewhat explains recent news reports of the country singer getting lost on the property, which consists of 30 acres (!) of forested land.
Unfortunately, other than the property being massive enough for Brown to get lost in, there's not much info out there about the couple's new home.
The two do have a home on the market though, having recently listed a four-bedroom home in Nashville's Southern Preserve neighborhood for $910,000.
Until recently, Kane Brown had allowed fellow country music superstar Jason Aldean and his family to live in the home while their Tennessee mansion was being completed.
More stories like this
Ranking the 15 Best Luxury Pads from 'The World's Most Amazing Vacation Rentals'
Netflix Doubles Down on People's Affinity for Real Estate Reality Shows with 'Million Dollar Beach House'
Is the Building from The Circle Real? Here's Where You'll Find the Cool Apartments from the Show
MDLLA Star James Harris Launches Fun New Podcast Called 'Positively Chaotic'