In an $80 million deal that's sure to have made his real estate brokers extremely happy, Jeff Bezos reportedly just bought a three-floor penthouse  along with the two units immediately below it, making room for the Amazon CEO and Washington Post owner to create a palatial 17,000-square-foot, 12-bedroom pad worthy of his wealth.
According to the Wall Street Journal, the first outlet to report on the sale (paywall), the three condos are set atop Manhattan's iconic 212 Fifth Ave building.
Built back in 1912, the iconic neo-Gothic early skyscraper at 212 Fifth Ave initially served as a manufacturing building and was only converted into upscale apartments a few years back, in 2016 — incidentally, at about the same time Bezos became the wealthiest man on the planet.
The 24-story tower, set within close proximity to Madison Square Park, had its penthouse unit listed for $58 million (the listing now showing the property under contract), with the other two units reportedly taken off the market by Bezos being listed for $18.2 million and $11.3 million, respectively.
According to Architectural Digest, the 10,000-square-foot penthouse (which comes with 5 bedrooms) has four exposures facing Madison Square park — and a whopping 6,000 square feet of terraces Jeff Bezos can use to take in the striking city views) — as well as a private elevator, a grand ballroom, a library with a marble and glass fireplace, and a seven-room master suite.
There's also a third-floor observatory that offers panoramic views of the Empire State Building, Flatiron Building, and 1 World Trade Center.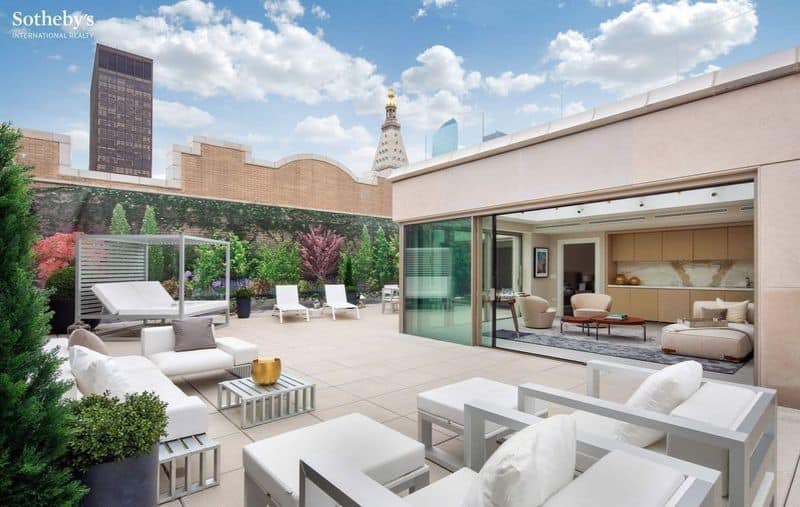 Bezos is worth $108.3 billion, according to the Bloomberg Billionaires Index. So it only makes sense that his new Manhattan bachelor pad comes with amenities like a lobby with a 24-hour doorman, concierge and cold storage; a fitness center by The Wright Fit with adjoining yoga studio and treatment room; a playroom and separate game room, both with age-appropriate equipment; a residents lounge, adjoining dining/meeting room with catering kitchen, and a screening room.
However, despite the hefty purchase, it's worth noting that Jeff Bezos is unlikely to move to New York City. His plans for a second Amazon headquarter campus in Long Island City were recently dropped due to backlash from the local community, so he's likely to continue calling Seattle home.
But that doesn't mean Bezos won't continue to expand his real estate empire, as this latest purchase stands to show. The last time Bezos made real estate headlines, he had just purchased the biggest house in Washington, DC for $23 million.
And now, with the $80 million deal being hailed as one of the biggest transactions of 2019 so far, the Amazon CEO is clearly leaving his footprint of the East Coast's real estate scene.
More celebrity homes
Where Elon Musk Lives Since Declaring He "Will Own No House"
Counting Down the Most Expensive Celebrity Homes in Recent History: Top 10 Priciest Pads
Everything You Need to Know About Bill Gates' House, Xanadu 2.0
Mark Cuban's Million-Dollar-Mansions are the Definition of Luxury Living