Jeffree Star's dream home is now almost done, with renovation work close to completion, but the make-up wiz/YouTube star couldn't wait to share it with the fans.
And, seeing that we're all stuck inside, what better way to kill some time and connect with fans than by inviting them into your home?
"Today I'm showing what's changed and new in the Jeffree Star Pomeranian Palace!", Jeffree Star's latest YouTube post reads."I haven't left the house in over a week and I thought it was a good time to also sit down and give you all a life update, ALL things personal."
And personal it was, as Jeffree Star walks us through the entire mansion (even the rooms that aren't yet finished) in an extensive video posted on his channel.
Jeffree Star's house tour
Late last year, Jefree paid $14.6 million for a bonafide mega-compound in Hidden Hills, the guard-gated community that lies immediately adjacent to their home of Calabasas, Dirt reports.
In fact, Jeffree Star's house is one of the largest and most opulent in the area — which says quite a lot, as celebrities like Kris Jenner, The Weeknd, or Will Smith all call Hidden Hills home.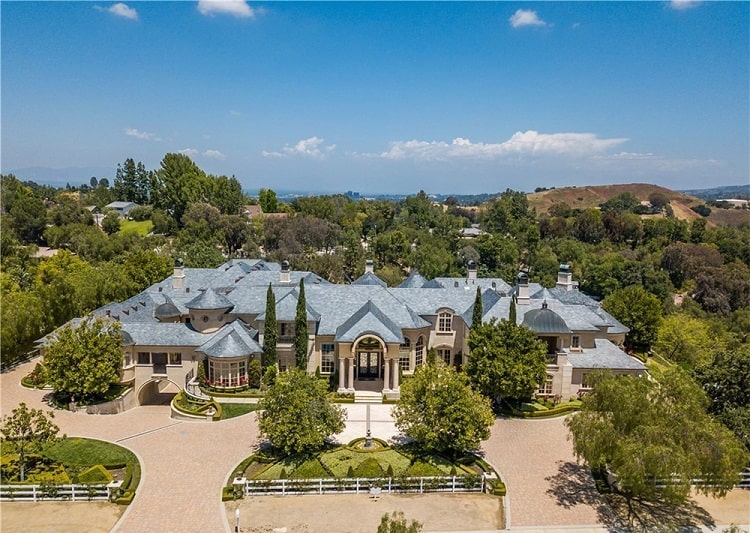 With over 25,000 square feet, the massive residence sits on 2.3 acres, and was previously owned by Stacey Feinberg, daughter of late sports agent Bob Woolf and her husband, Jeff Feinberg, a wealthy financier and hedge fund manager.
After the two separated, they both left the home and listed it for sale; but before Jeffree came in to snap the property off the market, the massive estate sat vacant for years.
More influencer homes
Designed in the French Normandy architectural style, the Hidden Hills mansion was built in 2007. It's not the only structure on the estate though, with two attached guest houses and a 5,400-square-foot barn are also included.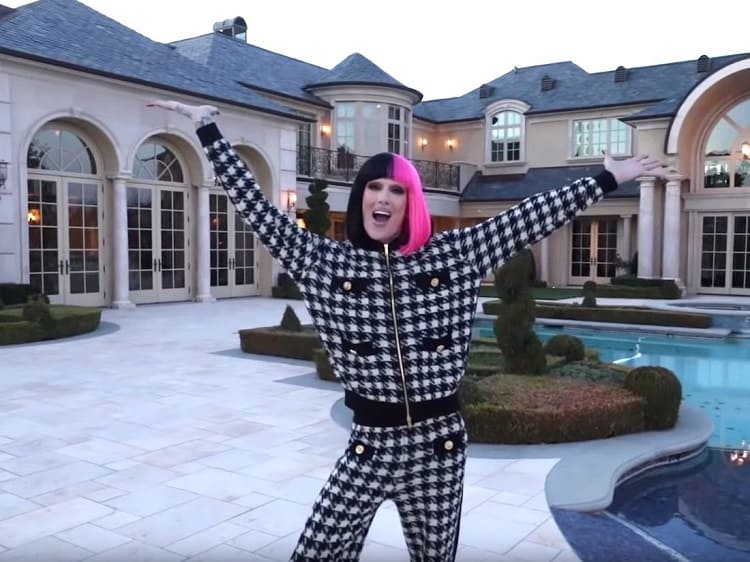 All in all, Jeffree Star's house comes with eight bedrooms, 13 bathrooms, a kitchen with more than $100,000 worth of custom cabinets, a two-story gym, a sauna, a movie theater, and a huge outdoor kitchen. Oh, and a spa that's seen an iconic transformation — also covered extensively in one of Jeffree's videos:
Star calls the house Pomeranian Palace
Soon after purchasing the home, the YouTube star took his fans on a tour, proudly sharing every inch of his new manse; he did however mentioned plans to renovate the property to better suit his style.
And while fans were quick to think Jeffree Star's new house will replicate the pink wonderland of his previous crib, the YouTuber shared that he has different plans for the 25,000-square-foot home. "We're not going to do a Barbie house, and I think a lot of people may be shocked by that," Star said. "But I just want to — I don't know. I'm just feeling a whole different vibe of, like, opulence and, like, black velvet and gold and white and, like, woodsy."
Skip to four months later, and you'll see exactly that: a spacious, opulent home, adorned with gold (shout-out to the luxurious gold Versace wallpaper) and velvet drapes — though admittedly, he opted for a rich brown velvet instead of black.
Jeffree has even found the perfect name for his new crib: Pomeranian Palace, as a tribute to his beloved four-legged friends.
And it only makes sense, as the home's most striking feature was designed with the doggies in mind: Jeffree's sprawling bed is bigger than the size of a regular room — and that's because the YouTube star needed a bed large enough to fit all his dogs. Awww.
With the home renovation now almost complete, all that's left for Jeffree Star to feel right at home is to get along with the neighbors.
Because let's not forget, Hidden Hills is also home to Star's arch-nemesis, billionaire beauty guru Kylie Jenner, so that's bound to get interesting.
More celebrity homes
Dakota Johnson Gives AD a Tour of Her Hollywood Home, which She Calls 'Her Anchor'
Queen Frontman Adam Lambert Re-Lists Hollywood Hills Home for $3.35 Million
Everything We Know about Trevor Noah's Apartment — the New Set of the Daily Show