The host of HGTV's Extreme Makeover: Home Edition (and one of our all-time favorite TV uncles), Jesse Tyler Ferguson, will be moving to Encino, in the San Fernando Valley.
And his new digs will not be needing any upgrades or makeovers, as the Modern Family star's home is brand new — and comes with exquisite interiors, a beautiful backyard, and a really cool guest house.
According to Dirt.com, Ferguson and his husband, lawyer Justin Mikita, recently paid $8.7 million for the newly built mansion.
This comes soon after the couple listed their Los Feliz home for sale, asking $6.995 million for the 1928 Spanish Colonial house once owned by Twilight actor, Robert Pattinson (who bought it from Gwen Stefani and Gavin Rosendale).
Now, while Jesse Tyler Ferguson's new house may lack the star-studded past of his previous home, the contemporary mansion more than makes up for it with its beautiful modern design and superb finishes.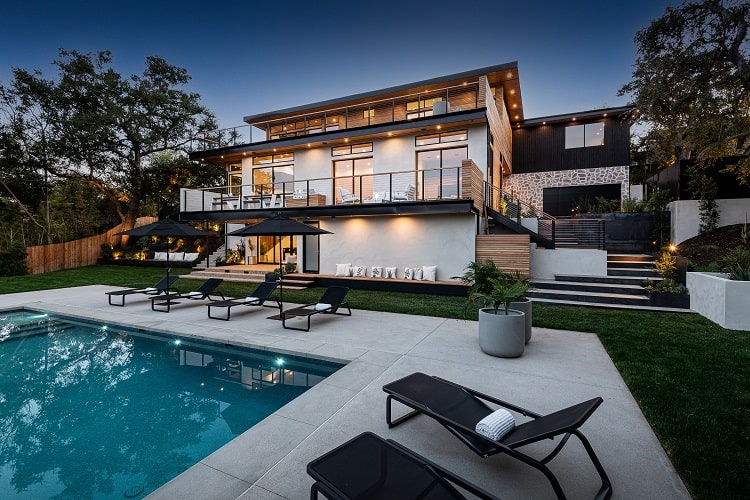 Initially listed for $8,995,000 with Gina Michelle and George Ouzounian of The Agency and Dennis Chernov of the Chernov Team, the Encino manse made rounds on the internet in the past few months, after being featured on Enes Yilmazer's popular real estate YouTube channel.
We couldn't resist it either, and covered the property in a spread back in February — you can read our past article here.
Jesse Tyler Ferguson and Justin Mikita landed the property for slightly under the asking price, paying $8.7 million for the contemporary house in the family-friendly neighborhood of Encino — where the couple will be raising their baby boy, Beckett Mercer Ferguson-Mikita, who was born July 7, 2020.
The seven-bedroom, eight-bathroom Encino home offers 9,081 square feet of living space enclosed within a private, gated estate with surrounding landscape.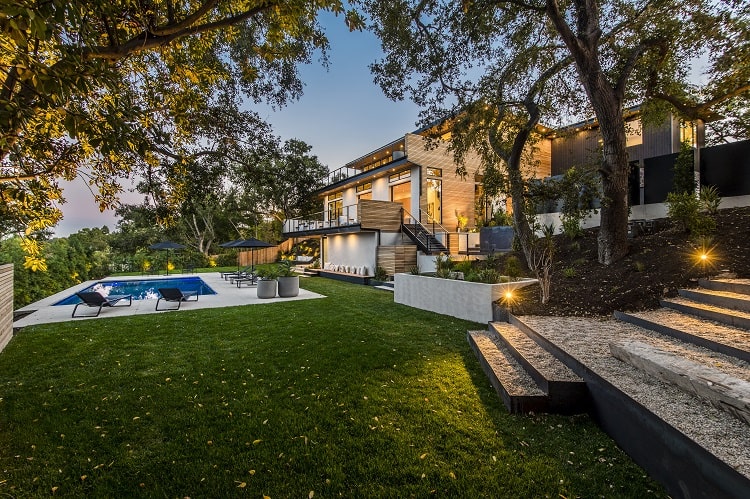 The property has a generously sized backyard with plenty of green space (and hedges, to ensure privacy), and mature trees surrounding a concrete pool area.
There's also a side yard with a modern barbecue area made out of polished concrete and plenty of seating.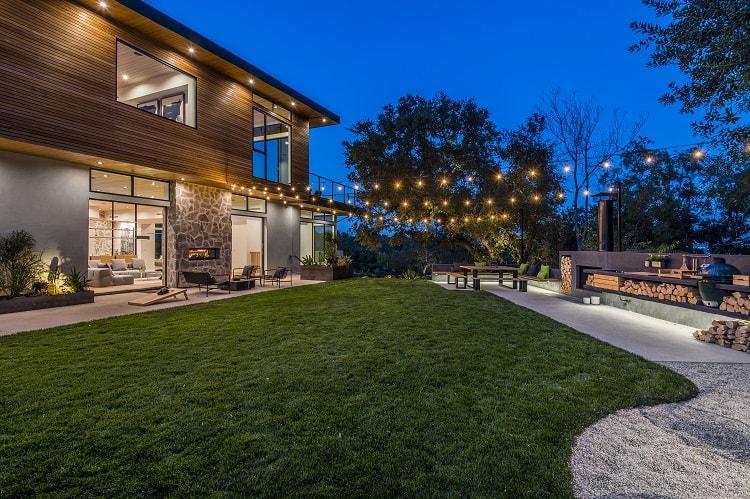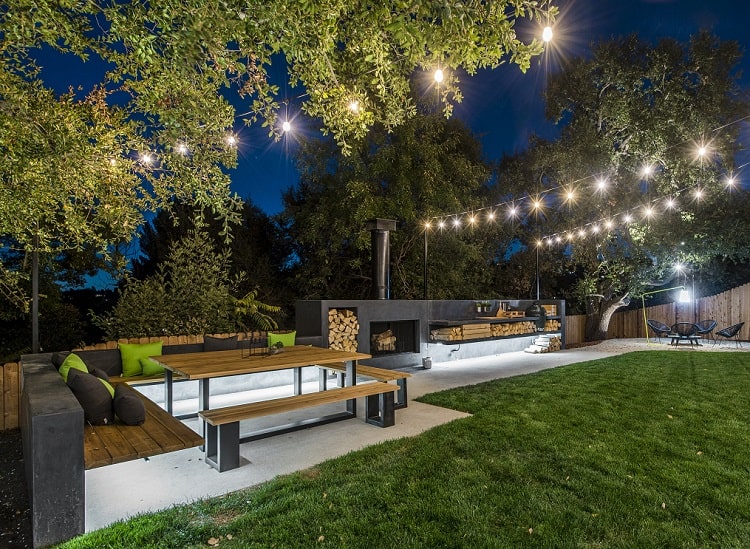 There's also a charming guest house on the property, which can easily be converted into a home office, recording studio, or even a fitness studio.
Inside, there's a loft space for sleeping, a bathroom, a fully equipped kitchen — with a built-in stove that slides from the furniture and a pantry and refrigerator that are concealed by the wood panels, mirroring the interior design of the main structure. The guest house even has its own outdoor deck.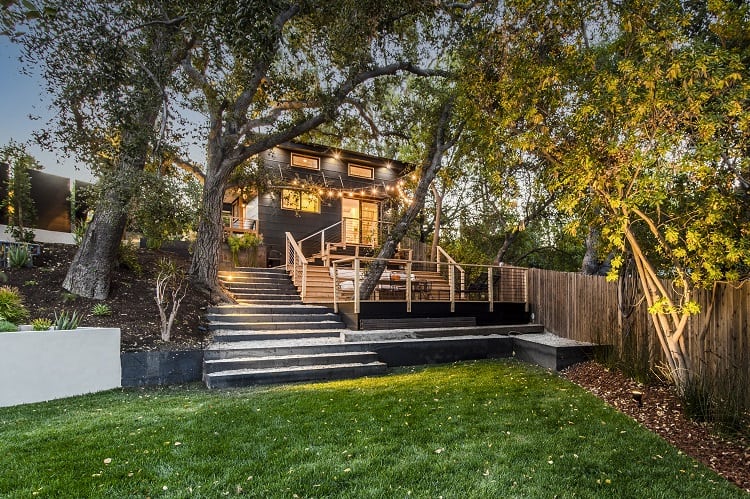 Stepping inside the 9,018-square-foot home, we see warm wood tones used throughout, which also provide tons of storage space — particularly in the kitchen, which is clad in cabinets and wood paneling made out of hemlock wood.
The main level houses the master chef kitchen with Calcutta porcelain counters and custom white oak cabinetry. The kitchen seamlessly blends into the outdoor space, and also leads into a large living room with a dual-sided fireplace and a home bar.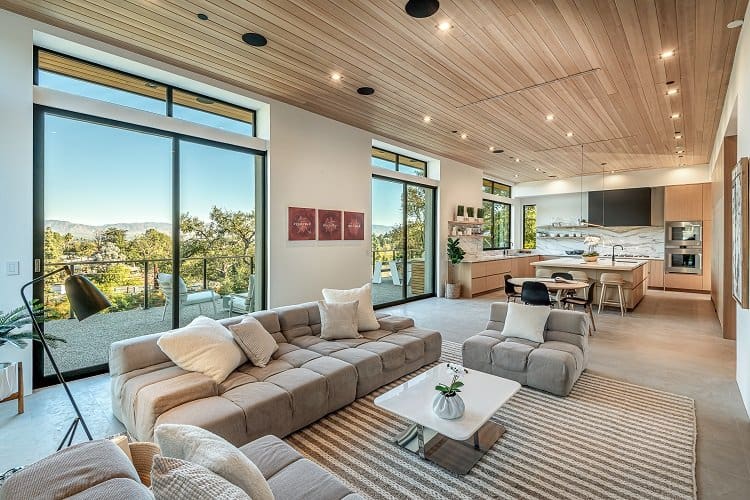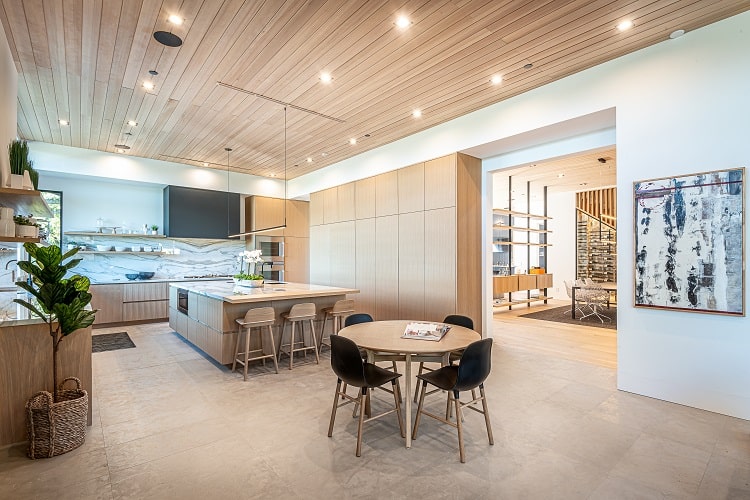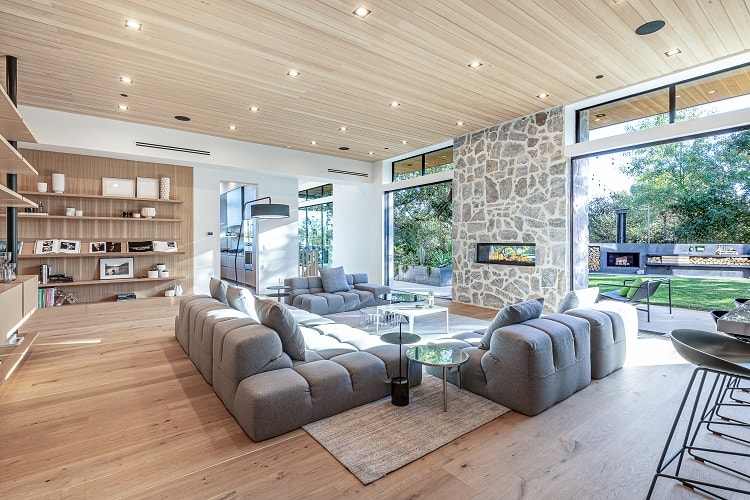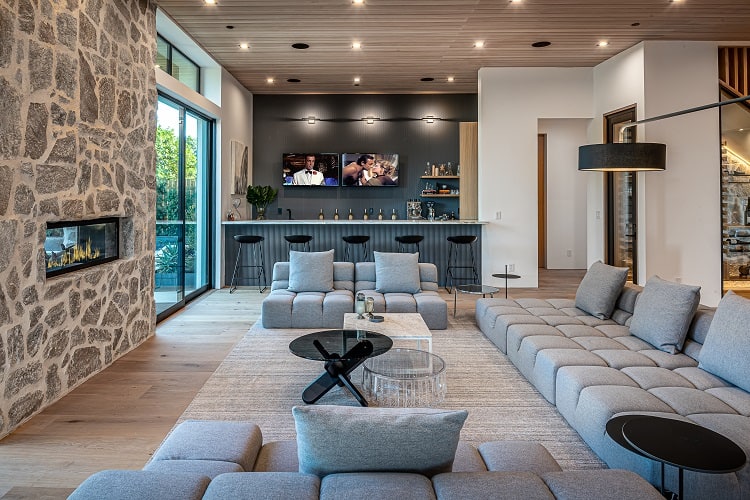 There's also a temperature-controlled wine cellar, perfect for entertaining friends or family or relaxing after a long day.
Speaking of entertaining options, the lower level is great for family events, having friends over, or just chilling at home, featuring a 12+ person home cinema and concession area.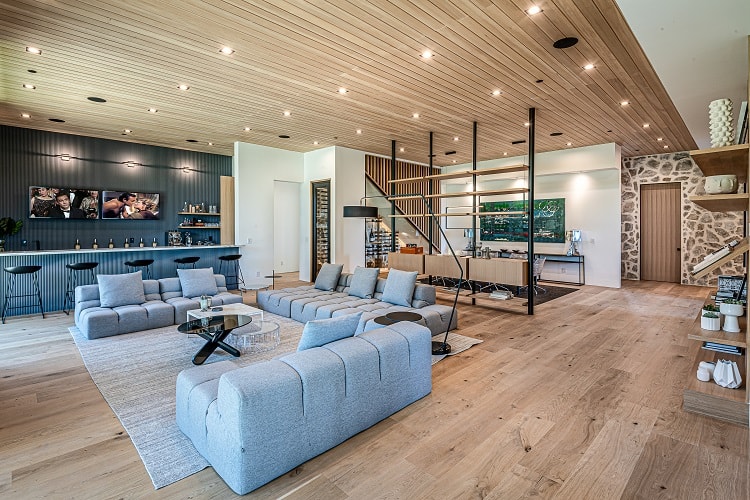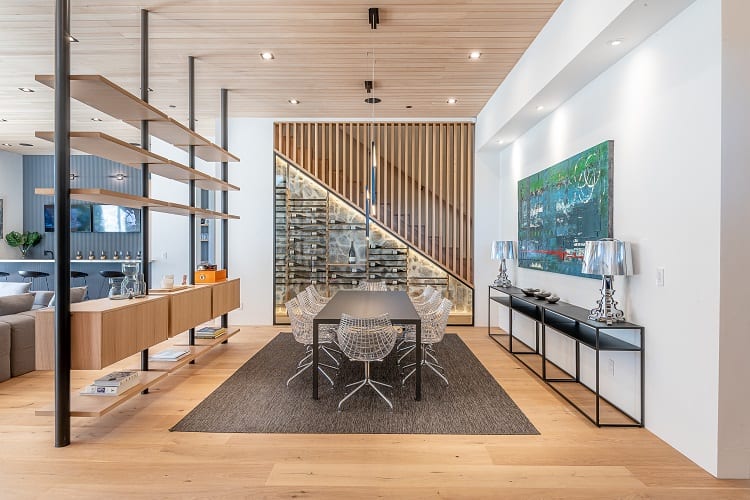 After wrapping up filming on Modern Family and putting an end to his decade-long role as Mitchell Pritchett, Jesse Tyler Ferguson carved out a new television path for himself as the newly-minted host of Extreme Makeover: Home Edition.
The reality series is an HGTV spin-off of Extreme Makeover, the original ABC show hosted by Ty Pennington. As the host of the new show, Ferguson works with volunteers and designers to build homes for families who have given back to their communities.
The actor has also ventured into theater, making his Broadway debut in On the Town, and appearing in theatre adaptations of A Winter's Tale, The Producers, A Midsummer Night's Dream, Spamalot and The Merchant of Venice.
Lead image credit: property photo via LA Light Photography and The Luxury Level; Jesse Tyler Ferguson image credit Mingle Media TV via Wikimedia Commons.
More celebrity homes
Actor Nathan Lane of 'Modern Family' Fame is Selling His Designer Apartment in Tribeca for $4.65 Million
Selena Gomez's house in Encino, Once Owned By Singer Tom Petty, Has a Troubled Past
Neil Patrick Harris Lists Stylish New York City Brownstone for $7.3 Million
'The Shield' Actor Walton Goggins Lists His Quaint 1920s Home for Sale