Not a day goes by without a member of the Jenner-Kardashian clan holding magazine covers; but this time around, it's for the best possible reason, as Kendall Jenner gave course to a standing invitation from Architectural Digest to tour her home in Beverly Hills — and will be gracing the covers of the publication's next issue.
Now, given that Jenner's house is one of the most serene residences we've seen so far among celebrities calling Beverly Hills home, we just had to share the highlights of the tour with our readers. Trust us, you won't want to skip this one.
Kendall Jenner lives in Charlie Sheen's old house
The 6,625-square-foot Spanish-style home is located in Mulholland Estates, a gated community with its own security, popular among celebrities for this very reason (musicians like Christina Aguilera or DJ Khaled have also bought into the community in the past).
The supermodel bought the house back in 2017, and reportedly paid $8.55 million for the star-studded property, which was once owned by Two and a Half Men actor Charlie Sheen and his ex-wife, Brooke Mueller. Before them, Jenner's house had another high-profile resident, Detroit Piston's owner Tom Gores.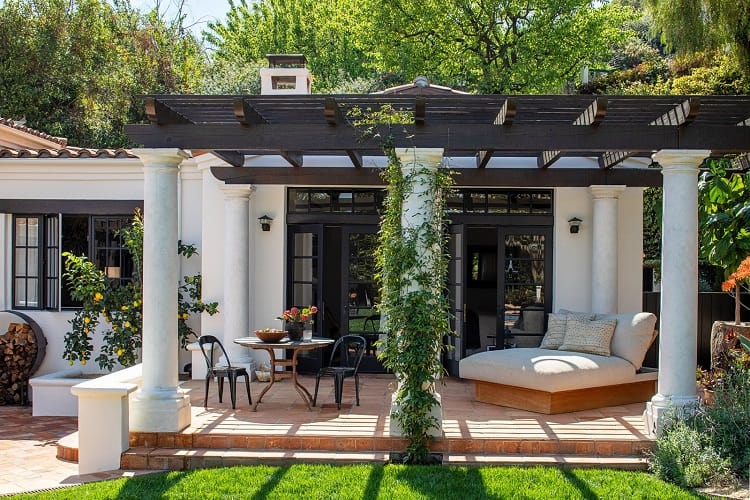 Kendall Jenner then went on to make the place her own, and put together a design team consisting of mother-and-son duo Kathleen and Tommy Clements — which she often credits for the interiors during her A.D Open House tour — and the expert team at Waldo's Design. And while her work is not done, as Kendall admits that creating a nice home for yourself is a life-long process, the end result is an inviting, peaceful home where the 24-year-old can retreat to, meditate, and entertain friends.
Her home has calm, earthy interiors — punctuated by colorful, pricey art pieces
"My life involves a lot of chaos and travel and high energy, so I wanted a home that feels serene, a place where I can simply zone out and relax," Jenner told the Arch Digest team. With that goal in mind, she fitted her home with warm, organic textures, earthy tones, and very comfortable furnishings.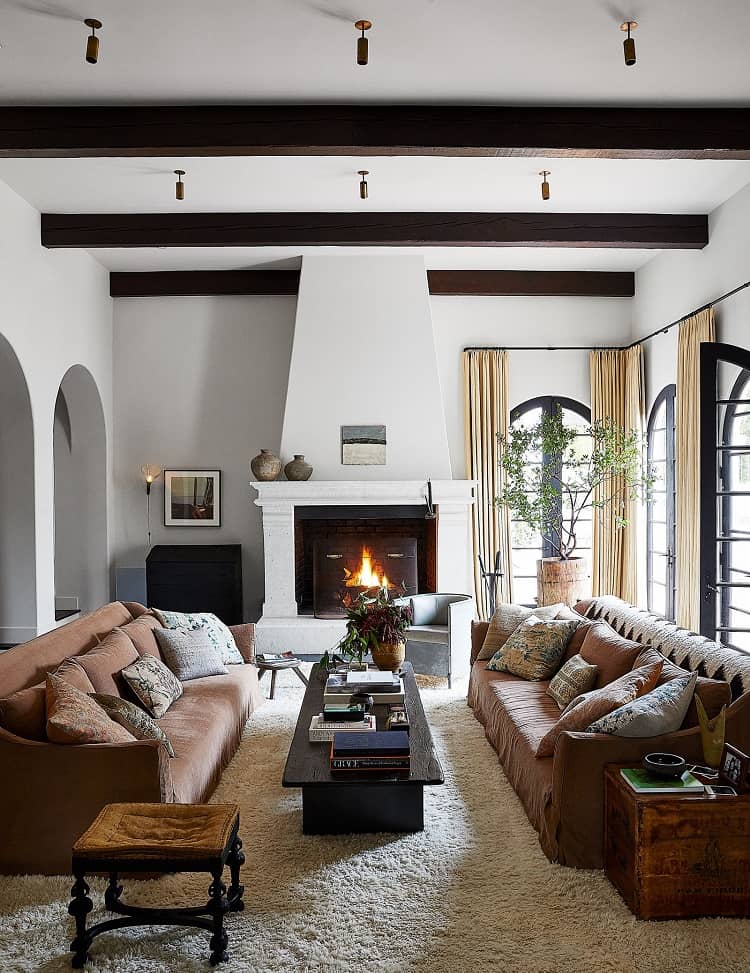 Jenner has often spoken publicly about her battle with anxiety, so it comes as no surprise that her home has been envisioned as a calming refuge; all throughout the 6,625-square-foot home, you will find meditation corners, places to prepare tea, or bright, open spaces that lead to the serene backyard. In fact, the house itself is U-shaped, which means that every part of it connects to the green backyard area.
For her more creative moments, Jenner converted a movie theater into an art studio fitted with canvas drapes (you know, the type you can paint on). This too adds to the mindfulness aspect of the home, as Kendall sees working on her art projects as a form of therapy.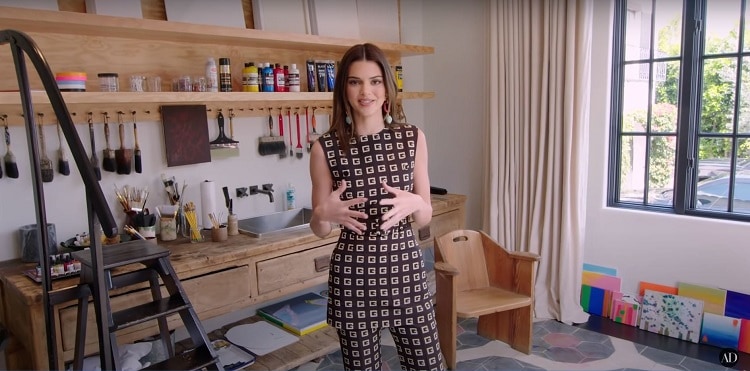 While Kendall Jenner's house doesn't abound in expensive luxury furnishings, the artwork is a whole different story. Starting with the signature James Turrell ovoid wall sculpture at the entrance (which actually spurred some debate as to whether she is hanging the artwork properly), the model's art-filled space also features a neon Tracey Emin sculpture over the bedroom fireplace and a salon-style hang above the dining room table, anchored by a Lauren Greenfield photograph of Beverly Hills high school students ditching class.
Zen elements and artwork aside, the young member of the Kardashian-Jenner clan made sure her home doesn't lack any modern-day comforts and glam elements. She turned two bedrooms into a fitting room and nearby glam room, the latter of which she's dubbed her "Hannah Montana room." Just like her mom, Kardashian matriarch Kris Jenner, Kendall has a perfectly appointed walk-in closet and a shiny, gold brass tub that anchors her master bath.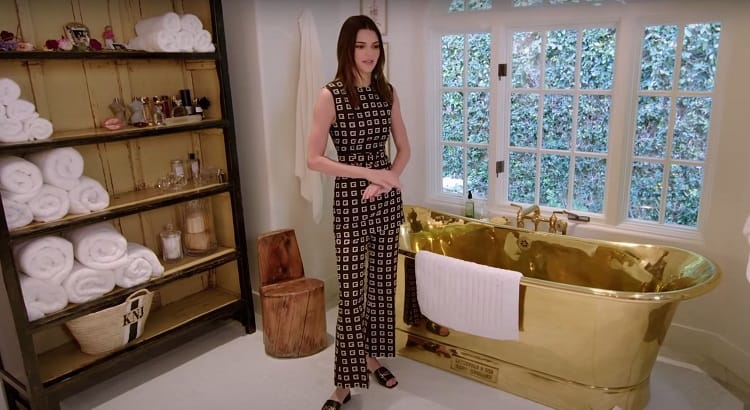 More beautiful celebrity homes
The Story of Taylor Swift's Holiday House — Home to "the Last Great American Dynasty"
See Travis Scott's New House: a $23.5M Ultra-Modern, Yacht-Inspired Mansion
Where Does Lady Gaga Live? Check Out Her 'Gypsy Palace' in Malibu
See Dakota Johnson's House in Hollywood, which She Calls 'Her Anchor'