Congratulations are in order for Colson Baker, better known as Machine Gun Kelly, who has been cruising through major milestones in 2022.
After his engagement to actress Megan Fox earlier this year, Kelly shelled out $7.5 million to buy an Encino mansion formerly owned by YouTube star Logan Paul.
The 32-year-old musician has chosen the perfect place to make his first LA home purchase.
Located in the heart of Los Angeles, the neighborhood of Encino is a peaceful and family-friendly suburb that's popular among celebrities. Other famous names who have taken residence in the area include Selena Gomez, Jesse Tyler Ferguson, and Gwen Stefani.
According to Dirt.com, the estate was originally listed at $9 million but closed for $7.5 million. It's a significant decrease from the listed price but a definite win for MGK.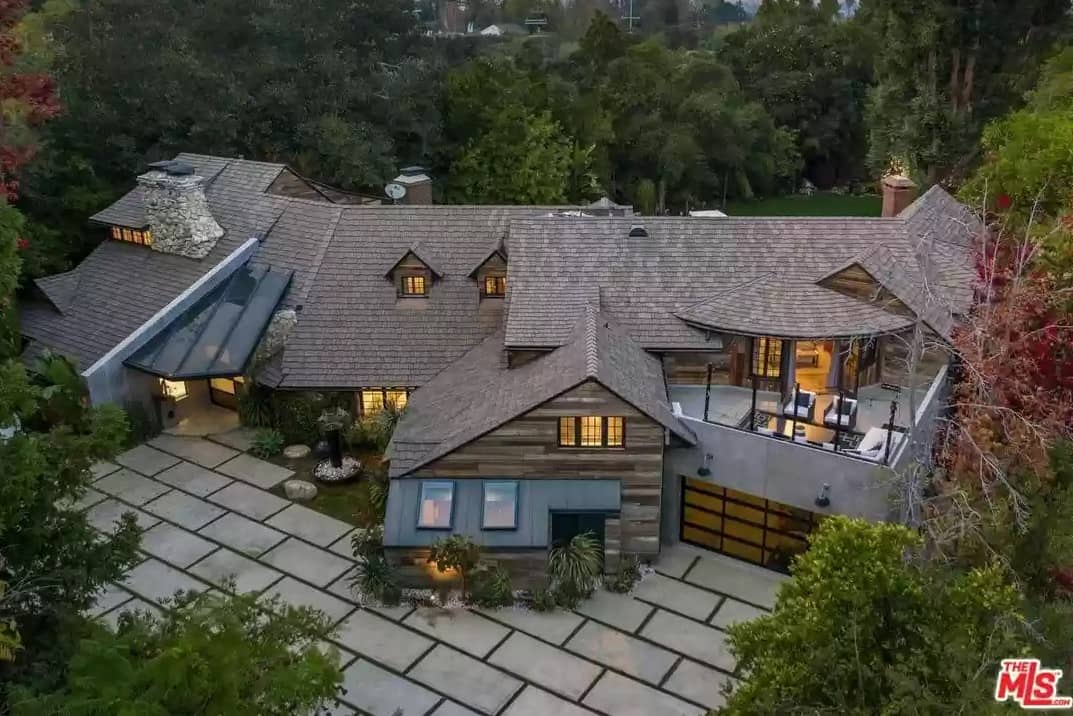 His close friendship with the YouTuber could have been a factor in the discounted price. Nevertheless, Paul also took home some profit, as he initially bought the place for only $6.6 million in 2017.
MGK and Megan Fox are "twin flames"
Before his big purchase, MGK was renting out a Sherman Oaks property for $30,000 per month, the New York Post reports. The 5,300-square-foot modern abode became a love nest for Colson and Fox, who started living together in 2021.
The couple first met on the set of the movie Midnight in the Switchgrass back in 2020. Rumors of the budding romance started swirling soon after.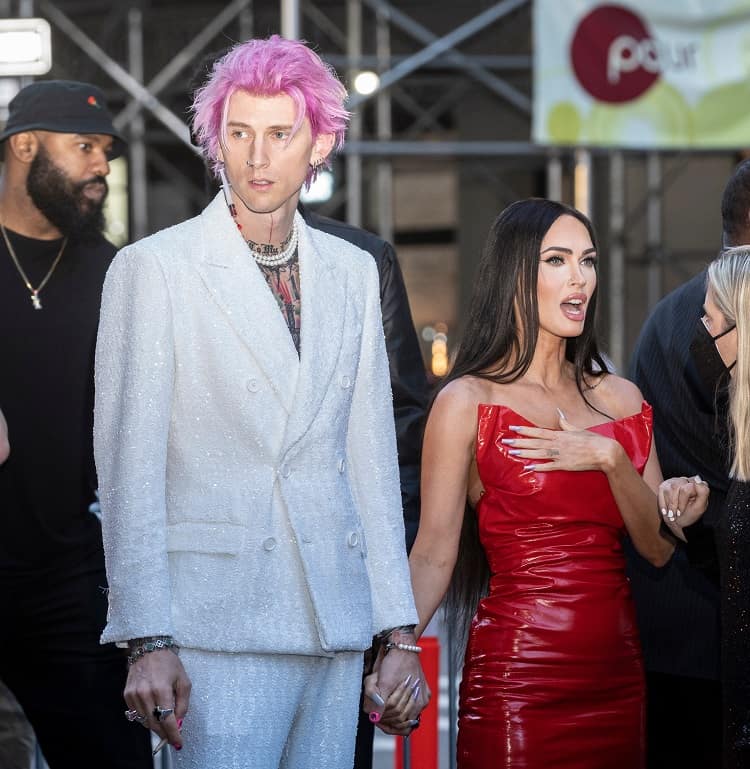 The relationship was pretty much confirmed after Megan appeared in Kelly's Bloody Valentine music video.
Since then, the two have been all over each on red carpet events, concerts, and their personal social media accounts. They quickly established their place as an "It" punk couple in pop culture.
While some may scoff at their peculiar antics — which include blood-drinking rituals and psychedelic hallucinations — the smitten couple has remained strong.
Fox has said multiple times that Kelly is her "twin flame". "We are actually two halves of the same soul… I said that to him almost immediately because I felt it right away," she said in the Give Them Lala podcast.
MGK's house: A spacious farmhouse with modern luxuries
With wedding plans underway, Kelly has also taken a major step to secure their future with his new Encino property. He bought Logan Paul's Encino home back in April and will most likely be settling in after his tour.
The sprawling estate has 8,689 square feet of space, with seven bedrooms and eight bathrooms. It was designed by famed architect Robert Byrd back in the 1970s.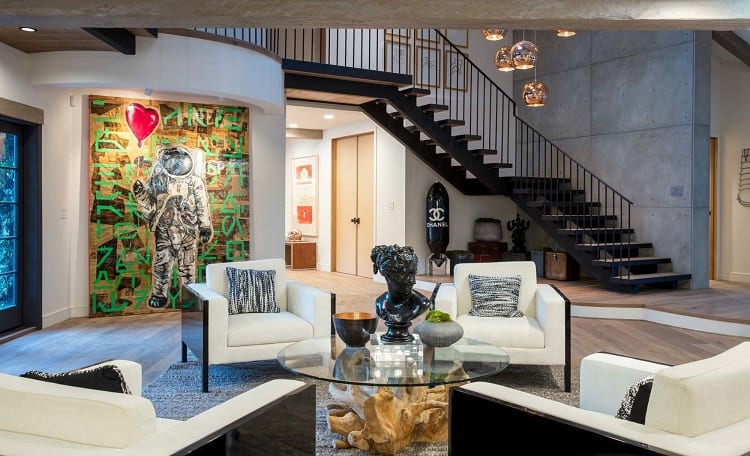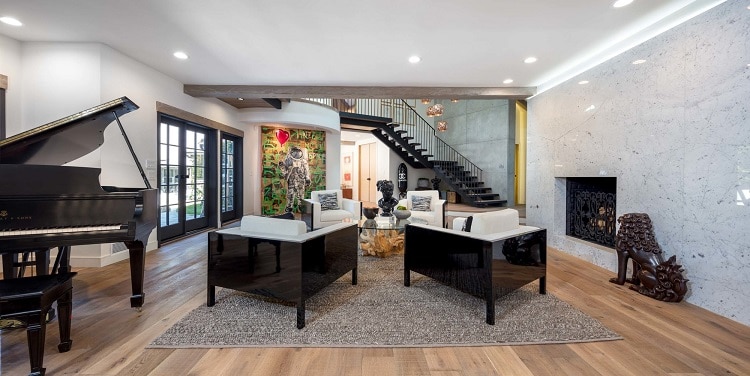 Many improvements have since been made to its original design. The beautiful house now boasts a rustic farmhouse design with a touch of contemporary updates.
The gunmetal gray exterior features reclaimed wood sidings, polished concrete, and stone-lined walls.
The interiors have a modern but cozy vibe, with vaulted ceilings and expansive glass doors. Exposed wooden beams can be seen throughout the rooms, giving the house a ranch-like feel.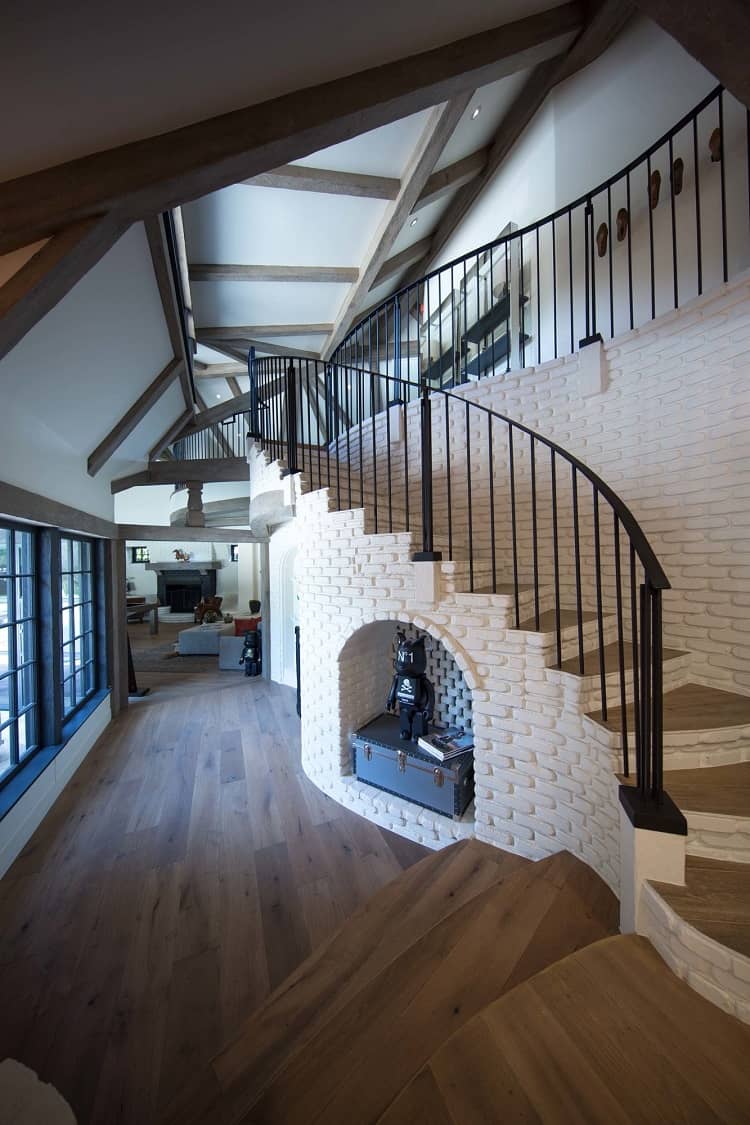 Modern luxuries are everywhere in the home. The open concept living room is inviting and perfect for entertaining guests. There are four fireplaces all over the house which makes the ambiance homier.
Equipped with state-of-the-art appliances, a large marble island, and huge sinks, the gourmet kitchen will make cooking a breeze.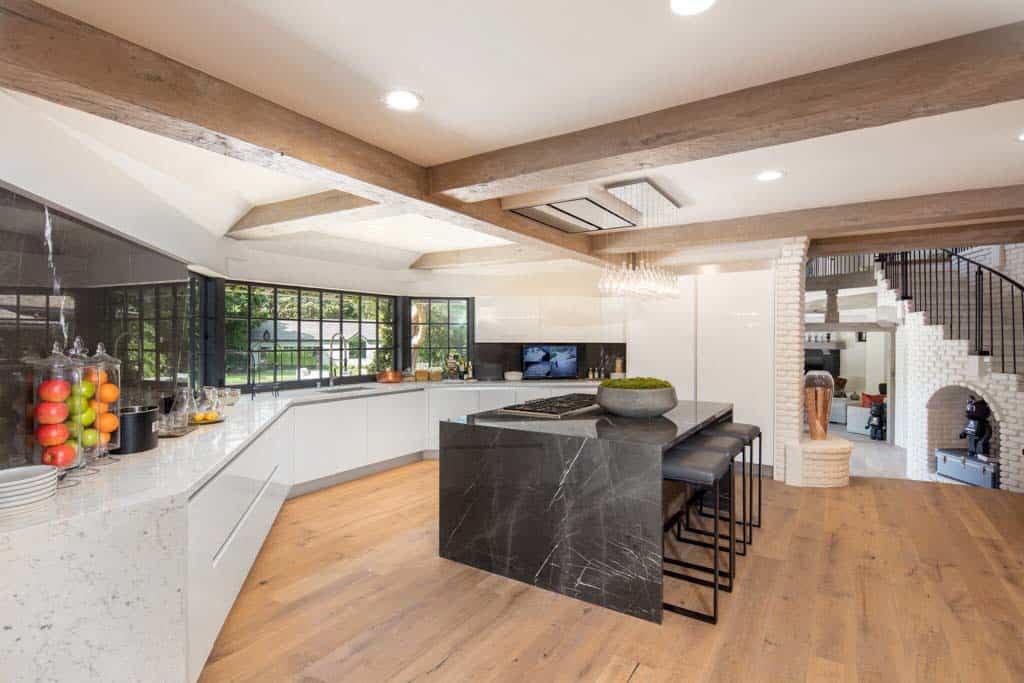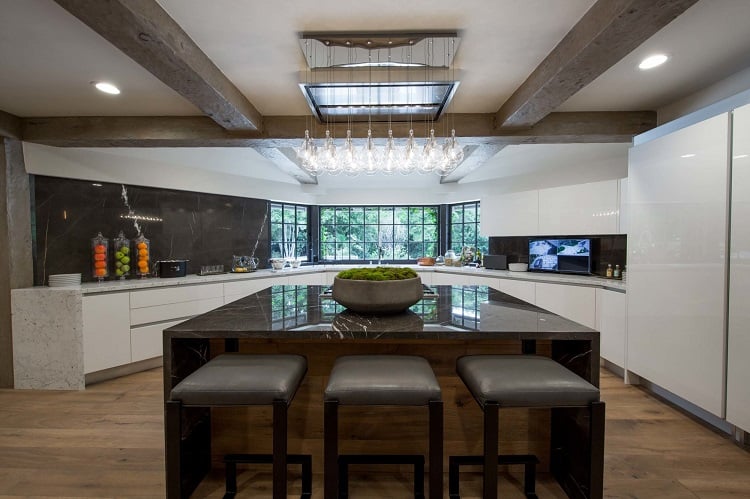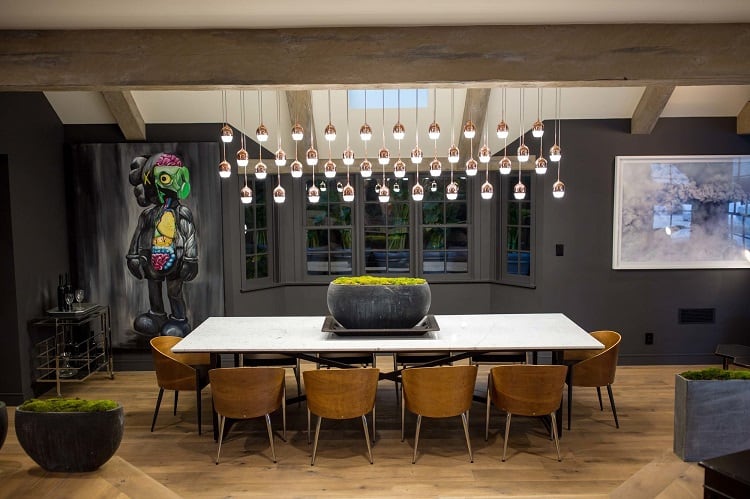 Upstairs, the bedrooms are spacious and bright. The master suite offers a premium view of the pool and lounge area below.
With an oversized swimming pool and a gorgeous outdoor lounge, the space can be a great party spot for family and friends. There are also several wine cellars, an office, a loft-style game room, a breakfast nook, and a soundproof movie theater.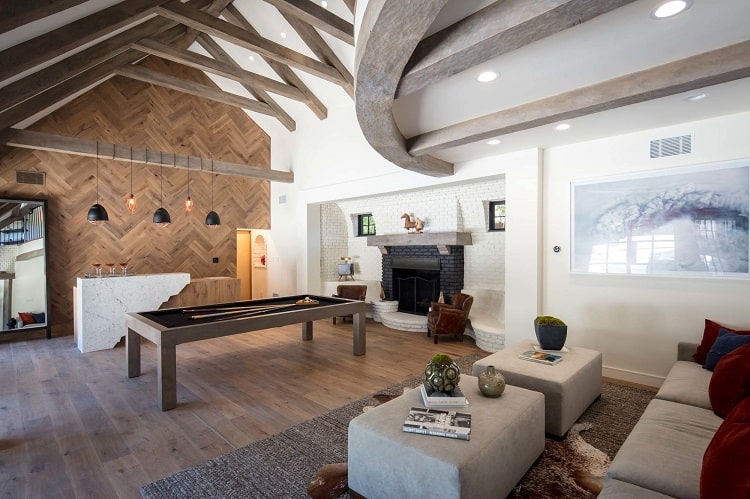 The property has an expansive backyard with state-of-the-art security
One of the best parts of Machine Gun Kelly's house (or, rather, MGK and Megan Fox's house) is the expansive backyard, which is lined with huge trees that provide shade and privacy to the whole property.
Among its many features, it has an outdoor grotto, a fish pond, and a wide-open grassy lawn.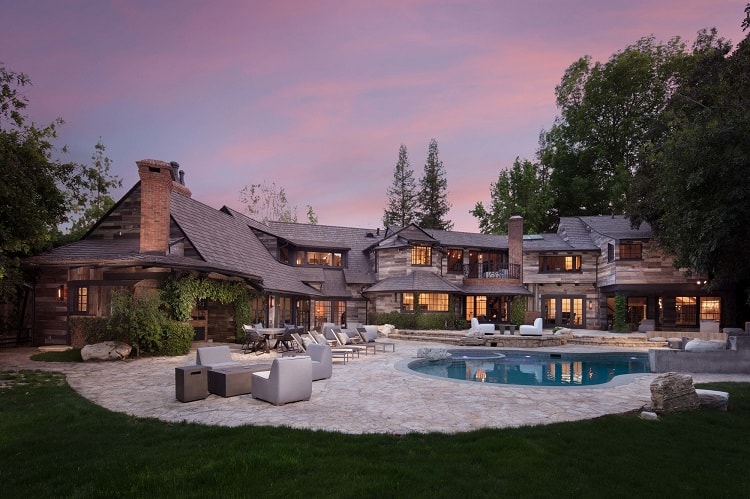 There is also a one-bedroom detached guesthouse in the backyard, which Logan turned into a fitness center, complete with top-of-the-line gym equipment.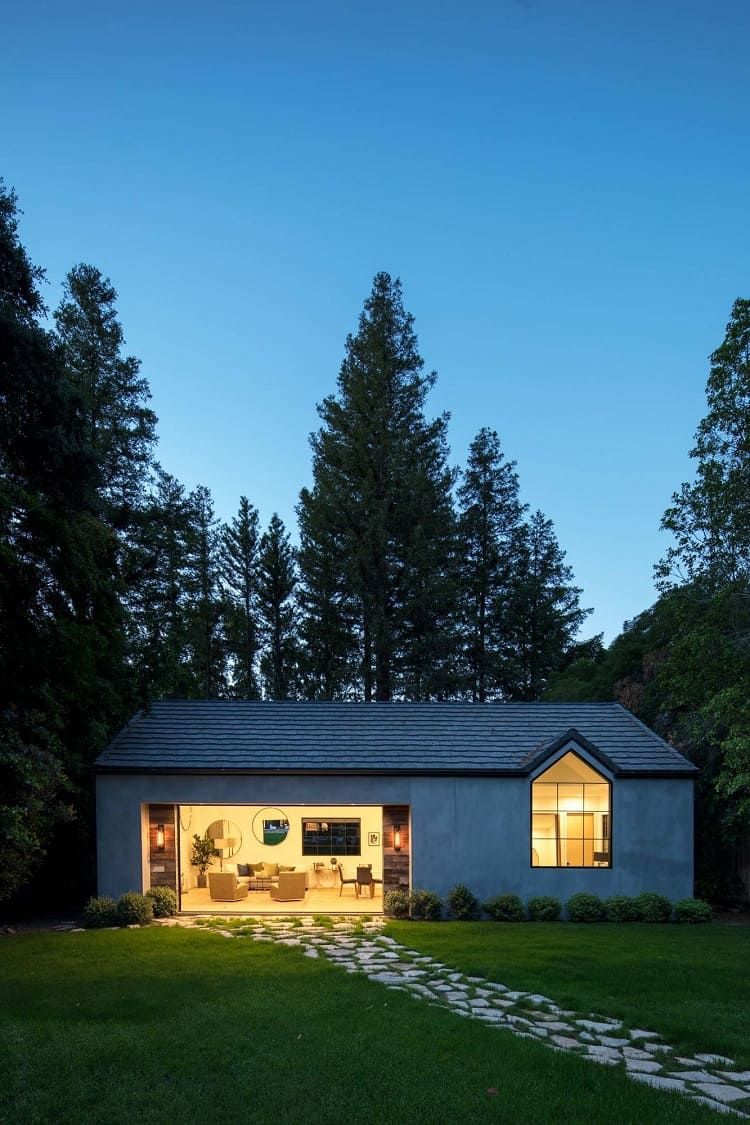 Continuing to the side of the yard is the six-car garage, which previously housed Logan's Impaulsive podcast.
This space will have no problem housing MGK's impressive car collection.
His million-dollar worth car collection includes an Aston Martin, a Lamborghini Gallardo, a Benz, a Chevy Camaro, and a Rolls Royce Phantom. Security also won't be an issue, since the property already has a high-tech security system and perimeter fencing.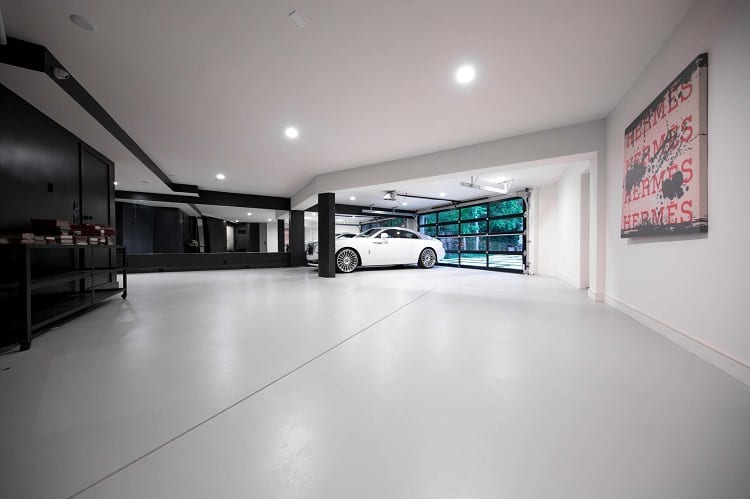 Once the couple moves in, there will most likely be changes done to update the place according to their tastes.
MGK's house is already gorgeous as is! But, its quirky new homeowners will probably want to spruce it up so it reflects their unique love and personalities.
More celebrity homes you might like
Travis Barker's Serene Calabasas Compound is "A Block Away" From Wife Kourtney Kardashian's House
Where Does Adam Levine Live Now? Inside the New Montecito House he Shares with Wife Behati Prinsloo
Grammy Award Winner Doja Cat Lives in a $2.2M Beverly Hills Home With Distinctive Flair
Post Malone's $3 Million Utah Compound Doubles As a Doomsday Bunker