In the charming Sonoma County town of Sebastopol, roughly 50 miles north of San Francisco, amidst picturesque landscapes, rolling hills, vineyards, and apple orchards, sits an enchanting two-parcel, 8.86-acre property with a very unique claim to fame.
The larger parcel, spanning 7.32 acres, was once owned by Charles M. Schulz, the creator of the beloved comic strip Peanuts, and still houses the cartoonist's former studio, which has been carefully preserved — and turned into an inviting one-bedroom home.
It's now being brought to market for the very first time in 47 years. Asking $3,950,000, the former studio and the land that surrounds it is listed with Mark Stevens and Gail Gijzen, affiliated with the Sebastopol office of Coldwell Banker Realty.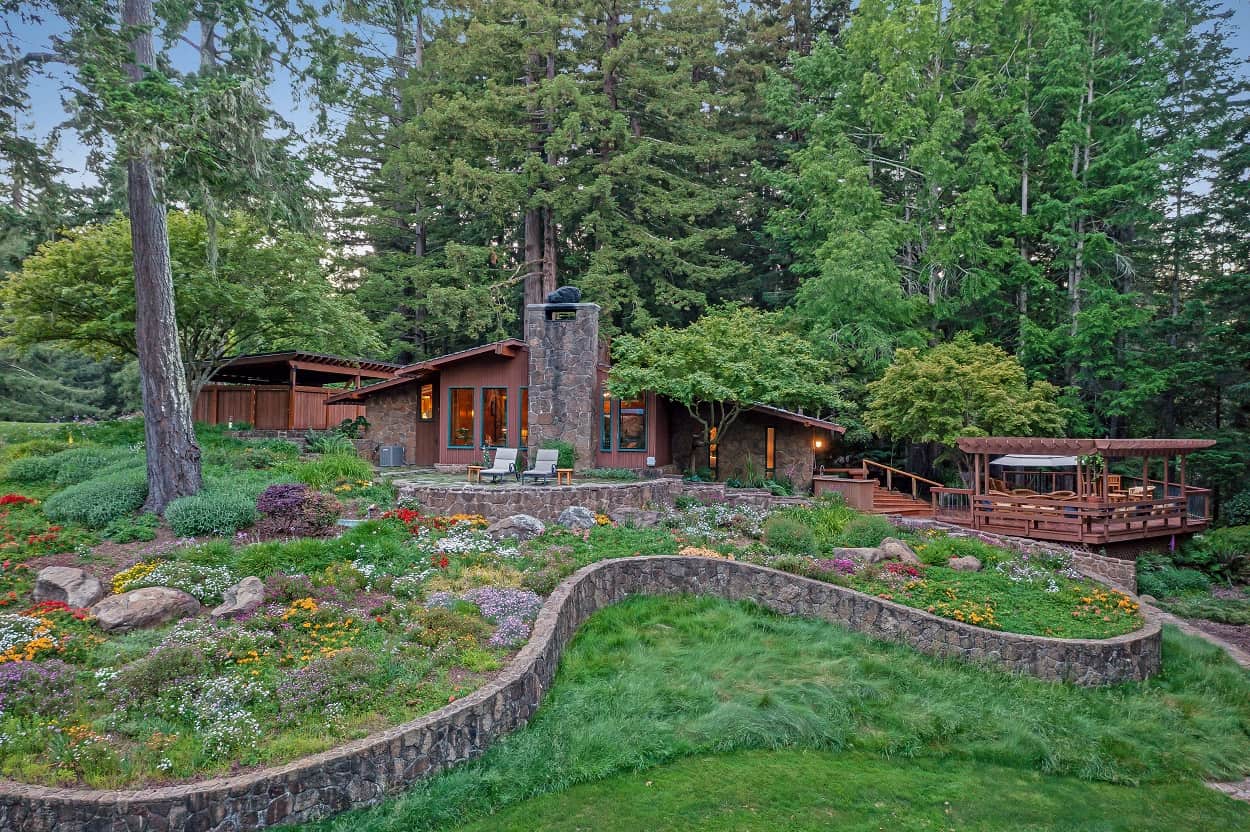 Schulz had the studio built in 1966 and used it as a creative space where he penned the adventures of beloved characters like Charlie Brown, Snoopy, and the rest of the "Peanuts" gang. His house at the time sat on an adjacent lot that was part of the same property, which was later broken down into several lots due to its massive size.
"The main house where the Schulz family lived was initially part of the same property as the art studio," says one of the property's current owners, Eric Rogers, whose grandparents bought the property 47 years ago.
His father, Timothy Rogers, chimes in to provide a little more background on just how massive the Schulz estate was back in the day: "Schulz's property encompassed roughly 27 acres with the main house, the grandmother's house and other structures including a large pond, baseball field, miniature golf course, large swimming pool and an enclosed entertainment pavilion."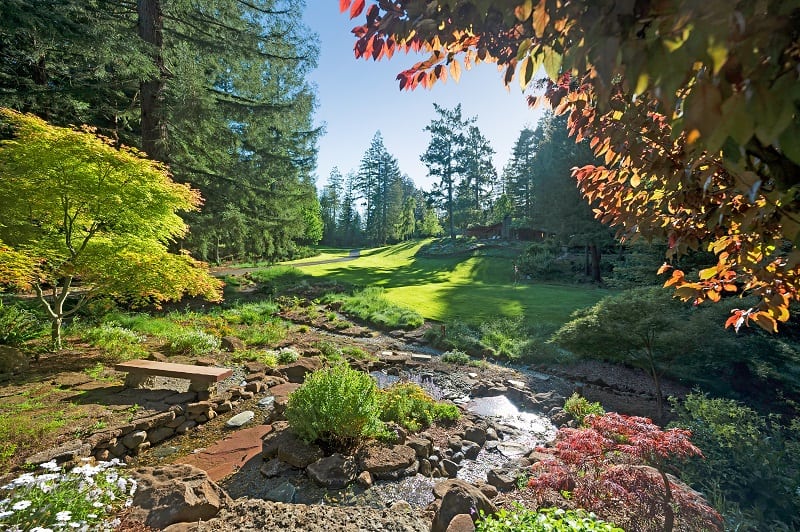 "The studio was the last structure built at the western end of the property, isolated on a dead-end road with surrounding vineyards and apple orchards and a tight-knit group of neighbors."
Charles Schulz's art studio lives on as a one-bedroom home
The midcentury modern home was built by Steele & Van Dyk, the same architecture firm that built the Redwood Empire Ice Arena (more commonly known as "Snoopy's Home Ice," now part of the Charles M. Schulz Museum in Santa Rosa, CA) where Schulz held annual hockey tournaments and hosted tennis exhibitions.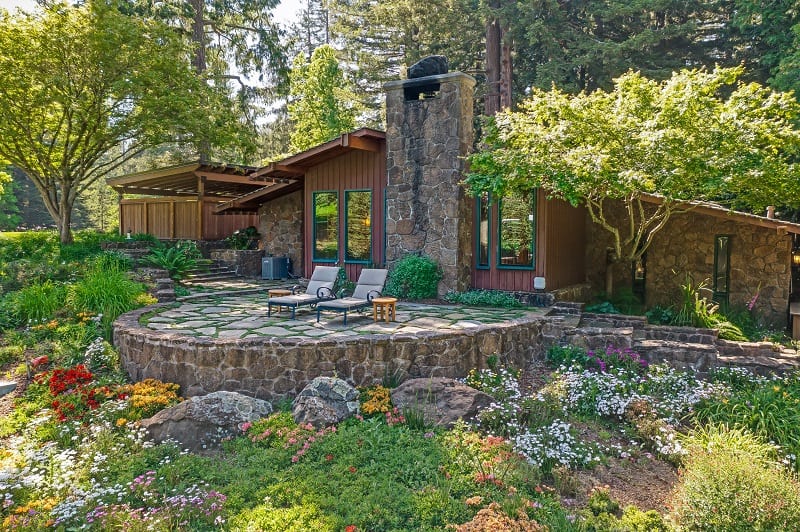 "My grandparents, Don & Helen Rogers, bought the property in 1976," Eric Rogers tells us.
"My grandfather was intrigued when he saw an ad in the paper about a property belonging to a famous celebrity for sale in Sebastopol. Out of curiosity, he made an 80-mile trip from where they lived and discovered it was owned by Charles Schulz. The original property was divided into three sections: the main house, recreational area, and art studio. My grandparents ended up buying the art studio parcel which included the golf course."
SEE ALSO: You can rent Walt Disney's storybook house in Los Angeles – but it won't be cheap
The original 7+ acre property has been in their family ever since, and there have been many discussions over the years about whether or not to enlarge the existing structure. But in the end, their love for the history behind the studio surpassed any desire to change the home.
Instead, they made minor enhancements meant to make the small house more livable.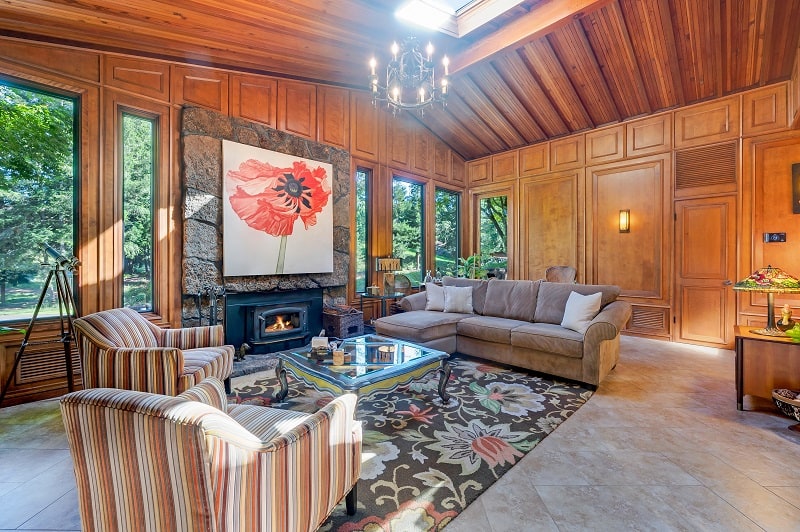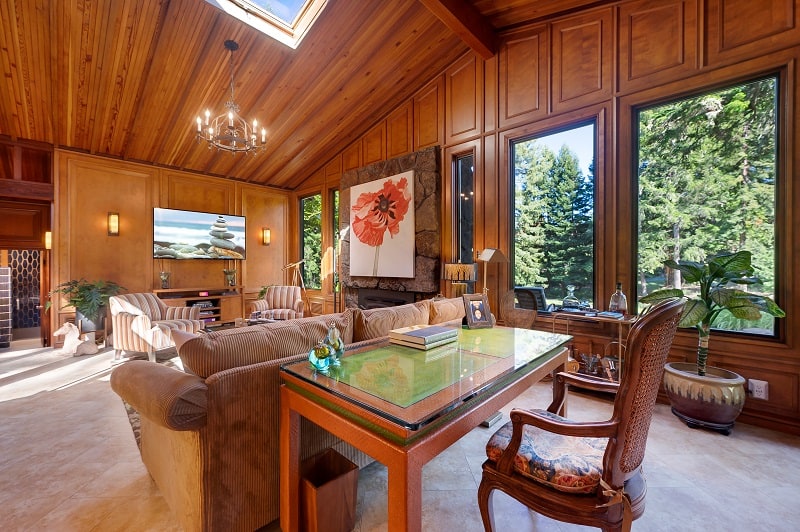 Changes to the home include the addition of a stove/oven and custom-matched cabinetry in the kitchen on the opposite wall of the sink, Velux skylights installed in the kitchen, living room, bathrooms, and bedroom. All windows and sliding exterior doors were replaced with double-pane insulated glass but the Rogers made sure not to alter the nature of the design and had them all custom-made to match the unique originals.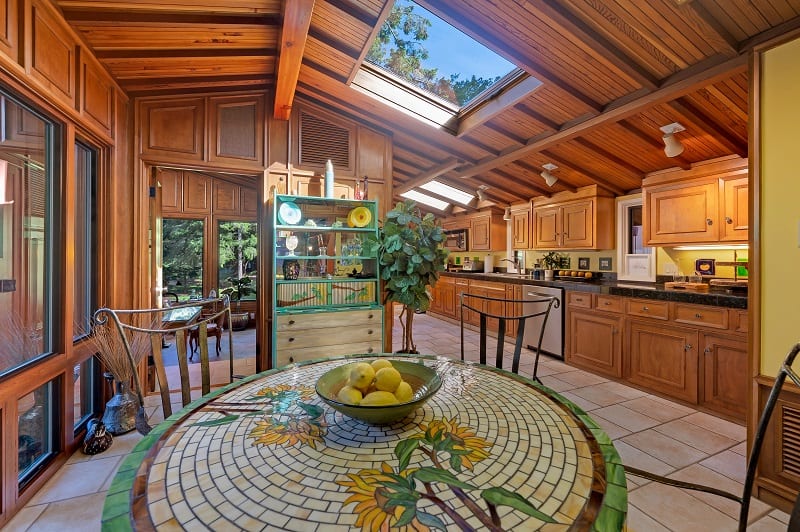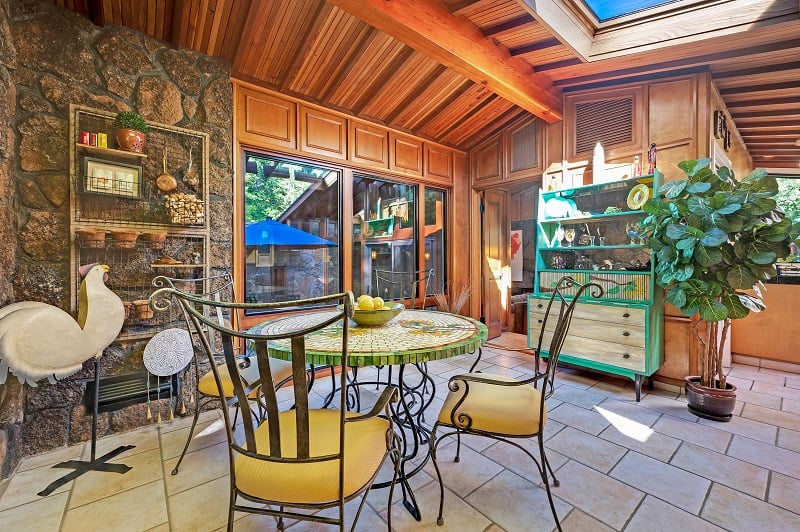 In what was the original art studio space, some of the shelves and drawers were removed to accommodate a recessed king-size bed.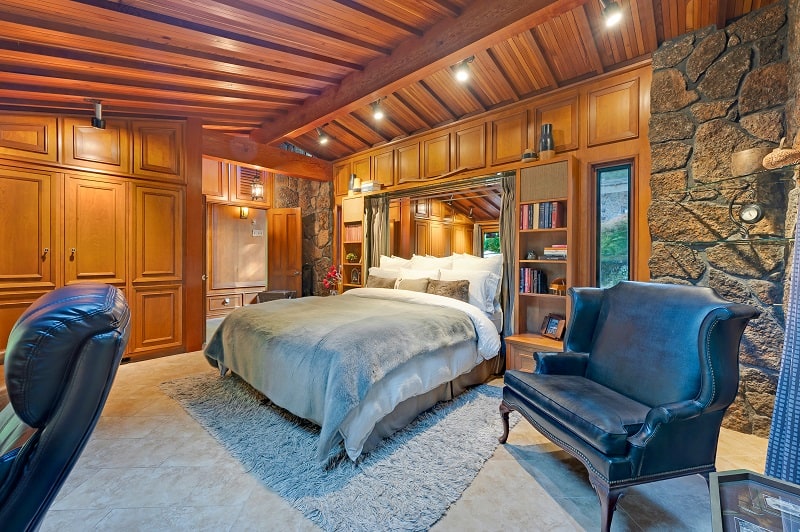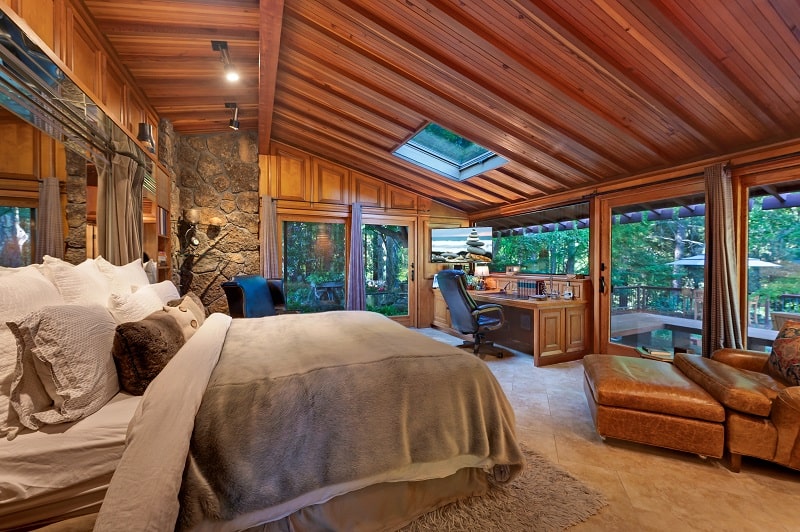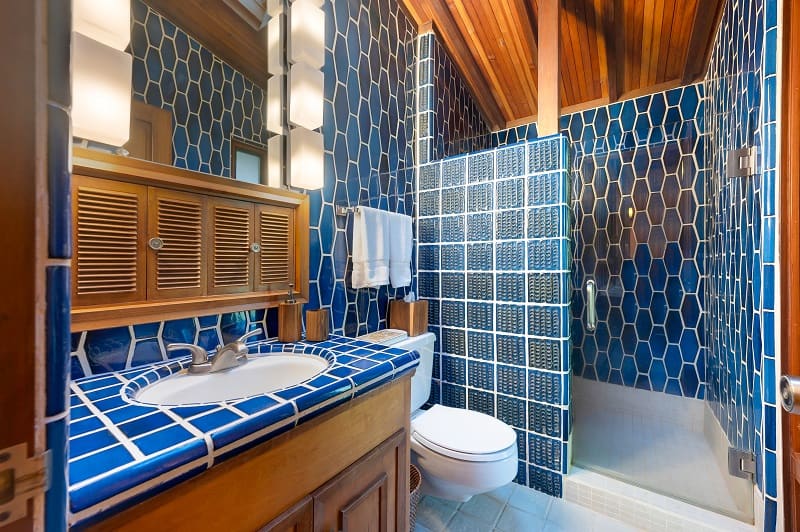 The end result is an inviting one-bedroom home with one full bath and a powder room, a stone fireplace, and 1,484 square feet of living space. Since the owners weren't living on the property, they turned it into a licensed vacation rental for a few years.
"We started renting out the property in April 2016 and have had a growing number of people stay year after year. We ended up booking more people than we imagined — mostly couples looking for a romantic getaway to the wine country," Eric says. "We stopped renting in 2022."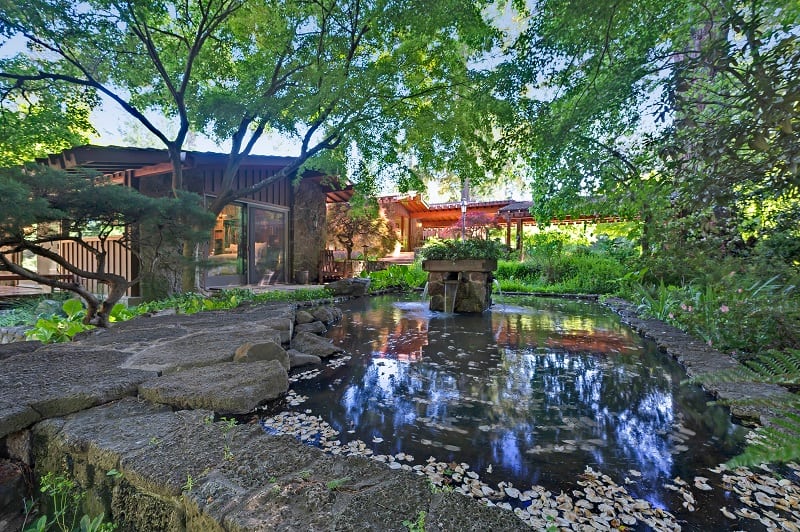 While they always wanted to enjoy the property as it was originally designed, the family has long considered building an additional structure. They purchased an adjoining lot that can be developed but decided to keep it as an open space instead, and they're now including that vacant parcel of land (spanning 1.54 acres) in the sale.
The 8.86-acre property is now hitting the market for $3.95M
While Charles M. Schulz's former studio may be the centerpiece, the entire property is a semi-secluded paradise.
"The grounds are a combination of a four-hole golf course, Redwoods groves, walking trails surrounded by numerous rhododendrons, azaleas, camellias, dogwoods, numerous varieties of ferns, fruit trees and a vast variety of flowers," Timothy Rogers tells us.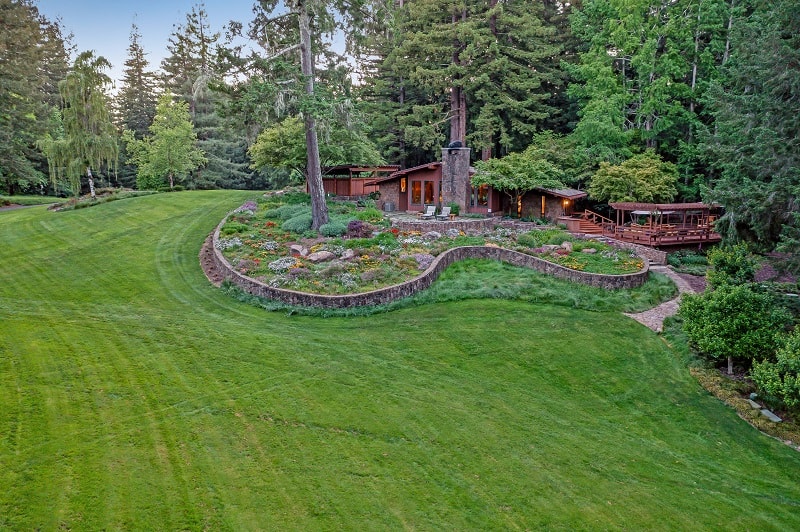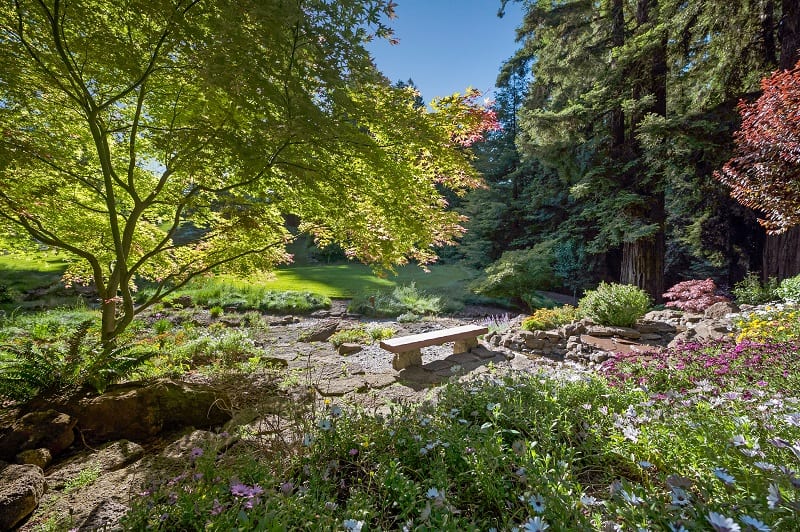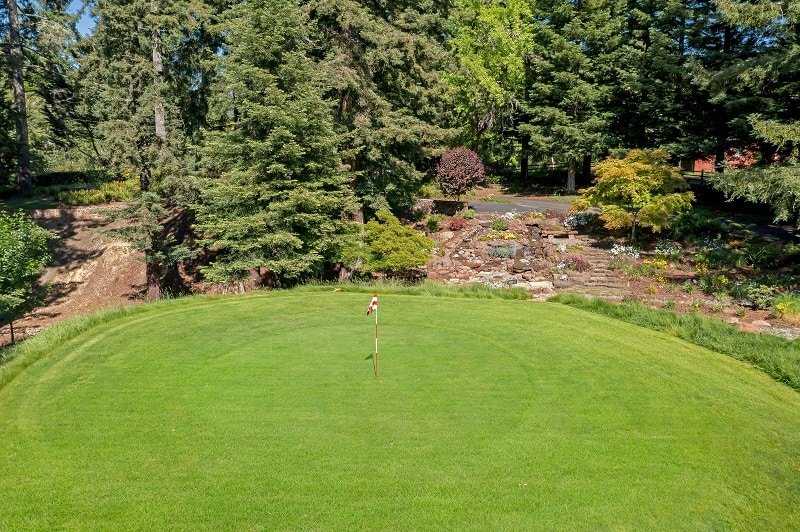 "After I retired as a helicopter pilot over two decades ago, I have developed and taken care of the landscaping as a labor of love. I will miss all those moments of sheer beauty that I have experienced at the passing of each season and sharing all that time with the wildlife that has shared it with me."
And Timothy's labor of love is showcased throughout the sprawling property, whose beautifully landscaped grounds are accented by walking trails with wood-carved benches and statues.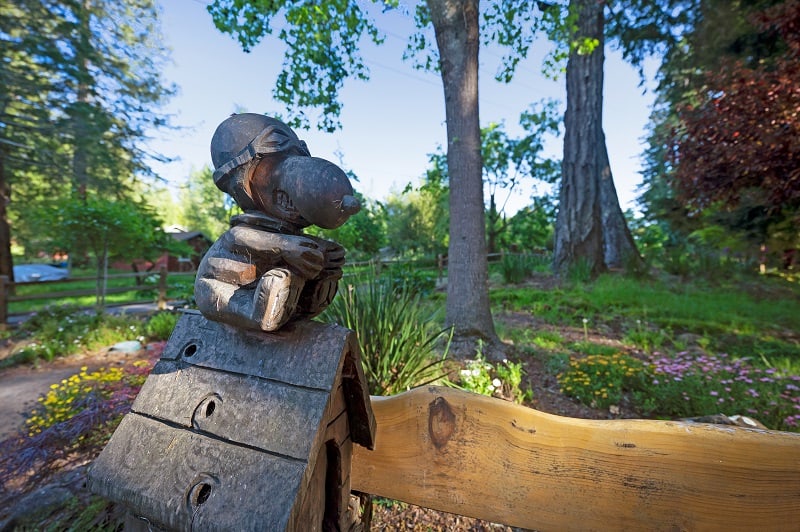 There's also a massive deck (approximately 1,340 square feet) and a 4-hole, par-3 golf course that dates back to Schulz's ownership — one that the Rogers family has revamped after it was left in disrepair.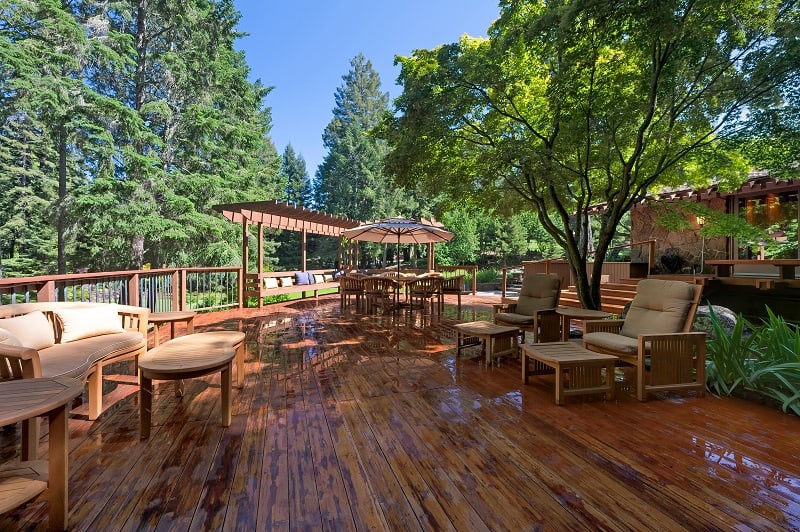 It wasn't uncommon for them to find golf balls owned by Schulz's many famous friends. They found golf balls with names like Bob Hope, Bing Crosby, and Robert Mitchum inscribed on them, hinting at the many star-studded charity tournaments that once took place on the property.
The Peanuts creator's ties to his former art studio haven't been fully severed over the years. Schulz's two sons would occasionally stop by to visit and reminisce.
"The sons have come by the property at different times to take trips down memory lane. It sounded like the childhood we all dream of — living on a large property amongst beautiful redwoods and surrounded by animals and livestock," Eric shares.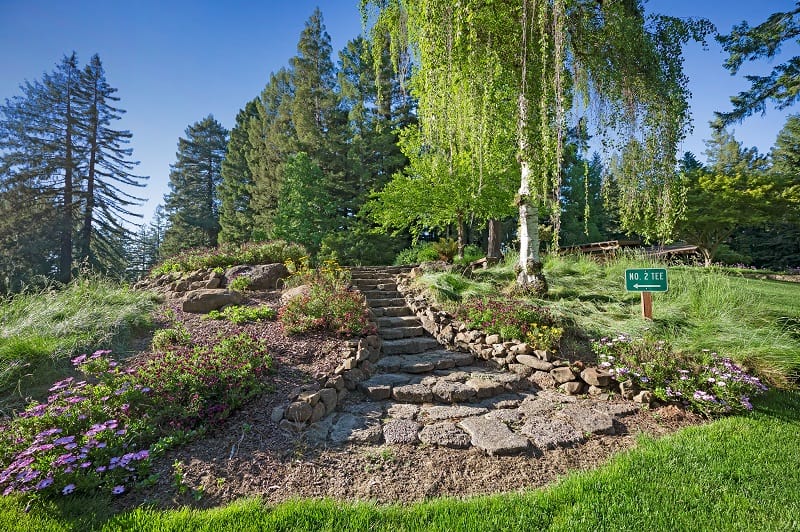 "They would tell hilarious stories about driving their dirt bikes up and down the property and riding horses. It is rumored that the family hosted charity events on the golf course that drew in celebrity friends. Their love and effort went into building this amazing and magical place that we got to share as a family for decades."
Now, it's time for a new family to create memories here.
After 47 years and three generations of ownership, Eric and Timothy Rogers are selling the property for $3,950,000, and have enlisted the help of Mark Stevens and Gail Gijzen, affiliated with the Sebastopol office of Coldwell Banker Realty, to find the right buyer.
"We have built memories here that we'll cherish forever. It is the perfect place to find serenity without being too far from civilization," Eric tells us. "But the time has come for someone new to find a home here. We know they'll love it as much as we have, and hopefully, continue the legacy that was left to us by the Schulz family when they created this loving place that we were fortunate to help build upon."
More stories
'South Park' creator Matt Stone's former Venice house is up for grabs
Inside Guillermo del Toro's spine-chilling Bleak House: A treasure trove of horror memorabilia
Menabilly, the Real-Life Inspiration for the Manderley House in 'Rebecca'
Mark Twain's houses: From his Connecticut mansions to the NY brownstone known as 'The House of Death'