Singer, business mogul and mom-to-be Rihanna Fenty has one of the most impressive real estate portfolios. The musician has been making smart decisions with her money (and her love life too)!
The whole Internet is swooning over the R&B queen's public appearances showing off her baby bump in killer ensembles that solidify her status as a style icon.
Ever since Rihanna was first photographed in New York holding hands with rapper boyfriend ASAP Rocky — sporting a baby bump adorned in a gold cross with colorful jewels — the internet has been abuzz with stories of the happy couple, and their soon-to-be family.
After a fair share of heartbreaks and public breakups, Rihanna finally found the love of her life in her longtime friend Rocky, who is reportedly head-over-heels in love with the singer, and has referred to her as "the one" in an interview.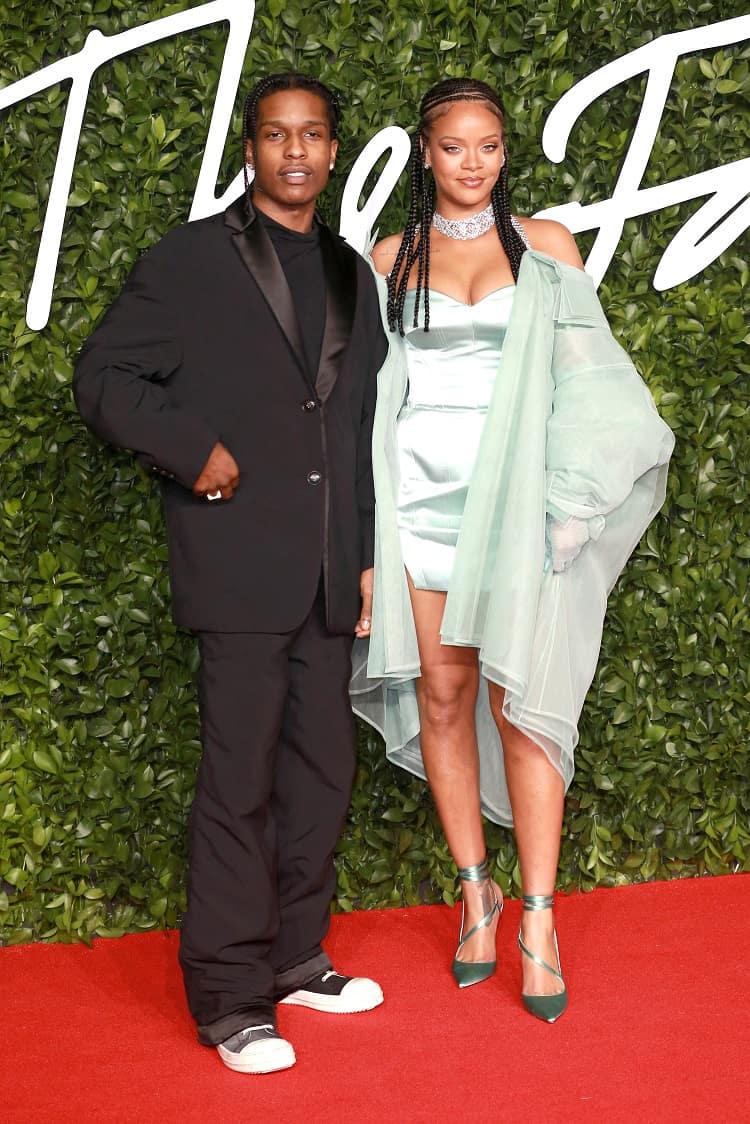 With a baby on the way, we're now left wondering — where would the couple be raising their baby? There's a cool list of multi-million dollar homes to choose from, so it's definitely going to be a challenging decision.
And while no announcement has been made, we believe Rihanna's house in Beverly Hills is a strong contented to become the happy family's new home — especially since she bought the house next door just last year, which gives her plenty of room to expand.
Reaching billionaire status
With an estimated net worth of $1.7 billion dollars, the singer has reached billionaire status and has overtaken fellow beauty and cosmetics entrepreneur Kylie Jenner, who is valued at around $1 billion.
Thanks largely to her widely popular Fenty brand, Rihanna has become the world's wealthiest female musician. With her smart property investments and the continued growth of her brand, her billions are sure to grow.
Over the years, Rihanna has owned, rented and even flipped several homes.
She has lived in a beachfront property in Barbados, a massive mansion in London, a luxury penthouse in Century City, a Mediterranean-style mansion in Hollywood Hills, and a penthouse in New York. These are just some of the many properties the singer has called home.
But even billionaires have favorites. And today we take a closer look at what seems to be the superstar's most stunning home — and one that seems to be getting ready to welcome the Fenty baby, seeing that Rihanna has also bought the house next door to it.
Rihanna's house in Beverly Hills, a $13.8 million modern farmhouse originally built in 1938
One of Riri's most beautiful properties is her modern farmhouse in Los Angeles, which is located in a swanky Beverly Hills neighborhood that's home to fellow A-listers like Mariah Carey, Paul McCartney, and Madonna.
At $13.8 million dollars, it is also one of the singer's most expensive real estate purchases to date (at least on US soil).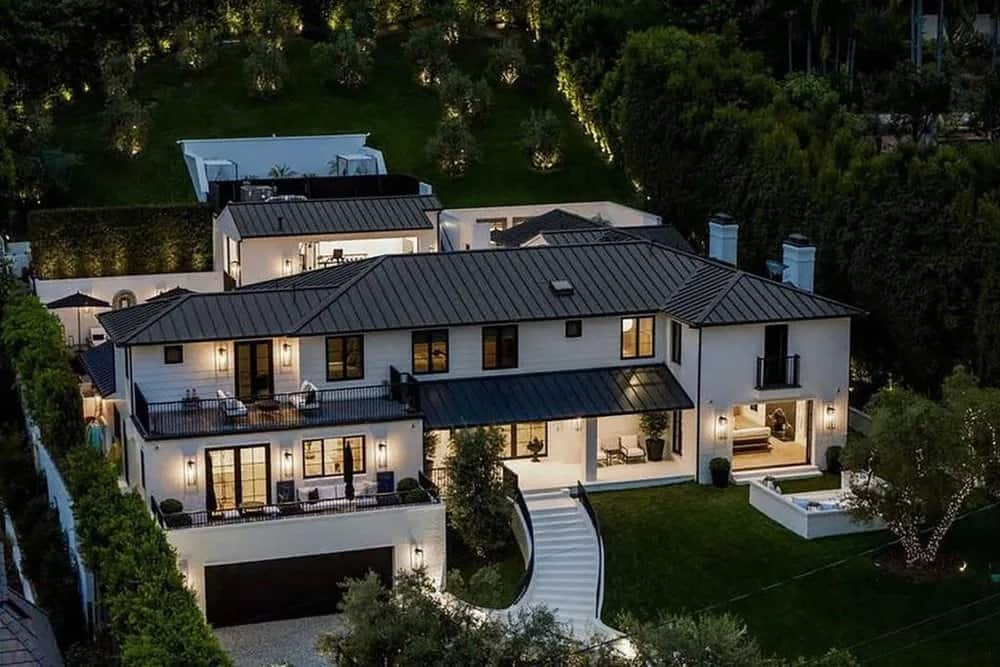 The 7,600+-square-feet mansion was originally built in 1938 and boasts a unique design. It blends contemporary and traditional design elements, featuring a black-and-white modern farmhouse style.
The mansion has five bedrooms and seven bathrooms. Its primary suite has a huge walk-in closet with black lacquer cabinetry, an extravagant marble bathroom and its own large private terrace that offers an impressive view of the hills.
With an open plan layout, the interiors are spacious and glamorous yet still homey.
The gourmet kitchen features two marble islands and high-tech ovens. It also has two living rooms – a formal sitting area with a floor-to-ceiling marble fireplace, and an informal one that opens to the outdoor pool. Its formal dining room can also be opened to the central courtyard and patio.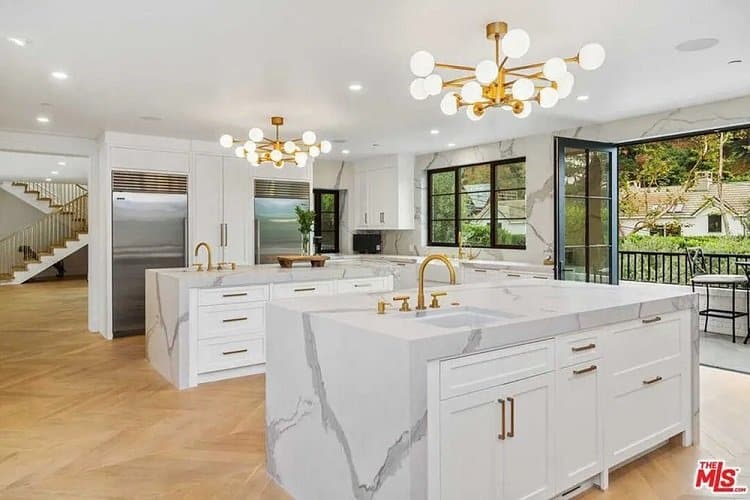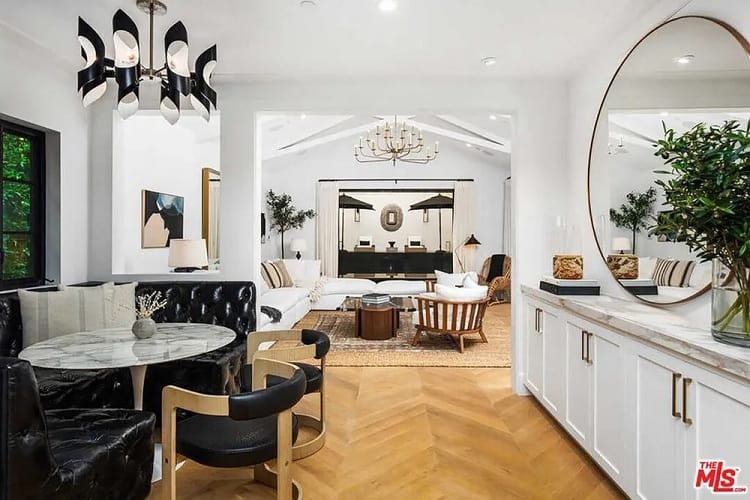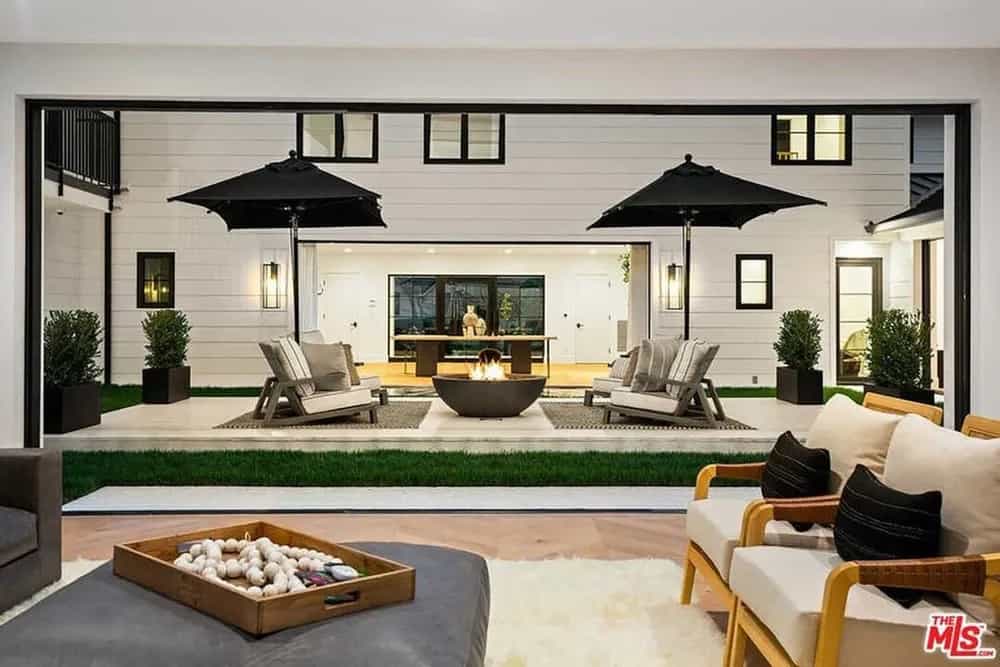 Naturally, the multi-million dollar mansion also comes equipped with lavish amenities for the R&B queen to enjoy.
There is a gorgeous home bar with a sitting area, where guests can relax. The second floor houses the indoor gym, which overlooks the courtyard.
Glamor living extends to the outdoor area, which boasts a custom black pool, a cabana with a fire pit, and several seating areas.
The abode is nestled behind lush hedges and an exclusive cul-de-sac, which gives privacy to the superstar, who has dealt with stalkers and home intruders before.
Riri also bought the house next door for $10 million
It seems that the popstar enjoys living in the Beverly Hills property so much that she decided to buy the house next door.
According to industry sources, the house wasn't originally listed on the market but, somehow, Rihanna was able to make it happen.
It was sold to a couple in 2015 for $5.1 million and the singer acquired the property last year for $10 million, so the original owners doubled their money in the deal.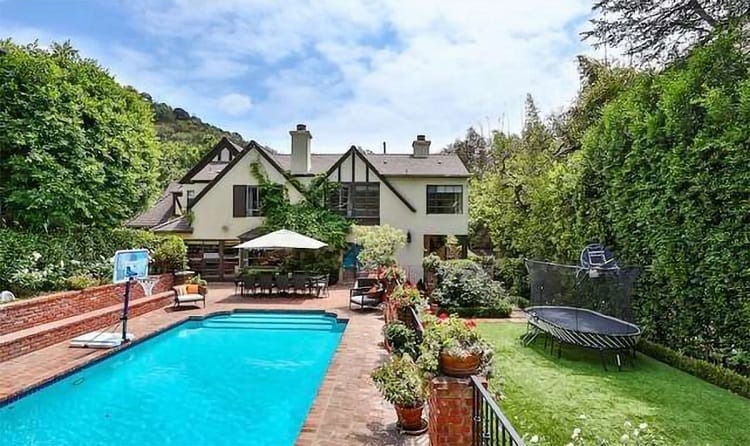 The half-acre estate features over 3,500 of living space, with four bedrooms and four and half bathrooms. It originally featured a Tudor-style structure with luxurious furnishings but design improvements may have been made before the turnover.
It also has a spacious backyard with a large swimming pool and a separate guest house with a full bedroom suite.
With the two properties, Rihanna now has over an acre of land in Beverly Hills, with more than 11,000 square feet of living space and multiple parking lots.
Expanding for the baby?
We're unsure of Riri's plans for the neighboring house but it could be a sign that she is preparing to expand her space for the upcoming baby.
Purchasing adjoining properties isn't a new practice for celebrities and multimillionaires.
This was also done by Kevin Hart, Adele and Elton John, to name a few. The trend, referred to as "land banking", allows the buyers to double up on their living space. When it comes time to sell, the property becomes far more valuable.
Additionally, this also means more privacy for the superstar and her baby.
The next door lot can be transformed into a space for security or staff to make sure help and protection is always available for Rihanna's family.
Regardless of what the future holds for her Beverly Hills mansions, one thing's for sure — everyone is excited to meet the future Fenty baby!
More stories you might like
Selena Gomez's Encino Mansion, Once Owned By Singer Tom Petty, Has a Troubled Past
Everything We Know About The Weeknd's Extravagant $70 Million Bel-Air Mansion
Drake's Mansion in Toronto, the Star of his 'Toosie Slide' Video, Is Peak Luxury
Celeb Spotlight: Cardi B's House in Atlanta is Pure Old-World Luxury