With a net worth of over $300 million, one would think that Robert Downey Jr. — aka Iron Man aka Tony Stark aka Sherlock Holmes — would have a long list of luxurious modern mansions in his real estate portfolio.
But, as it turns out, the lovable actor has a heart for unique and charming homes that reflect his warm and down-to-earth personality.
Downey owns two of the most unique celebrity homes; one is a windmill, the other an inflatable homestead. His eccentric taste in houses further proves he is not like your average Hollywood A-lister.
Robert Downey Jr.'s house in the Hamptons, a whimsical windmill home
RDJ and his wife, producer Susan Downey live in a late 19th-century windmill folly, originally built as a playhouse and later transformed into a full-fledged residence.
The lovely couple opened the doors of their East Hamptons home to the Architectural Digest crew a while back, which gave us a peek into the home life of Iron Man himself. And guess what? It's neither futuristic, nor eccentric, but rather as cozy and charming as any family home you simply love stepping into.
Built circa 1885, the historic property is known as the Edward DeRose Windmill Cottage, but was never a functional windmill, only designed to look like one. Instead, the late 19th-century windmill folly served as a playhouse before being transformed into a full-fledged residential home.
The magical home is set in the Hamptons, within minutes of East Hampton, and overlooks a lovely church spire, as pointed out by RDJ in their AD tour. The property sits on a generous four-acre lot and consists of a 7-bedroom main house and a 2-bedroom guest house.
SEE ALSO: Who are Robert Downey Junior's neighbors? 10 Celebrities with Swanky Summer Homes in the Hamptons
Robert Downey Jr.'s house in the Hamptons also features a three-car garage with a potting shed, a 50-foot pool, a tennis court, and gorgeous landscaped gardens.
With such a unique design and dreamy location, it comes as little surprise that RDJ's house also made its onscreen debut. The Edward DeRose Windmill Cottage was featured in the Michael Caine 1982 movie, Deathtrap.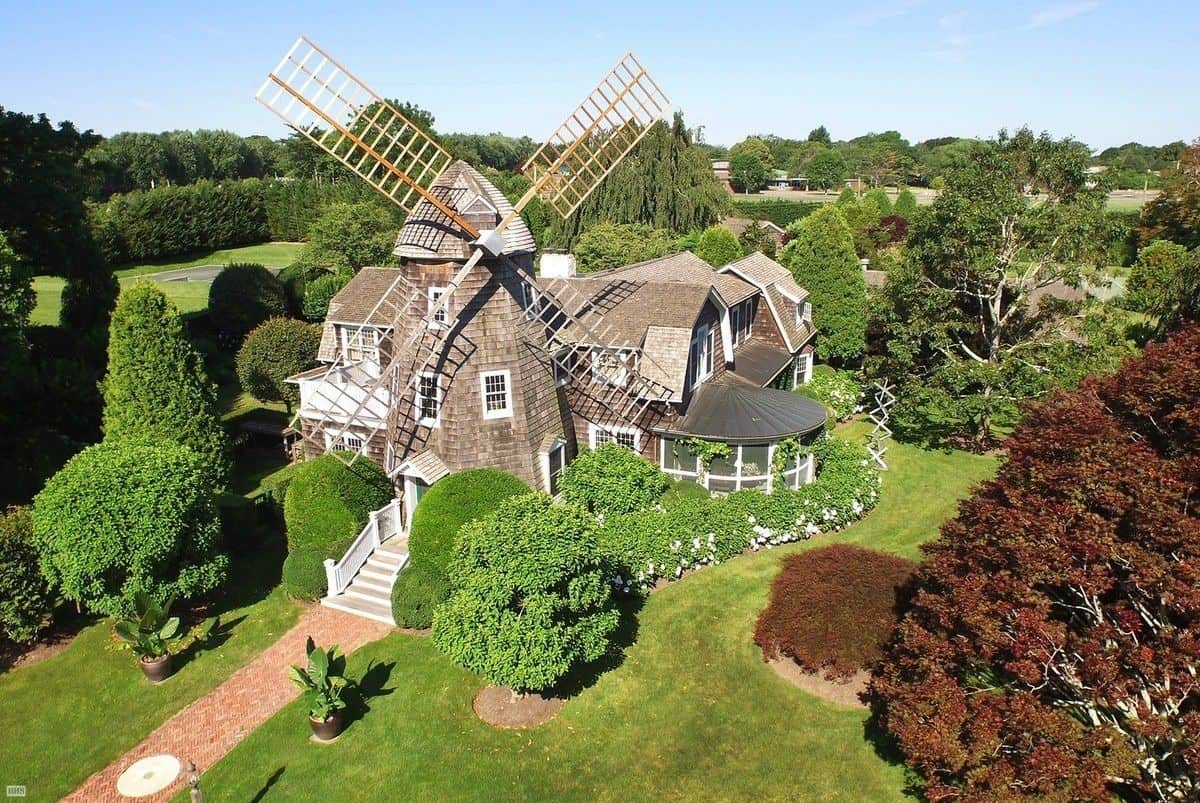 The Marvel star reportedly paid $10.5 million for the property back in 2016, though the sale didn't make magazine covers until later next year, as the purchase was disguised under an LLC.
Playful details splashed in every corner
The enchanting abode is peppered with unique decors — from a Frankenstein windmill that guards their front lawn to Robert's many art projects.
While designer Joe Nahem and the team at New York City–based Fox-Nahem Associates have a rightful claim to the decor choices made when furnishing the place, there are a few rather Tony Stark-ish additions, which include a glowing head figurine of the actor.
"We didn't set out to do something conspicuously wacky. We just enjoy a bit of whimsy and fun. And we definitely don't like boring," Robert told AD.
Another notable art piece can be seen in their sunken living room. The fireplace has a massive wraparound wall piece made by ceramic artist Peter Lane. More contemporary art can be seen throughout the house, making the space even more special.
SEE ALSO: Is it Real? Tony Stark's Insane Malibu Mansion in the Iron Man Movies
The huge master bedroom has a sitting room that displays stunning artwork of a snowy landscape that resembles The Great Wave.
Overall, the interiors display the perfect blend of Robert's playful spirit, Susan's penchant for functionality and efficiency, and their designer's creativity.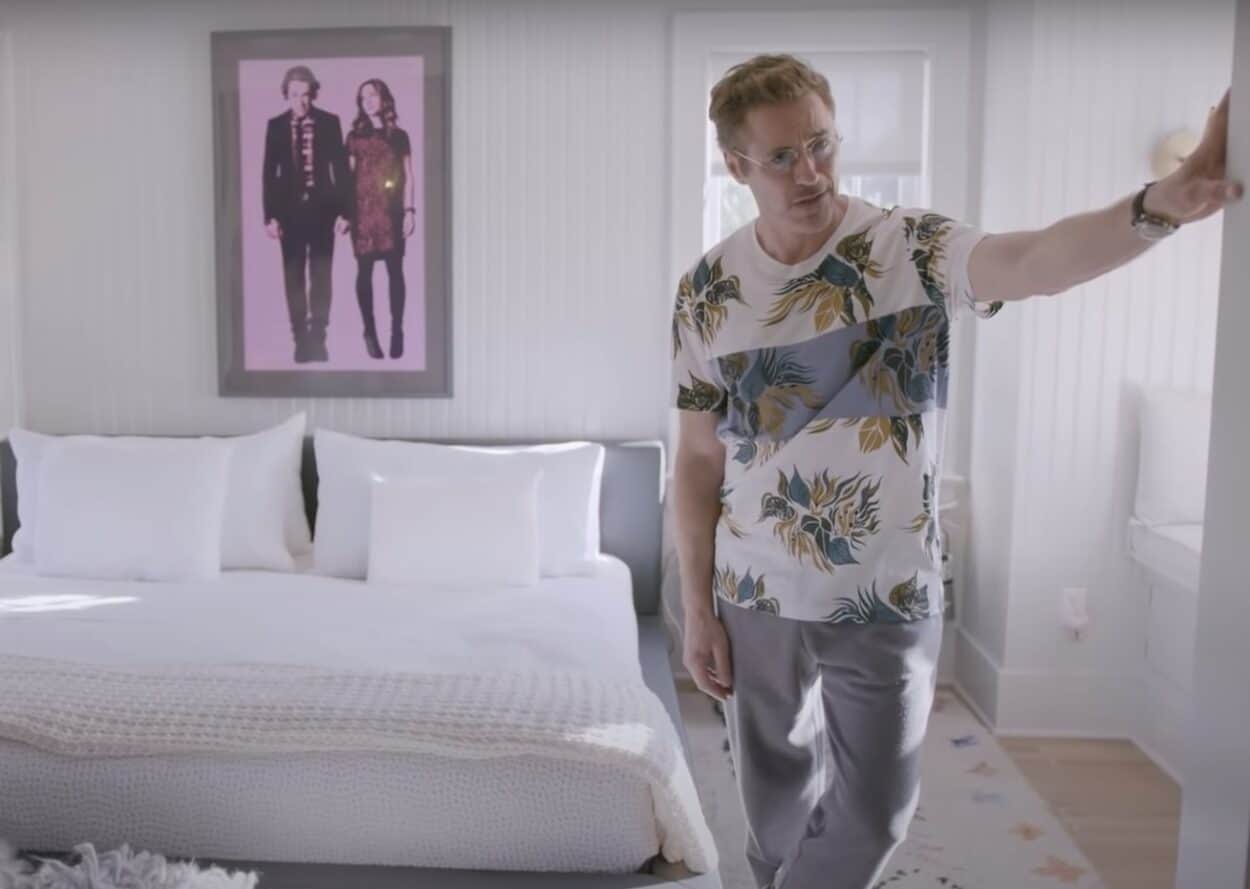 Relatability factors
I'll admit, I'm always surprised to step into the homes of celebrities and find how easy it is to relate to their lives through the intimacy of the homes they create for themselves. And I wouldn't have expected RDJ's house to have so many relatable elements. Some that stand out:
a "Why is everything stuffed here?" closet
the two adorable cats that seem to own the house

"Don't let the cats out" signs spread throughout the house

a purple polka dots bathroom (which Susan says is Robert's favorite room in the house)
a messy office full of things the couple procrastinates on packing
Downey's cozy napping couch
Robert Downey Jr's house in Malibu — with a guest house like no other
While Downey's windmill house is stunning, he has another property located in Malibu that will blow your mind. Designed by architect Nicolò Bini, the Binishell dome home, as it's called, is an eco-friendly bungalow that's unlike any other celebrity mansion.
What an honor to be on the front page of New York Times web site yesterday with our project for Robert Downey Jr. In Malibu! pic.twitter.com/R7KGEOStCn

— Nicolo Bini (@Binishells) September 28, 2022
Robert and Susan are founders of the FootPrint Coalition — an organization that provides grants for sustainable technology. The couple's passion for sustainable solutions led them to do the Binishell house.
The unconventional 6,500-square-foot home features a dome-like exterior, asymmetrical oval-shaped doors, and absolutely no straight angles, and was built as a guest house rather than a main house — but has won people over around the world with its distinct design and eco-friendly features.
Downey first acquired the 7-acre property in 2009 for $13.4 million. It took a total of seven years to complete the passion project, which serves as a guesthouse and place of retreat for the family.
Their main home, which is part of the estate they purchased, is a ranch-style 3-bedroom house.
But, let's go back to the dome home, which is far more interesting than any traditional house, for so many reasons! Its unique architecture boasts an aerodynamic design, with an exterior made of inflated nylon-coated neoprene topped with steel-reinforced concrete.
SEE ALSO: Where is the Avengers building, Stark Tower in Real Life?
The Binishell system promotes an energy-efficient way to build structures, as they use 75% less energy to construct than a traditional building. According to the Downeys, they were looking to build an unconventional structure and wanted a little bit of whimsy.
​​"We wanted to try something that hadn't been done before," Susan Downey explained to the New York Times. "Call it biomimicry or call it borrowing from nature, but the beauty is that it works."
Playful atmosphere and contemporary decor everywhere
Inside, Robert Downey Jr's house features an open floor plan. There are two guest bedrooms, a large kitchen, a dining room with a breakfast nook, an arcade room, and a private screening room. The interior design features contemporary pieces, mid-century decor, and custom lighting fixtures.
Was such a treat inviting #ThePurist into our eco-friendly guesthouse, aka the "Binishell'. Here's some shots and BTS that didn't make it into the spring issue. Out now and digitally with a link in the bio…you know what to do! #bts #DomeHome pic.twitter.com/pw1AQtqRrt

— Robert Downey Jr (@RobertDowneyJr) April 9, 2021
Skylights and big, asymmetrical windows were carved in the binishell to keep natural light in. Several areas were also designed to be sunken to keep the atmosphere odd and playful.
One of the more notable areas in the dome house is the living room, which is decorated with a bubble couch, mushroom-shaped floor lamps, and futuristic Aircell chairs. These designer pieces from Roche Bobois have hefty price tags that will astound you.
The bubble couch costs at least $9,000, the large floor lamps are around $2,600 each and the Aircell rotating armchair costs over $3,000!
The outdoor area is just as fun and spectacular
Outside the dome, there is an abundance of lush greenery, large stepstones, and drought-resistant plants, and a downright zoo with goats, alpacas, and cows — some of which we got to see when the Iron Man star gave David Letterman a tour of his Malibu property on My Next Guest Needs No Introduction With David Letterman.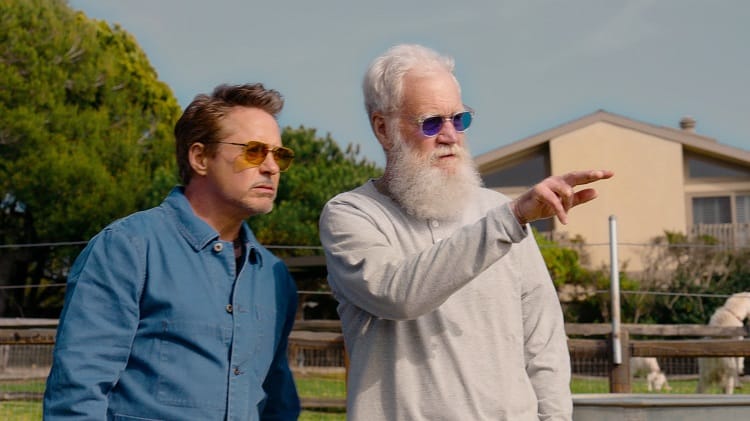 There is also a large, kidney-shaped swimming pool and a deck with designer lounge chairs. With plenty of outdoor space, Robert will have no problem parking his expensive car collection, which includes a $75,000 Audi e-tron and a custom Mustang worth $131,000.
On top of being an architectural marvel, the binishell has a reduced carbon footprint. The house runs on several wind turbines and solar-generated water systems. They also have a small animal farm in their backyard, which houses goats, horses, pigs, chickens, cows, rabbits, and alpacas.
Downey has yet to share how much they spent to build the Binishell dome home. But, reports estimate that the property is now worth over $30 million!
More celebrity homes you might like
Jim Carrey's house of 30 years is now on the market for $29M
See inside Jensen Ackles' house in Austin, a dreamy lake-side retreat
Dwayne 'The Rock' Johnson's house is a striking $27.8M mansion
Where in the world do George Clooney & Amal Clooney live? A closer look at the couple's many houses