Article highlights
Shonda Rhimes

lives in a chic apartment on the Upper East Side in Manhattan

She recently gave a tour

of her perfectly appointed suite to Architectural Digest, giving us all a peek inside her family life

The UWS apartment

oozes style and luxury, but is surprising cozy and inviting

White House designer

Michael S. Smith helped her decorate and furnish the apartment — and the design choices were clearly inspired by Bridgerton, the period drama she was working on at the time
The Inventing Anna producer traded a 12,000 square-foot home in Los Angeles (which she sold for $21M) for her NYC pad
---
She's been ranked as Time's 100 most influential people in the world more than once. And as the founder of the Shondaland media empire, it's no surprise that Shonda Rhimes lives like a queen.
The creator, head writer and executive producer of Grey's Anatomy, How to Get Away With Murder, Scandal and Bridgerton (to name a few of her hit shows) recently set up residence in New York City.
And, yes, it's fabulous.
The Bridgerton producer recently opened up her doors to Architectural Digest and gave a tour of her NYC pad. Let's take a New York minute and look inside her swanky new suite.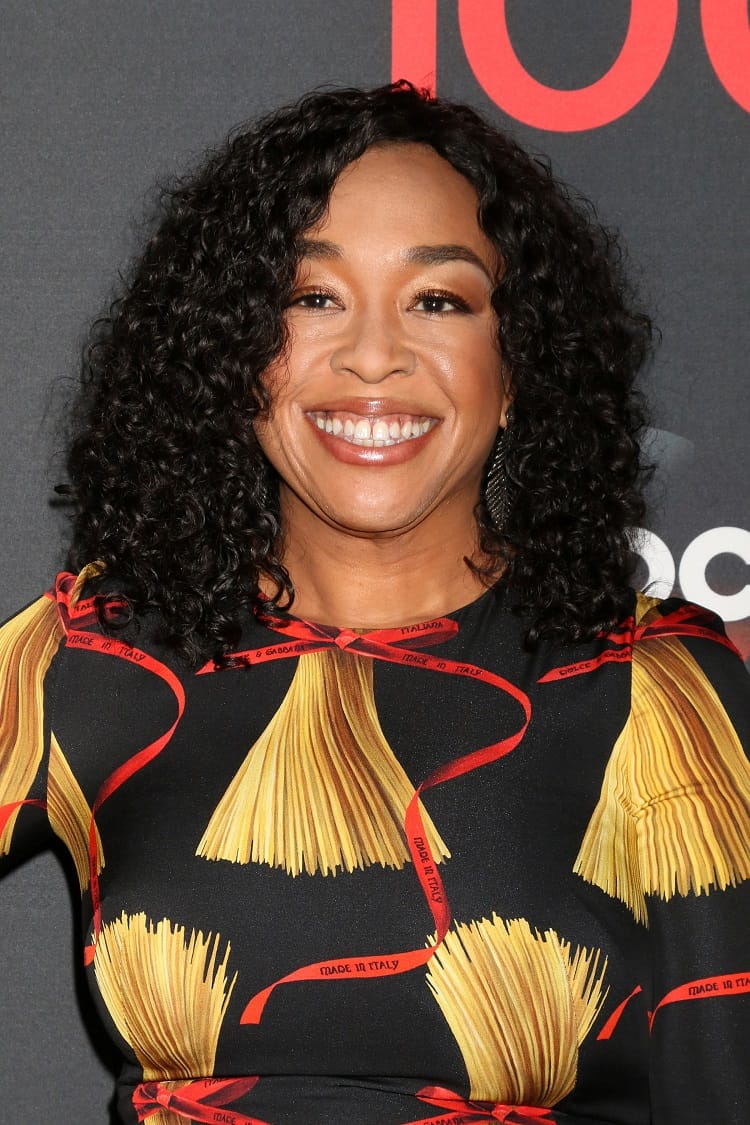 Manifesting the Manhattan home of her dreams
How to get away with Manhattan living?
When it comes to purchasing a home in Manhattan, location always trumps the size.
"It's not a huge apartment… it's pretty cozy. There's only a few rooms, and so the rooms have to do double duty," Rhimes shares of her new suite located in Manhattan's Upper East Side.
And it sounds like the new pad was a project since day one.
"When I bought this place, I started with the wallpaper and built outwards from there," the How to Get Away with Murder producer, 52, shares. "But I had to acquire every single piece."
She adds: "I chose pieces mostly for comfort and for simplicity but also it made it possible to choose things that could be both antique and modern and feel a little bit eclectic."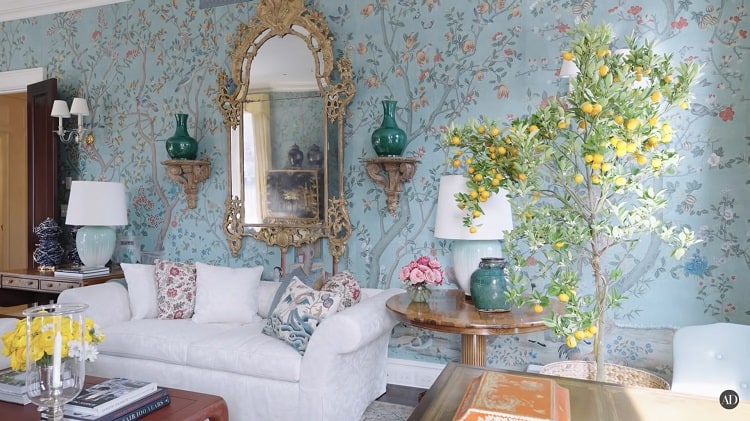 The TV titan had been on the house-hunt for awhile.
"I knew that I would know it when I saw it, and then I literally walked into this apartment," Rhimes says of immediately falling in love with her Upper East Side suite.
She adds: "It was smaller than some of the places that I looked at, but I knew immediately. It has this wraparound terrace, and the light coming in was incredible. It felt like a place where even though you're in the middle of a city, you feel like you're in your own little refuge."
It took a New York minute to make it feel like a home
As a single mom-of-three daughters, Rhimes wanted to create the perfect space for her family.
In order to do so, she enlisted the help of White House designer Michael S. Smith, who also decorated her Los Angeles home.
"Michael knows me really well," says Rhimes of collaborating with Smith.
She adds: "He understands the idea that I spend a lot of time inside my head—a lot of time imagining, a lot of time where it seems like I might be being quiet and still, but really I'm storytelling. So he knows that it's important to me to have rooms and spaces to sit and think, to have new places to move to just get my brain going sometimes.
"I'm building an entire sort of universe in my mind, but I'm also trying to think of a series. It's not just two hours, it's not just 30 minutes; sometimes it's 18 seasons. You really do need time and space to think about it."
Although it's small, Rhimes wasn't afraid to add bold pieces and interesting design elements to the NYC suite.
"That pattern allows for things like those incredible yellow curtains and some really bold choices in furniture," Rhimes says while giving a video tour of her apartment. "There are a lot of gilt-edged pieces in there because the wallpaper can hold all of that. The furniture can be a little bit eclectic. It's a mix of contemporary pieces and antiques, and they all work together really nicely."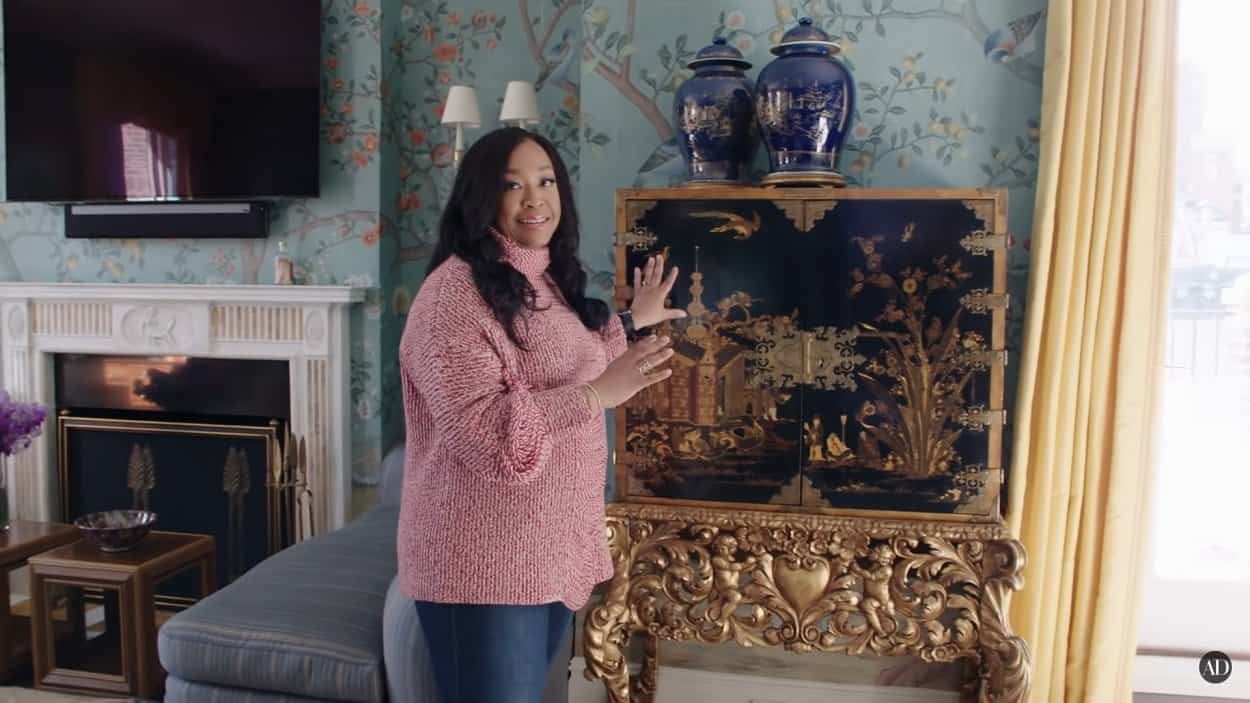 As it turns out, the suite has plenty of places to work or play.
"Michael created wonderful little nooks on either side of the fireplace to sit and to look out the windows, to sit and write, or to sit and drink a coffee and just enjoy the light," Rhimes shares.
She adds: "There's a double-sided desk where I can work, or stare out the window and sort of watch. I'm mostly looking at the rooftops or at other people's balconies wondering what's going on. That helps when you're trying to imagine stories in your head. I live with these characters."
The mom-of-three decorated the entryway with pieces by her favorite artists including Hughie Lee-Smith and Walter Henry Williams Jr.
"I filled the space with my favorite paintings by Hughie Lee-Smith who, by now you all are think I'm probably Hughie Lee-Smith stalker, and I am, and I don't care because his work is so incredible," she gushes.
"I had been immersed in the romanticism of Bridgerton for a while, so that had to influence some of the things that I had been thinking about. Everything sort of spills into everything else. If I'm thinking about these books that we're turning into a series, then that inevitably spills into how the apartment's going to look, which inevitably spills into what goes in the scripts—it all sort of spins together."

Shonda Rhimes for Architectural Digest
As it turns out, the late Mike Nichols planted the seed for Rhimes' future NYC dream home.
"Mike was the kindest soul—just to offer friendship, such kindness, and mentorship was really lovely," Rhimes recalls of meeting the legendary film director.
"So I went to his and Diane Sawyer's apartment, and it was breathtaking—this beautiful special place, so elegantly done with extraordinary terraces, and this quality of light. And I remember thinking, God, one day I'd love to live like this."
Letting the creative juices flow in her new digs
Rhimes says that when she's in NYC, she loves having down-time in her cozy Manhattan suite.
"It really is like one of the comfiest, coziest places in the world," gushes the TV powerhouse.
But when it comes to writing her next binge-worthy show, there is that one special place in her new suite that allows her creative juices to flow free.
"My favorite place to sit honestly is in that little chair by the orange tree" (pictured above), Rhimes shares.
She adds: "I sit there with my laptop and I write and I can sit there for hours and hours and hours a day, the sunlight pours in that window. And I sit there and I get a ton of writing done just sitting in that chair."
When it comes to entertaining, Rhimes knows how to throw one helluva dinner party.
"I have had the fire on when I've thrown a dinner party and it does make for a really wonderful feeling in space," she shares of her cozy dining room. "This room really does work well for a dinner party. I mean, I've had people come and sit for hours. Bottles and bottles of wine are gone through. And there's something about the way this room feels that makes people feel like it's just an open invitation."
And then there's the completely redone kitchen.
"This space used to be both I think a kitchen and then like also a maid's room and then there was also like a little laundry room off to the side and we closed it in, and made it more of a real space for cooking and being," Rhimes shares.
She adds: "And then my favorite thing that we did to give it more space was we created these cabinets that are glass on both sides to go in front of the windows. Which I never done before and I'd never, I was a little bit nervous about and it turns out to be such a great idea because it gives you extra storage but it also lets all the light flow in."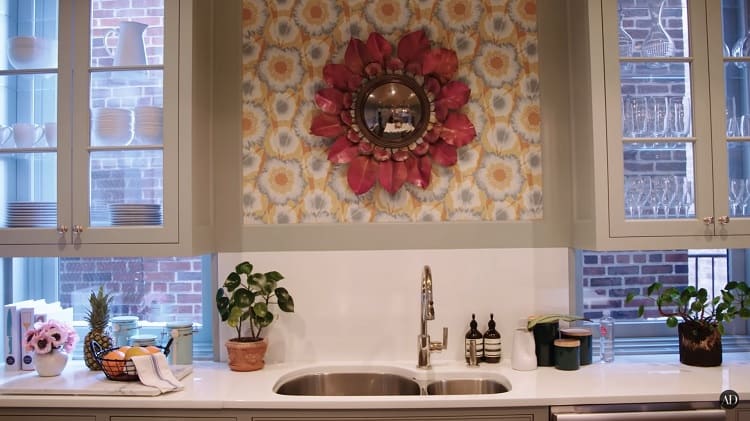 But according to the Inventing Anna creator, it's all about the island.
"Having a big island in this kitchen was one of the things that felt important," says Rhimes.
She adds: "My kids and I will sit around this counter and we'll eat breakfast or something like that, which is also really nice."
It's all about hunkering down in her new NYC pad
Regardless of its small size, Shonda Rhimes' apartment fits her family-of-four just right.
"My daughter always takes her blanket and turns this bed into sort of her own little tent, my youngest daughter," Rhimes shares. "My oldest daughter loves it because it feels very grown up for her. So it sort of fits everybody when they're in here which I love."
Every bit the proud mom, Rhimes says there's elements that all three of her growing daughters love about their new NYC digs.
"My girls are growing up fast," Rhimes shares. "So, you know, I have a child who goes from, you know last year she was very into fairies and this year like she would rather die than talk about fairies."
She adds: "So I wanted the room to grow with them as they grow and feel like a space that they can become more sophisticated in. And also you know I have a daughter who's in college across town and I wanted her to be able to come here and feel like she had a place to like hunker down if she ever wanted to have a place to hunker down."
A look inside Shonda Rhimes' house in LA, recently sold for $21 million
Prior to her purchase in the Big Apple, the single mom was raising her daughters in Los Angeles.
Back in 2019, the TV titan also gave AD a tour of her nearly 12,000 square-foot home in Los Angeles's Hancock Park neighborhood (which she parted ways with in early 2022).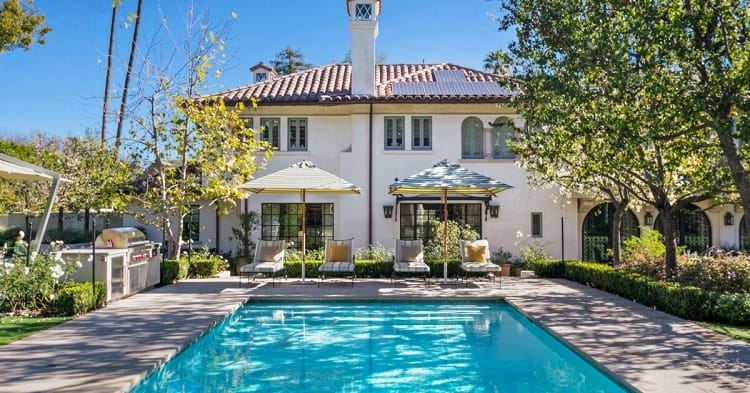 Collaborating with Smith, Rhimes worked on the home that she originally thought was "ugly and wrong."
Although renovations were lengthy and elaborate, the final product turned out better than expected.
"As hard as the house was to renovate, I love it here," Rhimes said at the time.
Featuring seven bedrooms and ten bathrooms spread across three stories, the mansion also boasts a formal dining room, two kitchens, a library, playroom and movie theater with a snack bar.
Outside, there's a guesthouse featuring a hair salon, two yards as well as a swimming pool, cabana, paddle tennis court and hidden hedged garden.
The TV powerhouse has been buying and selling homes in Hancock Park for years. She bought the property from Everybody Loves Raymond star Patricia Heaton for $8.8 million in 2014, Los Angeles Times reports.
Although Rhimes first listed the stunning estate for $25 million last summer, the Los Angeles compound took a while to trade hands, with a buyer swooping in with a $21 million bid in October 2021.
With her LA days behind her, Shonda Rhimes' apartment in New York is ready to welcome her full time.
More stories you might like
Are They Real? The Opulent Homes in 'Bridgerton'
Los Angeles or NYC? Where does Ryan Seacrest Live?
Kerry Washington's New York Apartment Is Just as Stylish as You'd Expect
Justin Timberlake and Jessica Biel Get $29M for their NYC Pad, Want Another $35M for LA Mansion