In a cautious move to protect their fans — and the general population — all late night talk shows have taken the drastic move of canceling their live audience shows and switching to pre-recorded segments filmed in their own homes.
Like other popular late show hosts including Seth Meyers, Trevor Noah, or Jimmy Fallon, Stephen Colbert has found a way to get back to our screens and reassure us that… well, we're not the only ones trapped at home and suffering from cabin fever.
The late-night host started streaming out of quarantine and replaced The Late Show reruns with monologues and segments broadcasted from his home in Montclair, New Jersey — where his regular filming crew has been replaced by a much more unenthusiastic wife and kids.
The first "very special social distancing edition" saw the CBS late-night show host sitting in his own bathtub at home. "I was going to use my rich-person bunker, but it turns out the guys from Parasite are living down there. Really nice folks," Colbert quipped on Monday.
The second welcomed us in Colbert's yard, with Stephen sitting by the fire delivering his monologue.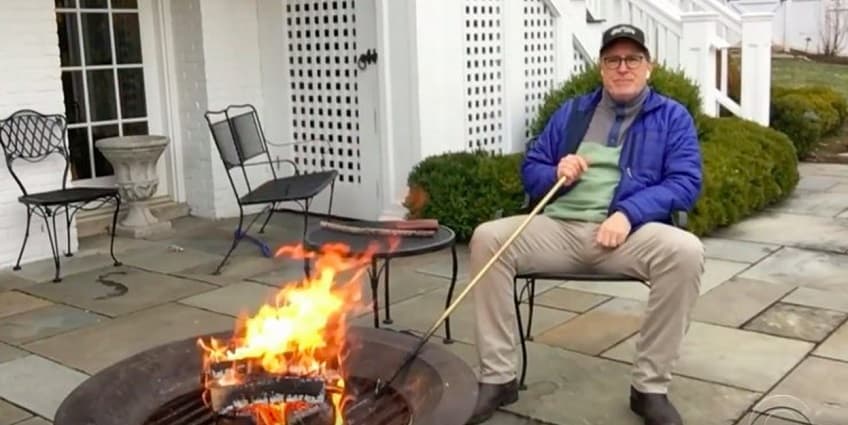 After a few hits and misses (and quite a few location changes), the new show found its stride, and Colbert has been successfully broadcasting from the comfort of his home in New Jersey.
Naturally, that got us all curious to find out more about Stephen Colbert's house.
And since we're on lockdown and have nothing but time on our hands, let's snoop around a little and see where The Late Show host — and possibly the most charismatic person on TV — lives. Chances are, we're going to see much more of his house in the next few months.
Stephen Colbert's house is in Montclair, New Jersey
With his show usually taped in New York City, Colbert lives in nearby Montclair, New Jersey, with his wife and three children, who normally wouldn't be allowed to watch their father's nightly performance.
"I say things in a very flat manner that I don't believe, and I don't want them to perceive Daddy as insincere," he told Newsweek about the ban on the show in his household. "I basically tell them I'm professionally ridiculous." (You know, like sitting-in-your-bathtub-fully-dressed ridiculous).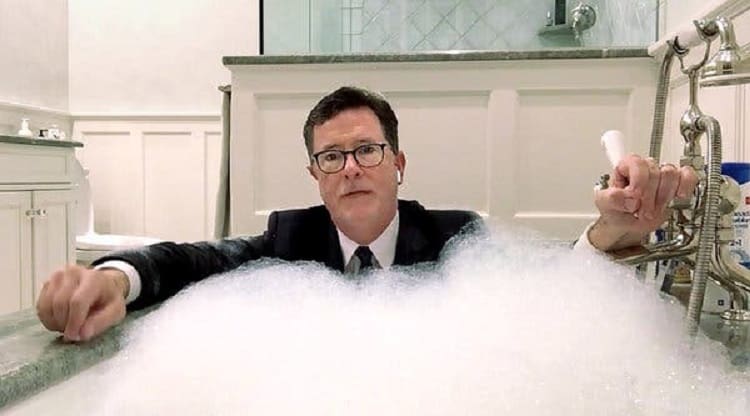 What does being "professionally ridiculous" buy you in terms of housing?
Colbert has always kept his private life pretty private, but one magazine scoured property records until they found the deed from when Colbert bought his first house in the area.
Colbert reportedly paid $515,000 for a property located along Bellegrove Drive, in Montclair, NJ.
That was way back in 2000, and he has since upgraded to a larger property, that seems to feature a sprawling back deck and a large yard. Unfortunately, there are no past news clippings we can use to find out more about his current house.
Property records seem to successfully conceal his identity too, with no mentions of him as a property owner either. According to Zillow, the median home price in Montclair is $661,384 (but we think it's safe to assume that the lovely Colbert residence cost slightly more!)
But apparently, pinpointing Colbert's house isn't all that difficult for locals; local barista Devon Corneal was once asked in an interview "What's the worst-kept secret about Montclair?" and her immediate answer was "the location of Stephen Colbert's house".
And it only makes sense, as the Montclair township (in Essex County, New Jersey) has a population of only 37,000, so a popular talk show host is bound to stand out.
Stephen Colbert and wife Evelyn moved to Montclair, New Jersey 20 years ago, and ever since they've become pillars of the community, and the stewards of the local arts and film scene. Their house is located in south end of town, on the way to Watchung.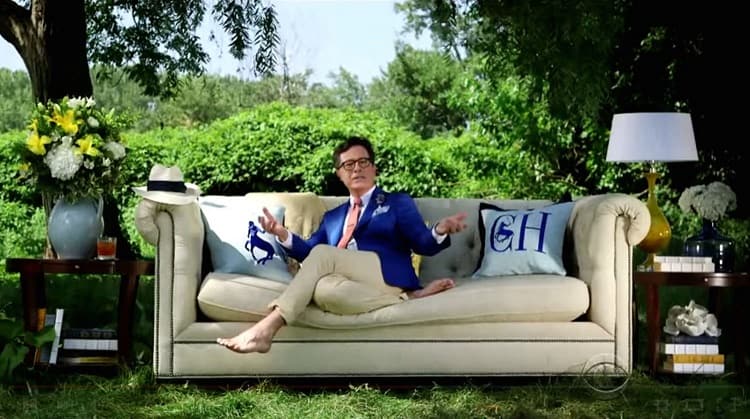 Fun fact: Colbert is the only living human being to have NASA equipment named after them
Did you know that NASA named a space treadmill after Stephen Colbert?
In 2019, as NASA was engineering a new treadmill for the International Space Station, a fairly complex machine that astronauts now use every day (for around 8 hours) to maintain their muscle mass and bone density while spending long periods of time in a zero-gravity environment.
The treadmill was initially called simply T-2, but NASA asked the public for help in naming the new device.
They got roughly 230,000 entries calling for it to be named after Stephen Colbert, and fans got their wish: NASA renamed it the "Combined Operational Load-Bearing External Resistance Treadmill", or COLBERT for short — which makes it the only piece of NASA-engineered equipment in space that is named after a living human being.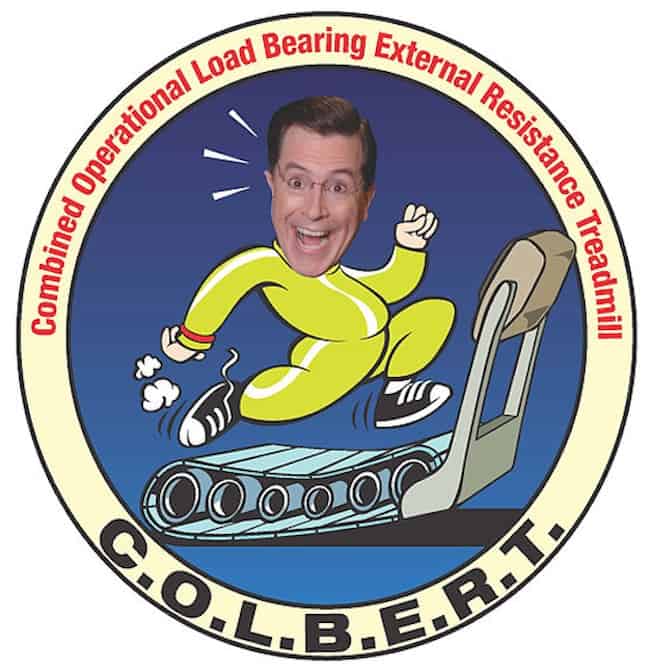 More stories
See Steve Harvey's house in Atlanta
Joe Rogan's house in Austin, Texas
Warren Buffet's house in Omaha