Ever wondered how much money you'd need to live like a Kardashian? Well, we now have an answer for you: you'll need $5,695,000, to start. Or at least that's how much it would cost you to move into Kim Kardashian's former Beverly Hills home — that just became available.
More specifically, that's the Tuscan Villa that Kim Kardashian West once shared with her ex-husband Kris Humphries. If your memory needs a little push, back in 2011 Kim married basketball star Kris Humphries in a spectacular ceremony, which cost millions of dollars and was broadcast in a two-hour Keeping Up With the Kardashians special.
The newlyweds moved into their new home, ready to start building a life together; but that wasn't in the books for them, as their marriage turned out to be a very tumultuous and short-lived one. Kim then filed for divorce just 72 days after the wedding, saying that she'd "hoped the marriage was forever", but "sometimes things don't work out as planned".
And while the husband may not have been a keeper, that doesn't mean the house wasn't. Entertainment Tonight reports that Kim Kardashian continued to live in this home between 2010 and 2013, before making the decision to move in with now-hubby Kanye West.
The resort-style Tuscan villa in Beverly Hills is a five-bedroom, five-bathroom abode with all the glitz and glam you'd expect from a Kardashian home.
Set in a quiet, gated cul-de-sac in Beverly Hills, the 3,799-square-foot home is private enough to shelter even a Kardashian from prying eyes. After you reach the property, a beautiful front garden and custom iron French doors lead into an impressive two-story entry with exquisite ironwork and dark hardwood floors.
There are fireplaces in both the living and dining room, with another dual-sided one placed in the kitchen. The kitchen also features stone counters, a center island, and a breakfast bar.
And since you wouldn't imagine Kim Kardashian's house as having a modest bedroom, know that her former master bedroom is so spacious that it manages to fit in a lounge area with fireplace, a custom walk-in closet, and bath with soaking tub.
More stories
Oh, and did we mention that there's also a dedicated makeup studio? If that's not a perfect fit for a Kardashian home, I don't know what is.
Despite all that, the most charming part of the secluded Tuscan Villa is its whimsical outdoor space.
In what seems to be the perfect setting to spend time with family (even one as extended as the Kardashian-Jenners) and friends, the outdoor patio comes with a fireplace off of the outdoor kitchen as well as a bar, and a hillside Gazebo overlooking the pool.
It's also the perfect backdrop to a romantic evening, and looks like a great fit for two newlyweds, madly in love. Just because it didn't work for Kim and Kris, it doesn't make it any less of a perfect choice for candlelight dinners.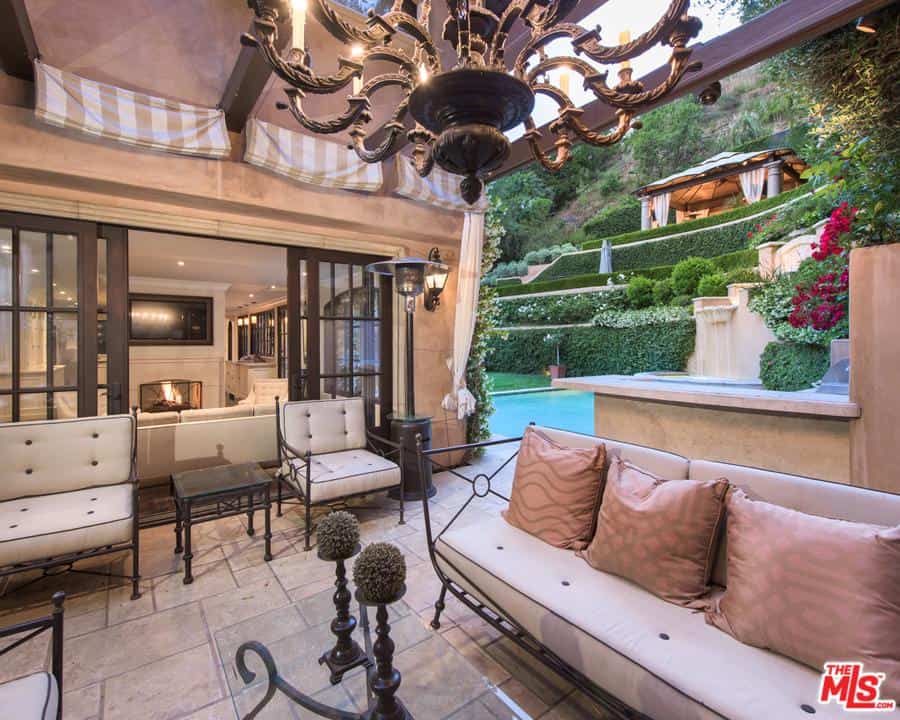 Fittingly, the broker in charge of finding the buyer is no stranger to reality shows himself. Million Dollar Listing Los Angeles star Josh Altman holds the listing, along with Daniel Damico, both with Douglas Elliman Real Estate.
More celebrity homes
Kendall Jenner's house in Beverly Hills
Jay-Z and Beyoncé Live in a Bel-Air Mansion Fit for Royalty
Where do the 'Real Housewives of Beverly Hills' Live?
Where do the six sharks on 'Shark Tank' live?