Living in Europe for decades

, Tina Turner has been setting up shop in Switzerland since the mid-2000s

Before that

, she built a dream house for herself in the south of France, which she sold to follow husband Erwin Bach to Zürich

Her home is Chateau Algonquin

, a magnificent estate which sits on Lake Zürich that the couple has been renting for years

Recently

, they also purchased their own home nearby, paying $76 million for what they call 'a weekend retreat'
---
She's simply the best! For Gen Xers, Tina Turner's music is the soundtrack of our youth.
From her personal evolution, to her iconic hairdos, to her empowering lyrics, the 12-time Grammy Award-winner is a true icon.
Born in Tennessee, the Proud Mary hitmaker became a citizen of Switzerland in 2013 and renounced her U.S. citizenship after marrying longtime love Erwin Bach that same year.
Together since 1986, the couple has been living in Switzerland for years.
Due to strict Swiss law that restricts foreigners from purchasing property, they were renting a compound known as Chateau Algonquin outside Zürich in the town of Kuesnacht.
But recently, the couple put down some permanent roots in the beautiful central European country.
Why did she leave America?
Before sharing the details of her stunning Swiss estate, let's see why Turner moved away from her native country.
In 1997, the What's Love Got To Do It singer made an appearance on the Larry King Show to discuss the relocation.
"I have left America because my success was in another country and my boyfriend was in another country," she said, adding that her single Private Dancer was a smashing success in the UK.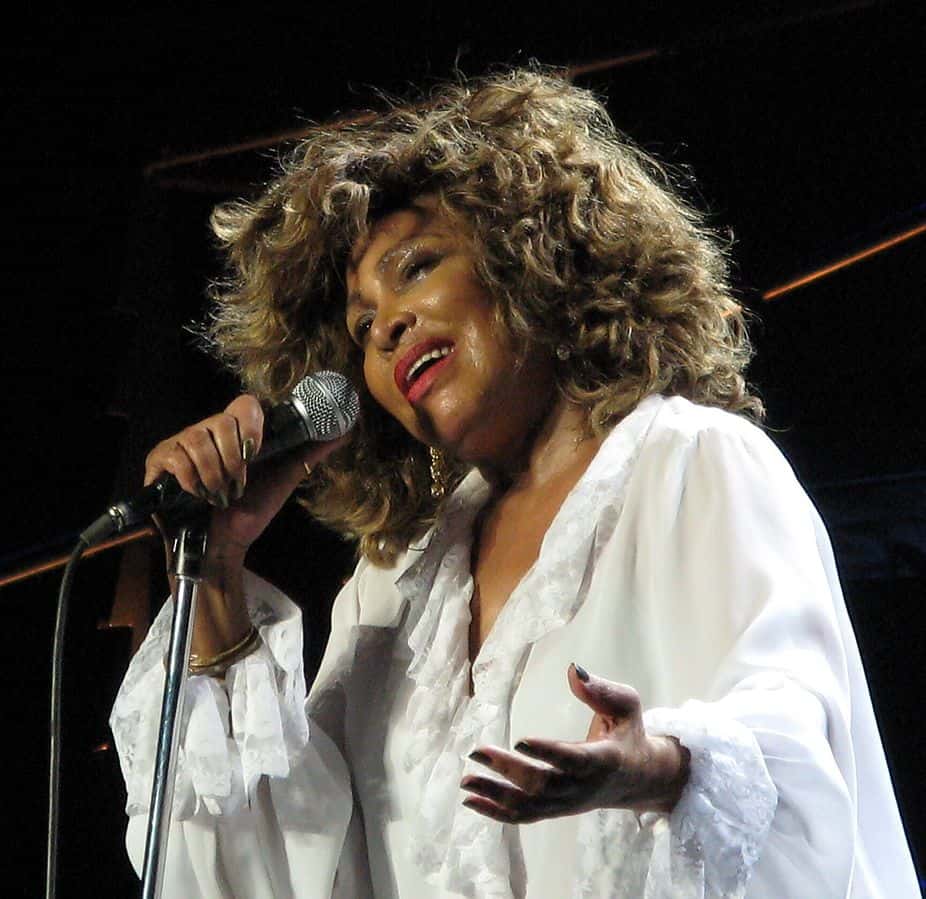 She added: "Basically, Europe has been very supportive of my music."
Although they have lived all over Europe, Switzerland is where the couple landed.
"My boyfriend moved there to run the company, and I always wanted to go to Switzerland and I was very happy," Turner shared.
Tina Turner has been living in a lakeside chateau in Switzerland
Moving away from her native U.S., Tina found her home in Switzerland, where she's been living for the past decades in a magnificent Swiss estate called Chateau Algonquin.
The property, which sits on Lake Zurich, welcomes visitors with a metal plaque that reads "Vor 12.00 Uhr nicht läuten, keine Lieferungen" — which is German for "Do not ring before 12:00 p.m.".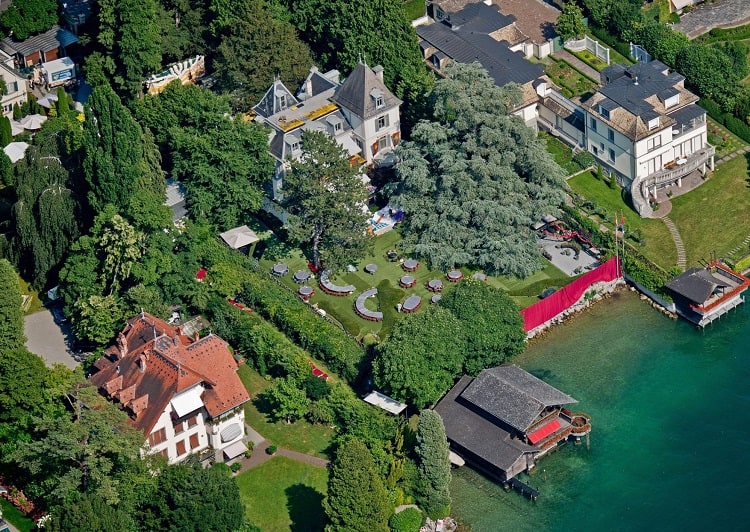 Turner, who was once the fiercest pop stars on the planet, invited New York Times journalist Amanda Hess inside her luxurious Swiss abode a few years back.
Hess then painted a vivid picture in her article that was centered on how and where Tina Turner lives nowadays:
"It has cartoon palace energy: ivy snaking up the walls, gardeners manicuring the shrubs, a life-size two-legged horse sculpture suspended from a domed ceiling, a framed rendering of Turner as an Egyptian queen, a room stuffed with gilded Louis XIV style sofas and, sprawled on one of them, Tina Turner herself."

Amanda Hess for NEW YORK TIMES
Before that, she built a dream home for herself in France
A couple of decades ago, Tina made the entire world swoon over her house in the south of France.
The modern Mediterranean-style villa on the French Riviera graced the cover of Architectural Digest, giving fans everywhere an intimate look at how Tina Turner lived in Europe.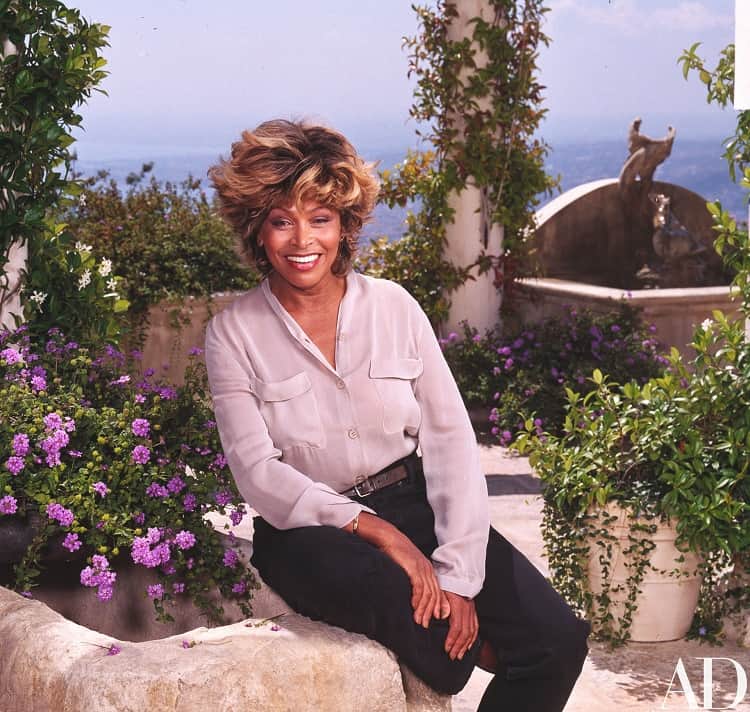 A long time passed since Turner gave Arch Digest the tour in 2001, and the singer has since parted ways with her French retreat.
Living mostly in her Lake Geneva castle, she hasn't made any other notable real estate purchases over the past decades. Until now, that is.
Tina's multi-million dollar waterfront 'weekend retreat'
After years of renting, the couple are now Swiss citizens, and, therefore, legally permitted to purchase land in Switzerland.
Born in Germany, Turner's hubby also became a Swiss citizen the year he married the iconic singer.
And this past September, the longtime couple put down a whopping $76 million for a 10-building waterfront estate overlooking Lake Zürich.
Tina Turner's house is located in the municipality of Stäfa on the northern shores of Lake Zürich. The waterfront compound is surrounded by greenery with a pond, stream and plenty of shrubs for privacy.
Spanning over 240,000 square feet, the Swiss estate features a pool, boat deck and jetty on the shores of Lake Zürich.
"[ It is a] new weekend retreat in the immediate vicinity," Bach told Daily Handelszeitung, hinting that the property they paid a staggering amount of money for will not necessarily replace their main residence, Chateau Algonquin — which the couple will likely continue renting.
He added: "[We] feel very comfortable in Switzerland. Due to the pandemic and its consequences we — like many other Swiss — unfortunately, are refraining from travel."
Asking for a friend: How does one afford a $76 million waterfront estate?
Sure, she's simply the best. But exactly how did she make all that money?
Turner's $76 million real estate purchase came one month before her unprecedented deal with BMG.
The Rock & Roll Hall of Famer, 82, agreed to sell her extensive music catalog to the German music company for $50 million.
"Like any artist, the protection of my life's work, my musical inheritance, is something personal," Turner said of the deal. "I am confident that with BMG and Warner Music my work is in professional and reliable hands."
Almost 14 years ago, the Better Be Good to Me singer retired from the biz. "I don't sing. I don't dance. I don't dress up," Turner told the New York Times.
And while we're sorry that the icon that brought us timeless hits like What's Love Got to Do With It, We Don't Need Another Hero, or the Goldeneye soundtrack won't release any new tracks, we're happy to see she's living her best life in Switzerland.
More celebrity homes you might like
Adele Buys Stallone's Mansion, One of the Most Expensive Celebrity Homes in Recent History
Frank Sinatra's Famous Byrdview Estate Is Back on the Market Asking $21.5 Million
The Troubled History of Gianni Versace's Mansion, a Miami Beach Treasure
Counting Down the Most Expensive Celebrity Homes in Recent History: Top 10 Priciest Pads