It goes without saying that 2020 was the year when everyone embraced working from home — whether they liked it or not.
When this whole mess started in the spring of 2020, a lot of people thought their new remote-work setup was a temporary thing, so they didn't think too much of it. Fast forward to 2021, and many of us are still working from home — and we're starting to get creative.
Designing your perfect home office is no picnic. You need to think of the space at hand, of access to natural light, of the desk, the chair, the gadgets, the décor – we could go on and on.
Budget Direct went even further with this, and really let their imagination run free by creating digital renderings of home offices designed by some of the world's most iconic movie directors.
So, if you've ever wondered how you could add a splash of Wes Anderson, David Lynch vibe to your life, check out the 5 renderings below and you might just get inspired.
1. Home office eye candy à la Wes Anderson
Wes Anderson movies are the definition of eye candy. The visuals, the colors, everything is so creative and colorful that you can't look away for one second.
Just think of Moonrise Kingdom, The Royal Tenenbaums, Fantastic Mr. Fox, or The Grand Budapest Hotel. All of Anderson's movies are a feast for the eye, and his home office would probably look very similar.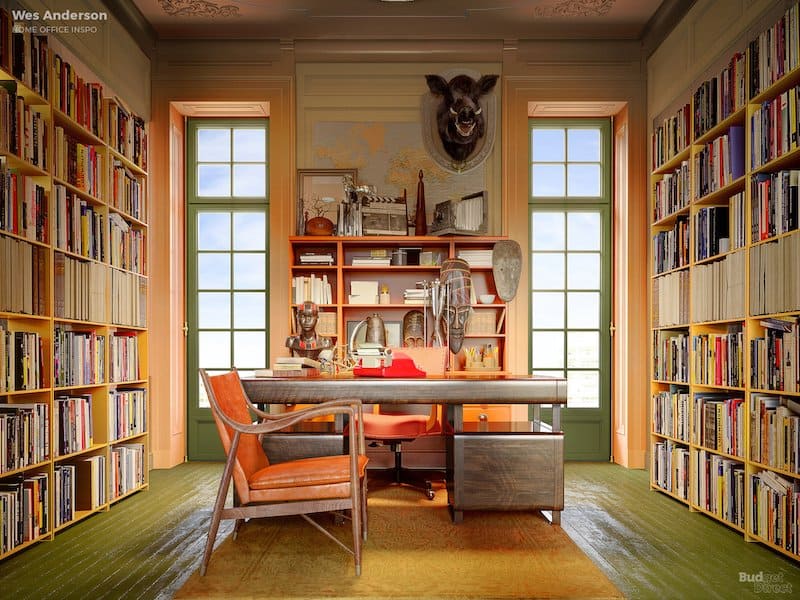 The folks at Budget Direct imagined their own version of a Wes Anderson-designed home office, inspired by The Royal Tenenbaums era. They combined organic, earthy colors and "curated clutter with meticulously angled furniture."
Curated clutter is definitely our new favorite term. 
2. The David Lynch vibe
Just thinking of David Lynch's movies can send you into a twisted abyss of distorted realities, shapes, and sounds. The best representation of Lynch's genius mind is, of course, Twin Peaks.
The constant splash of red, coupled with that crazy score by Angelo Badalamenti, is something that you just can't erase from your memory. So why not turn your home office into your very own red room?
Be careful, however, if you have vertigo: those twisty black-and-white tiles and the undulating red velvet curtains might make your head spin.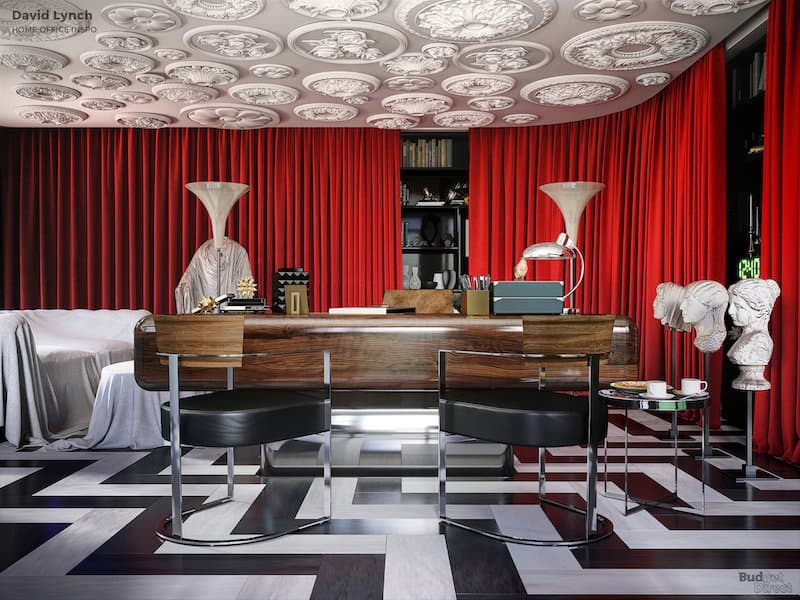 3. Lavish Sofia Coppola-directed office
Budget Direct's version of a Sofia Coppola-designed home office takes its cue from movies like The Virgin Suicides or Marie Antoinette.
Pastel colors, flowery designs, vintage furniture, baroque curves, all with a dash of opulence — that's how your home office could look like if you had Sofia Coppola as an interior designer.
If you're a fan of feminine curves, classic French chic, or have just finished binging Bridgerton, then this one's for you. You'll feel just like Marie Antoinette at Versailles, just on a smaller scale.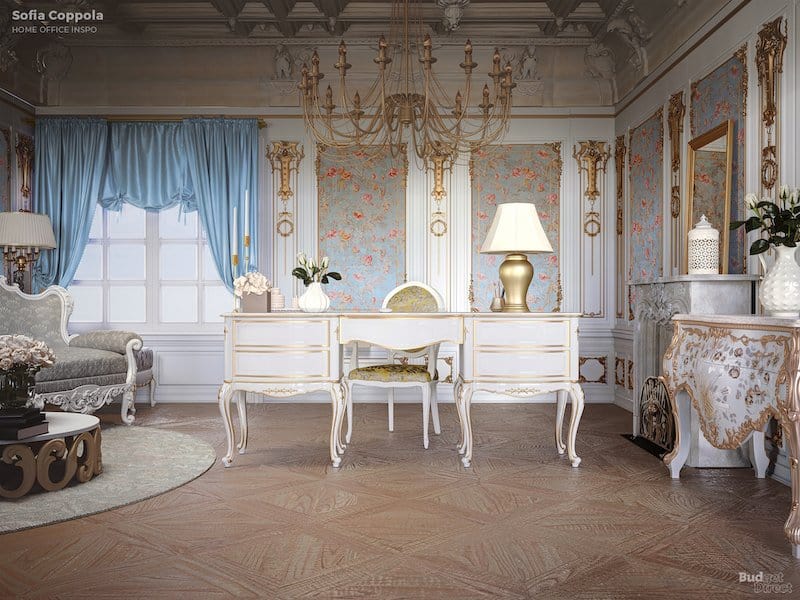 4. Neo-like home office by the Wachowski siblings
Can you believe it's been 21 years since The Matrix first hit the screens? Yeah, us neither. The good news is that a fourth Matrix is in the works, so there's something to look forward to in 2021.
In the meantime, if you want to wait for the new movie in style, you can take a cue from the Wachowskis and design your home office to look like Neo's (hopefully without all the hacking, though).
More stories for you
The dark lines, dark walls, dark web (get it?), coupled with the touches of green will make you feel right at home in your own Matrix. Pretty psychedelic.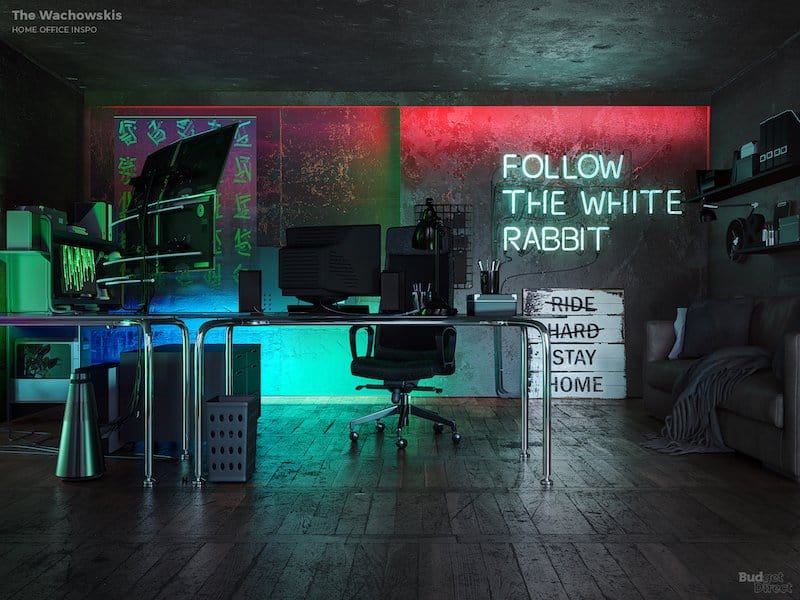 5. Clean-yet-sophisticated space inspired by Bong Joon-ho's work
Speaking of movies you won't be able to unsee, remember Parasite?
We talked about the stunning glass house of the Park family, marveling at how the home manages to stand out as a main character in this epic movie. At first glance, the house seems inviting, warm, cozy and serene, but deep down it hides dark chambers, dark secrets and dark desires.
That's basically the same feeling you get from Budget Direct's version of a Bong Joon-ho-designed home office. It looks too nice, too calm, too good to be true.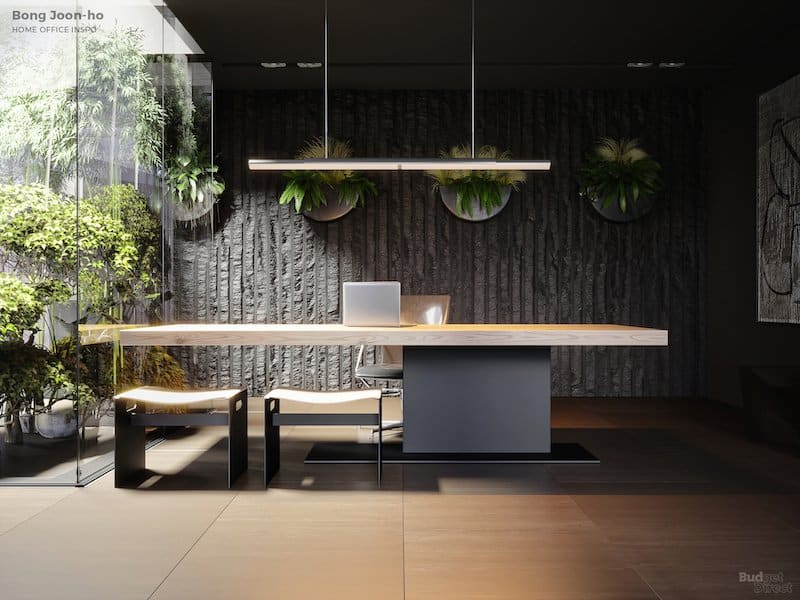 Feeling inspired yet? Now is the time to design your dream home office, and maybe find some inspiration in these versions that look plucked right out of your favorite movies.
All renderings courtesy of Budget Direct
Keep reading
Would These Iconic TV Characters Truly Afford Their Homes in Real Life?
The Estate that inspired The Great Gatsby's House in the 2013 Movie
Bruce Wayne's Manor in Nolan's Dark Knight Trilogy
The Haunting of Thornewood Castle – Where Stephen King Filmed the Rose Red Miniseries