Looking to have a brighter workspace, welcome more privacy, or simply relax in a modern home that better suits your style? One of the best-kept secrets interior home designers go to when dressing up a home is using Roman Shades to give a "luxe" feel.
Similar to regular window treatments, the goal of these shades is to block out the sun. What sets them apart tough is that they stack up evenly when they are open, and that they feature a chord mechanics that lets you set your desired level of brightness. They're practical, elegant, and can easily be adapted to complement most spaces in your home.
To find what type of window shades fits your interior design, Loganova Shades – a custom window treatment company that designs their products in New York and handcrafts them in Toronto – gives a little guidance on the best options you have at your disposal.
So step into the New Year adding "best window treatment" to your list of resolutions and you'll give your house the makeover it needs. Without further ado, check out these Roman Shades that will instantly add style to every room in your house:
Kitchen – Pick a relaxed shade for a clutter-free look
One of the busiest rooms in any house is the kitchen. Just picture the holidays and all the preparation that goes into making the perfect meal for your loved ones.
To up-style your kitchen, go for a relaxed Roman Shade (that's the style that cascades softly) and choose a beautiful light brown design with a delicate Greek pattern border that gives the space room to breathe and plenty of light.
Since you'll be spending a fair amount of time in a fast-paced rhythm to make sure everything looks and tastes perfectly, choose a splash-free Roman Shade fabric that is water-resistant, like faux linen.
Hallway – Display a luxury shade for your narrow-shaped frames
Without doubt, among the least thought-about spaces in a house is the hallway. Connecting main rooms while filtering enough natural light to brighten the passage is no easy task. 
Trending stories you might like
Whether you're stuck with tall or short narrow-sized windows, it will always be a struggle to dress them with available off-the-shelf options. While this is true, it doesn't mean you don't have any beautiful and practical alternatives to choose from.
Courtesy of the custom made option, this luxury cordless Roman Shade with a clean stripe design will give any window of choice the envisioned sight-appeal factor – the one your hallway deserves.
Bathroom – Hang a black-out shade for an intimate atmosphere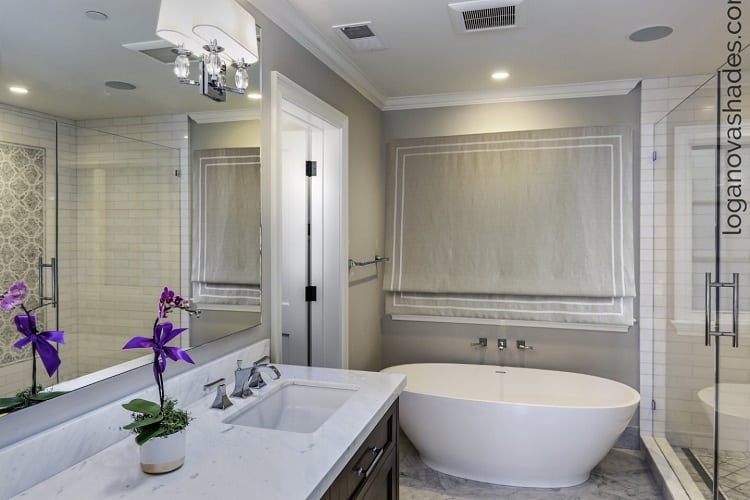 For many of us, this room is the sanctuary we step into to have some alone time and treat ourselves.
If functionality is your middle name, you're definitely looking for more privacy for you and your loved ones. The blackout lining feature proves to be essential for light control and provides exceptional intimacy, topped by exquisite style and elegant lines.
That's why a blackout flat Roman Shade with a smooth polish is the practical window treatment for the bathroom. This type of custom window shade has a versatile modern style complemented by a soft suede-feel lining that helps with thermal and noise insulation, so you can enjoy your spa to the fullest.
Living Room – Choose a bold shade for a color block moment
It's official! 2020's color has been announced and blue is the new black. Everybody is talking about the color of denim, blueberries, and the sky at dusk and how to merge it with the rest of the decor.
Combine straight, neat lines with a chromatic daring blue and you'll create the dramatic backdrop your understated living room was waiting for. This graphic look will turn any space into a masterpiece and will lay down the foundation for memorable times.
Don't shy away, give your living room a statement makeover with this modern blend of blue and white Roman Shade featuring a Greek key design that will add some navy tones to your space.
Bedroom – Pick the shade that clears your thoughts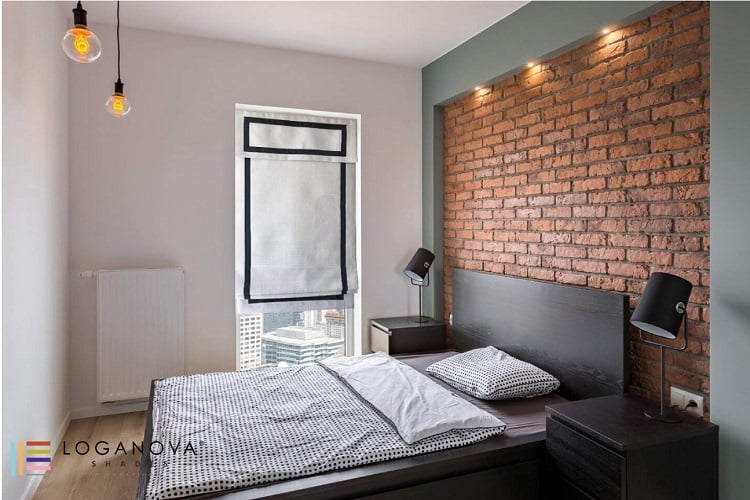 The bedroom is your sleep haven and "offline status" when it comes to outside communication.
If you want to preserve a soft, dimmed light coming in through your windows but still need some privacy, a semi-sheer type of shade is what you're looking for. Simply monochrome, the shade and bedding pieces create a serene feel, while warmth and coziness are added by the lighting.
This white and black flat Roman Shade adds a relaxed, clean look to any bedroom while its high-quality texture enhances your décor of choice.
Office – Choose a custom shade with a clean, geometric pattern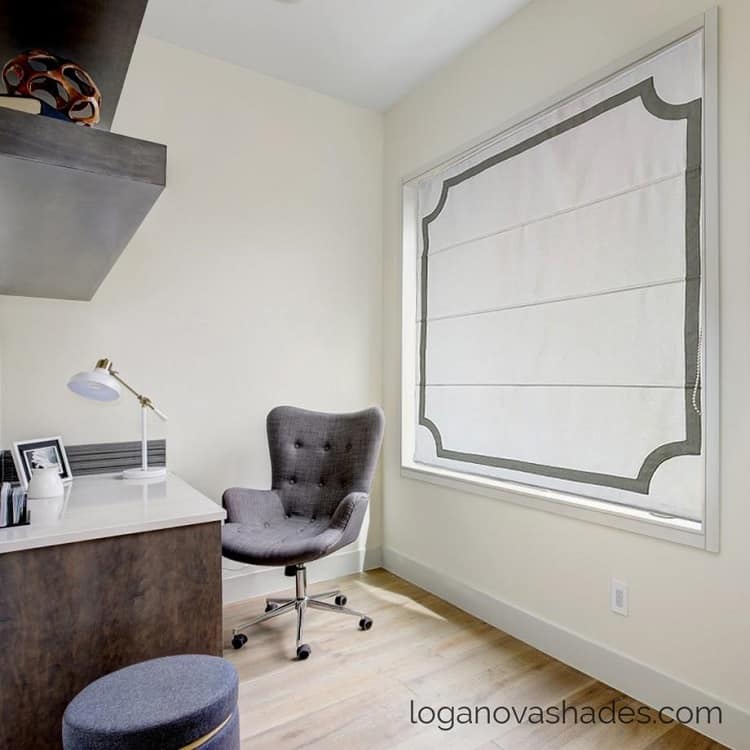 Coordinating tasks and deadlines can get quite hectic, so the last thing you need for your home office is a crowded decor.
In this regard, picking a shade that displays clean patterns and breathable fabrics will dress your windows to perfection.
This impeccable white and grey Roman Shade will transform your office space and give it a sharp, clean, professional look that reflects your work. Ideally suited for a remote work day at home!
Kids' Room – Add a textured shade to a playful setup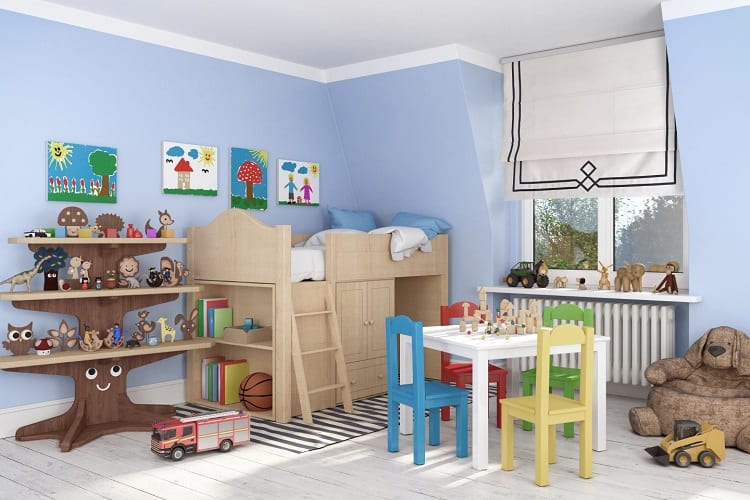 Action-packed and full of drama, the children's room is the liveliest corner of the house. Also known as "the fort of laughter", this room sees the naughtiest pranks and jokes ever imagined.
The on-going shenanigans should not define the rooms' shades. The childish-looking patterns are a no-go and will soon start to look outdated. Invest in something that will work when they grow up and want new decorating schemes.
Hence, a blackout lining will prove essential for light control and helping parents put their kids to sleep early in the day. As previously stated, this shade insulates against noise, so it keeps away anything that might disturb your child's sleep.
Wrapping up – Which style will you choose?
Choosing the best-suited window treatments while sticking to your style story will make the whole redecorating process less instinctive and more intentional for every room.
For a larger selection of window shades that will fit any shape or style of your noisy urban flat or home windows, take a closer look at Loganova's custom window treatments service and stunning collection!
More tips for your fancy home

10 Unique Picture Frames for the Perfect Photo Wall
Here are 10 of the Coolest Housewarming Gifts for Your Bookworm Friends
10 Beautiful Tiffany-Style Floor Lamps
7 Top Decorating Ideas for Your Bedroom this Fall