When Bogotá-based visual artist Lorenza Panero, bought her New York apartment, she knew that the space would need to be rethought to better suit her needs (and unique style).
With the help of architect Ted Porter, Panero reconfigured the apartment with an artist's eye, adding to both the aesthetic appeal of the pied-à-terre and to its functionality in a very unique way. The results were so striking that they even landed her a feature article in Cottages & Gardens.
In 2021, the charming Upper East Side apartment started looking for a new owner, and was listed for sale with Warburg Realty, asking $1,325,000, giving us a peek inside the relatively small New York apartment that was completely reimagined and used functional design to maximize every inch of space.
Beyond the artist's unique touch, the co-op stands out with its flexible layout, historic appeal, and great location.
But more on that in a minute; first, we're going to take a look at how this ingenious apartment maximizes the use of its space with the help of functional furniture, sliding doors, and clever gimmicks.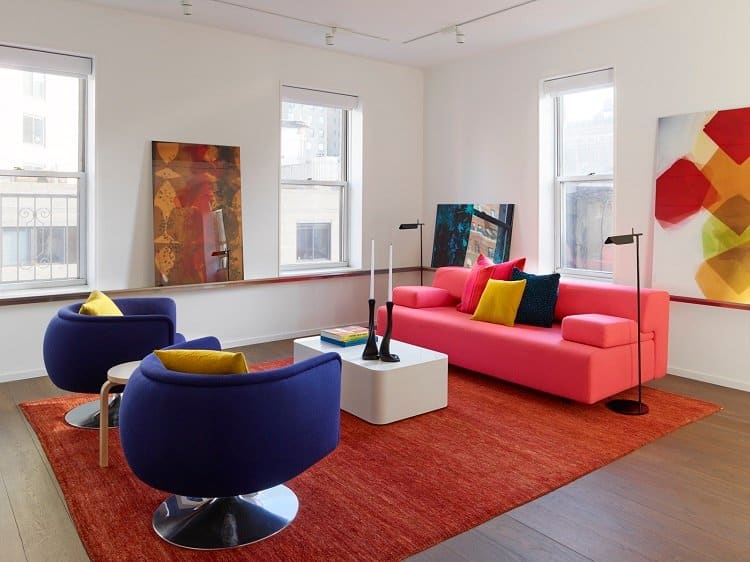 Movable partitions turn the dining room into a 2nd bedroom
Originally a 2-bedroom unit, the co-op's extensive renovation included a space revamp that opened up the living area and turned one of the bedrooms into a dining room. But that doesn't mean it can't offer extra sleeping space, if the need arises.
With its clever design and movable partitions, the 1-bedroom apartment easily turns into a 2-bedroom. There's a Murphy bed lining the back wall of the dining room, and the collapsible dining table and folding chairs can be tucked away in the closet, to make way for sleeping arrangements.
Then, the movable partition kicks in to fully separate the space from the living room and offer privacy.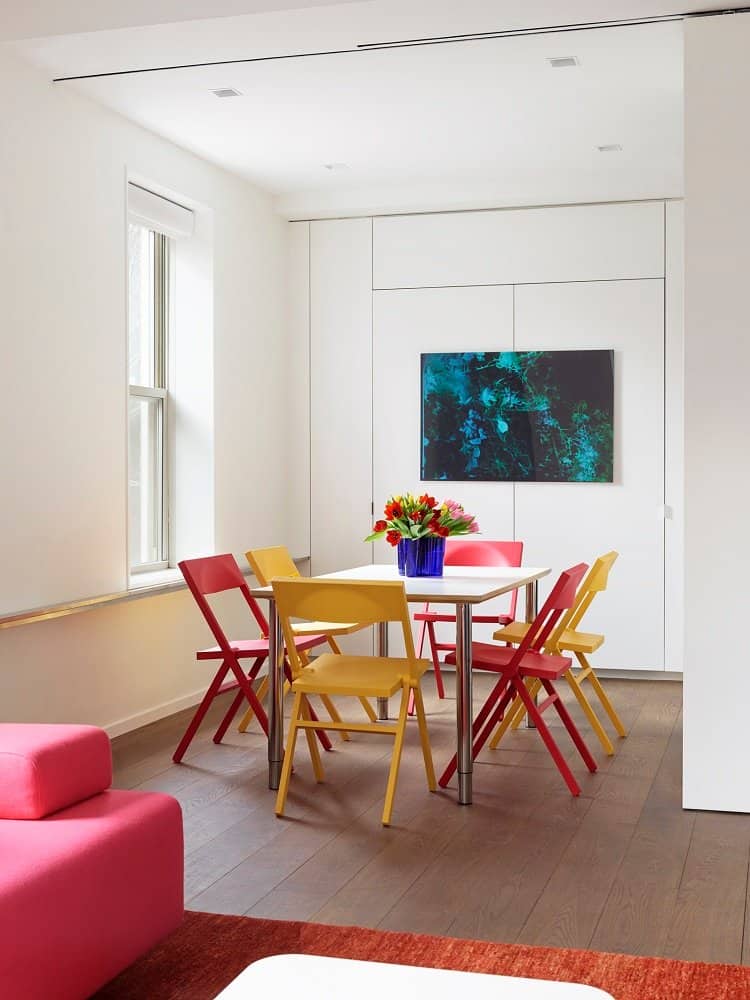 SEE ALSO: 443 Greenwich St. building & the 12 biggest celebrities that lived here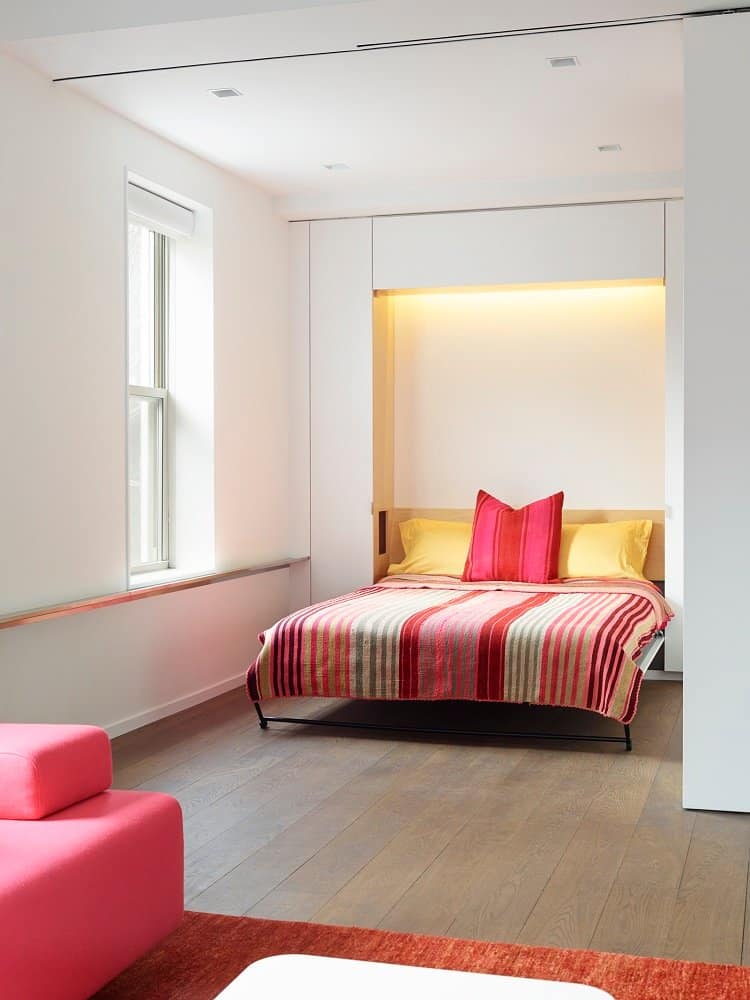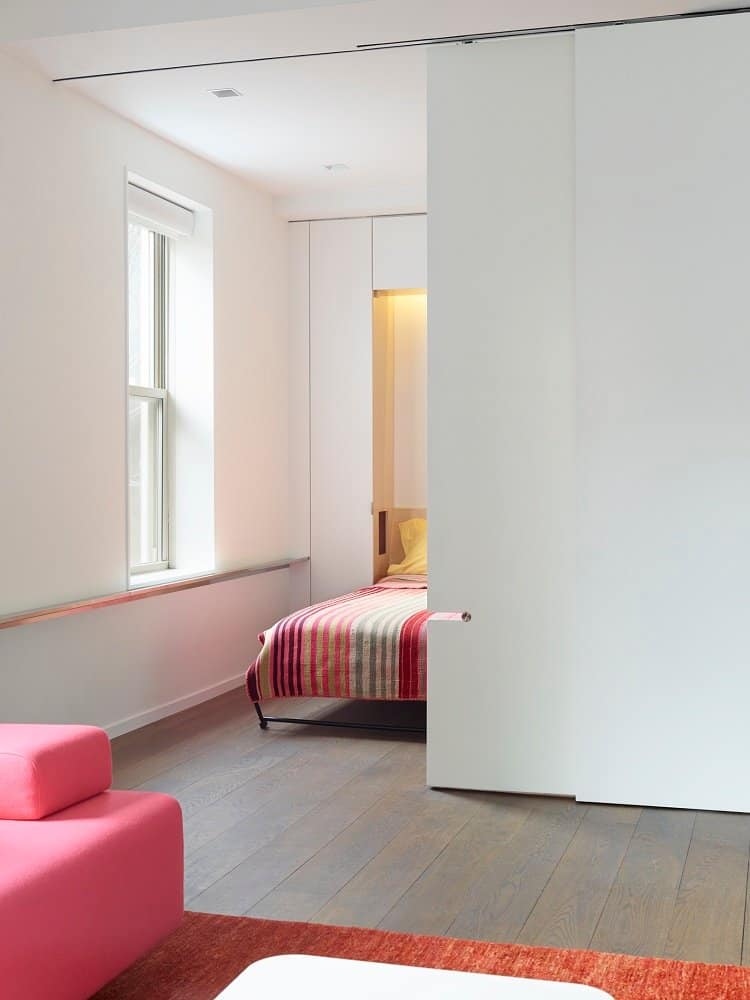 The perfect example of functional design: Clever trick tucks away the TV (and the entire kitchen)
The Murphy bed is not the only piece of furniture that slides into the walls when it isn't needed. To make the space less cluttered, there's a custom wall cabinet that hides away the TV when it's not being used. But that's not even the most clever trick this apartment has up its sleeve.
The kitchen has sliding doors that conceal it all together, making it look like there's a wall of closets in its place, set along a long hallway.
Not fully sure why someone would like to hide their kitchen, but it certainly is a cool trick that could come in handy if you're looking to use the space for something more business-oriented maybe.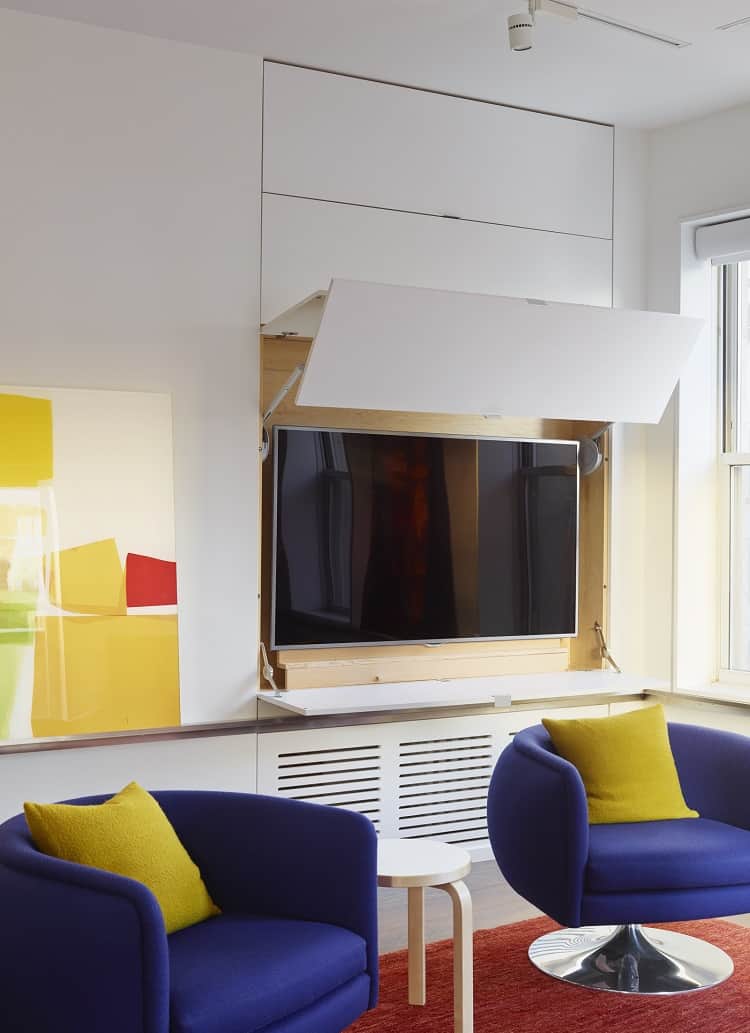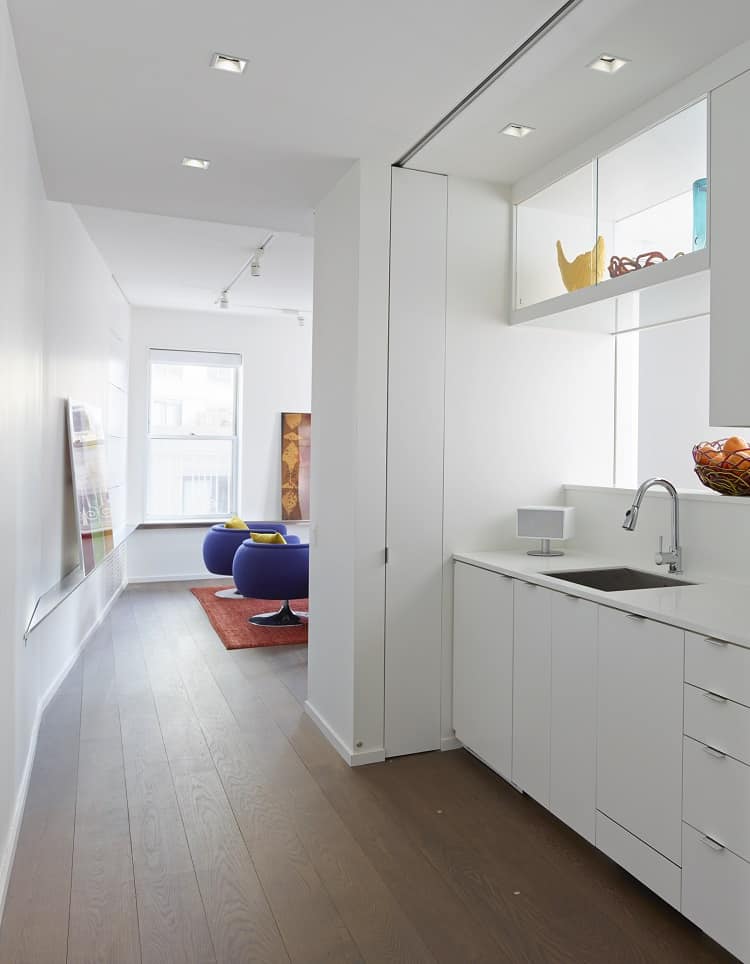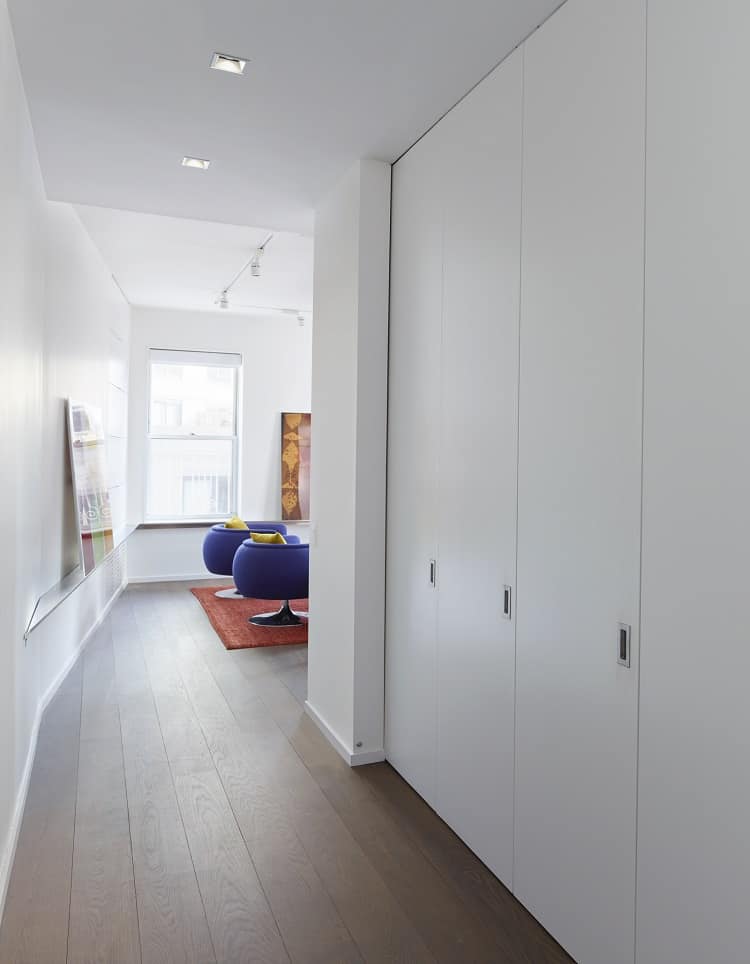 The bedroom partition makes room for a cozy desk
The bedroom of this lovely Upper East Side apartment wasn't left untouched either. Making use of the space at hand, a clever partition created a dedicated area for work or study and fitted a desk — while also blocking the view of the bed.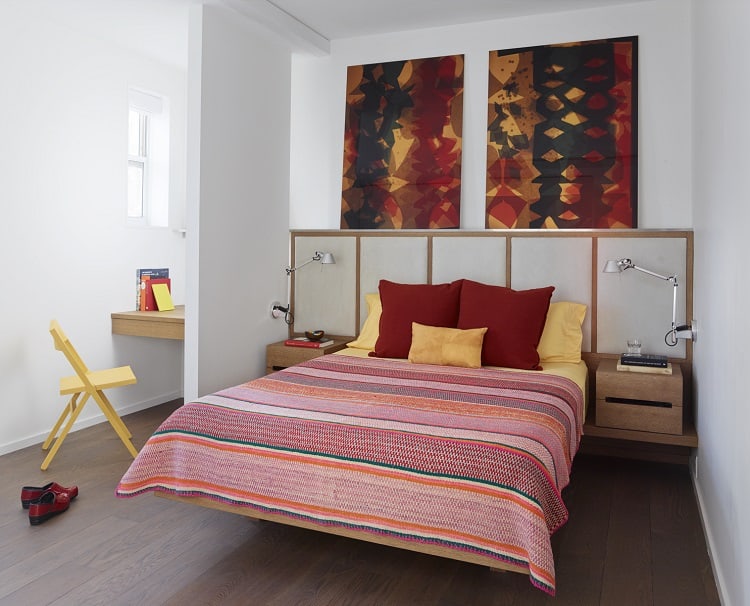 The co-op is in a pre-war building with a prime UES address
The small apartment with functional design is located at 1326 Madison Avenue on the Upper East Side, which places it just one block away from Central Park.
It is situated in an elegant pre-war building that was originally built in 1900 and is located right on Madison Avenue, in the prestigious Carnegie Hill neighborhood (which is peppered with a wide range of architectural styles, from Civil War-era clapboard houses to late 19th century rowhouses, early 20th century mansions, and other charming pre-war apartment buildings).
At the time of writing, the unit was listed for $1,325,000 by Cecilia Serrano and Hala Lawrence of Warburg Realty.
More stories you might like
Greta Garbo's Longtime Apartment in New York Lists for $7.25 Million
Full-Floor Residence inside the Newly Built Flatiron House
Shonda Rhimes' Apartment is "Comfy and Cozy" with Bridgerton Vibes
SNL Funny Guy Pete Davidson Lives in a Posh $1.2 Million Waterfront Condo