A beautiful unit just came to market at 500 Waverly, on the corner of Waverly Avenue and Fulton Street — where the neighborhoods of Clinton Hill, Fort Greene, and Prospect Heights all meet.
But if you think location is all this apartment has going for it, you'd be sorely mistaken.
The sun-filled corner unit has both space and views to boast, thanks to its clever layout that maximizes every inch of the apartment, despite its rather modest 690 sq. ft.
The living room has a highly coveted North and West corner exposure with great views of the colorful facades of the original 1930s buildings across Fulton Street and the courtyards of the neighboring buildings of Clinton Street. The living room is large, and spacious enough to have a separate dining table and chairs.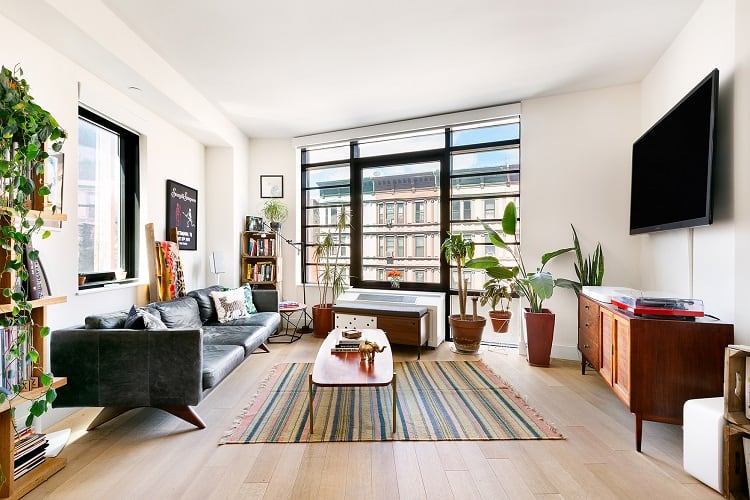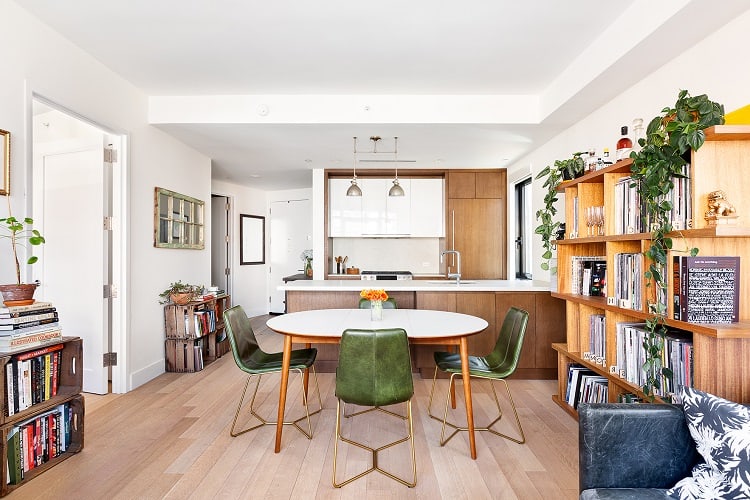 And if you're a sneakers buff, then here's a special treat for you: the 500 Waverly apartment has the most insane sneakers collection!!
Based on the listing photos, we can assume that the current owner sure has a knack for his Nikes and Jordans, and doesn't want to have them sleeping in a separate room all by themselves, fitting the bedroom with a wall-to-wall display to showcase them.
It doesn't hurt either that the Drake-worthy shoe collection stands right next to the oversized windows (and 9′ ceilings) that shower it with light, letting us properly appreciate the impressive sneakers collection in all its glory.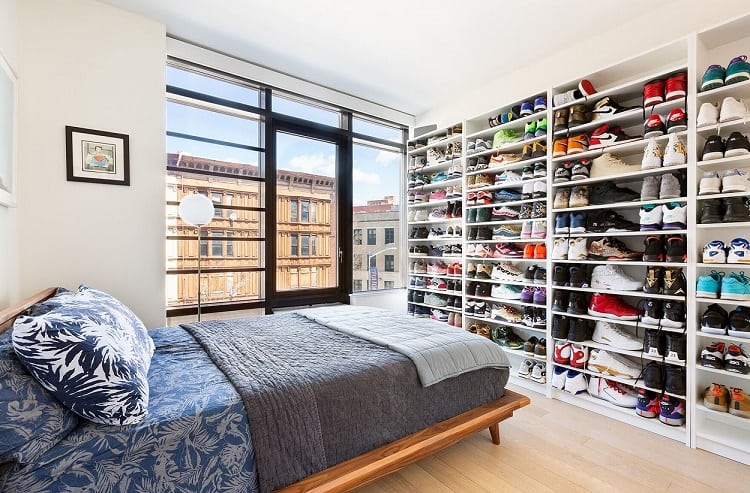 While the badass shoe display totally caught my eye, another nifty feature this apartment come with — and a little more practical than the shiny shoe collection — is a 25-year 421A tax abatement that will be keeping monthlies low for future owners.
The unit is part of 500 Waverly, a boutique condo building designed by GKV Architects.
Recently completed in 2017, the stylish 500 Waverly only comes with 48 residences, but has quite the list of amenities, including an entertaining lounge, a second-floor terrace with grills, a landscaped rooftop terrace with jaw-dropping views of the neighboring tree-lined blocks and the Manhattan skyline, a fitness center, bike storage, and fully-automated on-site parking (though that's not included with the purchase, according to the listing).
To inquire about the property, reach out to agent Frank Suriano with Compass, who holds the listing.
More cool listings
This Stunning $15.5M Flatiron Penthouse Comes with its own Private Sky Yard and Rooftop Pool
Shaquille O'Neal's Longtime Home — and Shaq-apulco Paradise — Now on the Market for $22M
Live Like Anne Hathaway in her Former Olympic Tower Duplex — On the Market for $19.5M
Revisiting the Real 'Full House' in San Francisco