January 17, 2020 marks the 100-year anniversary of the start of prohibition in the U.S., which led to one of the most tumultuous eras in history.
In 1920, the infamous Volstead Act banned the sale and transportation of alcoholic beverages in the country. However, the Act did not outlaw the consumption of such beverages, leading many Americans to stockpile and enjoy liquor in their own homes.
Even President Woodrow Wilson reportedly moved his own supply of alcoholic beverages to his Washington home after his term of office ended. Those who could afford it would buy out the inventories of liquor wholesalers, which led to a fast emptying of club storerooms, saloons, warehouses and bars.
One full century later, we're no longer prohibited from enjoying a nice glass of wine at the end of a long day, or a cool, refreshing pint of beer in the summer sun. Many of us would still love to have our very own wet bar or wine cellar at home, where we can unwind with friends and family whenever we want.
There are many who've made that little dream a reality, by bringing the vibe of the speakeasy in their homes, and you could join that club as well, if you want.
To mark the anniversary of when the Prohibition era started, we've joined forces with Coldwell Banker and rounded up 5 fabulous homes currently on the market across the U.S., homes that feature glamorous and cozy wine cellars or wet bars. Pour yourself a glass and let's check them out.
915 North Dearborn Street, Chicago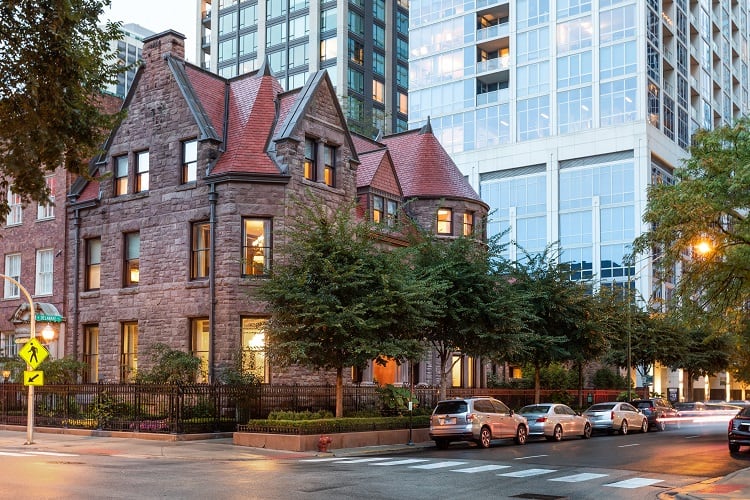 The first home on our list is a jaw-dropping mansion that was built way back in 1888 for attorney John H. Thompson. Located at 915 North Dearborn Street on Chicago's Near North Side, the mansion was based on one of Cobb and Frost's last designs, and is known as the Thompson House.
The six-bedroom, six-bathroom, 13,400-square-foot home is currently on the market with an asking price of $19,500,000, with agents Dawn McKenna and Tatiana Miller handling the listing. The residence has been thoroughly renovated, and preserves its impeccably detailed woodwork and gorgeous stained-glass windows.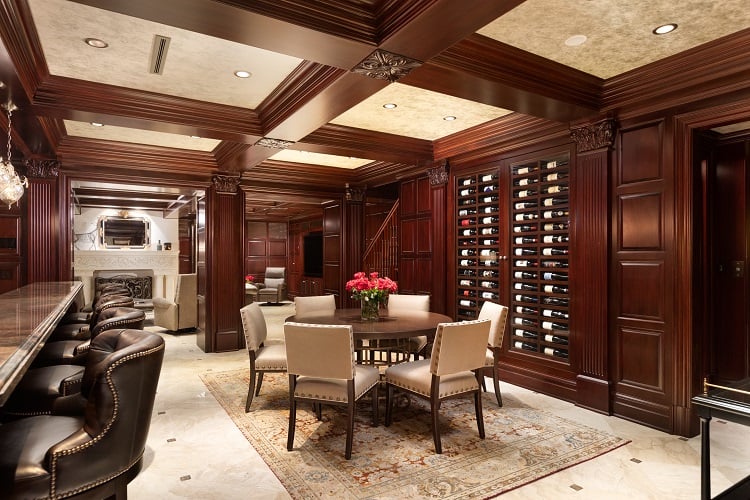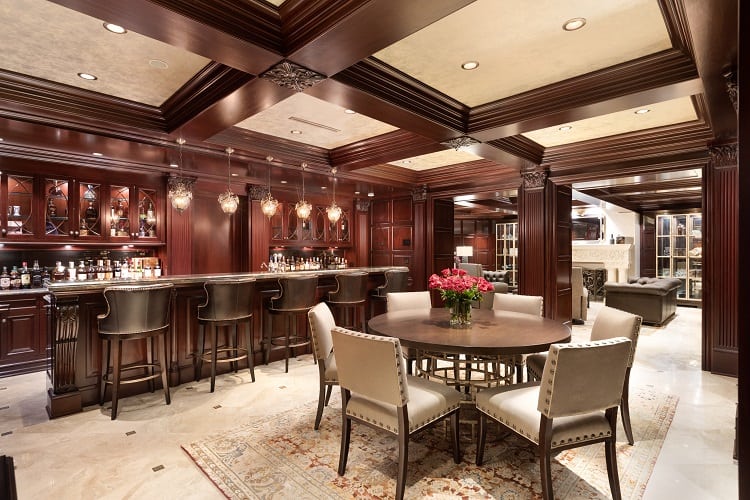 The home features elegant marble, rich paneling and Santos Mahogany hardwood floors throughout, even in the fabulous wine cellar/bar.
This is practically the dream home for a wine — and architecture — enthusiast, and the chance to buy a 132-year-old mansion in the heart of Chicago doesn't come very often.
9345 Huntcliff Terrace, Sandy Springs, GA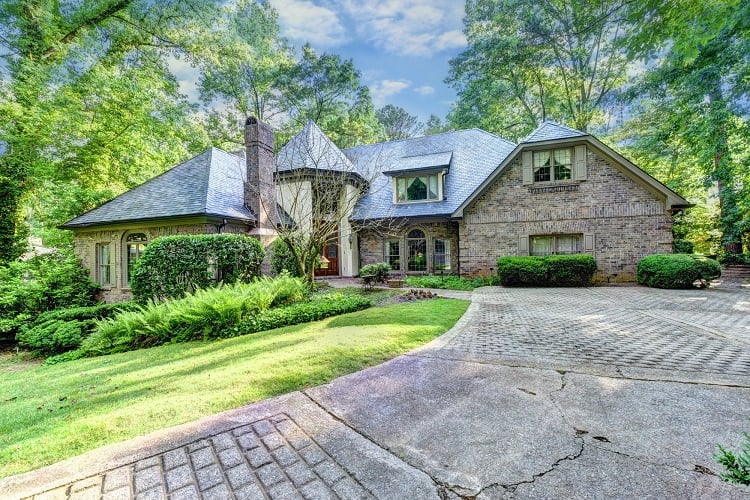 This home is destined for those who enjoy luxury and opulence, as it's basically the epitome of both those things. Located at 9345 Huntcliff Terrace in Sandy Springs, Georgia, this 1977-built Jim Tidwell estate was built back in 1977.
More stories you might like
It's currently being marketed by Coldwell's Katie Brinkman with an asking price of $1,250,000 and offers six bedrooms, four bathrooms, and 10,500 square feet of living space.
The highlight of this Country French Estate is the huge recreation/billiard room, complete with a walk-in wet bar and a wine cellar.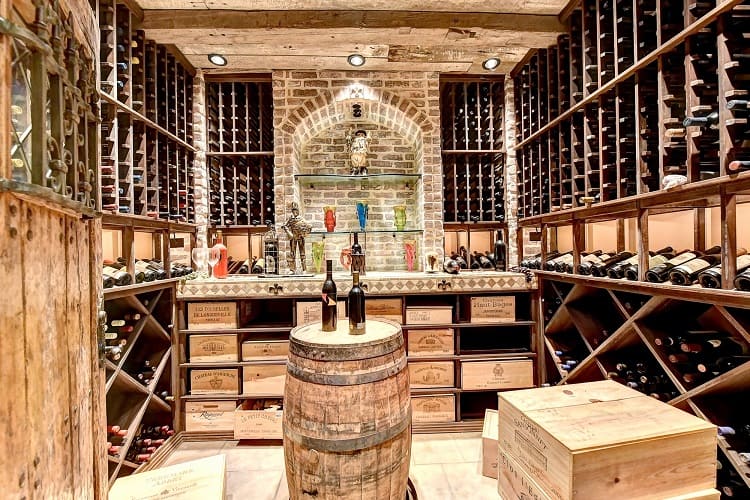 The list goes on; there's also a library/office, a chef's kitchen, a gym, and the possibility of installing a swimming pool, too. Other details include high soaring ceilings, an open-floor plan, an entry foyer, and plenty of green space, offering much-sought-after privacy and serenity.
3800 Washington Street, San Francisco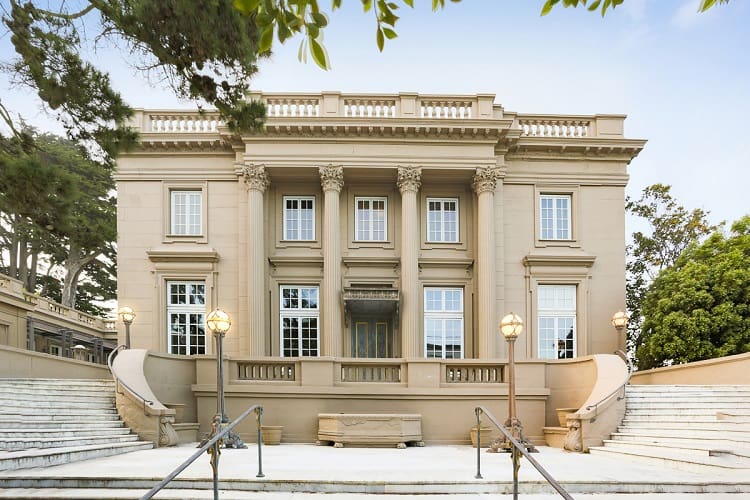 The opulent mansion located at 3800 Washington Street in San Francisco is a one-of-a-kind gem that doesn't come on the market very often.
Le Petit Trianon, as it's named, was built back in 1902, inspired by the world-renowned building at the Versailles Palace in France. It was originally built for Corinne 'Cora' Koshland and Marcus Koshland, who was the son of Simon Koshland, founder of Koshland Brothers — a prominent business specializing in importing and exporting wool, hides, and fur.
The home features nine bedrooms, six bathrooms, three powder rooms, two kitchens, and a butler's pantry. But wait, there's more. At 3800 Washington Street, you'll also get a ballroom/media room/entertaining space harking back to the days of Louis XIV, a formal dining room, a reception room, a library, a family room, two home offices, a den, a breakfast room, tied together by a three-story central atrium.
Oh, and it also has two wet bars, because, well, one is too mainstream. All in all, this fabulous, extravagant mansion incorporates 17,895 square feet of living space, and a 20,311-square-foot lot, according to City of San Francisco Tax Records.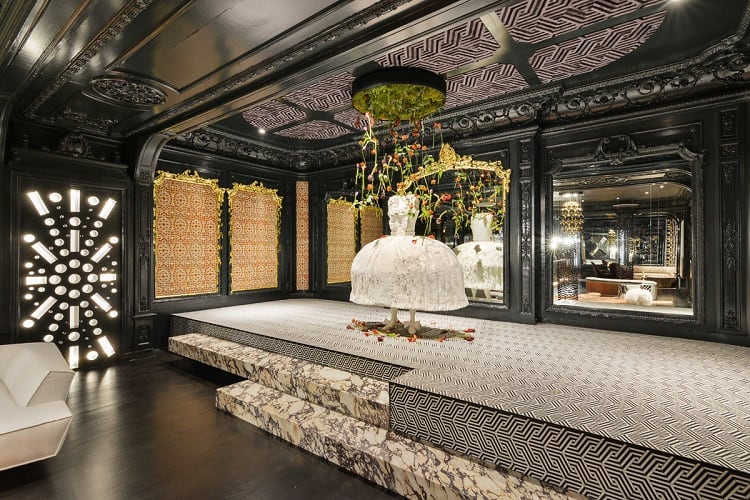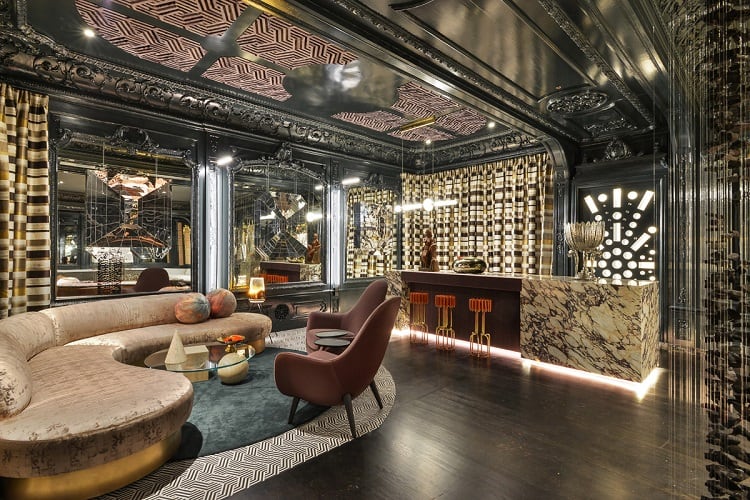 Le Petit Trianon was designated a San Francisco and National Historical Landmark, and it could be your for 'a mere' $23,800,000. Joel Goodrich of Coldwell Banker has been tasked with finding a new owner for this unique property, but it shouldn't be too difficult of a task.
533 Macleod Drive, Pine Township, PA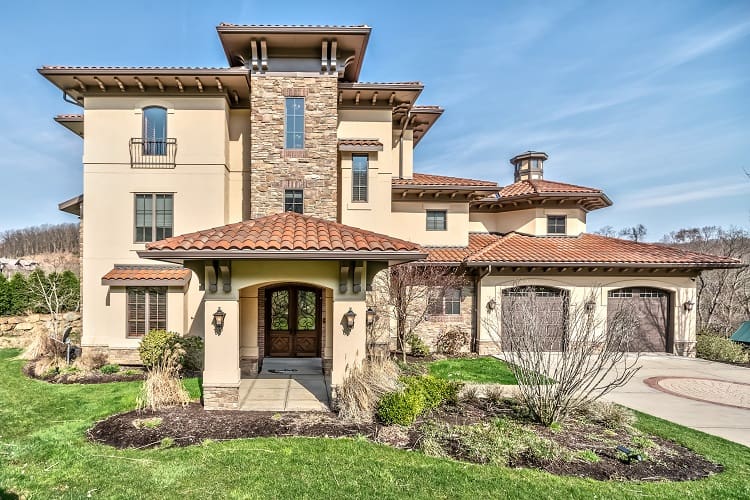 This elegant lakefront home in Pine Township, Pennsylvania, was built in 2012, but it's a masterful blend of classic and modern design. The six-bedroom, six-bathroom home was the Pittsburgh Magazine Home of the Year Award Winner in 2013, and it's now on the market for $1,995,000. Agent Zita Billmann of Coldwell Banker is handling the search for a new owner.
The property at 533 Macleod Drive boasts superb craftsmanship, and features radiant heated floors, solid wood arched doors, Schonbek crystal chandeliers, Swarovski crystal knobs, marble flooring, and spectacular views from every room.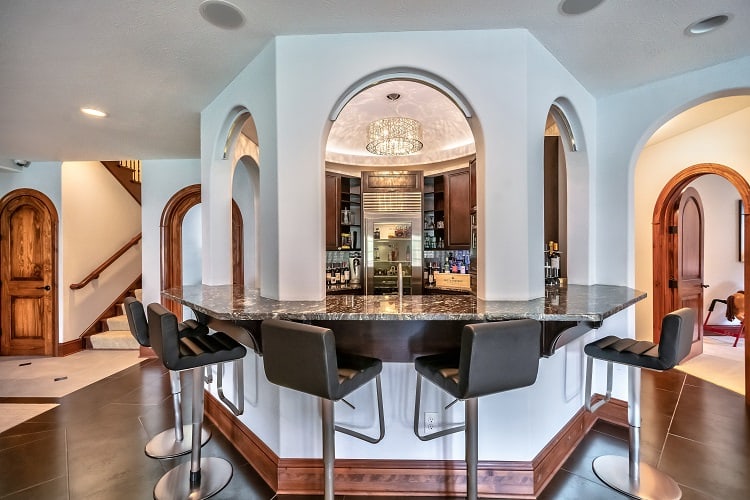 A soaring, two-story great room with a stone fireplace opens to a chef's kitchen that features Sub-Zero refrigerator and freezer, two mudrooms, two laundry rooms, and an elevator that services all four floors. There's also a kids study room/craft room, and an entertaining area that includes an exercise room, a home theater, a full bath, and a beautiful, custom bar-style wine cellar and tasting area.
165 Cherry Lane, Mendham, NJ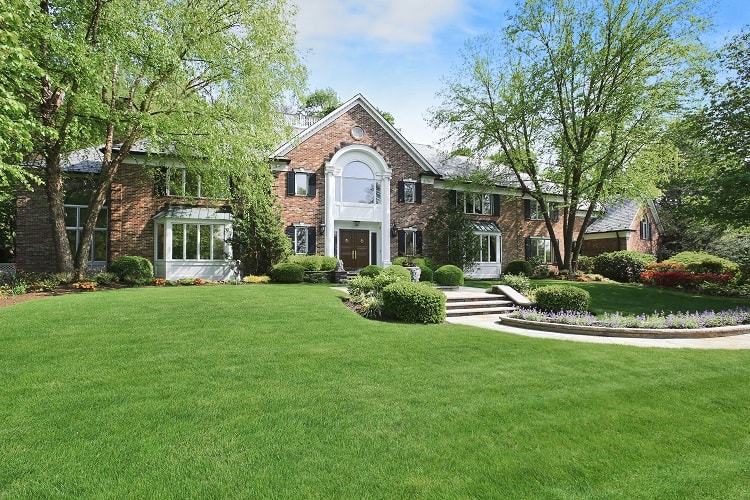 This gorgeous New Jersey property is the perfect escape from the busy urban jungle, surrounded by 5 acres of professionally landscaped courtyards in Mendham, N.J.
Built in 1993, the eight-bedroom, eight-bathroom sprawling estate at 165 Cherry Lane is an oasis of calm and classical cool. It features amenities like a spa-like, oversized pool and jacuzzi, a pool house and outdoor kitchen, and magnificent views from every room.
Listed by Coldwell Banker's Maryalice Raushi, 165 Cherry Lane incorporates a fabulous formal dining room and living room with a custom fireplace, a great room with a built-in media center overlooking the perennial gardens, a gym, and a beautiful two-story mahogany library/office.
The main highlight, at least in our opinion, is the majestic British pub with billiard room and wine cellar on the walk-out lower level. This 'home-made pub' really takes you back to the old days, when the men would retreat after dinner to smoke cigars and drink whiskey while sitting on comfy leather armchairs.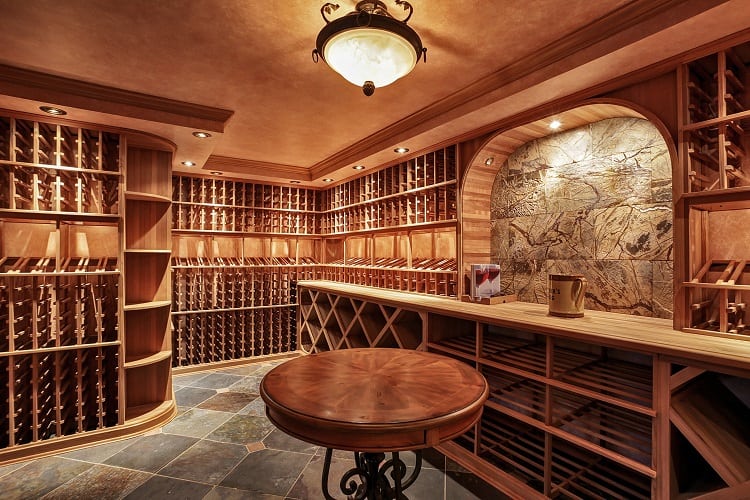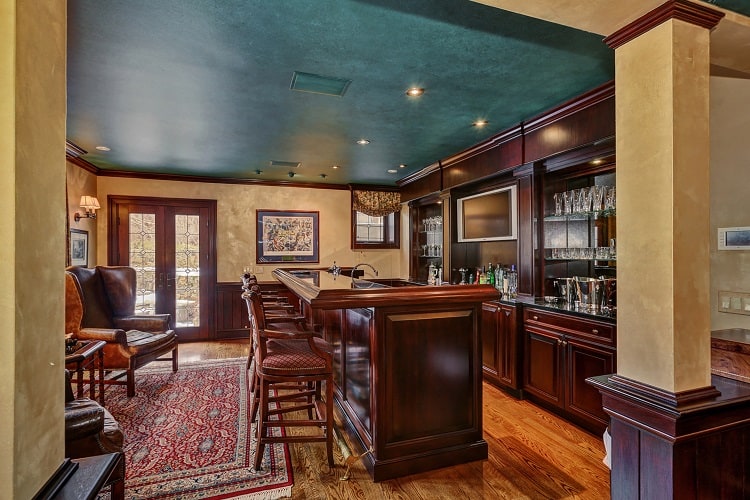 The home also includes a four-car garage, a full catering kitchen, and full privacy, all just 30 miles away from New York City. It can be yours for $2,999,000, and we think it's worth it for the charming wine cellar alone.
We hope you've enjoyed checking out these 5 gorgeous homes for sale that feature their very own wine cellars, wet bars, tasting areas and billiards rooms. If you're interested in any of these properties, be sure to reach out to the listing agents – we're sure you'll have plenty of competition.
More unique luxury homes
Drake's house in Toronto
Mark Cuban's houses
Joe Rogan's house in Austin
Selena Gomez's house