A unique new listing in Los Angeles has some serious fairy tale vibes.
Dubbed Chateau Lemoine, the stunning estate was originally constructed in 1926 and is a prime example of storybook architecture.
Located in the beautiful Brookside neighborhood of Los Angeles, the extensively remodeled home features a list of luxurious features and endless period elements.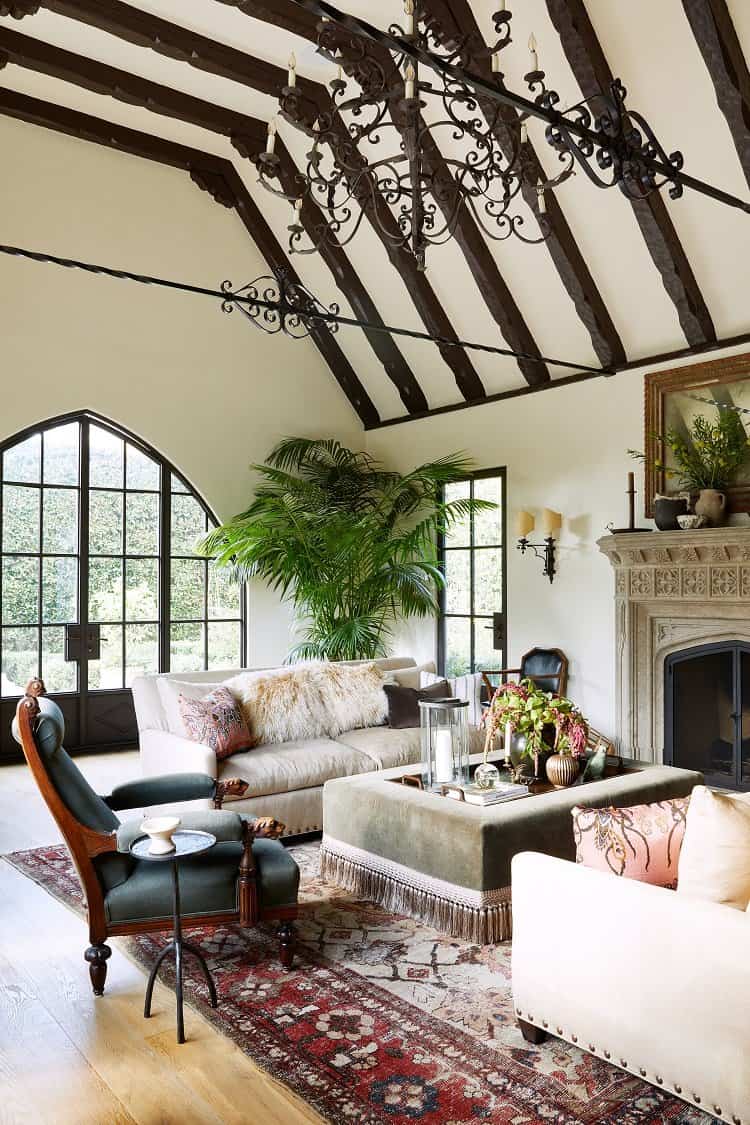 Currently owned by Tim Nett, co-founder of Streamland Media (the world's largest post-production company), Chateau Lemoine is considered to be the 'crown jewel' of Brookside.
Here's the full scoop on the newly listed storybook architecture home that looks like a castle in the heart of California.
But first, what exactly is storybook architecture?
Inspired by the beauty of Europe's cobblestone streets and ancient structures, storybook architecture made its way west in the early 1900s.
Creating a bewitching effect in Los Angeles, this form of architecture includes a wave of whimsical homes featuring dramatically different structural fads.
Storybook architecture offers an exaggerated medieval style, with many of the buildings designed with crooked walls, asymmetrical elements and swayback roofs.
Think Edward Scissorhands meets Hansel and Gretal – a Hollywood take on medieval and European architecture.
According to LA Curbed, America had many talented craftspeople to replicate mysterious lands and fairy tale castles — which was ideal for Hollywood's budding film industry in 1920.
"Hollywood, as always giving the public what they wanted, began cranking out exotic stuff," historian and architect Arrol Gellner said of the popularity of storybook architecture in Los Angeles.
And many films, such as The Four Horsemen of the Apocalypse, The Hunchback of Notre Dame, and Robin Hood, were set in historic time periods and featured storybook architecture.
"The backdrops constructed for these films were works of art in themselves, and many of the same techniques were eventually applied to storybook style buildings," Gellner shared.
A look inside the newly listed storybook castle in LA
Built in 1926, Chateau Lemoine is an exceptional example of storybook architecture.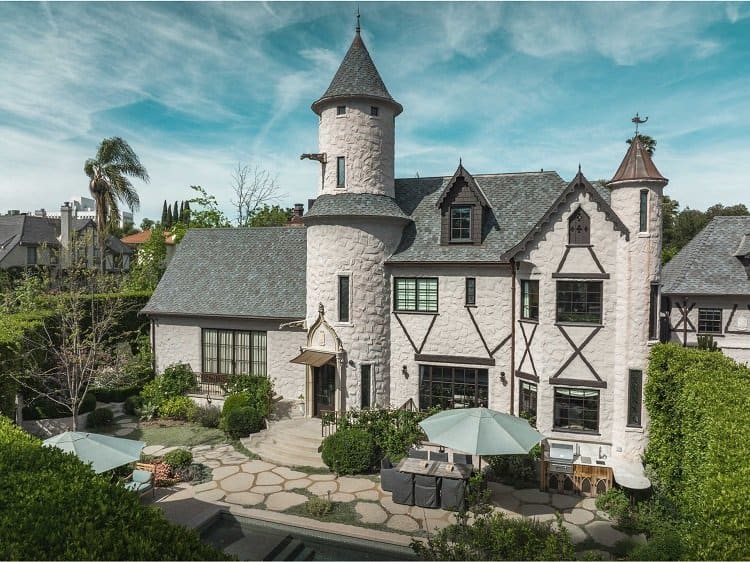 In an enclave of eight tree-lined streets, the upscale neighborhood of Brookside in Los Angeles includes 400 homes in Mid-Wilshire, located between Olympic Boulevard and Wilshire Boulevard.
And Chateau Lemoine is considered to be the 'crown jewel' of this idyllic neighborhood.
Featuring five bedrooms and six baths, the California castle is a one-of-a-kind listing.
Extensively remodeled, the 4,508-square-foot home offers a dramatic living room with vaulted and beamed ceilings, a minstrel balcony and carved stone fireplace, and an exhibition kitchen with carved stone hood surround and pro-style appliances.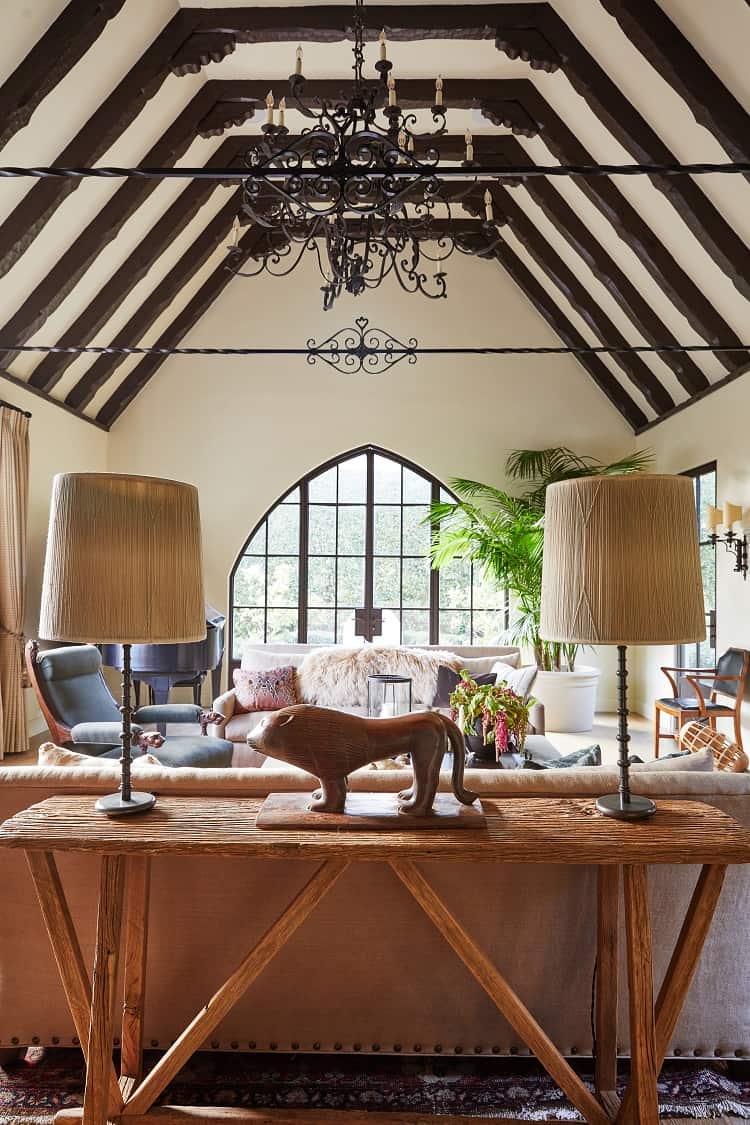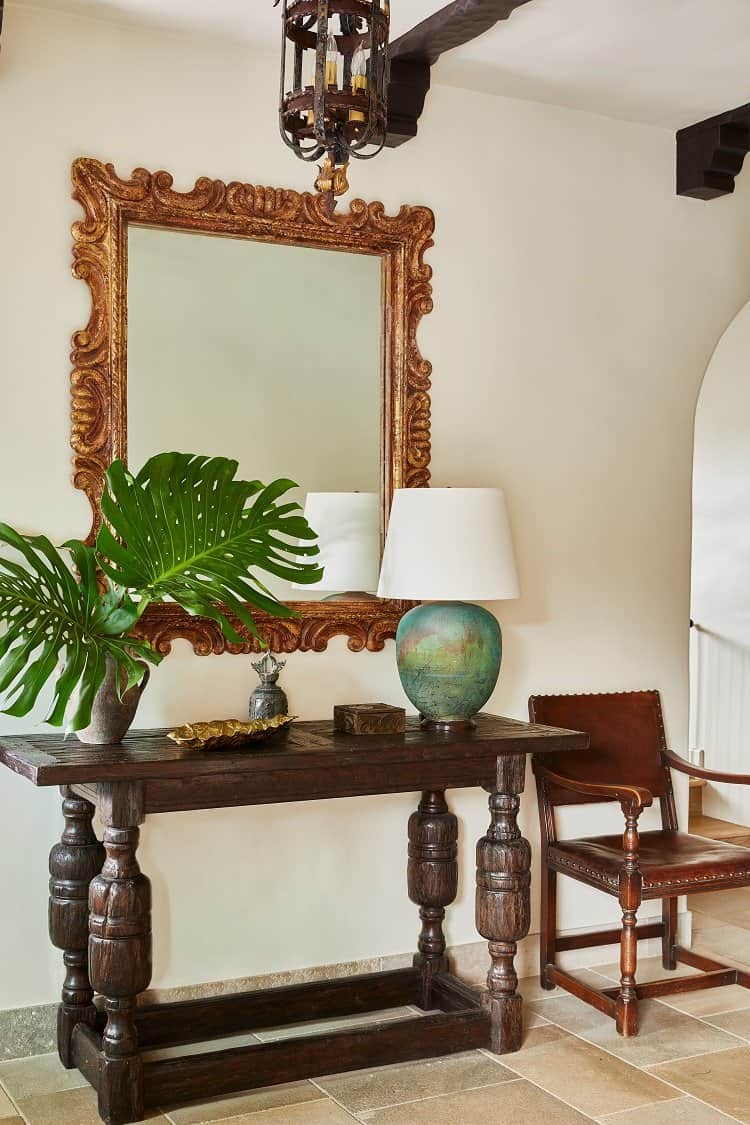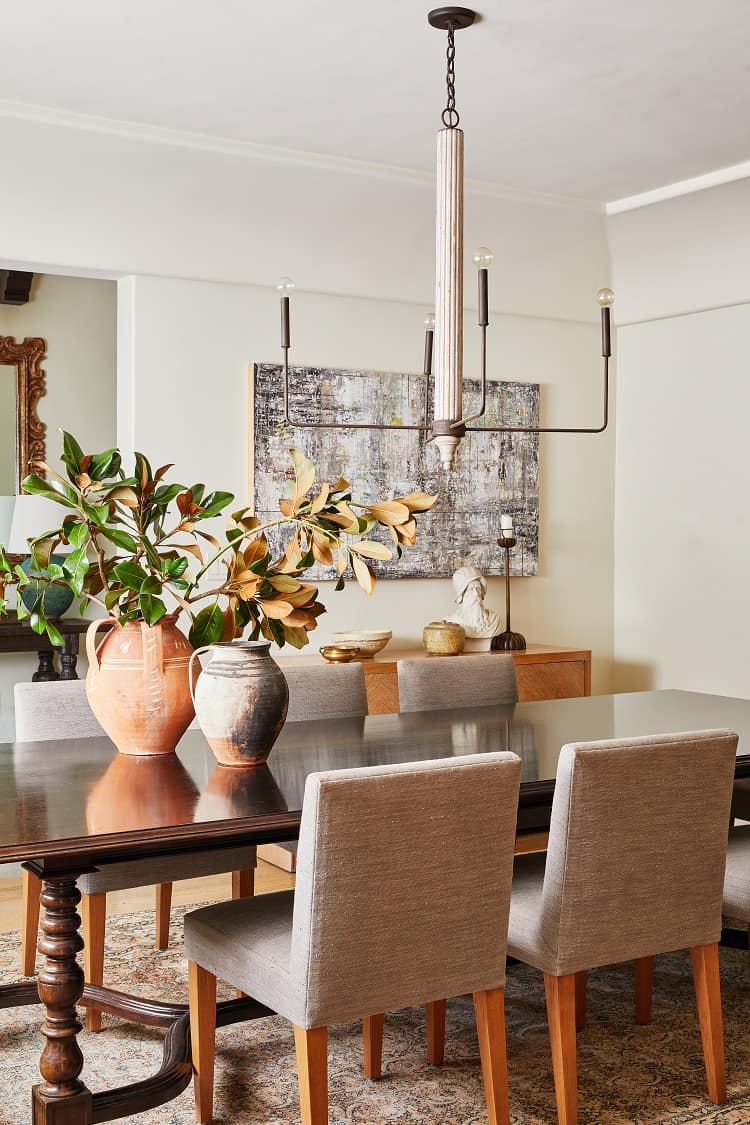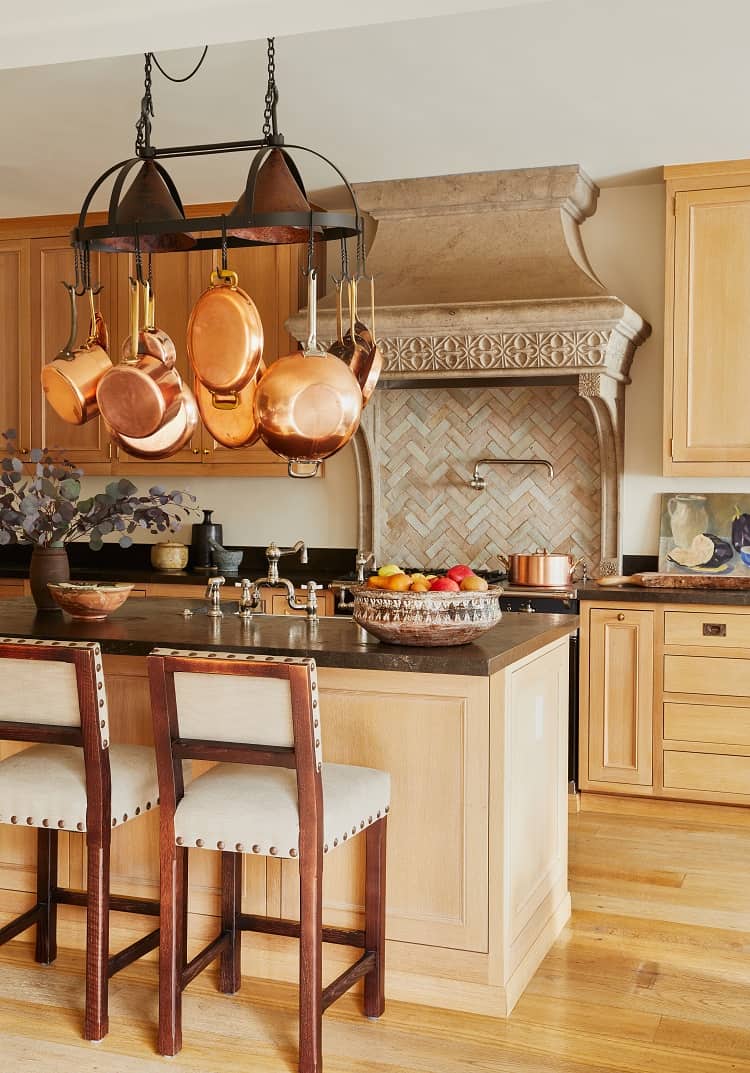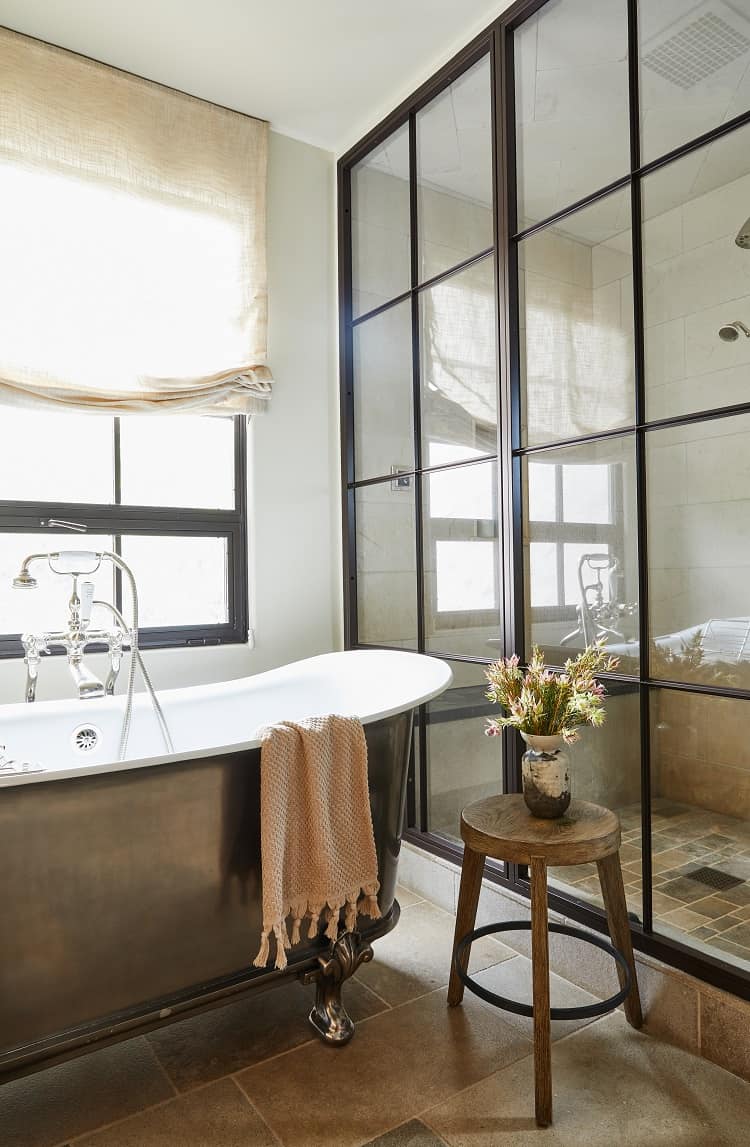 No castle is complete without a guest house, and Chateau Lemoine is no exception.
Featuring a kitchen, living room, bedroom suite, formal dining and family room opening to the kitchen, the guest house also enjoys the property's luxurious landscaping and many outdoor amenities.
The posh property also features a saltwater pool and spa, beautifully manicured landscaping with numerous fruit trees and serene seating area with firepit at the stream.
Now offered for sale at $5,999,999, Chateau Lemoine is a unique new listing from Billy Rose of The Agency.
More stories you might like
Inside a One-of-a-Kind $39M Richard Requa-Designed Home Known as Coronado Castle
A Piece of Architectural History is Up for Grabs: Lloyd Wright's Derby House Lists for $3.3M
Cool Listings: A Striking Celebrity Compound with a 7-Sided House and Richard Neutra Connections
Beautifully Redone L.A. Home Stays True to Its Craftsman Roots