If you haven't had a chance to book your summer vacation just yet, join us on a quick trip.
The destination is the idyllic Saint Thomas, the chief island of the U.S. Virgin Islands, where a $24 million waterfront estate looms over the Caribbean with its unique fort-like structure.
Sitting on a rocky point right above a dreamy bay, the 9-acre property — known simply as the Waterfront Estate — is its own slice of paradise.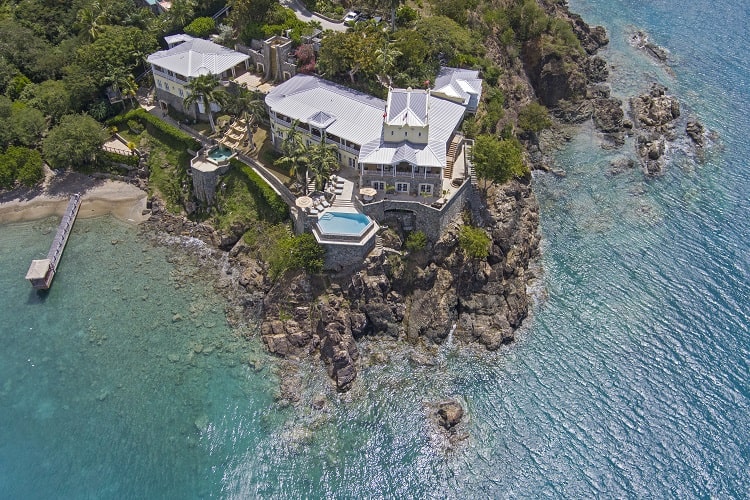 Imagined as an old Danish fort complete with a Bastian wall, terraced fountains, and water cannons, the estate includes a total of 4 homes — with the highlights being two villas and a guest house overlooking the Caribbean waters near the historic Rupert's Cove.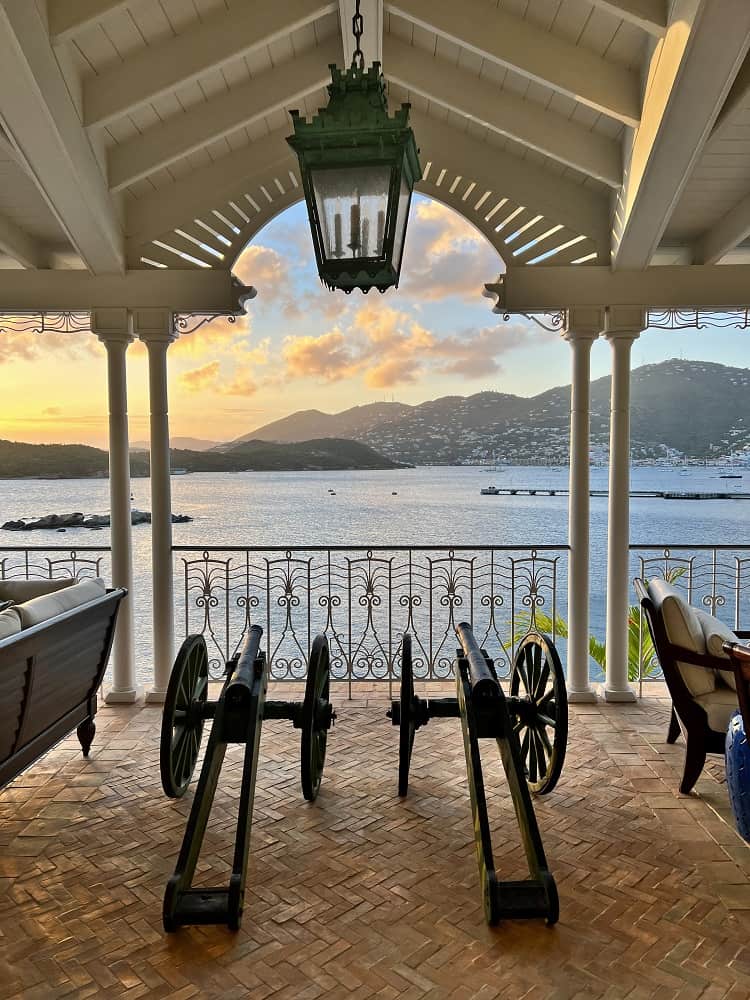 The unique property is anchored by the main estate and guest house that span an impressive 19,275 square feet.
Inside, 9 bedrooms, 9 full baths, and 5 half baths make the most out of the exotic location and open up to mesmerizing views of the Caribbean.
With high ceilings adorned with European molding, custom finishes, and carefully curated antique furniture, the interiors have somewhat of a palatial feel.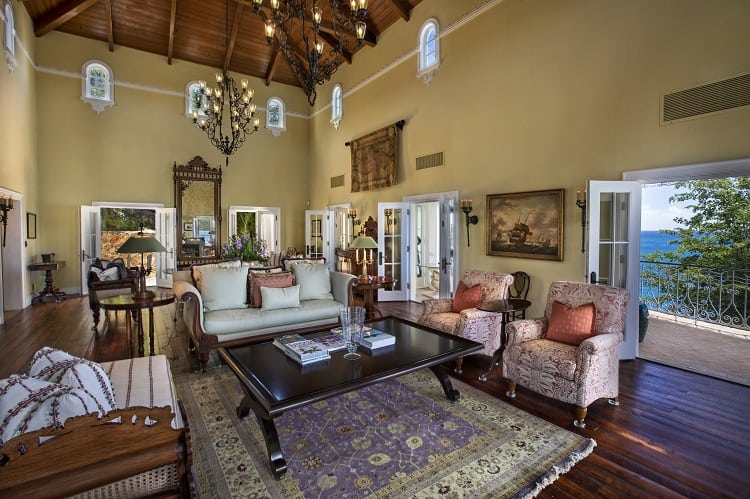 "When you enter the main residence of this estate the experience begins. Everything you see has been curated by an imagination that rings of legacy, luxury, gracious taste, and adventure," says Nick Van Assche, Listing Agent for Waterfront Estate.
"The architectural details offer up the grandeur of Saint Thomas against backdrops of Tuscany and Old England," he adds in an exclusive quote for Fancy Pants Homes.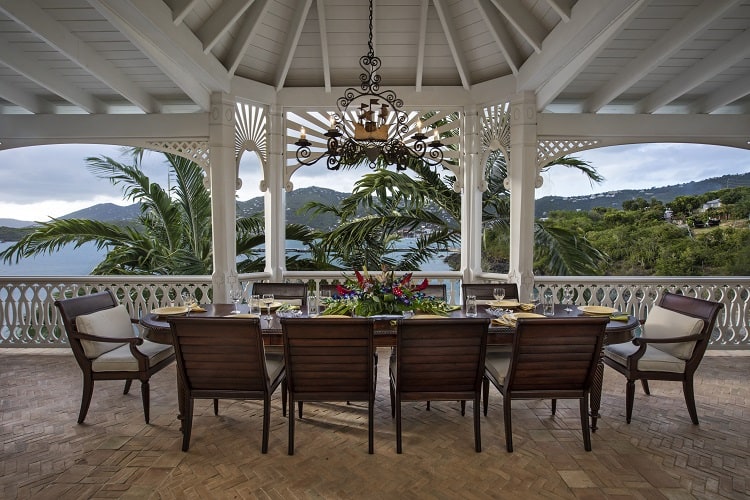 Among the property's many merits: not one, but two infinity pools, expansive outdoor decks to soak in the unobstructed water views, an 80 feet private dock, and a striking terraced waterfall.
The waterfall steals the show with its jumping jets, eight fire braziers, 17 falls, a fog machine, more than a hundred LED Lights, and a holographic water-screen.
All of which are synchronized to music to create one of the Caribbean's most extravagant water shows.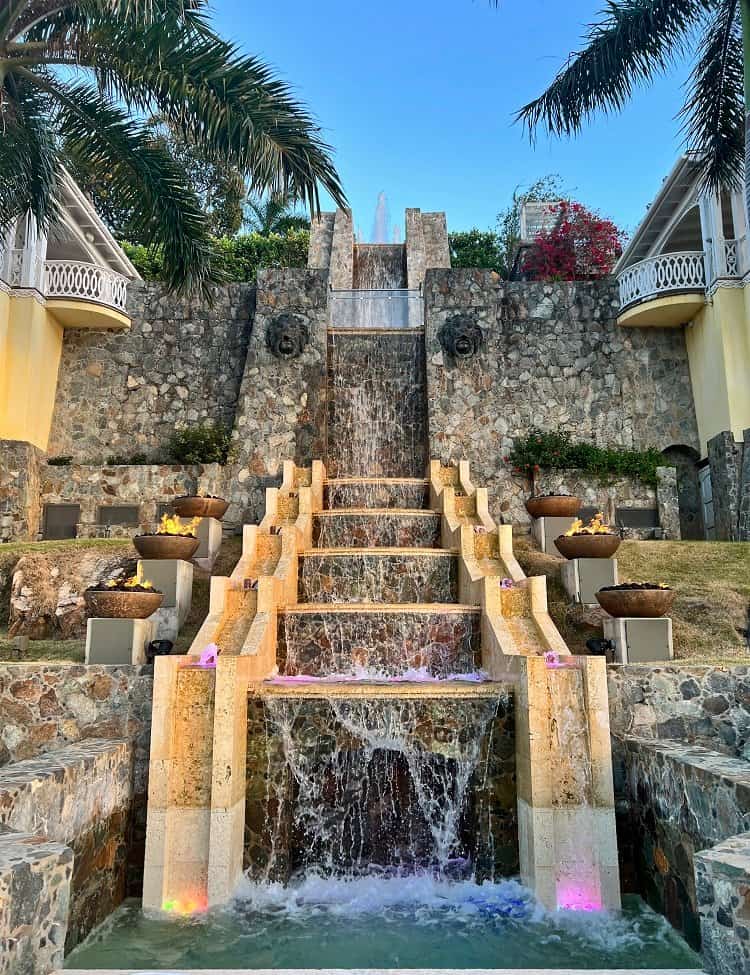 The estate also houses a prized collection of West Indian antique furniture that adds an extra note of old-world charm to the luxurious estate.
But fans of contemporary abodes won't be left wanting, as there's also a second villa on the property with a more modern flair.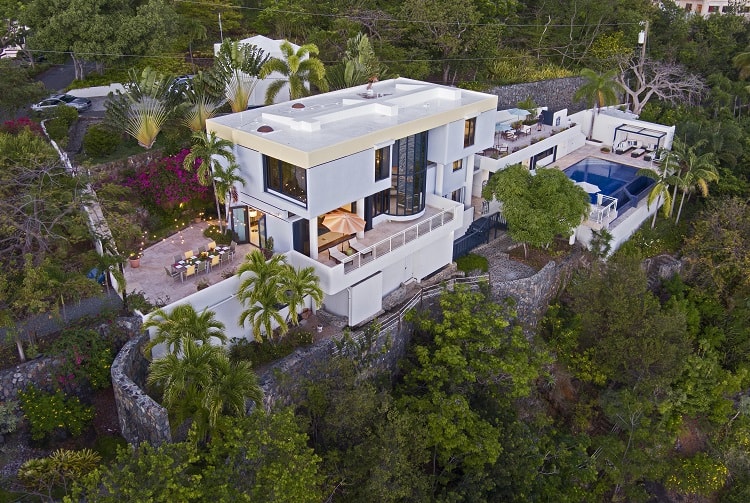 Clocking in at 6,215 square feet of living space, the modern villa offers 6 bedrooms, 5 full baths and 1 half bath, and its own set of distinct customizations.
That includes a spiral staircase that connects the sprawling levels of the house and a dining room with a unique, rainbow-tinted rounded window that overlooks the water.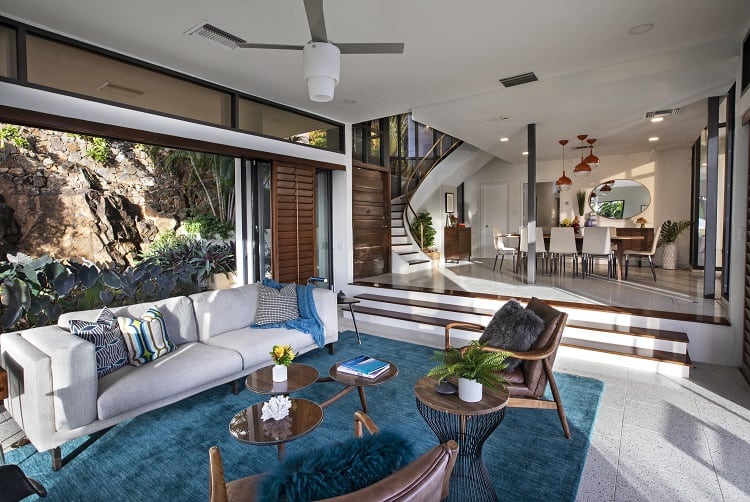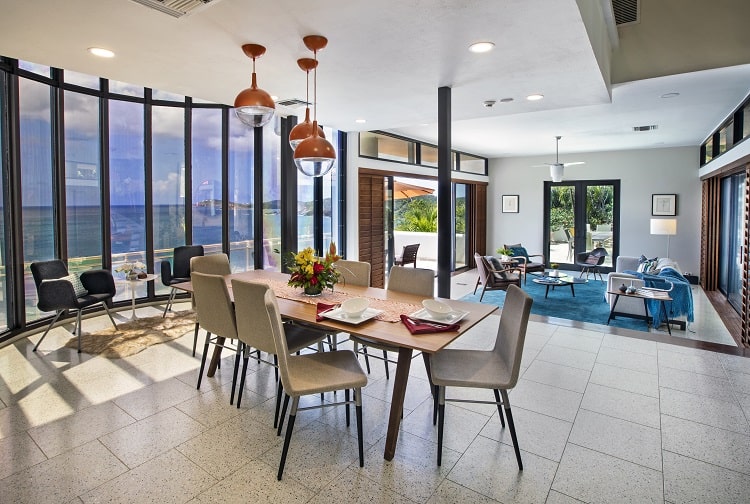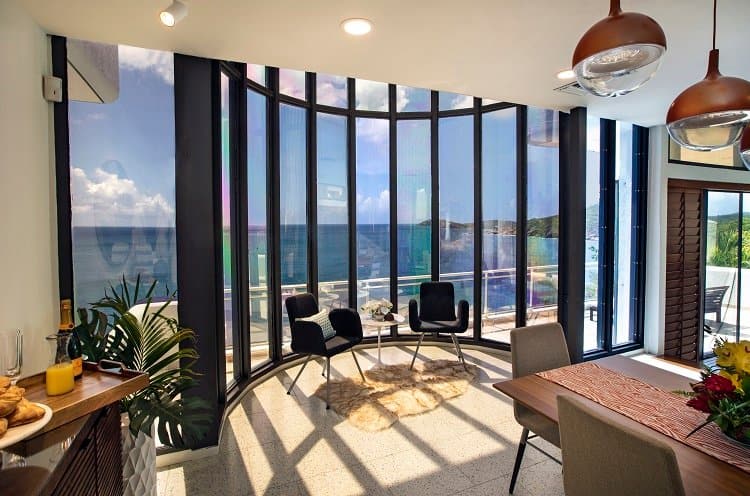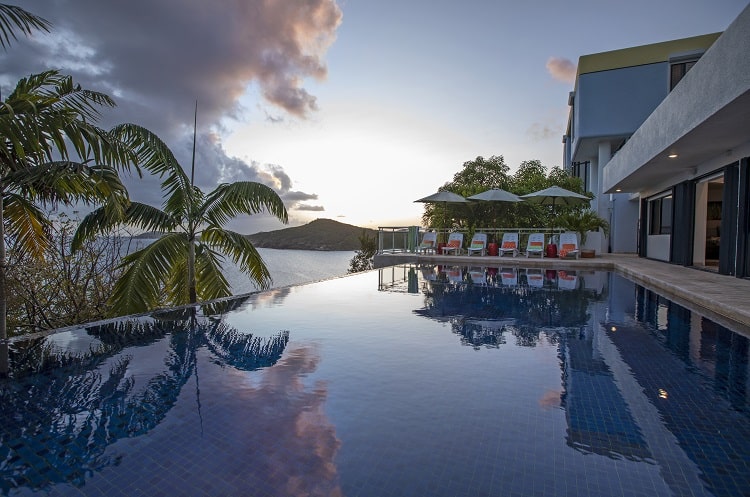 Currently on the market for $24,000,000, the Caribbean gem is listed with Nick VanAssche of Sea Glass Properties — a full service boutique real estate brokerage that serves St. Thomas, St. Croix, and St. John in the U.S. Virgin Islands.
More stories you might like
A Japanese-Inspired Home in the British Virgin Islands Is its Own Slice of Paradise
Ranking the 15 Best Luxury Pads from 'The World's Most Amazing Vacation Rentals'
SF Giants Pitcher Mark Melancon is Building His Dream Home in Mexico
Costa Rica's Priciest Oceanfront Estate to Date Hits the Market at $5M