If you're looking to feast your eyes on a beautiful, amenity-rich mansion with modern interiors and a killer guest house, you're in for a treat.
We've found the perfect home to dream about in the heart of sunny Los Angeles in the hip, relaxed neighborhood of Encino. So have hundreds of thousands of other luxury home enthusiasts that follow one of the most popular real estate channels on YouTube.
The seven-bedroom, eight-bathroom Encino home offers 9,081 square feet of living space enclosed within a private, gated estate with surrounding landscape. And it's downright gorgeous!
So much so that the property landed a private tour on Enes Yilmazer's popular YouTube channel, with the video getting hundreds of thousands of views in just a couple of days.
That comes as no surprise, as the Encino home is a beautiful example of modern California living, with picture-perfect interiors, exquisite finishes, jetliner views, and plenty of attractive amenities.
The luxury home has bright, airy, and warm interiors
Exquisitely furnished, the property's most distinctive interior traits are the warm wood tones used throughout, which serve as both décor elements and provide tons of storage space — particularly in the kitchen, which is clad in cabinets and wood paneling made out of hemlock wood.
The large windows and Fleetwood doors open up to stunning views and invite plenty of natural light in.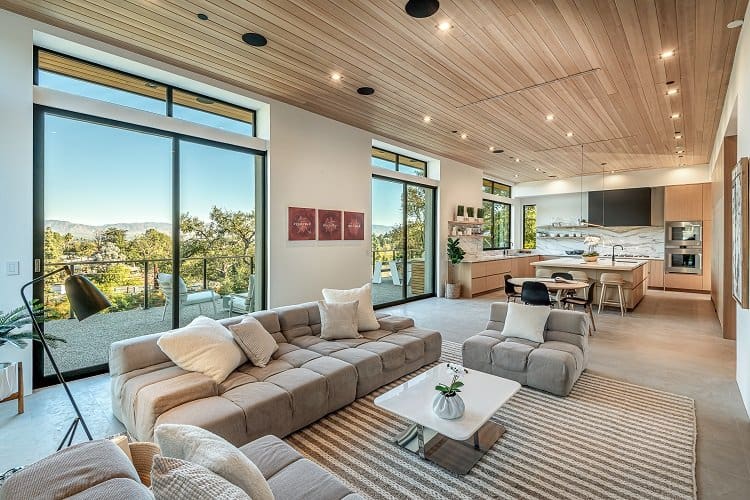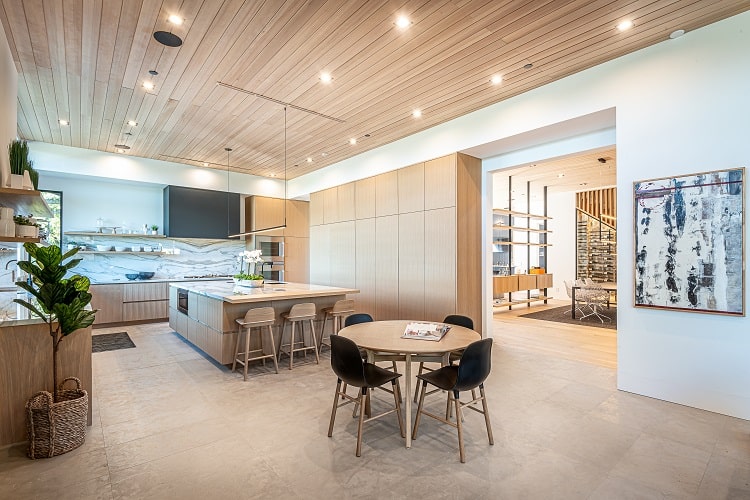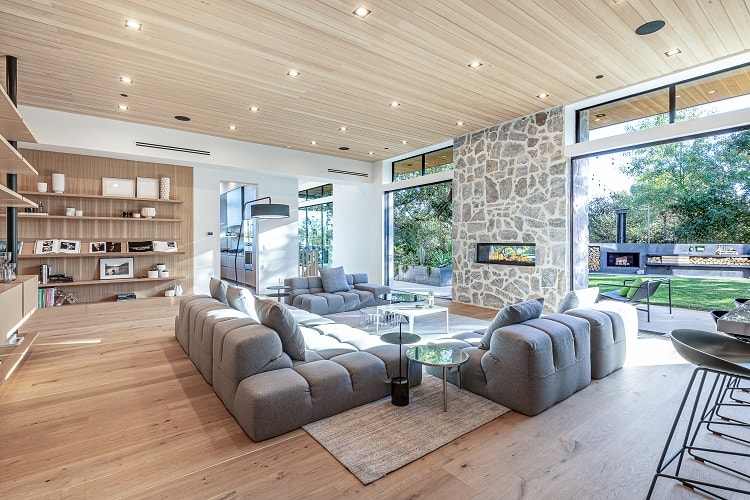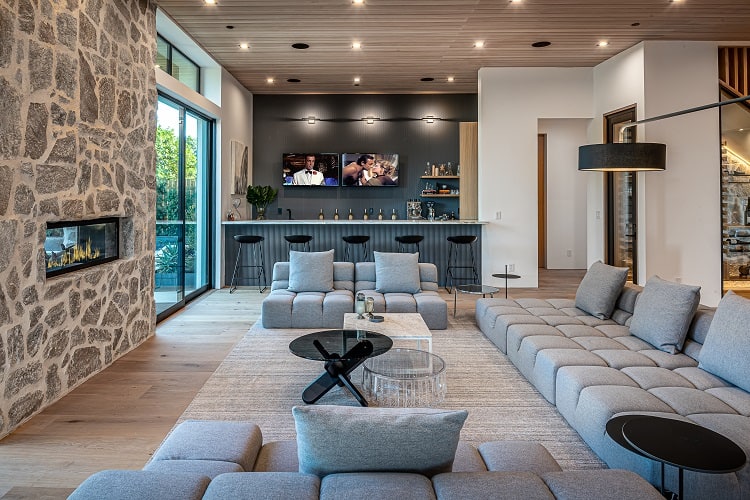 The main level houses the master chef kitchen with Calcutta porcelain counters and custom white oak cabinetry. The kitchen seamlessly blends into the outdoor space, where you'll find terraces, landscaping and pool decks.
You'll also find a full entertainer's bar and a temperature-controlled wine cellar, perfect for entertaining friends or family or relaxing after a long day.
Speaking of entertaining options, the lower level is great for family events, having friends over, or just chilling at home, featuring a 12+ person home cinema and concession area.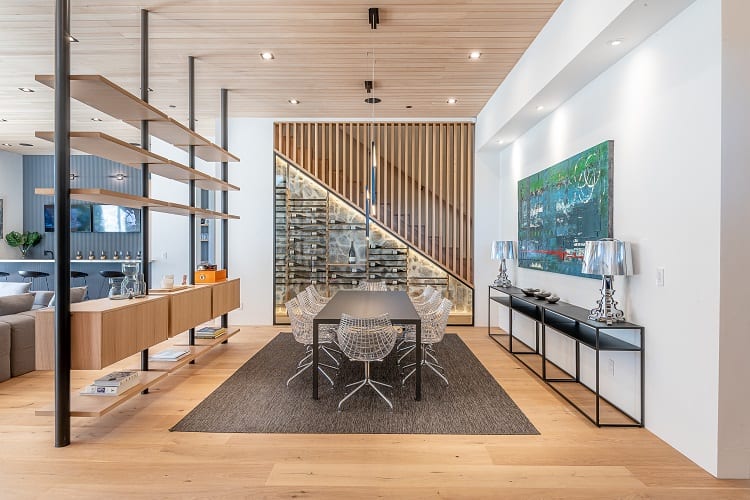 The carefully thought-out finishes give the home a modern vibe that extends into the bedrooms as well.
The second level of this luxury Encino home has four bedrooms, including the master suite, which walks out to a 1,200-square-foot balcony with a fire table.
The master bedroom also boasts full-height windows, dual walk-in closets, as well as a luxurious master bathroom with floor-to-ceiling limestone.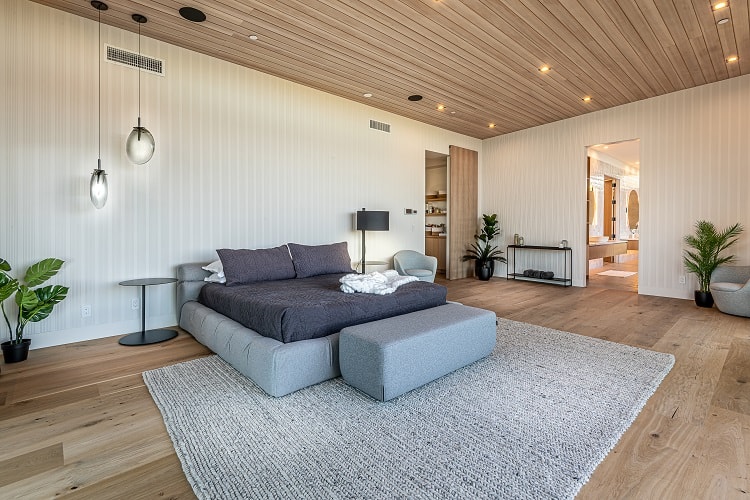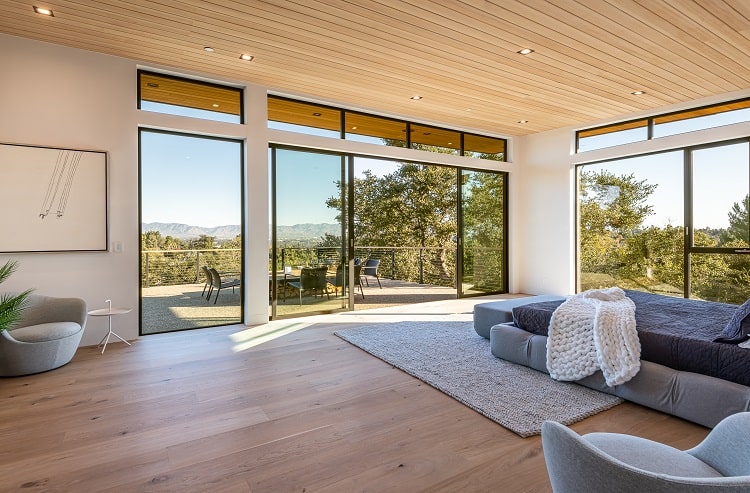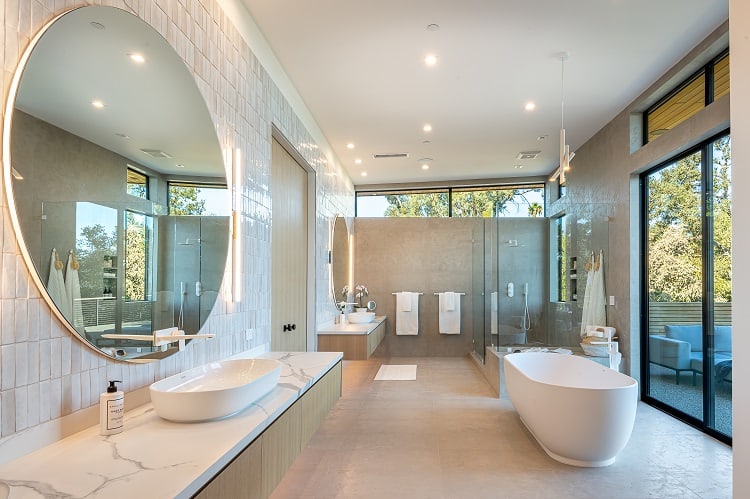 Don't miss these celebrity homes in Encino
There's plenty of outdoor space
Stepping outside of this gorgeous Encino home, the Fleetwood doors open up to the spacious side yard, where you'll find a modern barbecue area made out of polished concrete and several seating options.
The property features high-end exterior finishes, including natural stone, cedar cladding, and shou sugi-ban that flows indoors and outdoors.
But the actual fun starts on the first floor, where you'll find the entertaining areas and the pool level. The generously sized backyard has plenty of green space (and hedges, to ensure privacy), with mature trees surrounding a concrete pool area.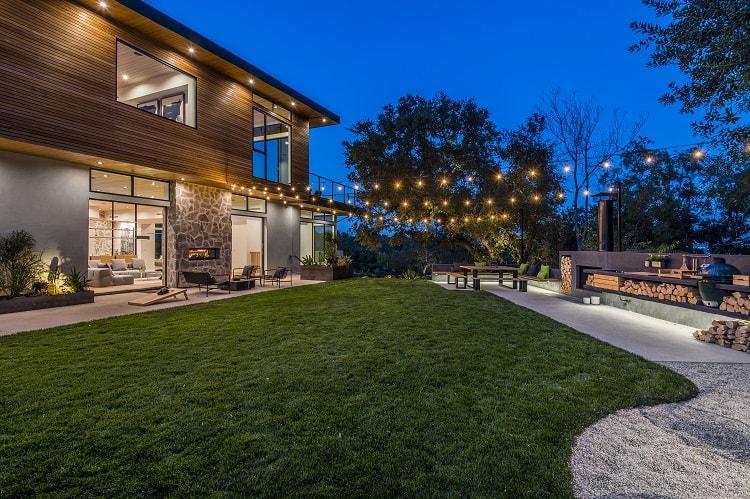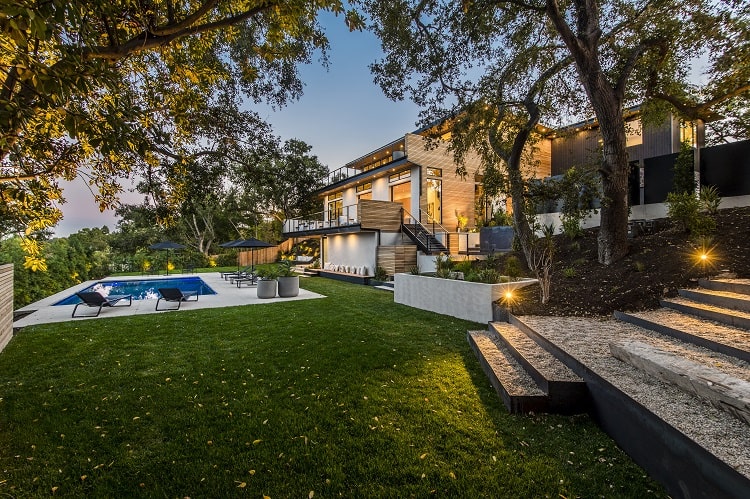 And a really cool guest house
Besides the fabulous living space, there is also a guest house that can be converted into a home office, a recording studio, or even a fitness studio.
Mirroring the design of the main structure, the guest house features wood paneling and a clean, modern design.
Inside, there's a loft space for sleeping, a bathroom, and a fully equipped kitchen — with a built-in stove that slides from the furniture and a pantry and refrigerator that are concealed by the wood panels, just like in the main kitchen. The guest house even has its own outdoor deck.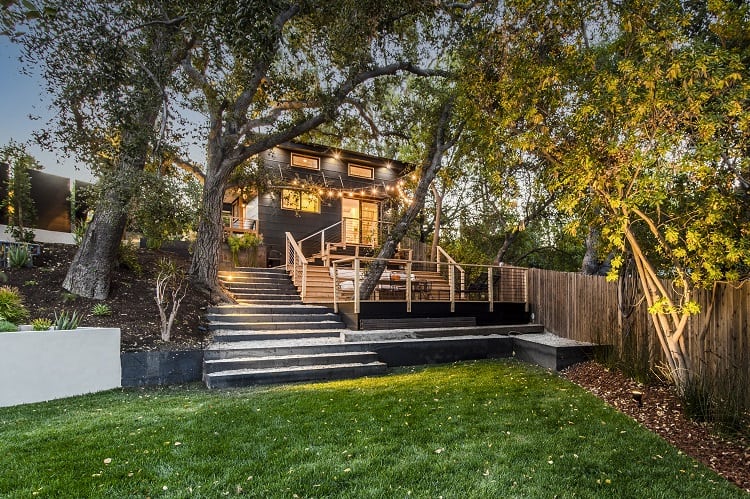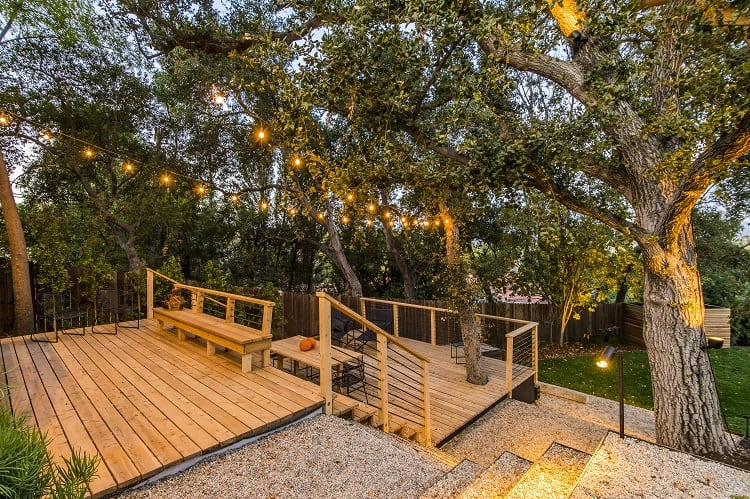 The two-story, 2020-built estate is currently listed for $8,995,000 with Gina Michelle and George Ouzounian of The Agency and Dennis Chernov of the Chernov Team. 
Though we don't expect it to linger on the market for too long (I mean, have you seen this place?), so if you happen to have the funds and like what you see, make sure to reach out to the listing agents for a private or virtual tour.
More beautiful homes
Matt Damon's Zen Los Angeles Home Asks $21 Million
Move in Next to Californication's Hank Moody in This Industrial-Style Loft in Venice, CA
HGTV star Ty Pennington's house in Venice Beach
Wayne Gretzky's house in California, designed by 'The Megamansion King'