There's nothing quite like October in New York. With the hot, humid weather out of the way, the leaves turning all shades of orange, and the Halloween decorations popping up around every corner, it's easy to get into the fall spirit.
But architecture and design aficionados in New York City have a different reason to be excited about this month: it's Archtober, a time to celebrate the city's most exceptional architecture.
The annual festival is organized by the Center for Architecture and aims to highlight the skyscrapers and buildings that have defined the NYC skyline over the decades.
After all, New York City and the distinct architecture of its buildings are inextricably linked. Over time, they became integral to that city's identity, part of its fabric and how it is perceived in the popular imagination.
Through the month of October, New Yorkers can attend activities and exhibitions in cultural centers, like the Museum of Modern Art, the Guggenheim Museum, and the Central Park Conservatory to learn more about the city's rich architectural history.
And what better way to experience this cultural trip than by living near some of NYC's most iconic structures, and enjoying world-class art year-round?
That's why today, we're going to take a look at some dreamy pads that may differ widely in size, style, and even asking price, but that have one major thing in common: they'll place their lucky future owners within walking distance to New York City's best architectural and cultural destinations.
A 29th floor apartment within a short walk from the Guggenheim Museum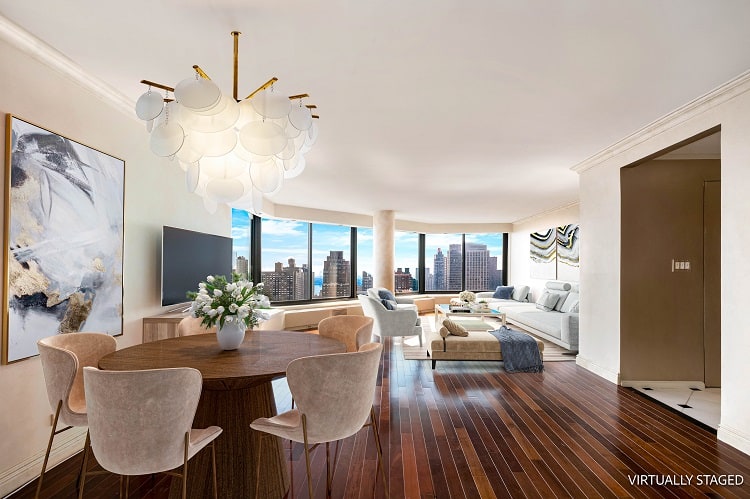 Perched on the 29th floor of the Carnegie Hill Tower Condo building, this 2,200-square-foot apartment comes with panoramic views that extend from Central Park to the George Washington Bridge, the East River and over the city's skyline.
And what you can't see from above, you can easily walk to: the Guggenheim Museum is mere minutes away, as is Central Park and the countless museums, art galleries and event spaces that Manhattan is best known for.
The apartment has 3 bedrooms, 3.5 baths, a St. Charles eat-in kitchen, and a primary bedroom with a huge walk-in closet — and costs $3,495,000 to buy. Linda M. Lawrence of Warburg Realty holds the listing.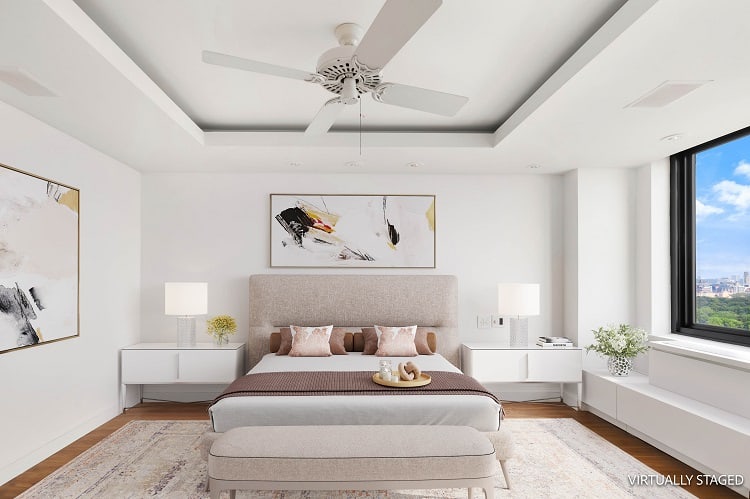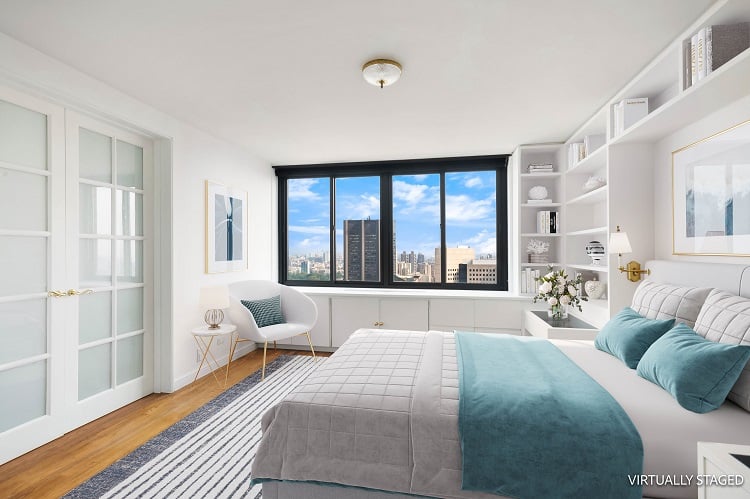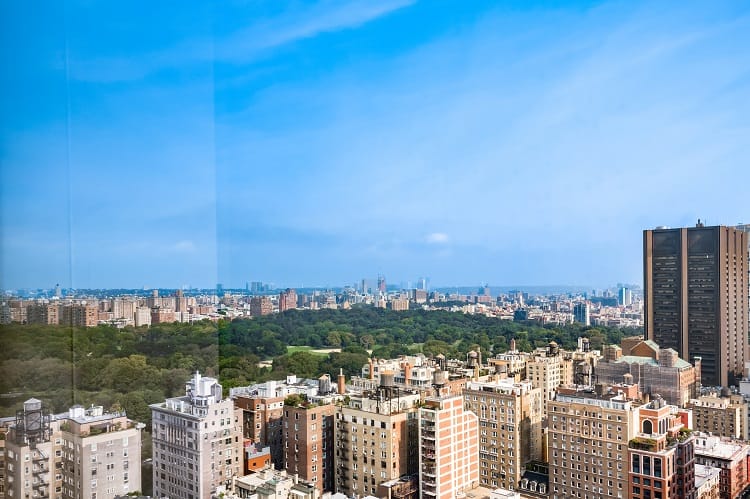 A glamorous UES apartment in an Emery Roth-designed building
Admiring a building's architecture from afar is not the only way to show appreciation to the creative mind that penned its design.
The next home on our list is part of a white-glove cooperative situated directly on Central Park at the corner of 74th Street — designed by none other than Emery Roth.
Roth is considered to be the city's greatest architect of pre-war apartment buildings, having designed many of the definitive New York City hotels and apartment buildings of the 1920s and 1930s, including the San Remo building, the Beresford, the Ardsley, and even served as associate architect to Margon & Holder's iconic twin-tower apartment building, the Eldorado.
But it's not just the architecture that sets this residence apart. The renovated 2-bedroom, 2-bath home greets visitors with a large formal foyer whose walls are adorned with stylish grey Venetian plaster. This leads into a spacious living room with beamed ceilings, crown molding, and custom built-ins.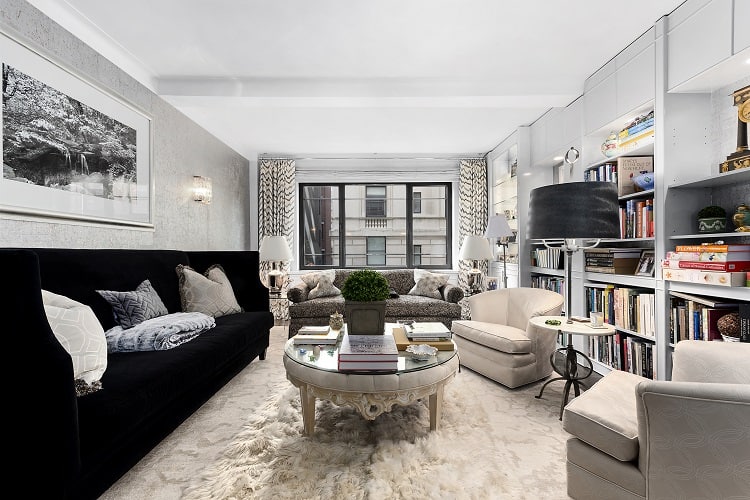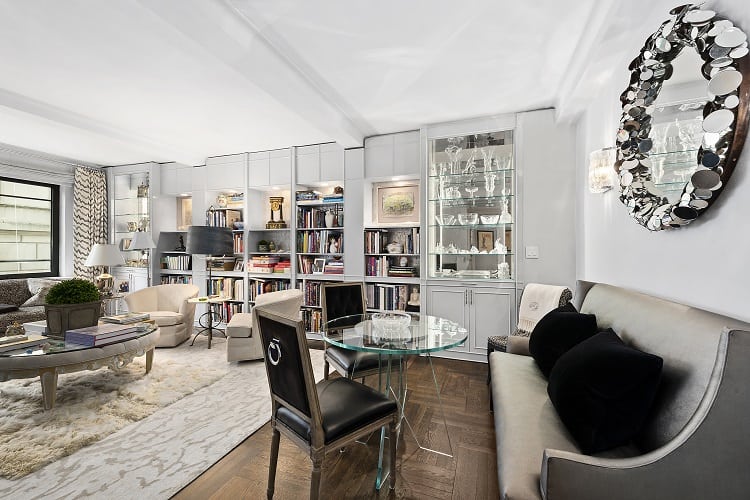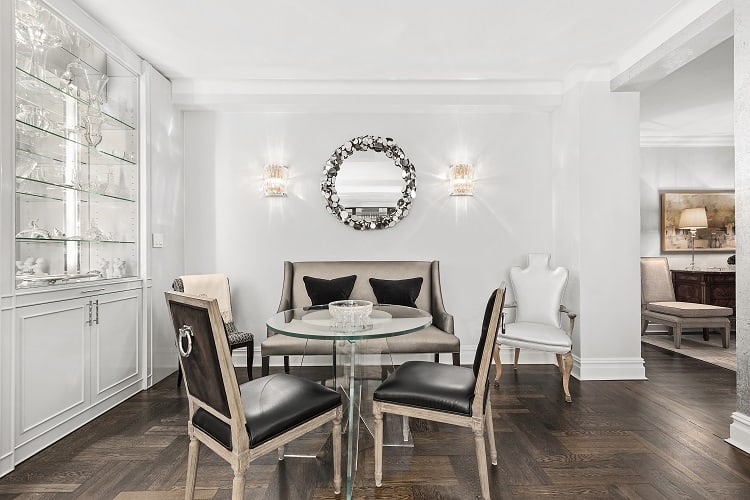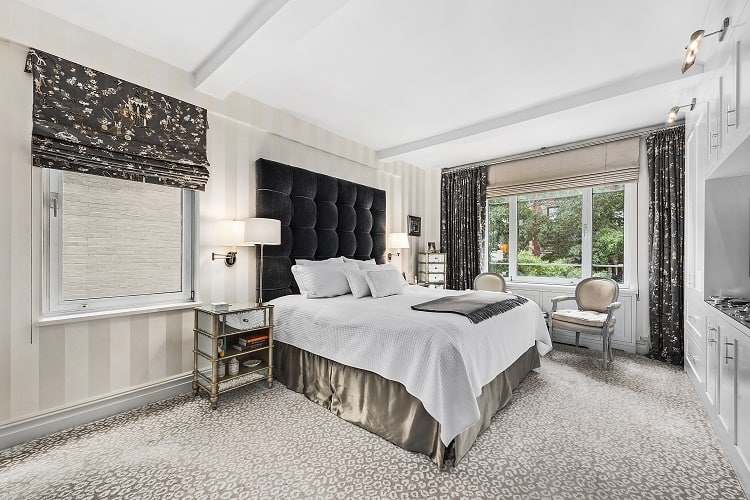 Priced at $2,300,000, the Upper East Side apartment is listed with Michael J. Franco of Compass, and comes with an highly desirable address — 930 Fifth Avenue — which places it mere steps away from high-end dining, shopping, and cultural destinations, including The Metropolitan Museum of Art, The Frick Collection, The Mark, and the Carlyle.
A distinguished pre-war co-op on Museum Mile, designed by renowned 1920s architect J.E.R. Carpenter
This four-bedroom, three-bathroom home is a relic of New York architecture itself, but don't let that fool into thinking that it lacks any modern-day amenities or comforts.
The residence is part of one of the most spectacular pre-war co-ops on Museum Mile — located at 1120 Fifth Avenue.
The exclusive building was designed by renowned architect J.E.R. Carpenter, the leading architect of luxury residential high-rise buildings in New York City in the early 1900s. In a tribute to the architect's life work, the New York Times called the Tennessee native "The Architect Who Shaped Upper Fifth Avenue".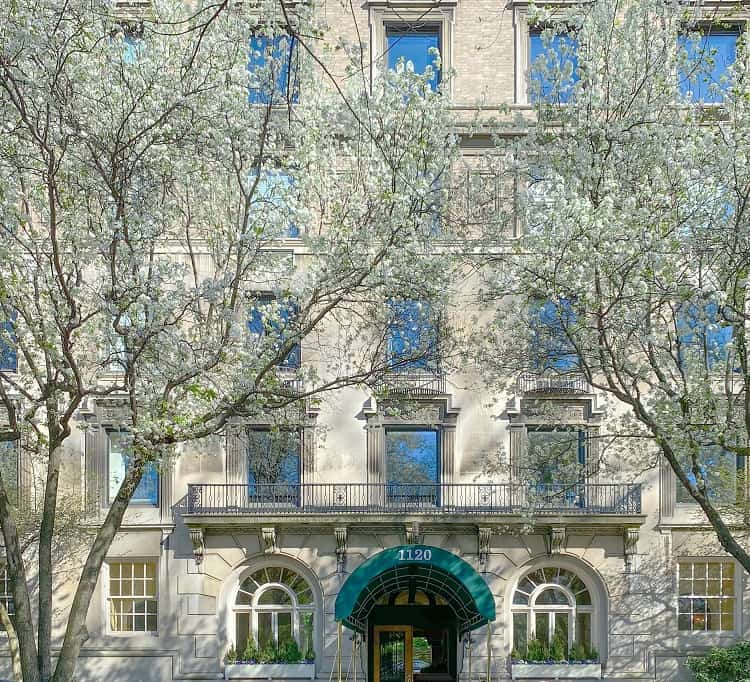 Pairing old New York grandeur with comfortable elegance, the $8.8 million residence stuns with its stylish finishes and oversized picture windows.
With a spacious living room anchored by a wood burning fireplace framed by an exquisitely detailed marble mantel, a formal dining room, and elegant library finished in pear wood paneling, this meticulously renovated home is clearly looking for a discerned buyer that can appreciate its timeless elegance.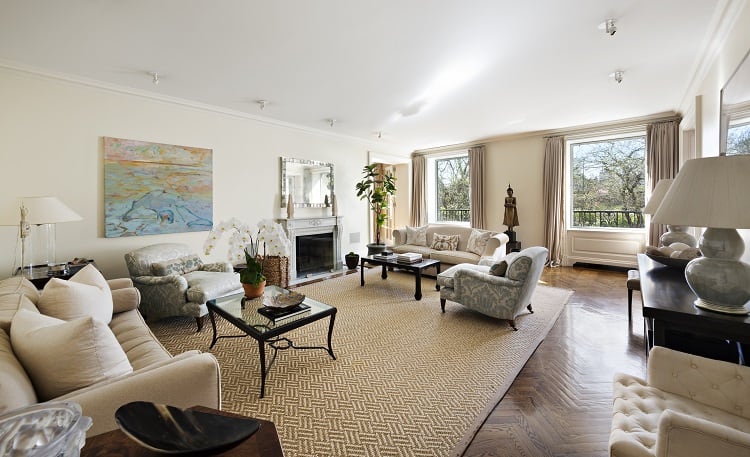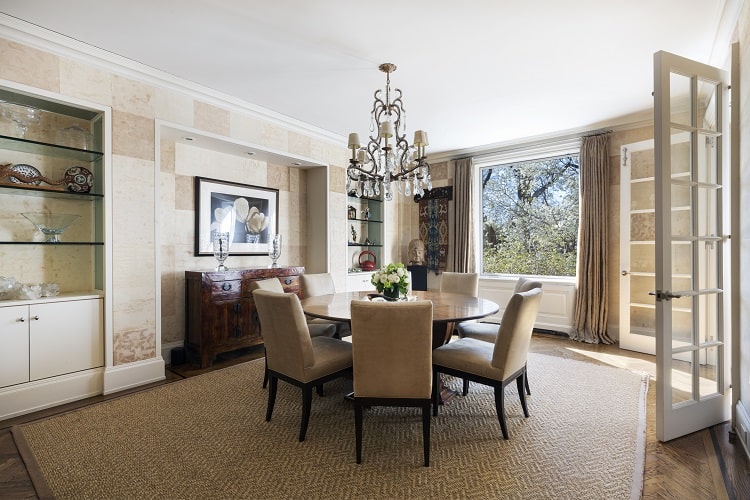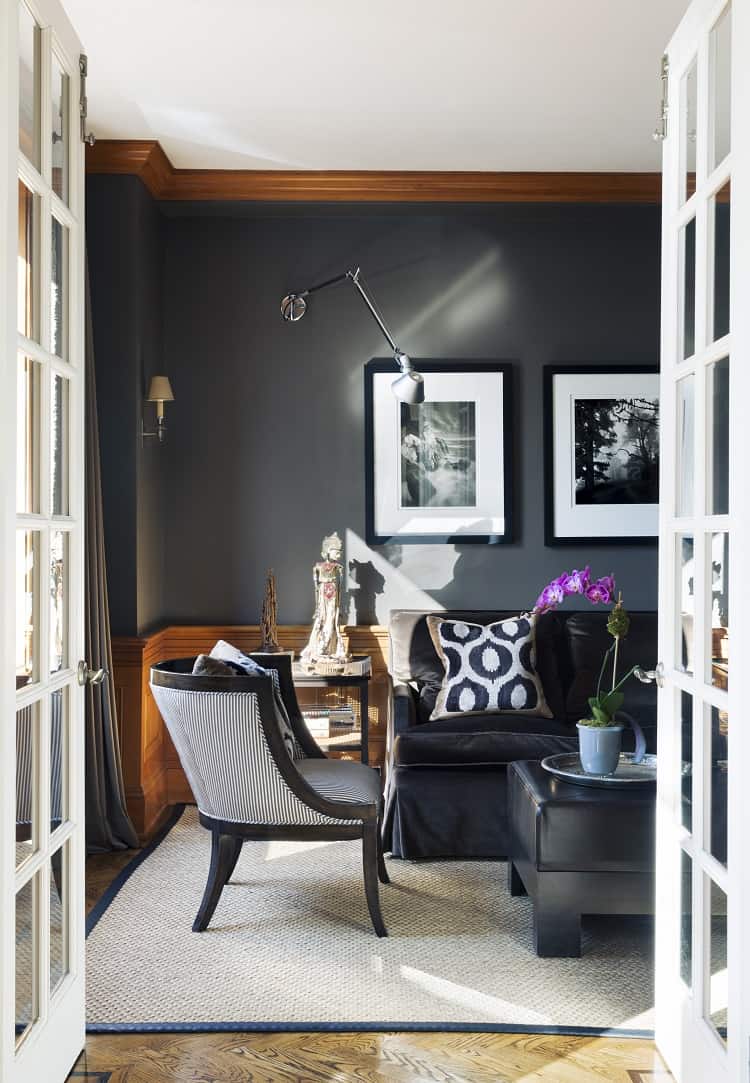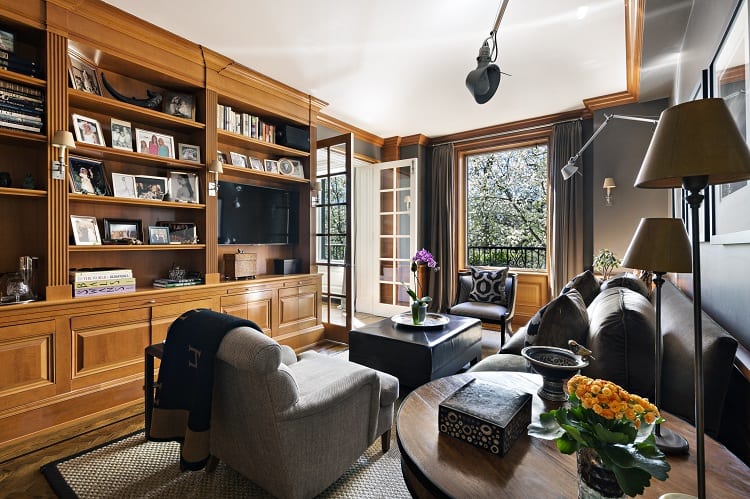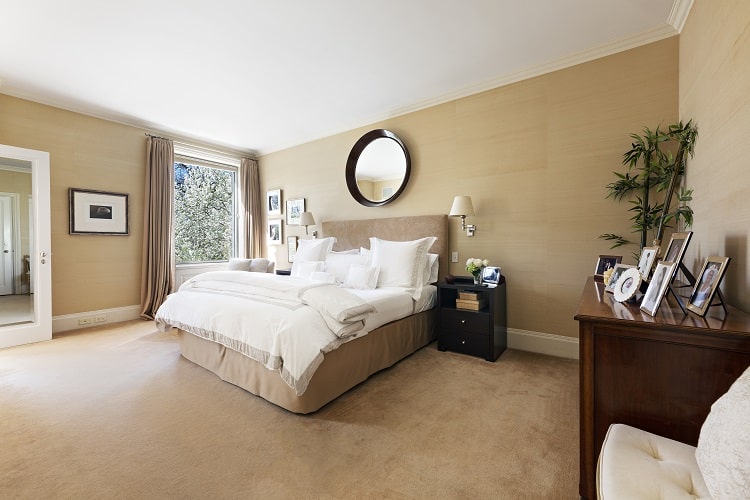 The property is currently listed for sale with an $8,800,000 price tag, with Ana Centola of Warburg Realty holding the listing.
Now, if you're not currently on the look-out for a new place to call home but would still very much like to celebrate the unique architecture of the city, head over to the Archtober website for a full list of the activities and events scheduled to take place this month.
Keep reading
'Biggest Loser' Host Bob Harper's Industrial-Chic NYC Pad Is On the Market for $2.3 Million
See Inside a $5.7M Coco Chanel-Inspired Condo in the Trendy 40 Bleecker Building in NoHo, Manhattan
Actor Nathan Lane is Selling His Designer Apartment in Tribeca for $4.65 Million
Neil Patrick Harris Lists Stylish New York City Brownstone for $7.3 Million