A fabulous Pacific Palisades mansion recently came to market, and its sheer beauty and serene interiors make it the perfect distraction from the rest of the news hitting us this week.
The brand-new, three-story home was designed and built by renowned developer/designer duo David and Eliana Rokach, who also worked on the stunner at 14300 Sunset Boulevard — the massive $20 million estate in close-by Rustic Canyon — and it shows.
Upping the stakes from 14300 Sunset Boulevard, the new $26 million estate at 568 Chautauqua Blvd. offers a sprawling 13,543 square feet of modern living space, and packs 9 bedrooms and 12 bathrooms. The location: the upscale neighborhood of Huntington, in the Pacific Palisades.
The excellent location comes with the added perk of having unobstructed views of the Pacific Ocean and the Santa Monica Canyon, which alone drive up the asking price by a few cool million.
But when it comes to the merits of this stunning property, that's merely scratching the surface.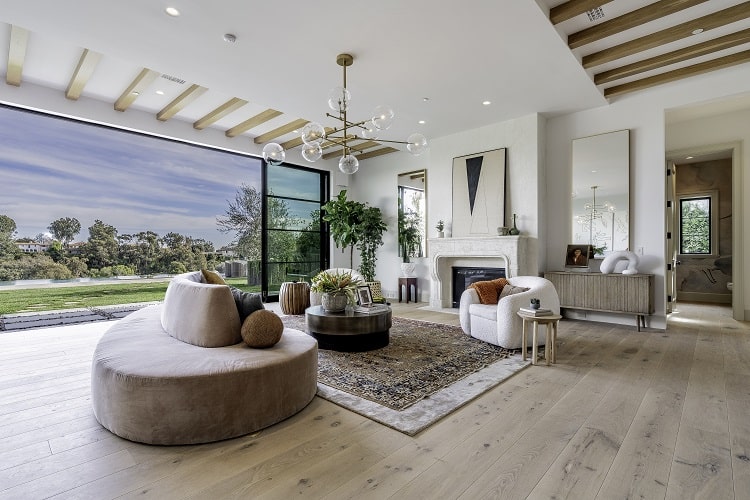 When you first enter the property through the gated entry, you're greeted by a sprawling courtyard and a double-height, custom front door. 
More stories you might like
Stepping inside, you'll find an open-concept living/dining room finished in a chic, contemporary style.
The living room features custom-made electronic sliding steel doors that open to a beautiful outdoor area, which offers a barbecue area, a grassy backyard, an infinity edge swimming pool opening up to views for miles.
The lower level of the Pacific Palisades home includes a large media room for entertaining, and another outdoor area for relaxing.
There's also a gym, four bedroom suites, a sauna and a steam shower, a laundry room, a large mudroom, and an elevator. Last but not least, a 10-car parking garage is also included.
Upstairs, you'll find four more bedroom suites, including a fabulous master bedroom that features dual closets and baths.
The master bathroom is designed with natural Quartzite stone, and features bi-fold steel doors that open up to a master patio with views of the ocean and the canyon. 
The newly built Pacific Palisades abode incorporates a total of nine full bathrooms and three half-bathrooms, as well as a kitchen and an adjacent chef's kitchen.
There are also three fireplaces in this home, in the master bedroom, the living room, and the library.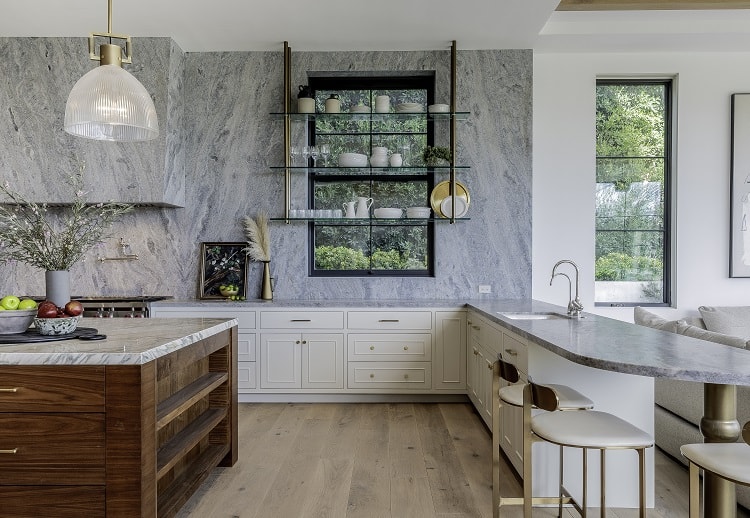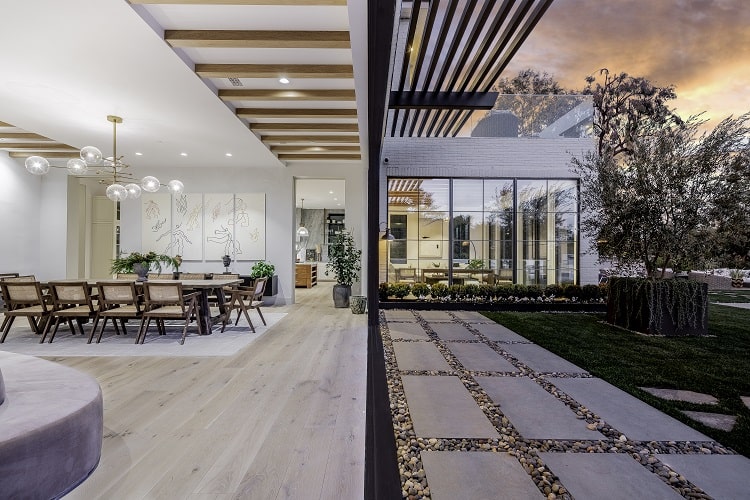 The home is being marketed by The Agency's Santiago Arana, and it's asking $26 million — which makes it the most expensive home currently for sale in Pacific Palisades.
But that's no outlier for the posh residential area; just two years ago, the most expensive home in Pacific Palisades, a 7-bedroom, 13-bathroom estate reminiscing of 18th Century English manors, fetched close to $34 million.
Then, there was that time 10 years ago when actor Tom Hanks broke Los Angeles records when he paid $26 million for a Pacific Palisades home. Now, even if the home sells at full ask, it will be shy of reaching any new records for the area.
More stunning homes
Celebrities living in Pacific Palisades
Arnold Schwarzenegger's house in Pacific Palisades
Gwyneth Paltrow's house in Montecito