Update: This article has been updated to reflect the property's recent sale.
The "Billionaire", the elaborate Los Angeles spec house built by handbag entrepreneur Bruce Makowsky that held a mind-blowing listing price of $250 million when it first hit the market in 2017, has recently found a buyer.
Only the selling price was a far cry from the ambitious initial asking; the gargantuan 12-bedroom, 21-bathroom mansion commanded a sale price of $94 million, a striking 62 percent markdown from its 2017 price — that made it the most expensive U.S. home at the time.
One of the most elaborate homes in the country, with a candy room and a crocodile skin-clad elevator, the "Billionaire" mansion at 924 Bel-Air made its debut at a time when the high-end Los Angeles market was riding high following a couple of record-breaking sales.
See below for a breakdown of its time on the market, as well as the home's most striking features.
---
Previous reporting: The megamansion may have started 2018 as the pinnacle of luxury — with a mindboggling asking price of $250 million — but Bruce Makowsky's ambitious spec home has had a though year.
After undergoing a hefty price cut, 924 Bel-Air Road's listing price went down to $188 million mid-last year. But the fresh price didn't have the intended result, as there was still no buyer in sight for the once most expensive home in the U.S.
Determined not to leave it linger on the market through 2019 as well, developer Bruce Makowsky just brought the megamansion back to market for $150 million — a staggering $100 million less than its original asking price.
That bumps the Bel-Air property nicknamed 'Billionaire' further down the list of most expensive homes in the U.S., with neighboring 875 Nimes Road and Beverly Hills' Villa Firenze both out-pricing it.
New $150 million price tag for the amenity-rich Billionaire home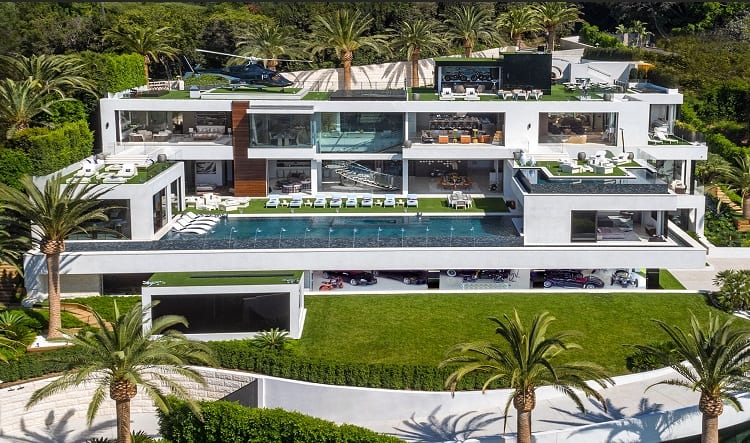 Admittedly, the Billionaire's ego has taken a $100 million hit in the past year. But that doesn't make it any less of spectacular.
Developer Bruce Makowsky, with his extensive experience in the luxury industry — marketing mega-yachts and large private jets that can sell for up to $500 million — has carefully curated the amenity roster to appeal to the world's richest.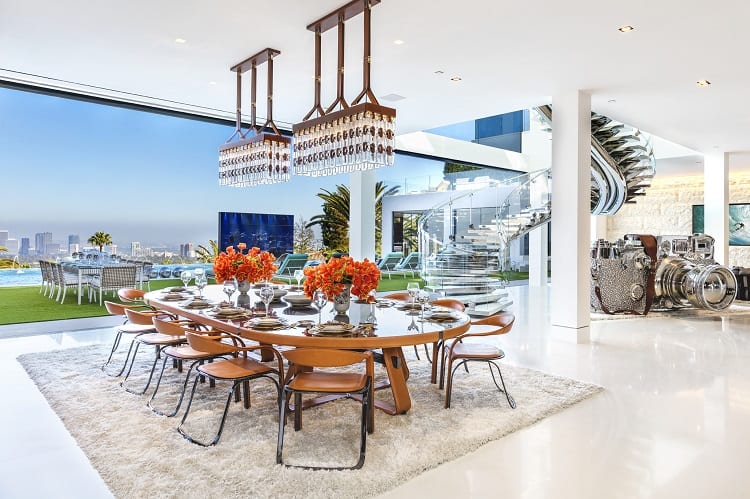 With 38,000 sq. ft. of indoor living space and 17,000 sq. ft. of entertainment decks, the Billionaire mansion has two master suites, 10 oversized guest suites, 21 luxury bathrooms, three gourmet kitchens, five bars, a massage studio/wellness spa, state-of-the-art fitness center, and an 85-ft glass tile infinity swimming pool.
Had to pause to give you a chance to catch your breath, but the list goes on: a 40-seat 4k Dolby Atmos Theater, a four-lane bowling alley, sprawling auto gallery, an outdoor hydraulic pop-up theater, two fully-stocked champagne/wine cellars, and what's said to be the most advanced home technology system in the country.
In terms of art, the Bel-Air mansion has over 100 curated art installations — some of them one-of-a-kind works of art collected from around the world.
Oh, and did I forget to mention the massive assorted candy wall?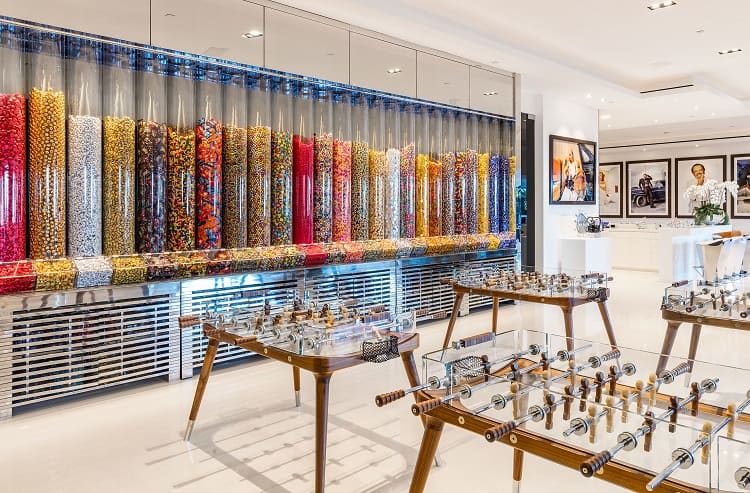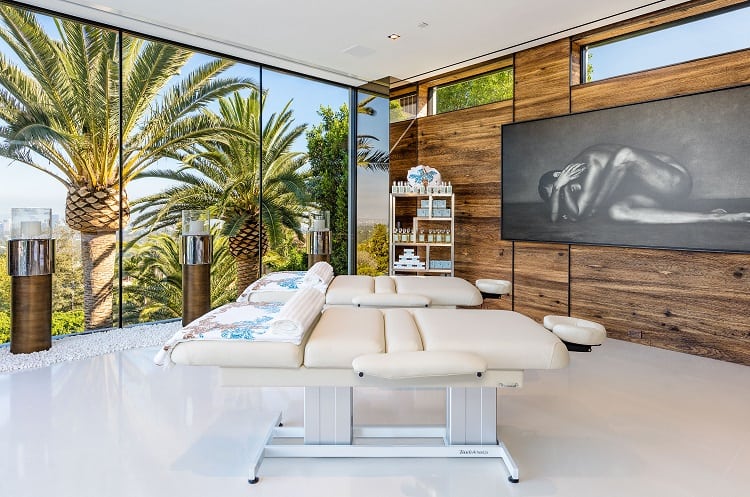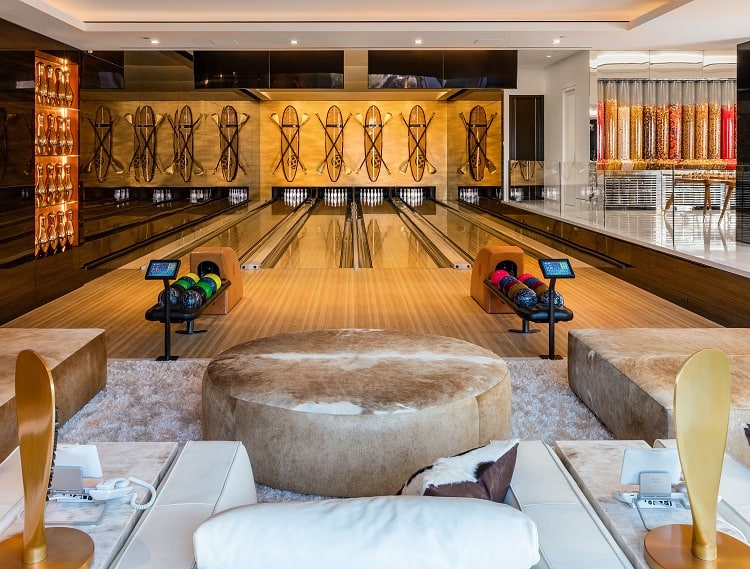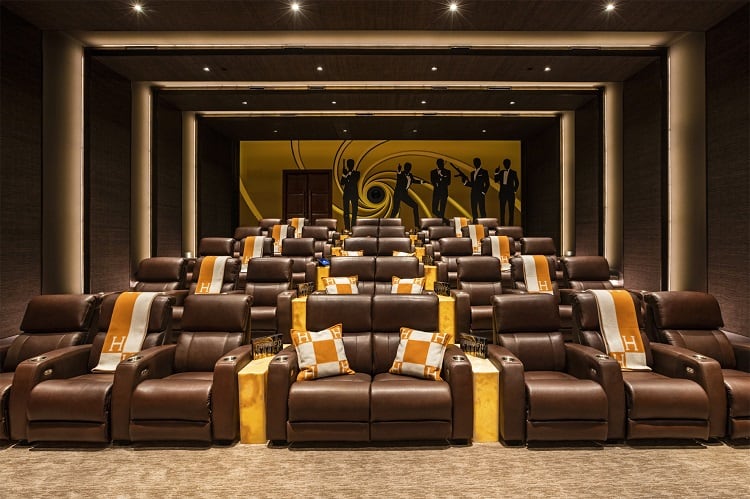 924 Bel-Air developer Bruce Makowsky is no stranger to breaking price records: in late 2014, he sold his 1181 N. Hillcrest Drive spec home for a full $70 million — which made it the most expensive home ever sold in Beverly Hills.
That sale was the one to command the ambitious initial listing price of $250 million. Based on the success of 1181 N. Hillcrest Drive, he set out to build the most extraordinary house in the United States, taking all the luxuries he had imagined for the initial property to a whole new level.
But that may have been a little too ambitious, and Makowsky didn't shy away from admitting that when announcing the price cut: