If you haven't had a chance to book your summer vacation just yet, join us on a quick trip.
The destination is the sun-bathed province of Andalusia, Spain, where a striking $23 million contemporary villa built in 2020 has recently hit the market. Gideon Lang-Laddie of The Agency holds the listing.
Dubbed Villa Vela, the sprawling 23,476-square-foot property pairs contemporary design with an endless list of amenities that make it a dreamy destination in itself.
Some of its many standout features include a full spa, Turkish bath, jacuzzi, sauna, a resort-style pool, fully-equipped fitness center, a glass wine cellar, and a multi-tiered movie theatre.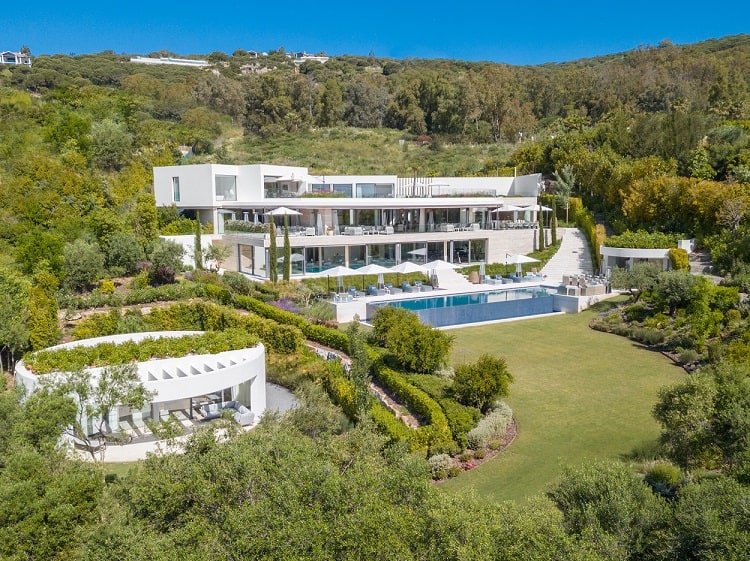 Location, location, location: A slice of paradise in Peninsular Spain
One of Spain's most sought-after destinations, Andalusia is a large autonomous region of hills, rivers, and farmland bordering Spain's southern coast.
A rugged land of medieval castles, broad beaches, and Moorish-tinged cities, Andalusia attracts countless tourists year after year, who travel from all corners of the world to see landmarks like the Alhambra palace in Granada or Córdoba's Mezquita Mosque-Cathedral.
The architectural marvel that is Villa Vela stands as the crown jewel of Sotogrande, the largest privately-owned residential development in Andalusia.
The 2.4-acre property is part of La Reserva, the newest of Sotogrande's eight zones, which comes with its own 18-hole golf course.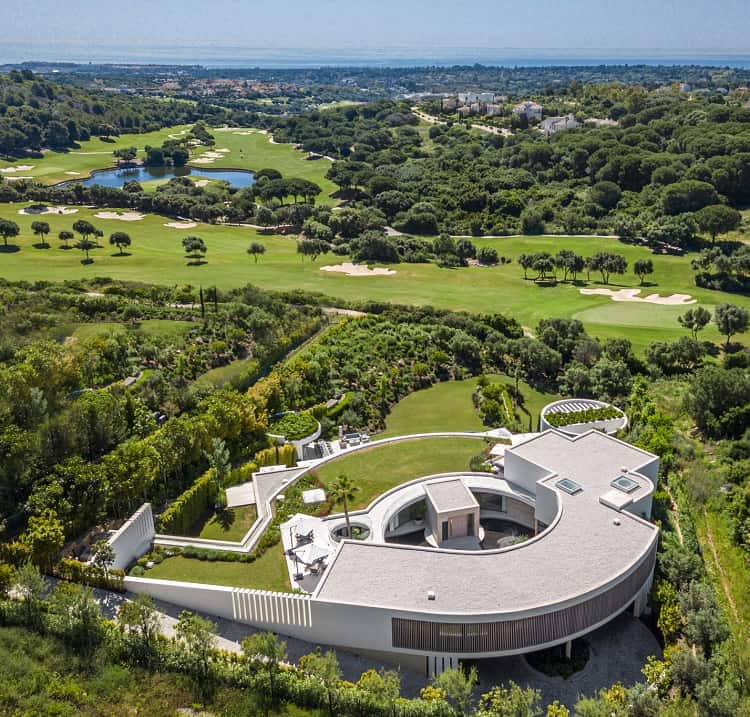 Villa Vela: One of Europe's finest contemporary homes
Sitting behind its own gates, at the end of a sweeping driveway, Villa Vela offers a total of 6 bedrooms and 6 baths spread across its generous 23,476 square feet of living space.
With a striking modern architecture characterized by a predominantly circular design, Villa Vela is lined both inside and outside with the finest of travertine, the color of which warms to the glow of the Andalucian sun.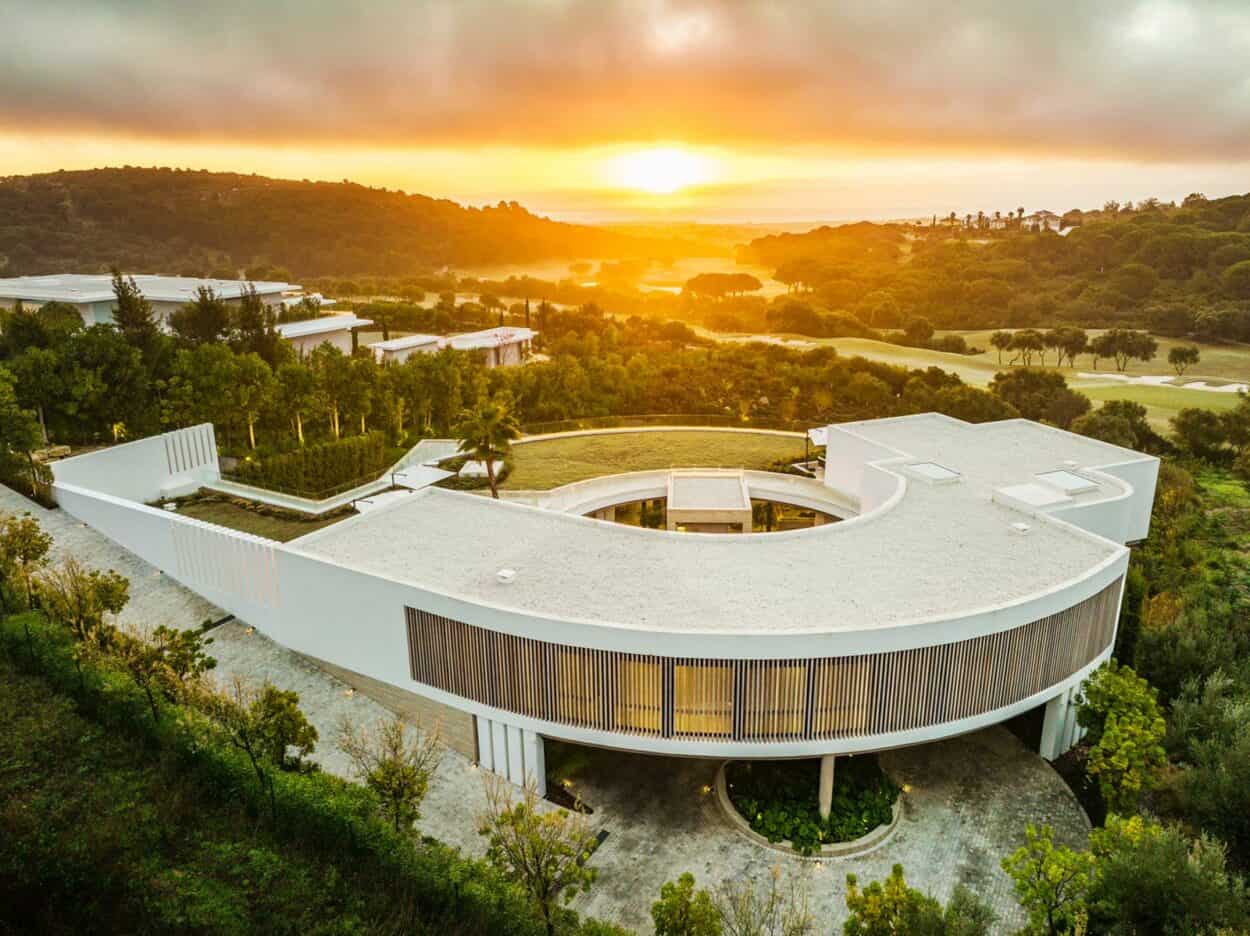 A circular driveway set amongst lush landscaping leads to a path and grand entrance, which sits above a shallow pool reflecting light onto the curves of the architecture.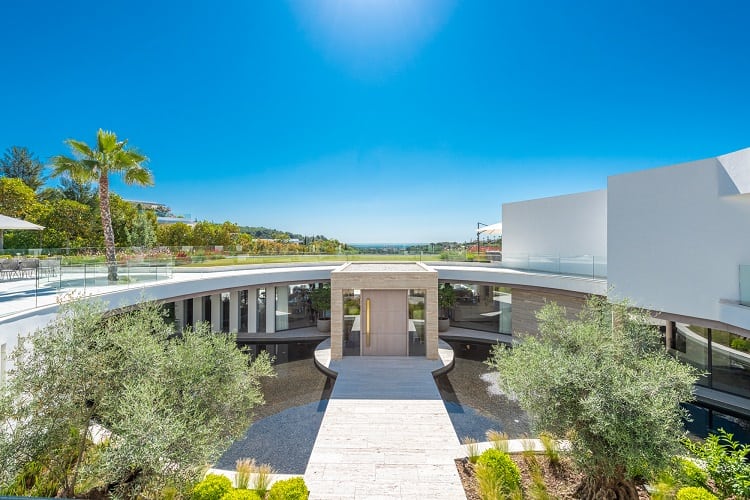 Heading inside, the villa boasts the finest furniture and finishes and sports an interior design that is perfectly in sync with both the home's architecture and its landscape.
The property has been designed to be free-flowing and, as such, is as open-plan as could be.
The main entertaining level boasts a grand hall that features a formal dining area, living room, and reception area, as well as floor-to-ceiling retracting windows that open directly onto a terrace that stretches from one end of the house to the other.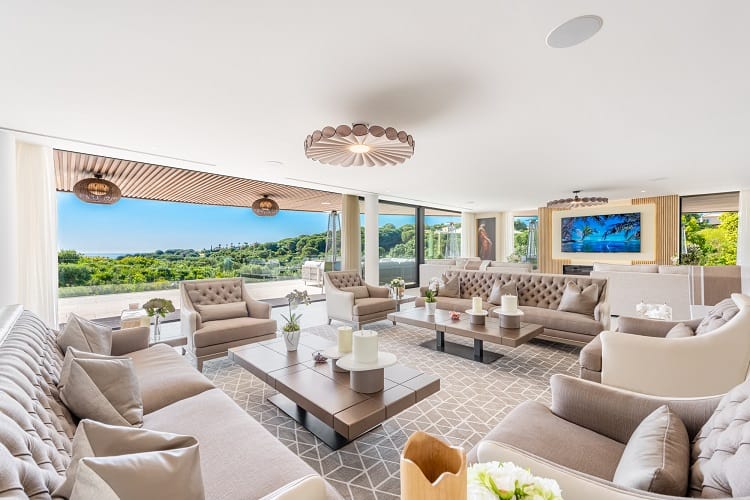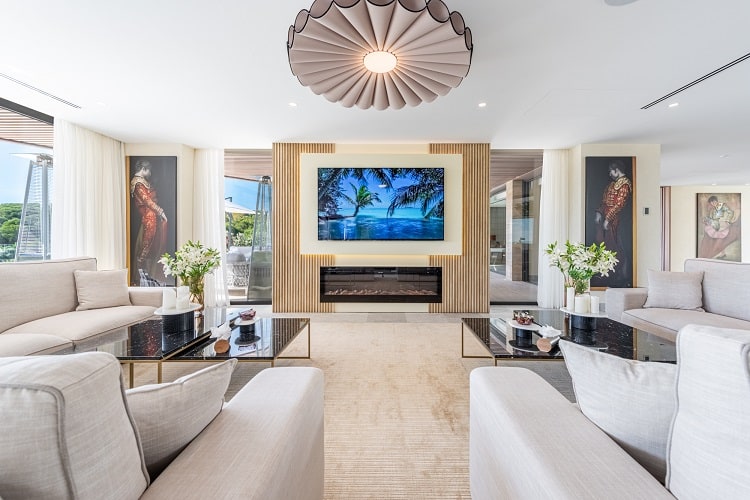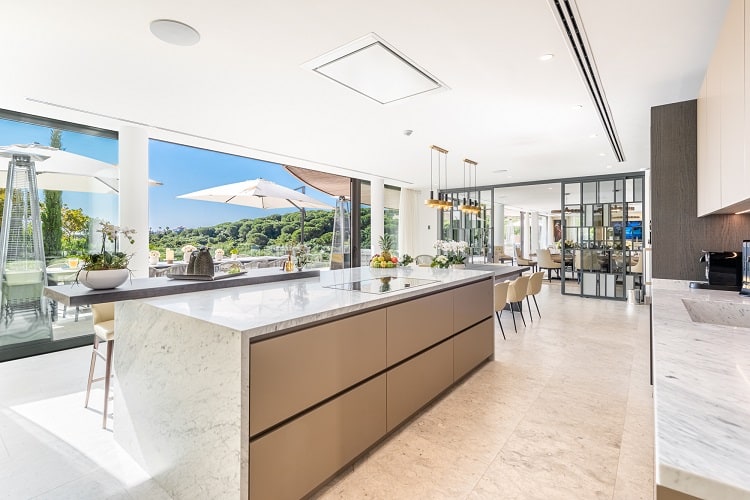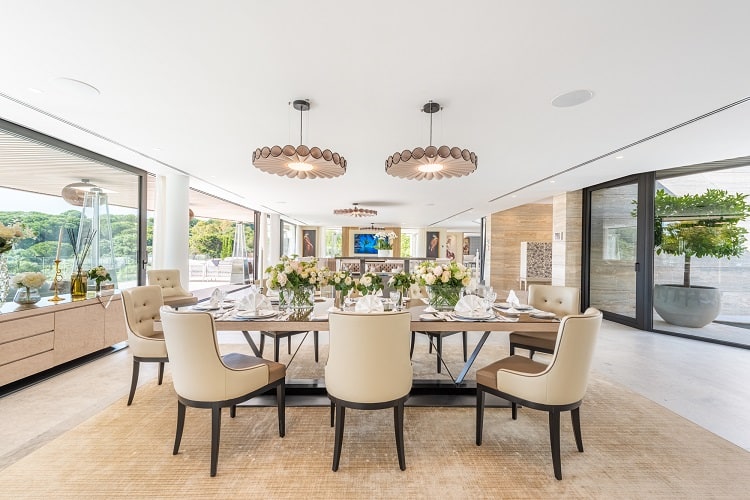 The upper level is home to all of the property's bedrooms and suites, including the primary suite — which comes with a white-oak dressing room, a bathroom with picture-postcard views, and a private terrace and garden.
Each of the remaining suites has been individually designed, exquisitely laid out, and finished with the greatest attention to detail.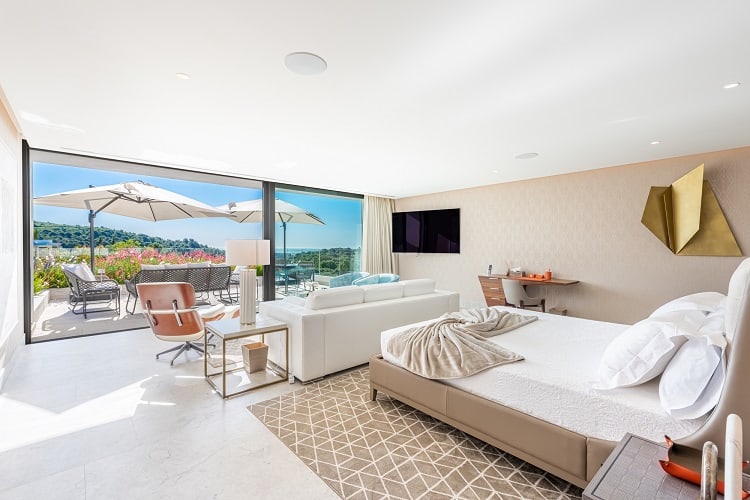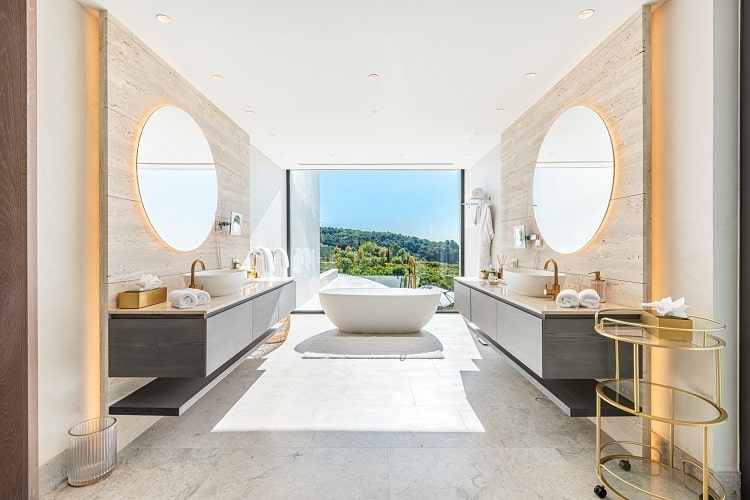 It's also worth noting that each of the suites has its own outdoor space, and they also all connect directly to the vast upper terrace, its lawn, garden, and dining area, and benefit from breath-taking views.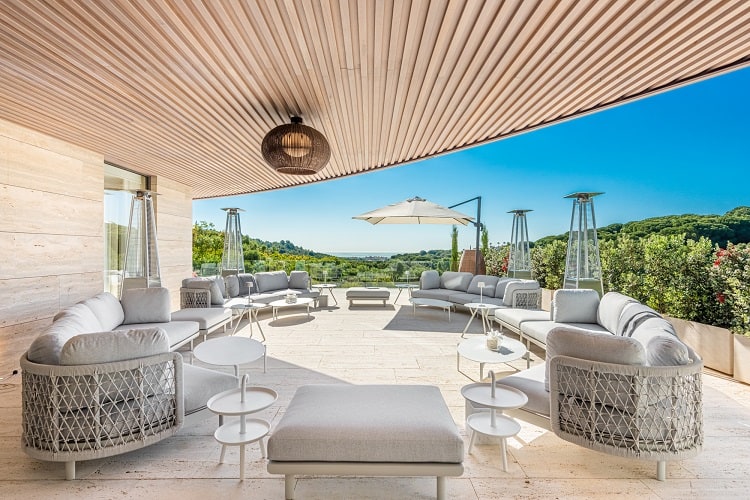 The views that lie ahead are spectacular.
Views of the cobalt Mediterranean, La Reserva Golf course, hills of established cork trees, and distant pockets of traditional Spanish village architecture can be enjoyed throughout the home.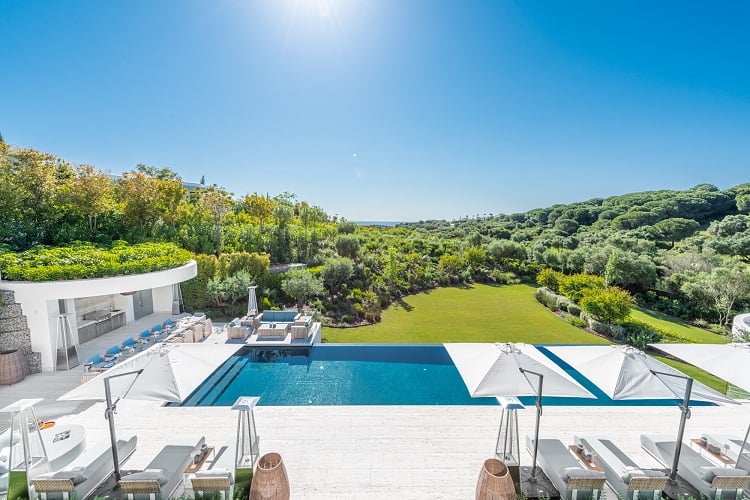 And if our tour of this phenomenal property left you wanting more, know that it's recently been featured on the popular YouTube channel Gideon's Roadshow, where you can see it in all its splendor.
Gideon himself (by his full name, Gideon Lang-Laddie) holds the listing, currently on the market for $23 million.
More stories you might like
A $24M Fort-Like Estate Towers Over the Caribbean in St. Thomas
Manhattan Beach's priciest listing is a $36M modern mansion with luxury resort vibes
A Japanese-Inspired Home in the British Virgin Islands Is its Own Slice of Paradise
Prince's Beach House in the Caribbean Finds New Owner, Changes Name to Emara Estate