In the ritzy residential enclave of Bel Air, a striking modern mansion was recently brought to market with a whopping $35,680,000 ask — and all the amenities, luxurious finishes, and ingenious additions that a price like that commands.
Envisioned by spec home developer Adrian Rudomin and his son Diego Rudomin, the managing and artistic force behind the high-end luxury home development company Leviathan LLC, the sprawling modern mansion offers 10 bedrooms, 11 bathrooms, and 5 half baths across an extra generous 18,500 square feet.
Aptly called El Canto Del Agua, which translates to 'The Song of the Water', the name is likely a play on words connected to the property's many water features — which include a terraced infinity edge pool with cascading waterfalls and a massive Roman-style bath that rounds up its fitness/wellness gym.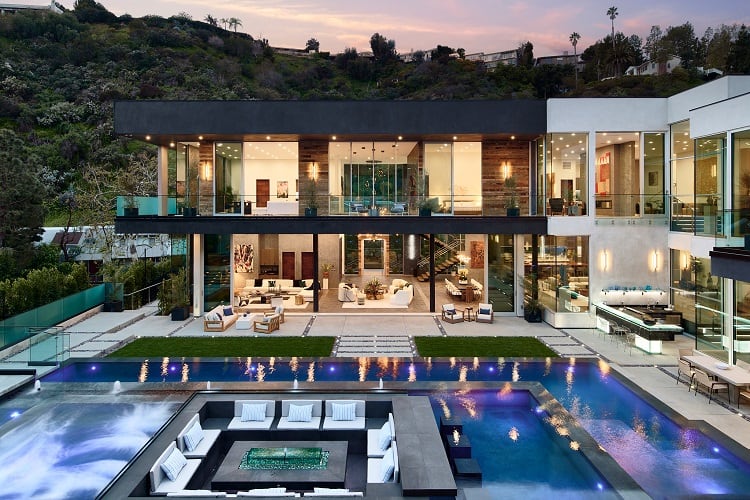 Its bold, distinctively modern exterior architecture incorporates geometric shapes, oversize glass panels, and organic shiplap accents to "form a serene refuge in harmony with its natural California environment," per the listing.
But it's the property's interiors that steal the show.
Inside, a double-height foyer gives way to a large great room that offers novelty at every corner as walls of windows reveal the lush outdoor landscape and sunny Cali skies.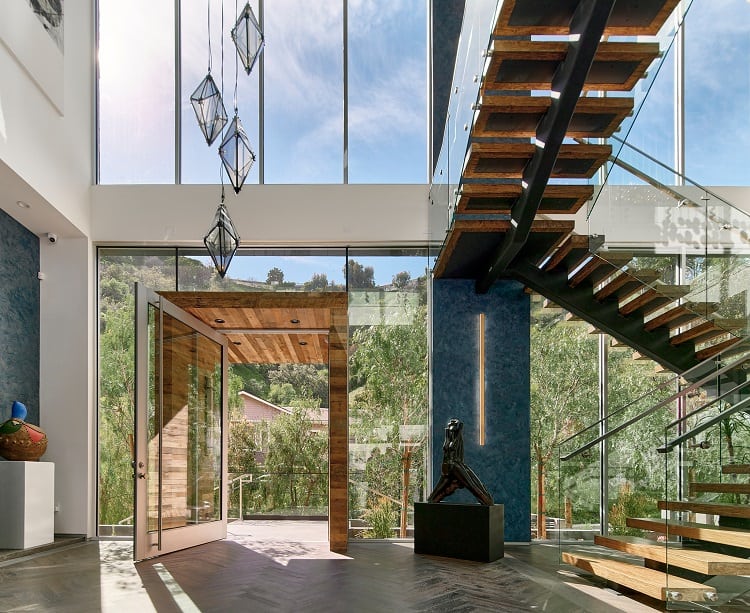 Every space has been carefully crafted and decorated, so much so that the entire home looks curated in a museum-like fashion.
SEE ALSO: Dream house alert: 18 modern mansions that redefine house goals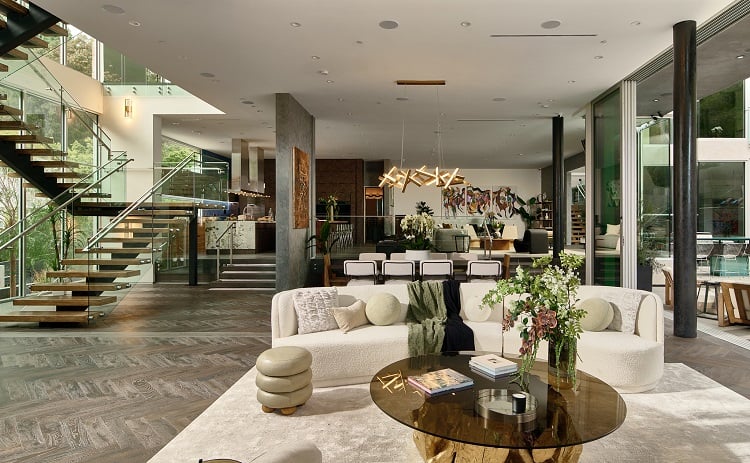 Floor-to-ceiling walls of glass line the living spaces, offering that indoor-outdoor living experience — enhanced by the property's lush location and extensive outdoor water features.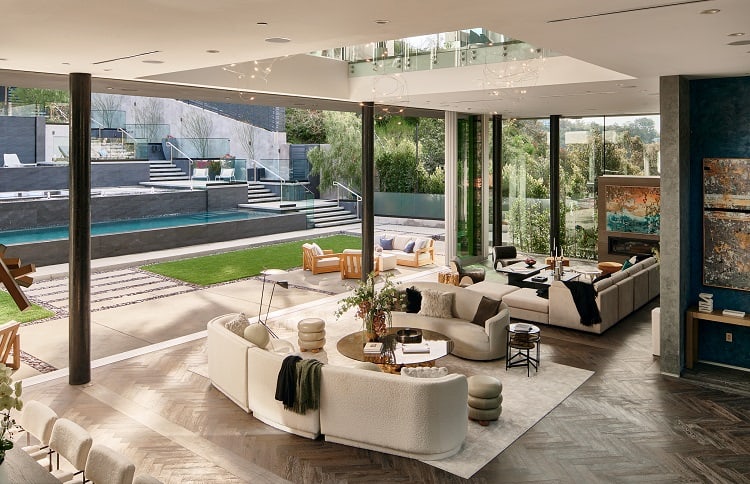 The exquisite gourmand's kitchen is appointed with sleek lines, smooth surfaces, Italian hand-made cabinetry, and two oversize islands, one of which is topped by live-edge redwood imported from the tropical rainforests of Brazil.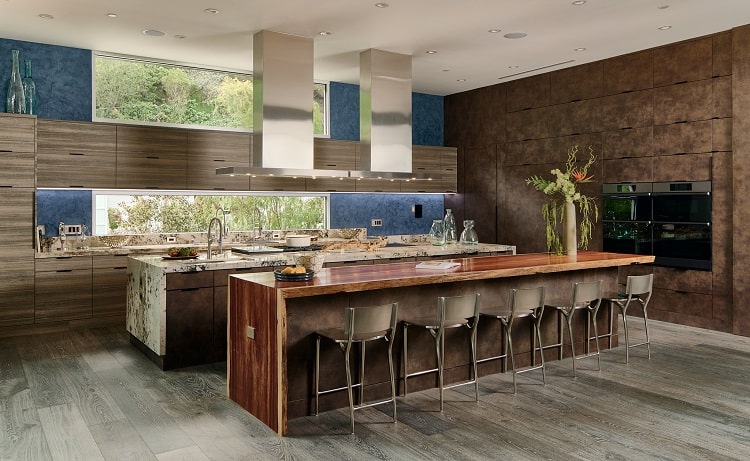 The Bel Air mansion was clearly designed with entertainment in mind.
There are countless spaces for welcoming guests, offering options for large parties and intimate gatherings alike. But the grand family room is truly an entertainer's dream, with its large bar constructed of purple heart wood which sits right next to a floor-to-ceiling glass wine cellar that holds more than 1,000 bottles.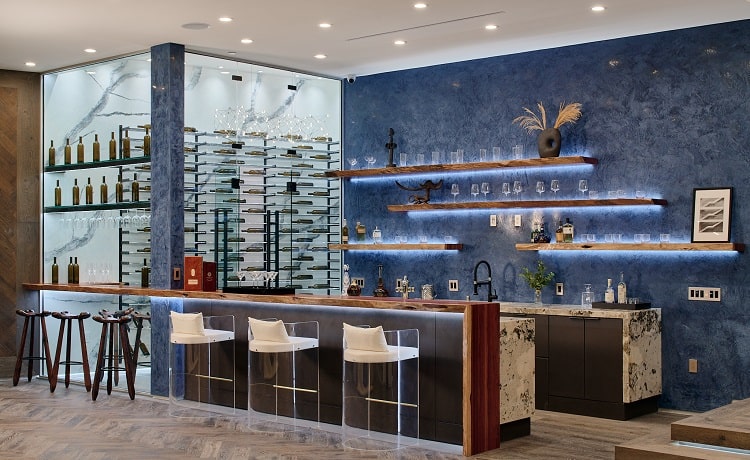 On the upper level we find the massive primary suite — which is bigger than my entire apartment, spanning 2,700 square feet.
Beyond its impressive size, the primary suite also flaunts double oversized closets, a sitting room, home office, patio, and a centerpiece fireplace.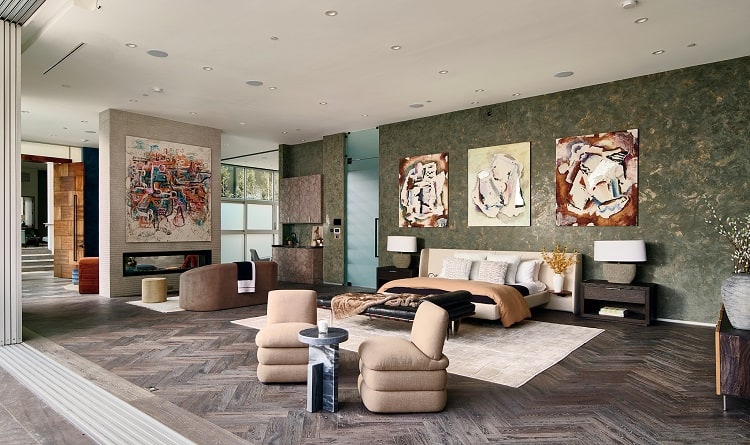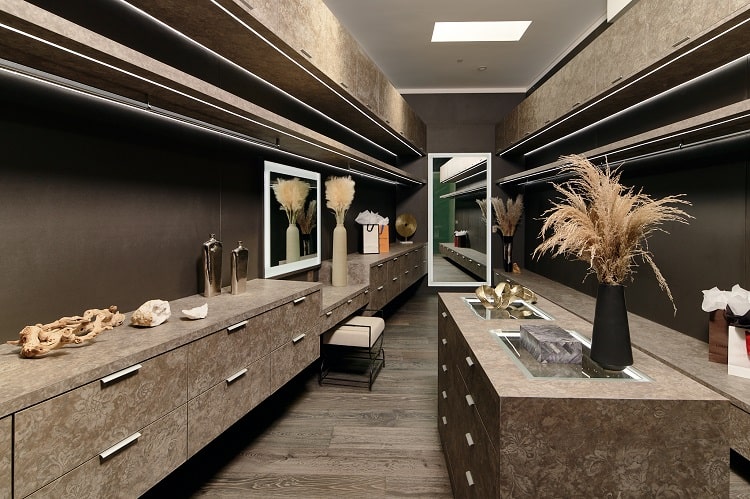 The en-suite bathroom is spa-inspired and comes with double rainwater showers, soaking tub, and two water closets (to clarify, a water closet is an enclosed space within a bathroom with a toilet where you can do your business in peace).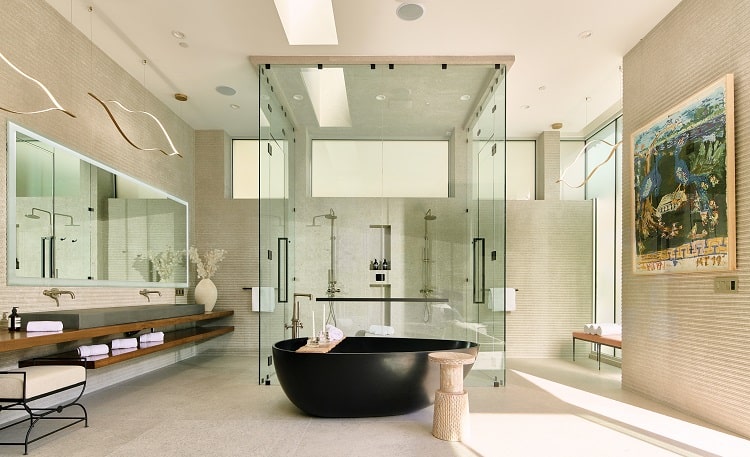 With countless other amenities, ranging from a rooftop sun deck to a home theater that seats up to 20 guests, the Bel Air mansion is a true showplace.
SEE ALSO: The 'Fresh Prince of Bel-Air' House Isn't Even in Bel-Air
But the one feature that caught our eye (and got us daydreaming about winning the lottery and moving in) was its Roman-style bathhouse and spa with a jetted tub, which looks like the perfect spot to end the day and unwind.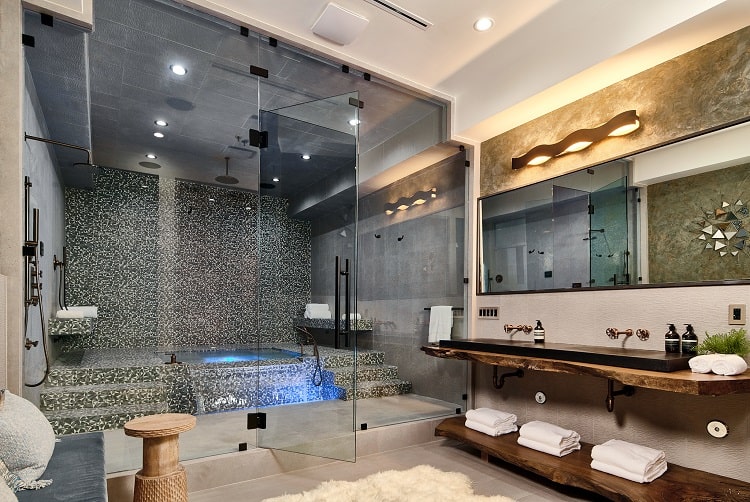 Outside, the stunning backyard is anchored by a terraced pool with cascading waterfalls, stepping stones, and conversation fire pit that is as much a work of art as it is a space for leisure and relaxation. The backyard is also home to a towering heirloom cactus that has been meticulously preserved and protected during the building process.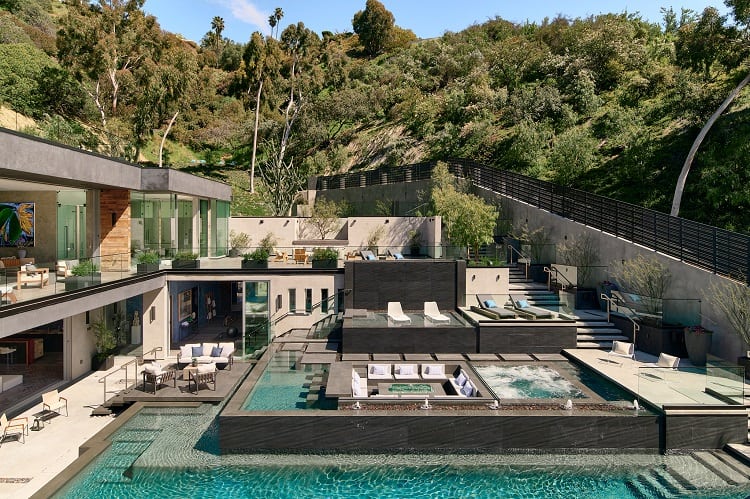 The striking Bel Air mansion is currently on the market for $35,680,000, with Marco Rufo and Farah Levi of The Agency holding the listing alongside Sally Forster Jones of Compass.
The property was brought to market by Adrian Rudomin and his son, Diego Rudomin, the managing (and artistic) forces behind the high-end home development company Leviathan LLC, whose luxury homes often run in the tens of millions of dollars and are known for their unique blend of progressive, modern vision and traditionally inspired artistry — much like the Chantilly Rd property we toured today.
More stories you might like
'The One' mansion saga: from a $500M listing to its $141M auction sale
The Spelling Manor in Los Angeles: Everything you need to know
A striking $150M modern mansion could set a new record for Bel Air
The private homes aboard the NJORD Superyacht are the epitome of nautical luxury