It's official: the ultra-luxurious Villa Firenze, which long held the title of most expensive home in the U.S. has been auctioned off. And now, courtesy of the Wall Street Journal, we've also learned the price.
According to a recent report, the lavish estate sold for $100 million less than its former asking price, with a winning bid of roughly $60 million. There's still no news on who placed the bid, but we're confident it won't be long until we find out who the new owner is. After all, the property is anything but low-key.
The North Beverly Park estate had been lingering on the market for two years with a staggering listing price of $160 million. With no buyers in sight, its billionaire owner, Steven Udvar-Hazy, commissioned Concierge Auctions to work alongside Jeff Hyland and Rick Hilton (of leading L.A. brokerage Hilton & Hyland) to hold an online auction. Said auction has taken place at the end of January 2021, lasting from January 26th to February 2nd via their online marketplace, ConciergeAuctions.com.
And since the opulent mansion failed to make history as one of the most expensive homes ever sold in the U.S., it will now secure its place in our collective memory as the most expensive property ever to hit the auction block.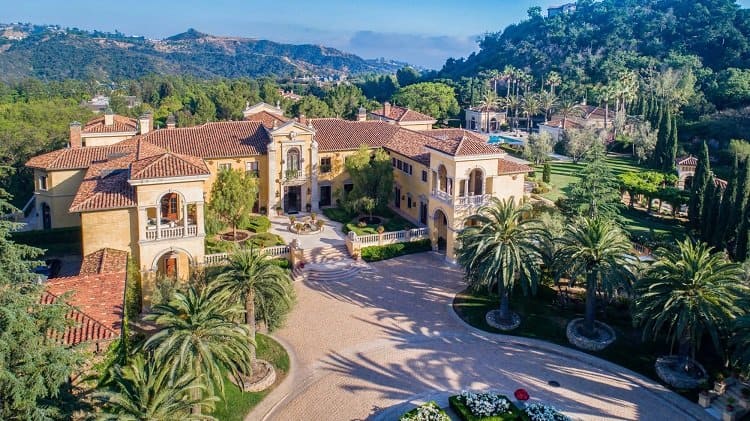 The most expensive home ever to be auctioned
Built by award-winning architect William Hablinski in the late 1990s, the massive estate took five years to complete. It was commissioned by its billionaire owner, 74-yeard-old Steven F. Udvar-Házy, who is currently the CEO of Air Lease Corporation, but whose past credits include starting his own airline and basically creating the airplane leasing industry. Forbes estimates his worth at $4.1 billion.
Spanning 9 acres, the village-like compound is anchored by a palatial 13-bedroom villa and was first listed back in 2018 for a staggering $165 million. Despite the hefty price tag, a sale wouldn't have secured the most expensive bragging rights for the property; that title goes to the penthouse atop 220 Central Park South, which sold in 2019 for a mind-boggling $238 million.
It does, however, make it the most expensive residential property ever to be auctioned, title held until now by another ultra-luxurious home, Playa Vista Isle, in Florida, which had been listed for $159 million. That property, also auctioned off through Concierge Auction, commanded a $42.5 million sale — which means Villa Firenze's $60 million sale secures its spot as the most expensive home auction in the history of the U.S.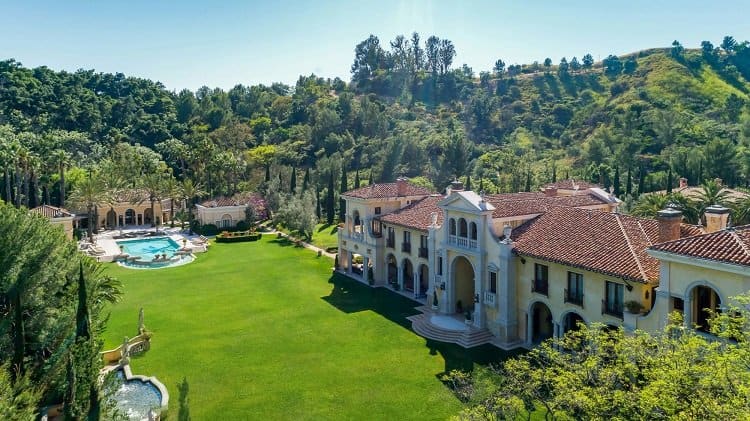 Villa Firenze amenities: What goes into a $160M property
Now, you might be wondering (and rightfully so), what types of amenities and how many rooms can a property have to command a $160 million price tag? The answer, put simply, is A LOT!
Access to Villa Firenze is granted through the property's own street, whose big gates open up to a huge courtyard (surrounded by palm trees) that fits 30 cars. Going into the villa itself, you'll find 13 bedrooms and 17 full, plus 8 half-bathrooms with marble and stone flooring, arched doorways, and multiple fireplaces. The interiors of the 20,000-square-foot mansion are equally luxurious as its palace-like exterior and are reminiscent of old-world royal homes with its paneled ceilings, opulent chandeliers, intricate wood-carved furniture, and tufted chairs.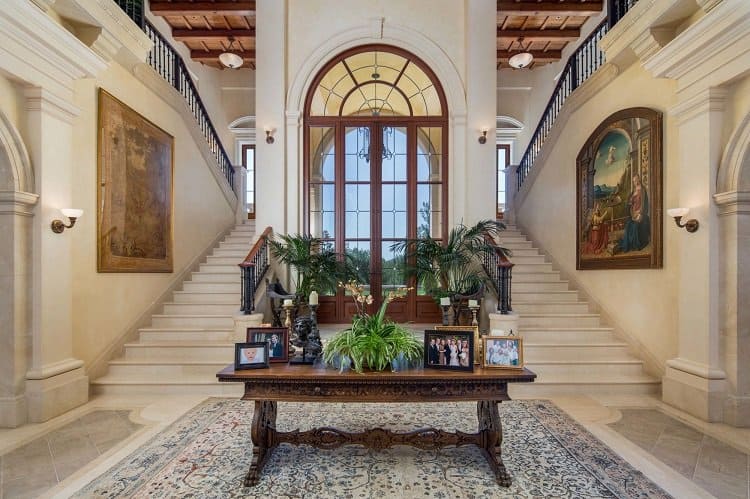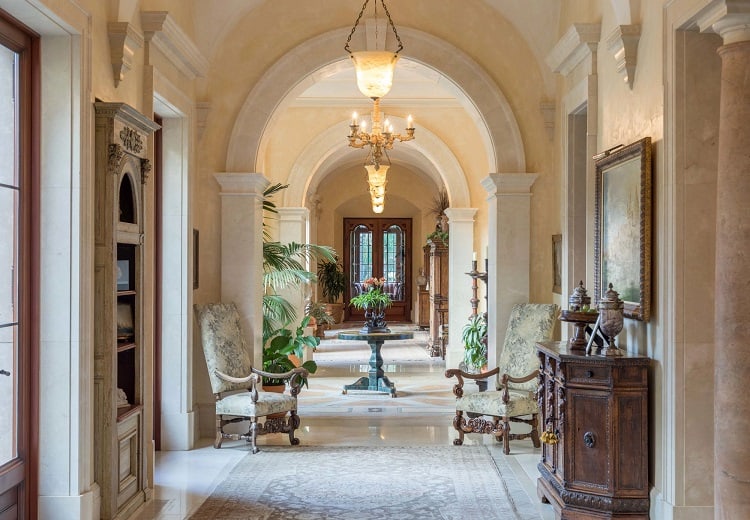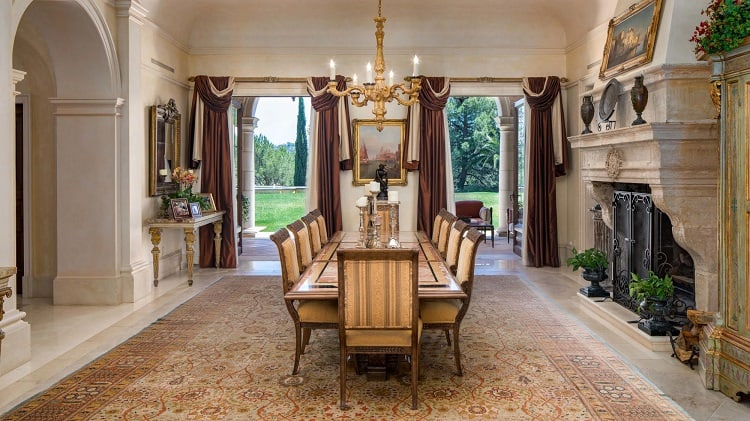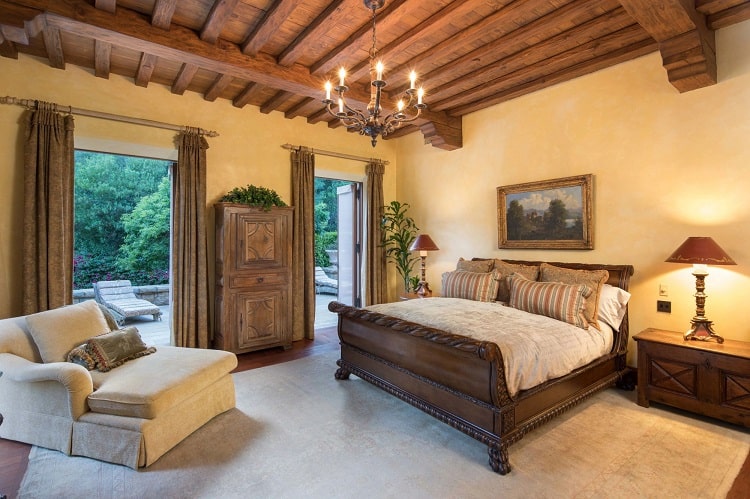 The main house has all the perks you'd expect from a $100 million+ listing including a craft room, video game room, large gym, a 1,000-square-foot mezzanine storage area, in-law suite, and a separate 3-bedrom apartment that can serve either as guest or maid accommodation.
There are also three guest houses on the premises and tons of outdoor features, including a resort-style swimming pool with jacuzzi/spa, a pool house with an ADA-equipped living space (and a dedicated bedroom for a caretaker), a lighted tennis court, its own basketball court, and a cabana with kitchen. The pool and tennis court have their own outdoor bathroom facilities (so guests won't have to go all the way back into the house) and there are three (!) formal fountains and a 4-acre lawn.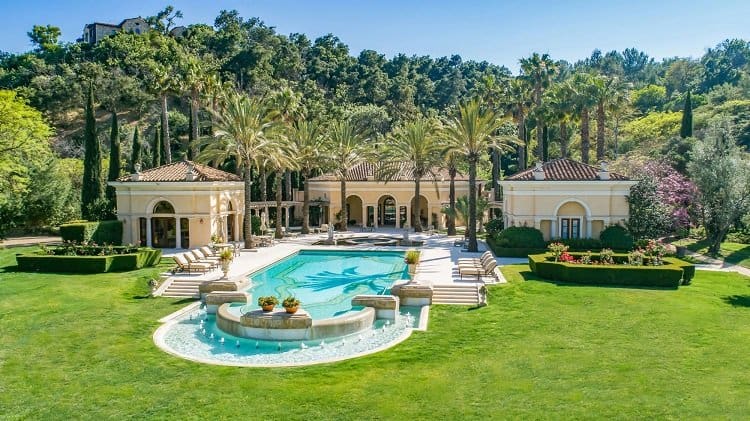 As you'd expect, there are 24/7 security patrols on the premises of the estate, as well as a new digital camera security system around the entire exterior, entrance, and perimeter zones of the residence — keeping both residents and their belongings safe.
While I'm sure there are many other amenities that didn't fit (or weren't deemed important enough to be included) in the listing description, the last few that caught our eye were the dedicated jogging path (though admittedly, just walking from one end of the estate to another is more than enough work-out) and formal gardens (you know, to bring the whole built for royalty angle to a close).
Location, location, location
Impressive as it may be, Villa Firenze would not have been able to justify its asking price without its exclusive location. The property is located in one of Los Angeles' most upscale communities, North Beverly Park, a heavily guarded enclave that's only 25 minutes away from Downtown L.A. — and that attracts countless notable residents (with very deep pockets) like Denzel Washington, Eddie Murphy, Sylvester Stallone, Rod Stewart, and Kimora Lee Simmons.
Nestled between iconic Sunset Boulevard and Mulholland Drive in the hills above Los Angeles, the exclusive North Beverly Park is dotted with large, gated estates. But none quite as large and impressive as Villa Firenze (despite the fact that many of them have been envisioned by the same architect, William Hablinski).
Now, if you've had enough of the opulence that comes with this luxury auction, here's a more down-to-earth part of this news story: the winning bid for Villa Firenze ensures that a new home will be built for a family in need. Concierge Auctions has partnered with Giveback Homes in their Key for Key® giving program, which means every closing results in a home being built for those less fortunate — which makes us all the more excited that this unique home has finally found its new owner.
More palatial homes in Los Angeles
The Story of the Opulent $120 Million Manor that Aaron Spelling Built in Holmby Hills
The Iconic Beverly House: where Jackie O & JFK Honeymooned, 'The Bodyguard' was Filmed, and where Beyonce Shot 'Black is King'
The Playboy Mansion: Hugh Hefner's Party Home is Now Part of Modern History
Glancing Inside Frank Lloyd Wright's Most Unique Building: the Ennis House