'Chestnuts roasting on an open fire…'
Nothing invokes the spirit of Christmas more than an evening spent by a crackling fireplace, while Nat King Cole plays seasonal tunes in the background.
Throw in a throw blanket, roasted chestnuts and some hot chocolate, and you'll have created the ultimate Christmas ambiance. 
Not all of us are lucky enough to have a fireplace in our home, but I'm pretty sure we all dream of one, especially during the winter. If you live in, say, California, you won't have much use for a fireplace, but move further away from the West Coast and you'll notice that snowy winters and below-zero temperatures really do exist.
Having a fireplace will not only keep you warm during the winter months, but will also instantly elevate the coziness factor in your home.
If you're a fan of winter and all-things-warm-and-cozy, you'll definitely enjoy looking at these 5 homes for sale with gorgeous fireplaces. 
1. 56 Thomas Street, Tribeca, Manhattan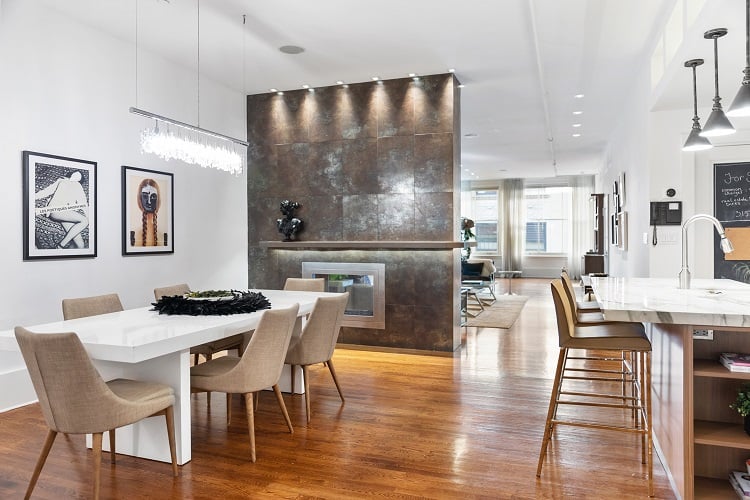 This charming, full-floor condo in Tribeca perfectly blends modern amenities and classic design, and is the perfect choice for the forward-thinking New Yorker. Located at 56 Thomas Street, the two-bedroom, two-bathroom condo lies on the third floor of a 1920s, six-unit building, and has been meticulously renovated. Haley Venn of Compass is marketing the unit, with an asking price of $3,150,000.
The designer loft home boasts high ceilings, dramatic north- and south-facing windows, hardwood floors, a formal dining room, an amazing chef's kitchen, a fabulous master suite, a wet bar, and plenty of storage space.
The living area, the formal dining room and the state-of-the-art kitchen are all nestled within the same, open-layout space, though each room boasts its own individual vibe. The dining and living areas are divided by a unique smokeless, ventless fireplace that can be enjoyed from either side of the room. If you like cozy fireplaces but also enjoy modern design and a chic aesthetic, then this is the place for you.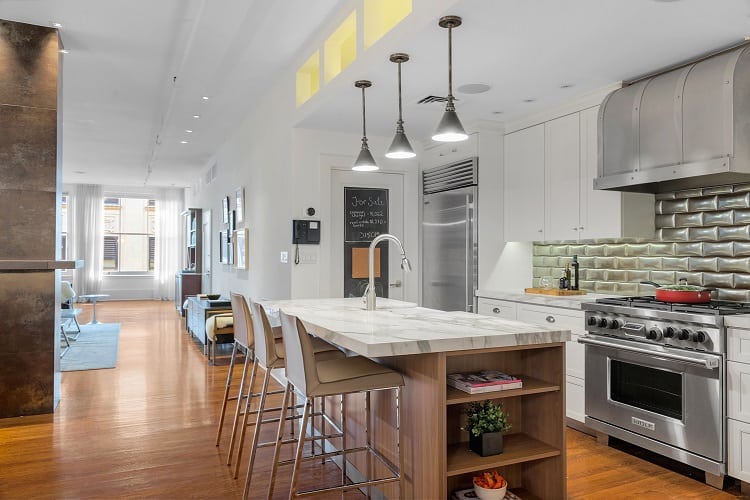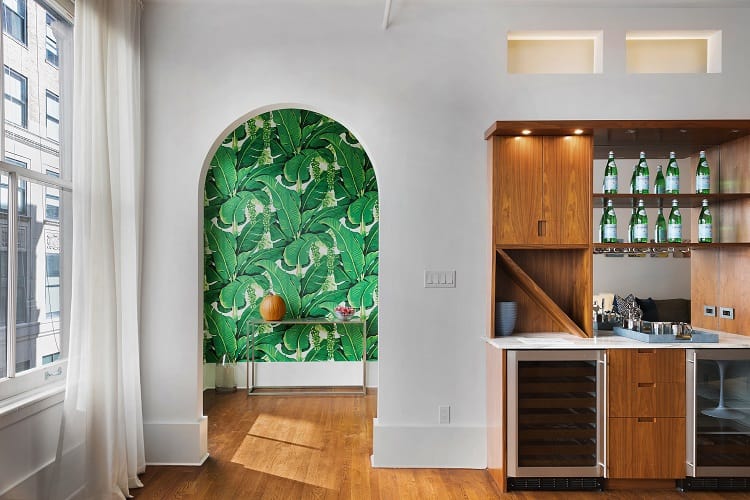 ---
2. 79 Aspetong Road, Bedford, Westchester County, NY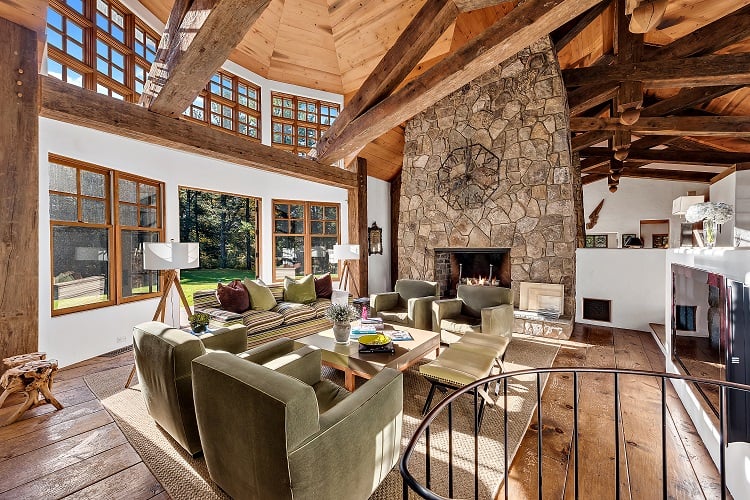 If a condo in busy Manhattan doesn't sound appealing to you, and you dream of spending winters in snowy Colorado, then this house will make your eyes sparkle.
Spreading across 15 private acres on the Bedford Riding Lanes, just one hour away from NYC, this fabulous, 6,200-square-foot house is the storybook winter retreat.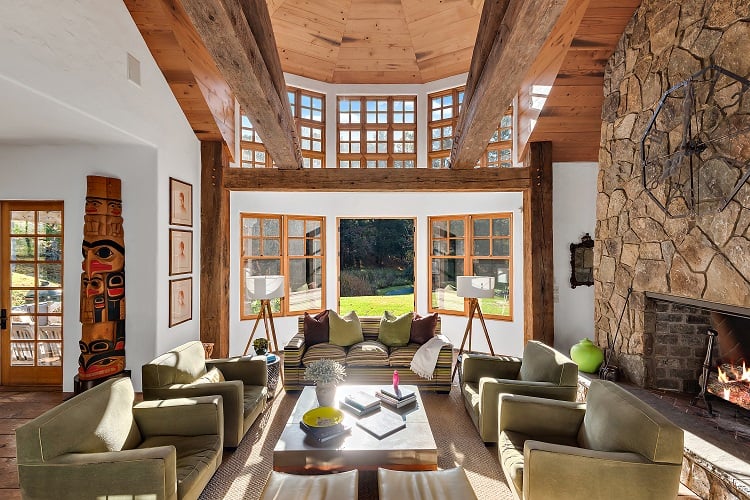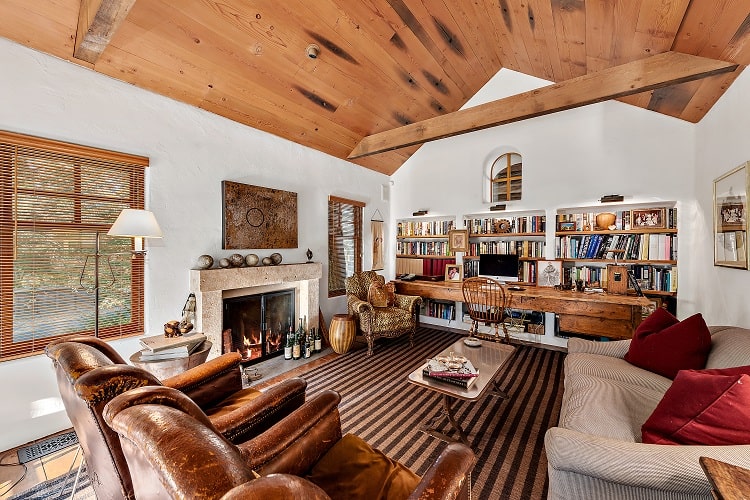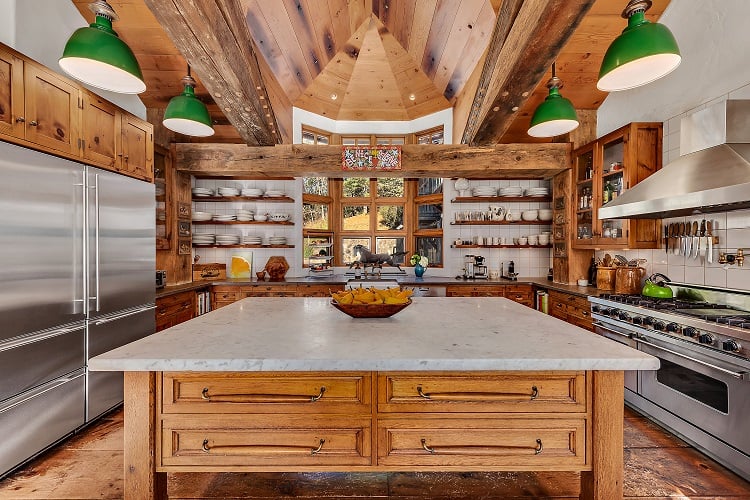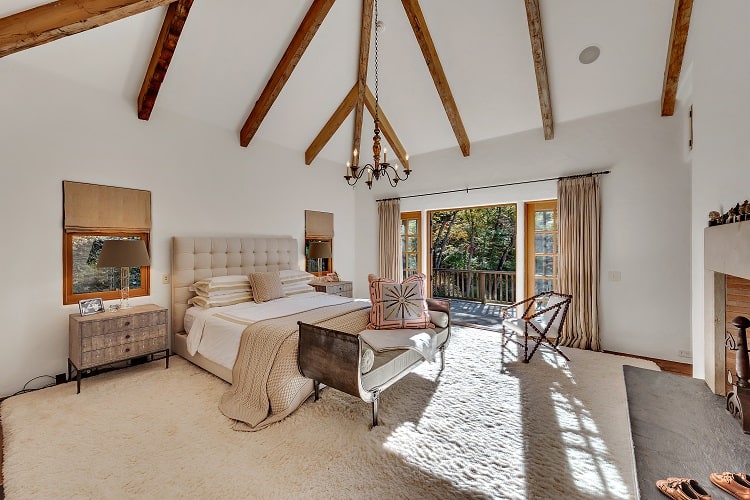 Designed by world-class architect Boris Pogacnik in collaboration with Dan Ranneklev, the six-bedroom, five-bathroom house at 79 Aspetong Road was completed in 1997. Its secluded location will transform this home into a winter wonderland once the snow starts falling, and even if it snows too hard, you'll have plenty of reasons to stay indoors.
The house features a plethora of lounging and entertainment spaces, both indoor and outdoor, including a gym, a wine cellar, a billiards and game room, and plenty of dining and lounging space. Outside, there's also a swimming pool and a tennis court, for the warmer season.
Now, this house doesn't feature just one fireplace, but four. Upon entering the home, you're greeted by soaring fieldstone stanchions, each featuring a fireplace, while the master bedroom is also a warm haven, with its own fireplace. This is truly a home that will make you feel like you're in Aspen, except you'll be just an hour away from busy Manhattan.
Kim Arenas of Compass is handling the property, which has an asking price of $6,995,000.
---
3. 21 Londonderry Drive, Greenwich, Fairfield County, CT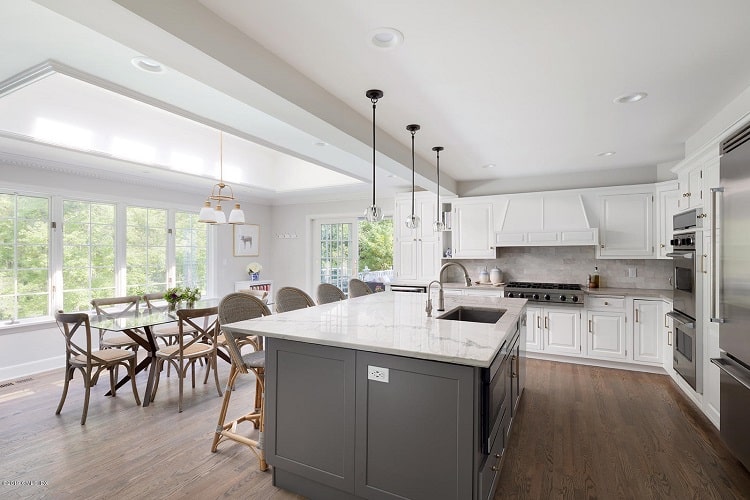 We're going to move away from New York for a second and head over to Connecticut, where we have a gorgeous, classic Colonial mansion with a twist, at 21 Londonderry Drive. 
Built back in 1970, this five-bedroom, five-bathroom home features 5,248 square feet of living space on 2 acres of land.
The outdoor space is immediately impressive, with an inviting circular drive, specimen plantings, rolling lawns, and a free-form saltwater swimming pool.
Inside the house, the carefully renovated home boasts a classic chic aesthetic, but brought to modern standards. Besides the spacious bedrooms, there's also a powder room, a renovated gourmet kitchen that opens to a family room, a children's room, a billiards/game room, and last but not least, two majestic fireplaces.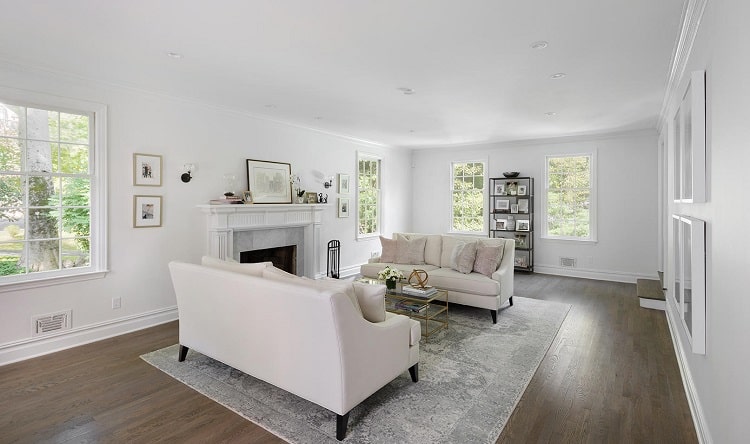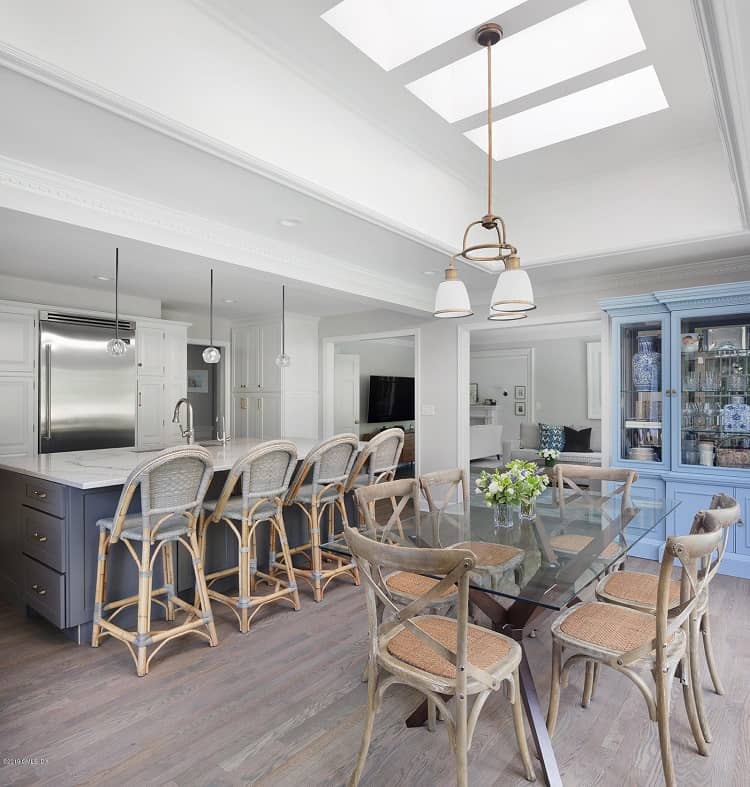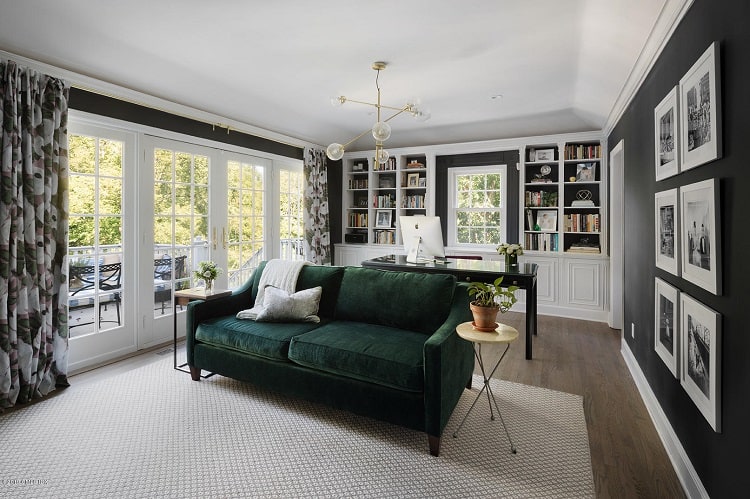 An added bonus that turns this Greenwich home into a dreamy winter retreat is the sumptuous entrance, which bears similarity with the Home Alone house, and seems like it would look great decked out in Christmas lights.
The house is asking $2,350,000, and it's being marketed by Alexandra Friedman of Compass.
---
4. 59 Garden Street, Sag Harbor, Suffolk County, NY
Going back to New York, specifically the village of Sag Harbor on Long Island, we have a beautiful home for sale that was originally completed in the late 1800s. The house is located in the heart of the Historic Sag Harbor Village at 59 Garden Street, but it still offers privacy and plenty of lush outdoor space.
The five-bedroom, five-bathroom property was recently renovated and expanded, but the architects have kept its original 1800s charm. Amenities include a majestic staircase with wrought iron railings, handcrafted on site by local artisan John Battle, a spacious yet cozy living room with a masonry fireplace, a formal dining room, a media room, and a detached garage.
The master bedroom suite has exquisite views, plenty of natural light, and comes with a gorgeous fireplace that features an original 1800s mantle, perfectly preserved and restored. Just imagine cozying up to that architectural gem of a fireplace during cold, snowy winter evenings.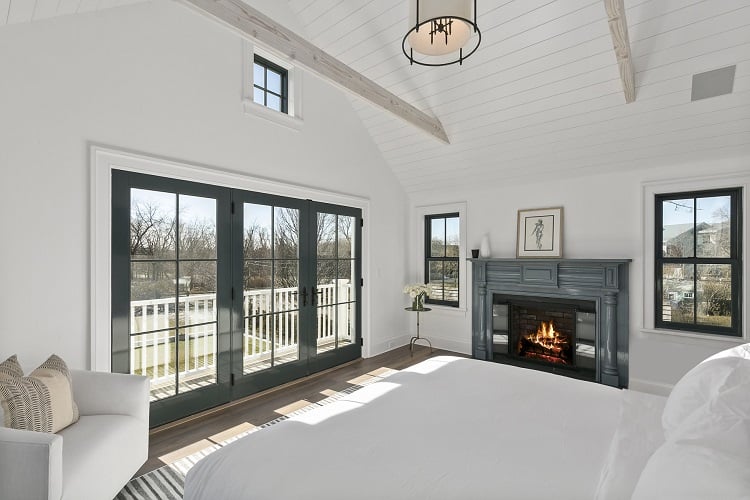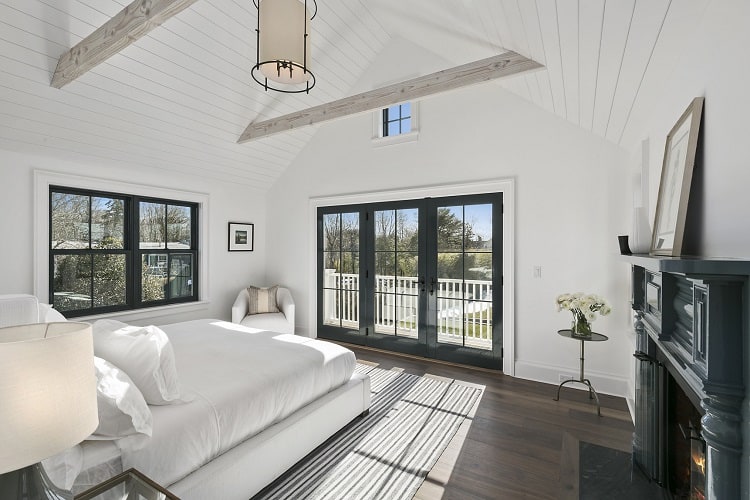 Outside, you'll also find bluestone patios, as well as a grilling station complete with a Blaze grill, perfect for entertaining guests during the warmer months.
Scott Strough of Compass is marketing the property, which is hitting the market with an asking price of $4,895,000.
---
5. 331 West 14th Street, Chelsea, Manhattan, NY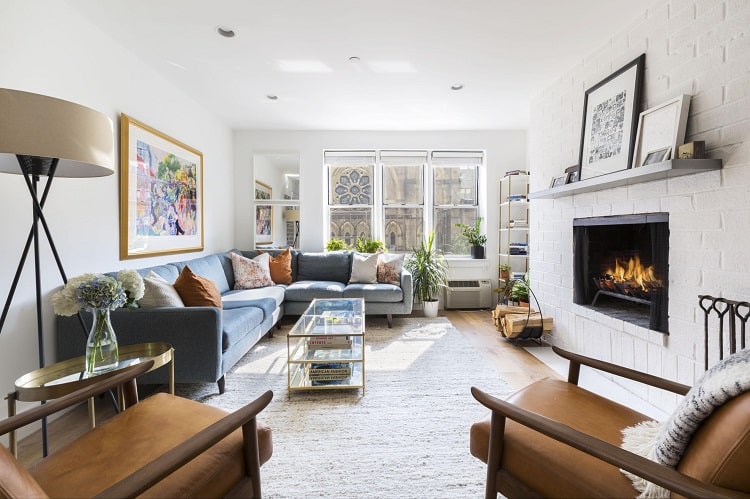 If the homes we just looked at sound a bit too secluded for your taste, and you'd prefer to be right where the action is, then you might like this charming, chic co-op unit in the heart of Chelsea.
Located in a cooperative building at 331 West 14th Street, this one-bedroom, two-bathroom unit is the epitome of downtown living, offering easy access to all the popular destinations in Manhattan. Recently revamped, the apartment features new wide-plank wood floors, a chef's kitchen, spacious living and dining space, two bathrooms, a walk-in closet, as well as in-unit washer and dryer.
What stands out in this charming unit is a beautiful, wood-burning fireplace in the living room. Whether you live alone, with a partner, a child or a pet, you'll enjoy your New York winters much more by cozying up to your very own fireplace, right in the heart of the city.
The 1900s building also offers various amenities for the future owner of Unit 4AB, including a virtual doorman, in-building laundry, and a private garden. Private storage space is also available if you need it.
Julia Hoagland of Compass is marketing the co-op, with an asking price of $1,199,000. Editor's note: While we were busy putting this article together, Julia has been even more productive at marketing the co-op, as the unit appears to already be under contract.
More luxury homes with striking features
These 4 Luxury Homes for Sale All Come with Gorgeous, Dream-Like Libraries
The Breakers mansion in Newport, Rhode Island
Winfield Hall, the Historic Woolworth Mansion in Glen Cove, Sells for $8.25M
This Stunning Flatiron Penthouse Comes with its own Private Sky Yard and Rooftop Pool