I don't think it's over the top to say that Barbie fever has officially taken over the planet.
First, there was the expected buzz around a Barbie film being made at all. Then Greta Gerwig (Ladybird, Frances Ha) signed on to write and direct with Margot Robbie (Suicide Squad, Once Upon a Time in Hollywood) and Ryan Gosling (Drive, La la Land) taking the lead roles of Barbie and Ken.
We all promptly lost our minds in excitement and the social media chaos ensued. Fast forward to July 2023 with the press tour in full swing and it's safe to say that Barbie is no longer just a doll, no longer just a film, it's a movement.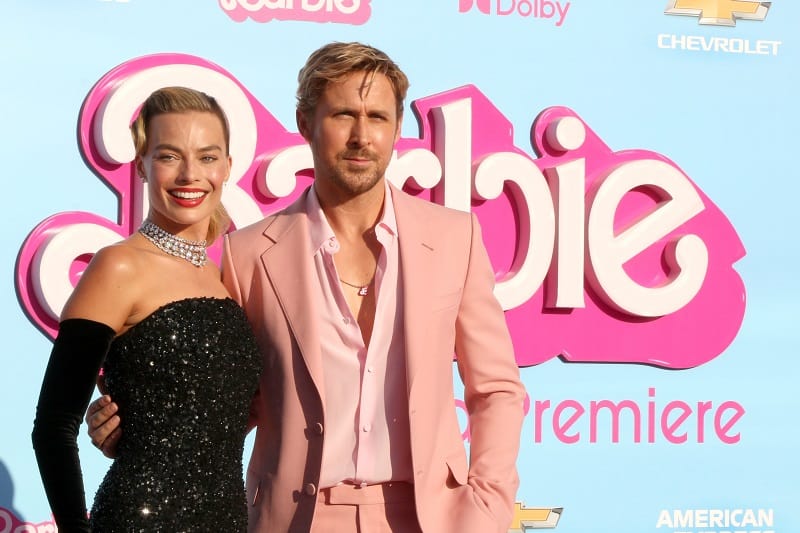 Sales for Barbie-pink clothing and accessories have sky-rocketed as the 'Barbiecore' trend takes hold of the masses and celebrity style enthusiasts alike.
Respected media outlets, including Forbes, are releasing stories on how to harness your inner 'Kenergy', a term coined on the Barbie set to describe Gosling's reportedly Oscar-worthy performance.
Meanwhile, with Christopher Nolan's highly-anticipated epic, Oppenheimer scheduled to release on the very same day (July 21st) fans and press have lovingly dubbed this historic movie event, 'Barbenheimer'. 
Now, I'll happily take a window seat aboard the hype train for what I imagine will be an unforgettable cinematic experience. That said, what I really want to know is every. single. thing. I can about Barbie's real-life DreamHouse and how this irresistible pink palace came to be!
Margot Robbie just gave Architectural Digest an inside look and you won't believe how perfect it is…
Barbie's DreamHouse was built on a Warner Bros. studio lot in London 
To clarify, Barbie's DreamHouse in Greta Gerwig's Barbie movie is not a real house. The DreamHouse was built on a set in Warner Bros' studio in Leavesden, just outside London, where the Harry Potter film saga was filmed.
The first thing you'll notice about the set is, of course, the sheer amount of pink used to bring Barbie Land to life.
From the walls to the furniture to the roads themselves, pretty much every surface boasts a flawless coat of vibrant fuchsia. In fact, they used so much pink paint to create the set that it used up their supplier's entire global supply of fluorescent pink. Some even claim it caused a worldwide shortage!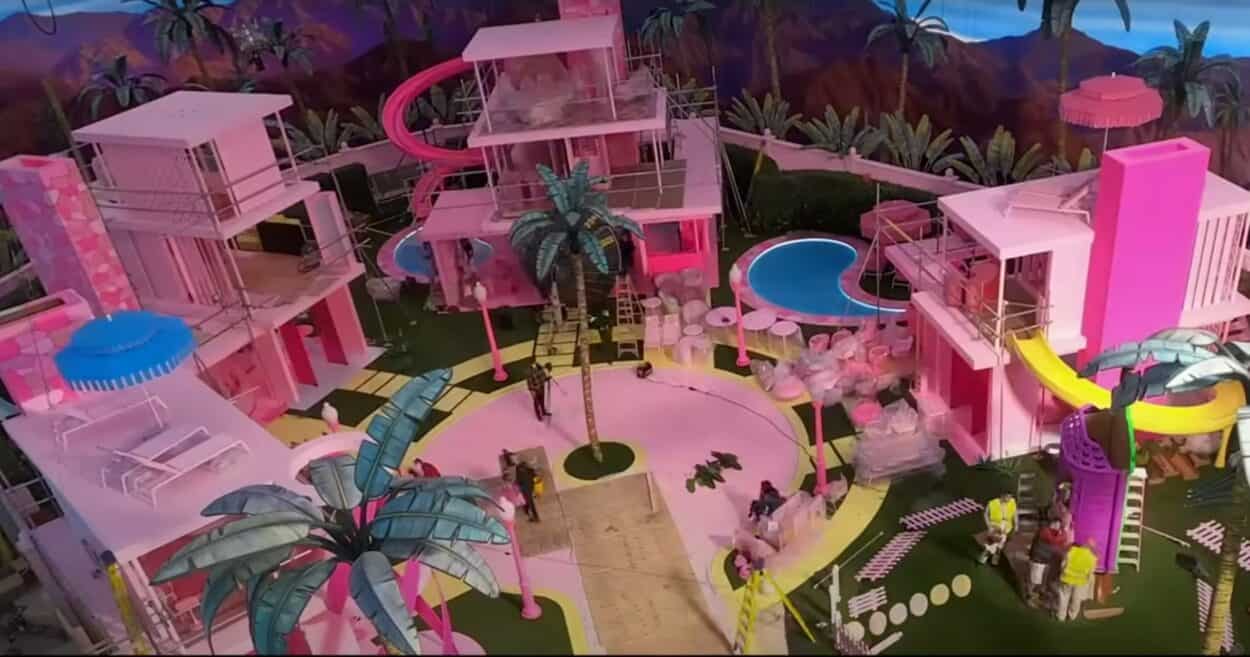 The second thing you'll see is the absence of walls and doors.
Just like the toy sets you remember from childhood, Barbie's house and the houses of those around her are fully open so the Barbies can see, talk, and frantically wave to each other at all times.
However, these sought-after '90s toy sets weren't the only inspiration for the houses of Barbie Land. According to housebeautiful.com, the set designers were 'inspired by the midcentury modern architecture and cul-de-sacs in Palm Springs'. In particular, Richard Neutra's Kaufmann House which was built in 1946 and featured as Frank's (Chris Pine's) house in last year's smash hit film, Don't Worry Darling. 
There's plenty to see inside the homes too. From the cooker to the shower and the bed to the fridge, a perfect mix of 'real' items and colorful decals have been used to create that authentic toy-inspired look.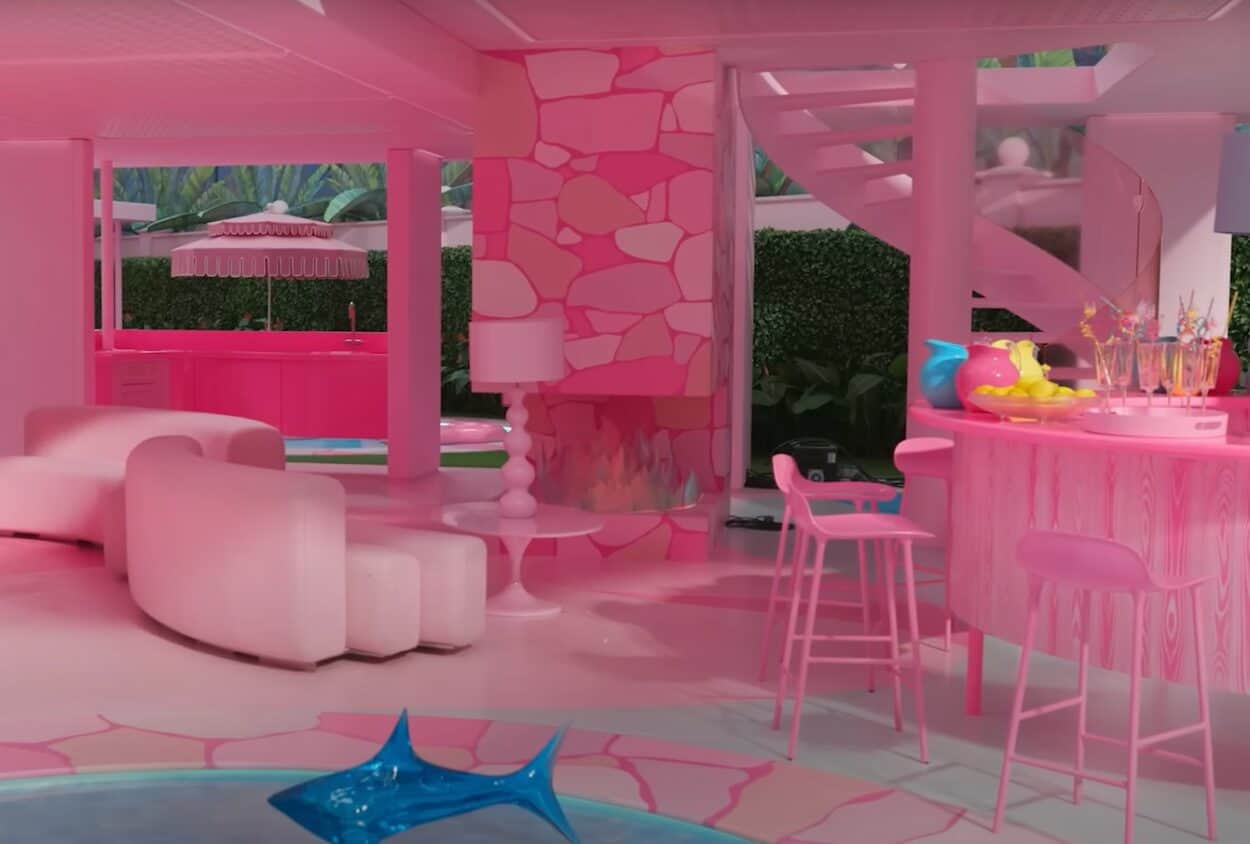 They even adjusted the size of the sets to 23% smaller than real homes. The actors therefore appear larger inside the houses just like dolls in a play set – it's genius!
The other seriously-clever details that stand out? Thanks to the masterful work of production designer Sarah Greenwood and set decorator, Katie Spencer (the duo behind sets for Pride & Prejudice and Anna Karenina) the doors to Barbie's wardrobe are made from clear, seamless glass to mimic the clear plastic fronts of the toy boxes Barbie dolls come in.
Meanwhile, instead of filling the pools with water, they created them in reflective blue plastic to match the original DreamHouse toys. Barbie Land even features a treehouse occupied by Skipper and Midge. It's a near-perfect replica of this beloved Barbie playset. 
Across the pond, Barbie's Malibu Dreamhouse was briefly up on Airbnb
While a visit to this iconic Barbie filming set might be just a pink plastic pipe dream, living like you're favorite blonde doll on your next vacation might not be.
Back by popular demand for a very short timeframe, Barbie's Malibu DreamHouse was put up on Airbnb as part of the movie's extensive promotional efforts. However, the Malibu house is not the one featured in Greta Gerwig's Barbie movie, but rather a real-life house that has been remodeled to match the doll's iconic home.  
It's also not the first time Mattel partners with Airbnb to offer a limited-time stay at the real-life Barbie house, so chances are we're going to see it back on the vacation rental platform at some other point in time.
The bright pink, 'toy-inspired' home sits in a picturesque, oceanfront location in the star-studded Malibu with panoramic views of the water. While there, guests can relax by the pool, learn to line dance on the outdoor disco dance floor, and even peruse Ken's closet to pick out a couple of beach outfits.
More stories you might like
How Barbie's Dream House would look like in other countries, according to AI
You can book a stay at Barbie's Malibu DreamHouse on Airbnb – for free!