If you're one of the lucky fellas with access to NBC, then you'll already be up to date with the most recent episodes of Brooklyn Nine Nine's season 7. For those across the pond who are still waiting for season 6 to drop on Netflix, don't worry, there will be no spoilers in this article.
We're actually here to talk about Captain Raymond Holt's house, an elusive location brimming with mystery — not to mention class.
Curious as we are about all things real estate, we knew Captain Holt's house would match his personality – clean, organized, refined, impeccably decorated, but also warm, cozy and inviting.
The thing is, the captain's home is just as mysterious and impenetrable as he is, so we had a hard time catching a glimpse of it throughout the series- – not even the vast internet couldn't help.
So, we went back in time to season 1, to the 16th episode, dubbed The Party, to take a sneak peek into the house that Captain Holt shares with his husband, Kevin Cozner. 
Welcome to The Party
In the 16th episode of Brooklyn Nine Nine's first season, the precinct crew is invited to Captain Holt's house for his birthday party.
This is maybe the only glimpse we get of the exterior of Holt's house, which looks like a very nice Brooklyn townhouse (we assume it's in Brooklyn since the Captain grew up in the borough).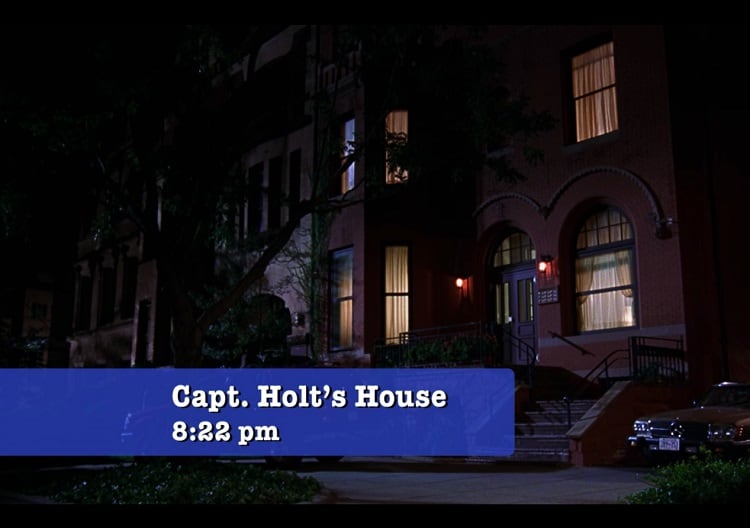 We don't get an exact location, but Santiago can immediately feel the upper-classiness in the air in the Captain's neighborhood: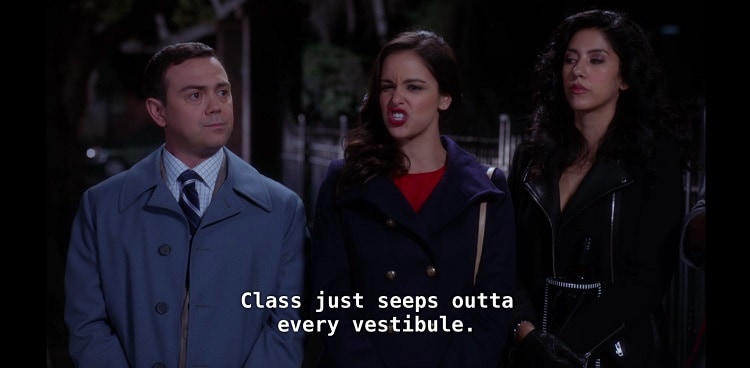 As the group enters the house, we get a nice shot of Captain Holt's 'vestibule.' This initial glimpse of the interior shows us that the captain's home is a mirror image of his own character – intimidating on the outside, yet warm on the inside.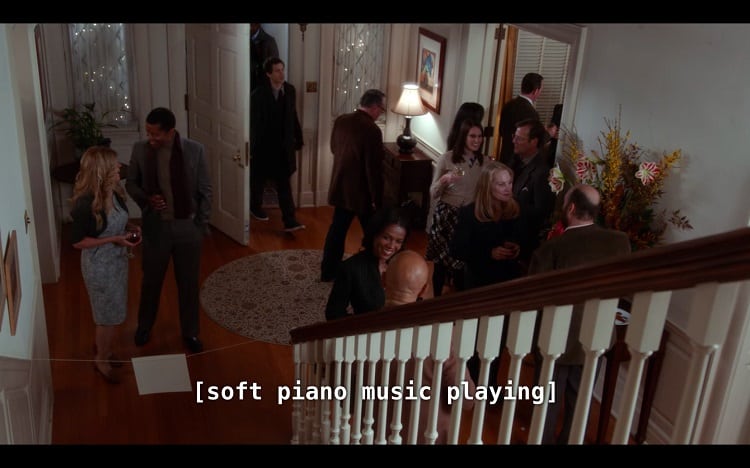 Everything inside the house is extremely refined and carefully thought-over, which is no surprise, given that it's the Captain's territory.
However, the coziness, soft lighting and crackling fireplaces make the house feel like a home, and now you're getting to know Raymond Holt a little better.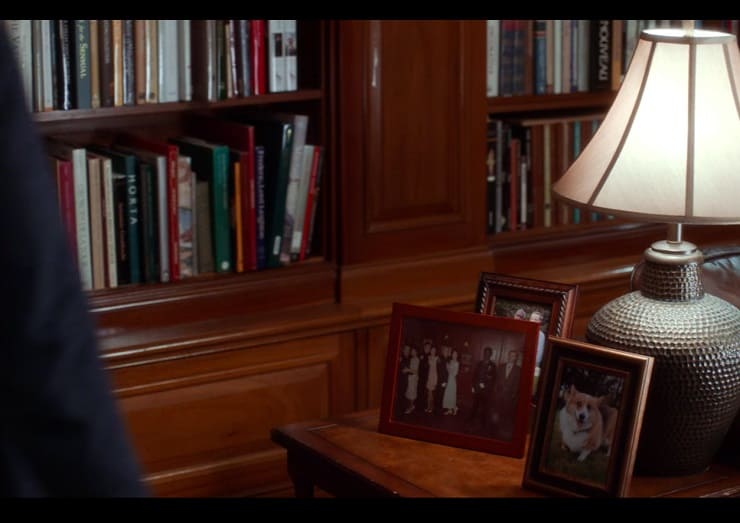 More stories like this
The house also features an impressive library, which is understandable, given that Kevin, the Captain's husband, is the Chair of Columbia University's Classics Department. You won't find any New Yorker magazines in there, though, if you know what we mean.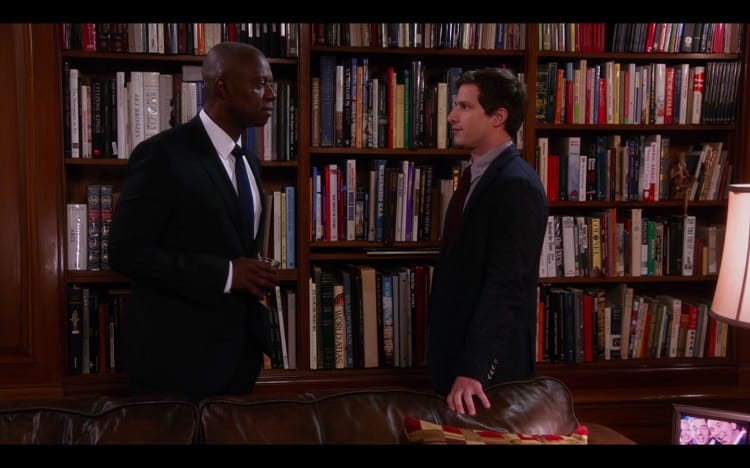 We don't get a good enough view of the kitchen, but we do know that Holt and Kevin enjoy homemade hummus, thanks to the overly curious Santiago: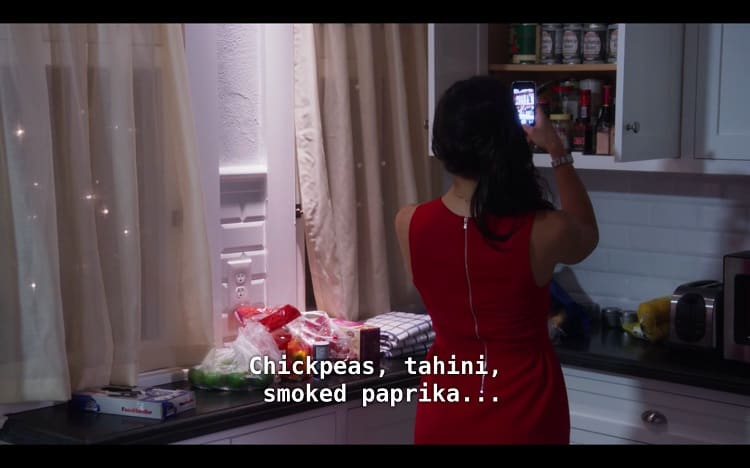 Luckily, Santiago and Peralta have a tendency to break the rules, even when those rules specifically state that guests should remain downstairs. In a frantic effort to learn about the Captain's home life, Amy wanders off into Holt's upstairs bedroom, and ends up hiding in the bathroom with Jake, Terry, and Cheddar – the captain's adorable, yet allergy triggering corgi.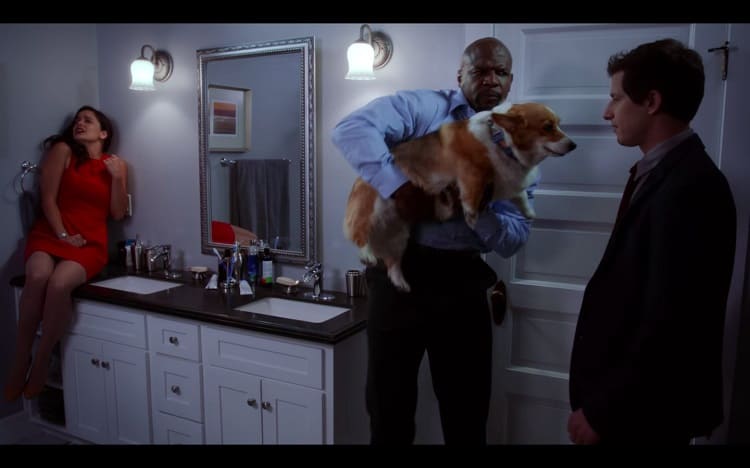 The bathroom (as much as we can see of it) seems impeccably clean, neat and organized — shocking, I know.
The decor is very much timelessly elegant, which is what we'd expect from the Captain and Kevin. The bedroom follows a similar, classy and clean style, adorned only with some carefully placed statement art pieces.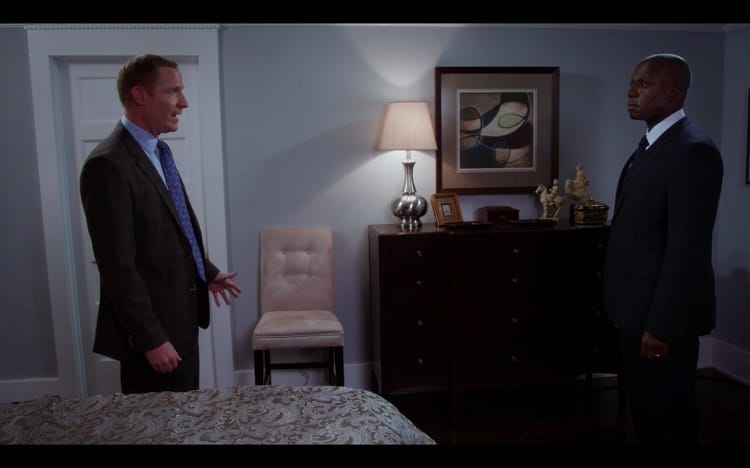 The dining room is the most inviting room in the house, probably because it's filled with laughter and exquisite foods for guests to enjoy. What we love about the Captain's digs is the warm, soft, cozy light emanating from lamps scattered throughout the house.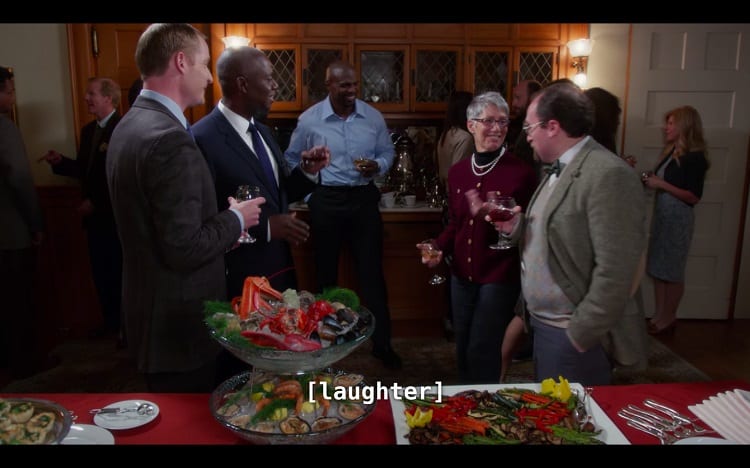 To sum up, Captain Holt's home is a classic, cozy and inviting Brooklyn townhouse that screams timeless elegance and taste. So, naturally, we ask ourselves: is that too much of a stretch, or could these characters actually afford such a home in real life?
Can Captain Holt actually afford his fancy home?
To start off, we know that Captain Holt grew up in an upper-class household in Brooklyn, and that his mother was a judge on the ninth circuit.
In one of the episodes in Brooklyn Nine Nine, he reveals that he used to sneak up into his dad' study and play with his antique globes.
Could the Captain have inherited his townhome from his parents? That seems like a plausible scenario. He might even have had a trust fund in his name as he grew up.
Another thing to consider is that Kevin, as head of the Classics department at Columbia, also has a considerable income. Of course, folks over on Reddit already did the math, estimating that Kevin, as an expert in his field, might earn as much as $120,000.
What's more, according to PayScale, the average yearly income for an NYPD captain ranges from $101,000 to $243,000, and that's not including benefits. Given that the couple doesn't have any children, it's not that much of a stretch that they're able to afford a nice Brooklyn townhome. And we're definitely – definitely – not jealous.
More on-screen homes
Is it Real? Skyfall, James Bond's Childhood Home in the Scottish Highlands
Bong Joon Ho's House in the Oscar-Winning 'Parasite' is One You Won't Forget Anytime Soon
Netflix Doc Sparks Renewed Interest in Aaron Hernandez' Former Home
Daniel LaRusso's House on Cobra Kai: A Real-Life Tuscan-Style Villa