'In this house, we have chocolate cake for breakfast, and we never bother with silly little things like bedtimes or brushing our teeth.'
Lack of sleep and questionable dental habits aside, I still wish I could live inside the Owens family's iconic Victorian home.
Though I can hardly believe it, next year marks a quarter-century since Practical Magic first graced our cinema screens!
If you've somehow missed out on all of its witchy goodness over the past 25 years, let me take this opportunity to fill you in — and to recommend you add it to your watch list asap!
Based on Alice Hoffman's 1995 novel of the same name, Practical Magic follows the enchanting lives and loves of Sally (Sandra Bullock) and Gillian Owens (Nicole Kidman).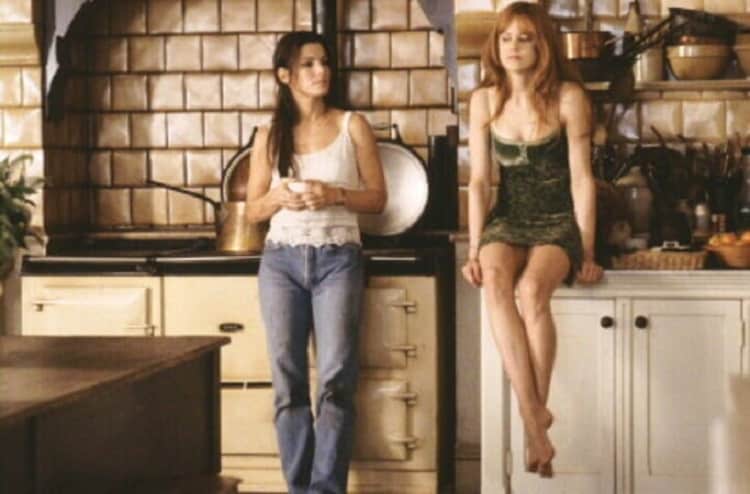 Two sisters born into a magical family where all of the women are witches.
The only problem? Any man that dares fall for an Owens woman is doomed to die. Whilst the two now-grown women try to balance their gifts with living a normal life, drama, tragedy, and plenty of not-always-practical magic ensues.
Creating a cult classic
Beloved by audiences the world over, it's not only the spellbinding story and rousing performances from its super famous cast that makes Practical Magic feel so special, oh no.
For many of us, it's all about the architecture and interiors!
SEE ALSO: The Mayfair Witches house is real… And it neighbors Anne Rice's former home!
The potion room is filled with countless glass jars and bottles ideal for whipping up love spells. The kitchen is as perfect for midnight margaritas and dancing as it is for waking the dead.
Add in a spooky parlor, an endlessly winding staircase, and an eerie attic room and it's no wonder so many fans question whether this beguiling home actually exists.
Is the Practical Magic house real?
As much as I wish I could say yes (seriously, you've no idea!), the Owens sisters' house isn't real. At least, not anymore.
A perfect product of movie magic, the interior shots were filmed on a soundstage whilst the outer shell of the home was constructed especially for filming.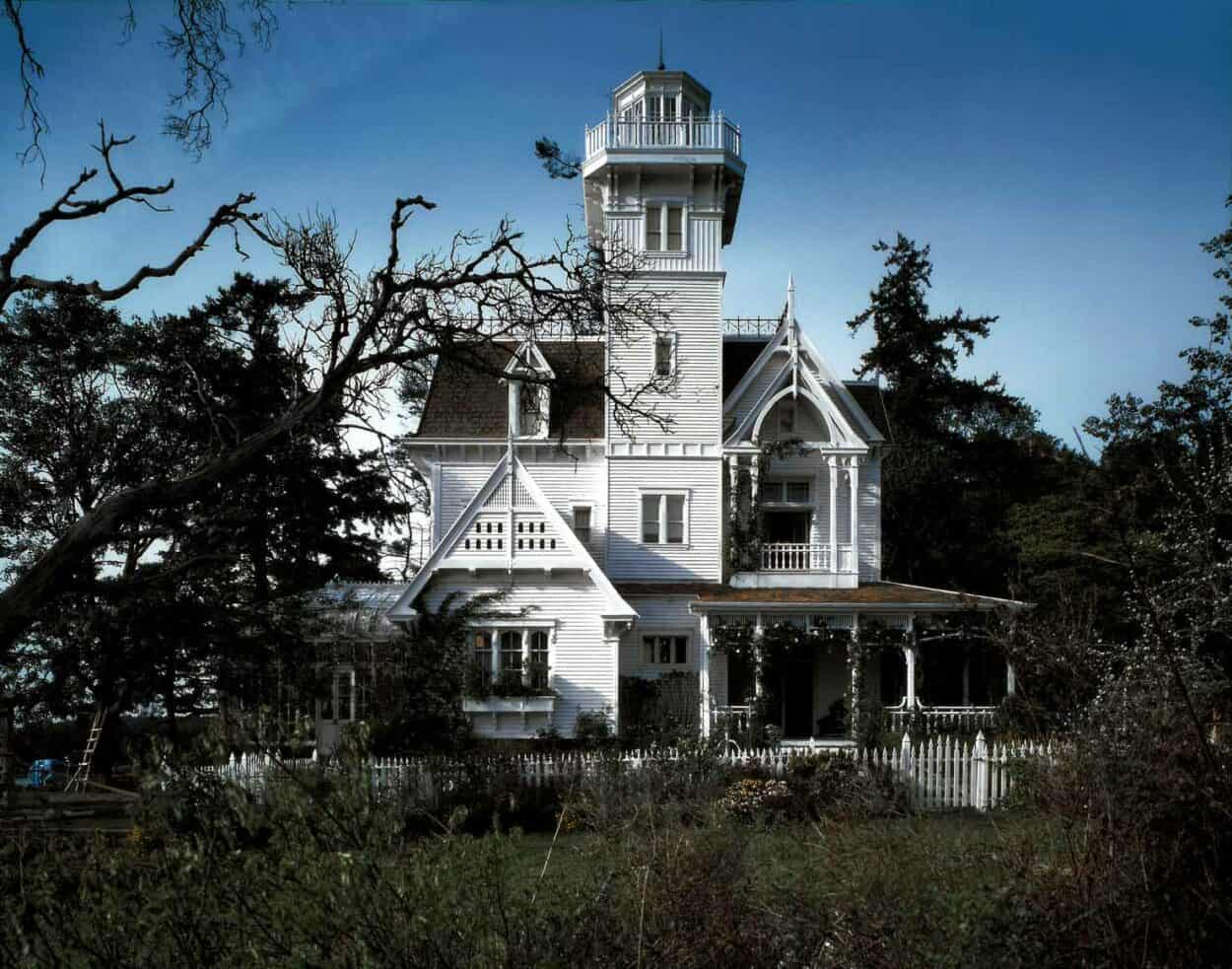 To create the idyllic house in Practical Magic, director Griffin Dunne commissioned Robin Standefer and Stephen Alesch — two notable New York-based designers who have later founded Roman and Williams Buildings and Interiors.
The designers built the interiors of the home in Los Angeles (on a sound stage) and filled it with treasures the couple found through architectural salvage.
Robin and Stephen then spent 6 months building the exterior of the house from scratch, and landscaping the gardens and grounds.
Where? Not in New England where the movie's set, but on San Juan Island, in Washington.
That's right, though the Owens women seemingly live in a quiet Massachusetts-esque setting on Maria's Island (check out the scene where Sally, Aunt Jet and Aunt Fran leave the post office around 10 minutes in and you'll catch a glimpse of the name), the majority of filming actually took place over 3000 miles west.
Most notably in the quaint town of Coupeville on Whidbey Island!
Transforming Coupeville
Location scouts obviously loved Coupeville and knew it was right for the film, but they did make some pretty big changes to prep it for filming.
Front Street had a refresh with practically every storefront getting painted white. Meanwhile, many small businesses in the area were transformed inside and out to accommodate the script.
The Knead and Feed Bakery, now the Little Red Hen Bakery, was made into Sally's cosmetics store, Verbena Botanicals.
If you're ever in the area be sure to stop by, from the outside it still looks practically the same!
Fun fact, according to onpublicrelations.com the downtown Coupeville farmers market where Michael works, and where he and Sally first lock eyes, was stocked with genuine local produce and fresh seafood donated by Whidbey Island's own Penn Cove Shellfish.
Meanwhile, the people of Coupeville were invited to star as extras in the movie – and many did!
For the final scene where the Owens family 'jump off the roof and fly', everyone in the town was invited to attend the set in Halloween costumes and be a part of the scene.
How about the garden?
Always throw spilled salt over your left shoulder, keep rosemary by your garden gate…
If you're thinking, at least maybe the garden was real, I can go visit that, unfortunately… that was a temporary setup too!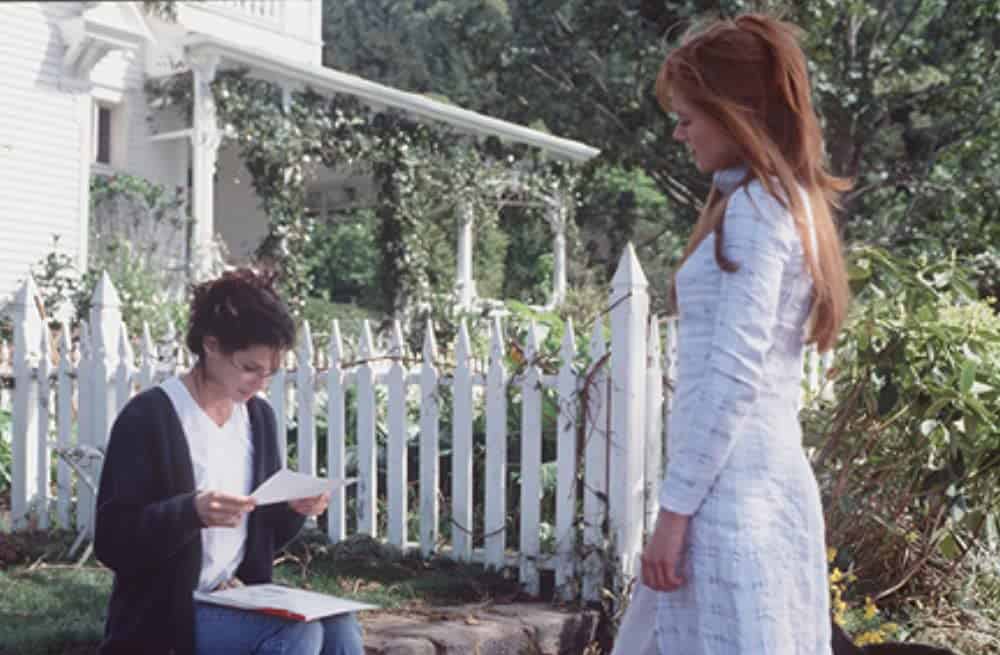 The expansive, perfectly picturesque garden was designed especially for the film — most of the plants weren't even real! According to IMDB's trivia page, even the blossoms on the trees were made of silk. Sigh.
So, whilst the outside of the house might be gone now, the grounds it stood on remain intact.
Since the piece of country parkland that the location scouts secured is of Native American heritage, production was only granted permission to build there if the house was raised on a platform, no digging was allowed.
They also agreed to remove the structure as soon as shooting was over. Not a day passed after filming wrapped when they tore the structure down! Double sigh.
Also, if you're still super disappointed that the Practical Magic house isn't real, turns out you're in good company. Famous company in fact!
Hookedonhouses.net reports that the team received a purchase enquiry for the house after filming.
From who? None other than Barbra Streisand! Good to know even Babs isn't immune to its otherworldly charm.
Just because the house isn't real doesn't mean you can't relive the magic
…plant lavender for luck, and fall in love whenever you can…
Practical Magic may have opened to mixed reviews back in the 90s, but fast forward to present day and we have a cult classic on our hands!
In fact, this film is so beloved that special events and screenings of the film continue to draw crowds even now.
Whidbeyweekly.com states there was an extra special event held in Coupeville to celebrate the movie on Halloween just last year. It included three free screenings, a margarita bar, trivia nights, and even a look-alike contest!
Sad you missed it? Don't be, the town continually hosts walking tours for fans of the film to go see all the most famous locations. You can even spot a few props along the way!
Nearly 25 years later, you may well be pining for a sequel or at least a spinoff!
Well, while many failed projects have cropped up over the years, one of which was an hour-long CBS drama that even had Sandra Bullock on board as a producer, none have ever gone ahead.
The latest? A HBO prequel series called Rules of Magic (based on Alice Hoffman's prequel book of the same name) is apparently still happening. Keep everything crossed witches, I know I will!
More stories you might like
Is It Real? Edward Cullen's House in the Twilight Saga
The Riverdale Residence: Tracking Down Thornhill, the Beautiful Blossom Family Mansion
Where is the House from Firefly Lane? Tracking Down Kate's Waterfront Mansion and Tully's Posh Penthouse
Are the Houses From 'The Holiday' Real? We Found Iris & Amanda's Picture Perfect Homes