Happiest Season may be a heart-warming story about true love and what it means to be a family, but thanks to the ultra-trendy bars, boutique stores, breathtaking homes, and stunning country clubs, it's also a 104-minute tour of the dreamiest filming locations I've ever seen.
If you're yet to catch the movie, let me fill you in!
Though she's hated the holidays since losing her parents as a teenager, Abby (Kristen Stewart) agrees to spend Christmas with her girlfriend Harper (Mackenzie Davis) and her family.
Almost at their destination, Harper reveals she's hasn't come out to her conservative parents yet, or any of her family for that matter! Abby agrees to pretend she's Harper's straight roommate on the promise her parents learn the truth as soon as the holidays are over.
After watching the film for a third time, I can honestly say it deserves a spot on your annual holiday movie roster alongside the classics. What makes it all the more magical? The homes and locations of course!
'Take a trip down Candy Cane Lane with me…'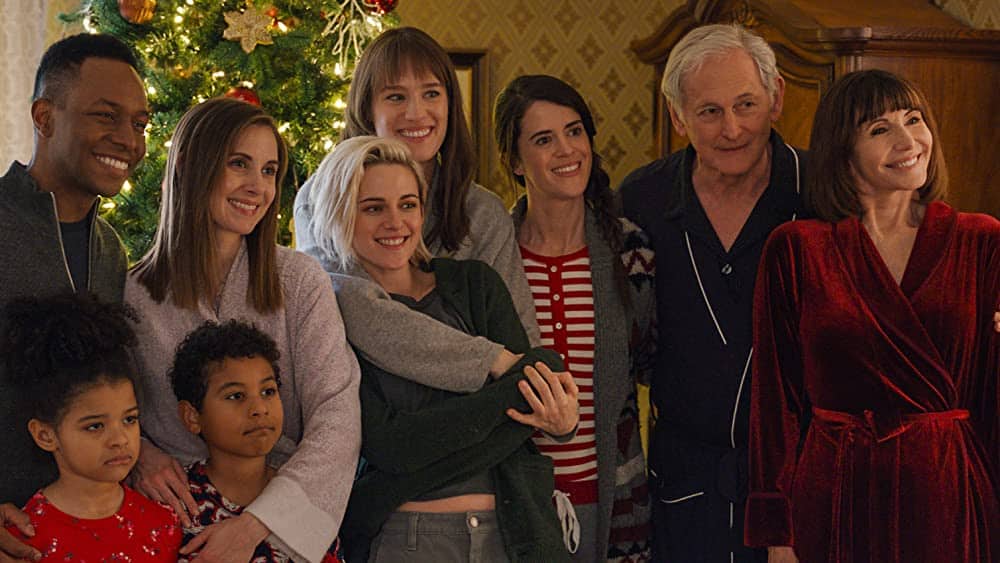 As Sia's iconic Christmas tune blares, the movie opens with our main characters touring the lights and sights of Candy Cane Lane. And, though that's a 100% real location, these shots weren't filmed on Pennsylvania's famous Candy Cane Lane in Duboistown, but rather on Cleveland Avenue in Avalon. An equally pretty area also decked out in impressive lights throughout the holidays. 
Fun fact: in order to capture an authentic cold-weather Pittsburgh aesthetic, Happiest Season was filmed in just 29 days through January and February of 2020 (they wrapped just days before the pandemic closed down many other productions!).
Also, rather than re-deck the halls and string up their lights for another round at the start of the year, residents agreed to leave their holiday displays up for months after Christmas so they could be featured in the movie!
Strap on your skates or grab a festive bite like the Caldwells
The cozy restaurant where the family meets for dinner on their first night together is absolutely real. That said, you'll need to become a member of the Chartiers Country Club like Ted and Tipper Caldwell if you want to book a table at their beautiful dining hall.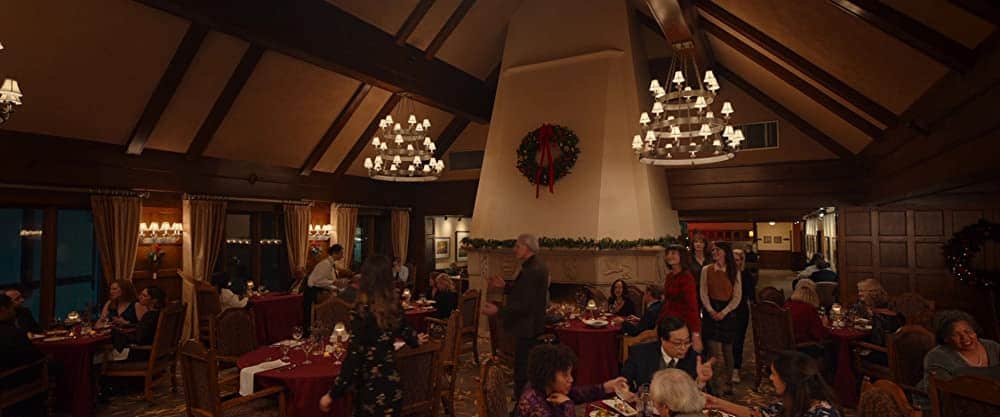 Fancy getting competitive on the ice like Harper and her sister Sloane? You can do so on the very same rink! The Belmont Complex ice rink (Margot Community Centre Ice Arena in the movie) is located in West Hills Pittsburg and is open to the public.
If you feel like stopping by a seriously fabulous Christmas party like the one Harper and co attend, the location for those scenes is also totally real.
The Fox Chapel Golf Club is a registered architectural landmark with sprawling grounds that look even more impressive under a blanket of snow. Funny enough, though the crew had created their own faux snow for the exteriors shots, real thing actually began to fall whilst they were filming. What luck!
Tracking down the lovely residences in 'Happiest Season'
Since literally every character in this movie lives inside a dream home, I naturally had to find if they truly exist!
Abby & Harper's apartment
The first home we see is Abby and Harper's incredibly cool apartment. It's one hundred percent real and located above the corner of Butler and Fisk in Lawrenceville, Pittsburg.
In stark contrast to the grandeur of Harper's childhood home, the place she shares with Abby is beautifully modern, youthful, and bright.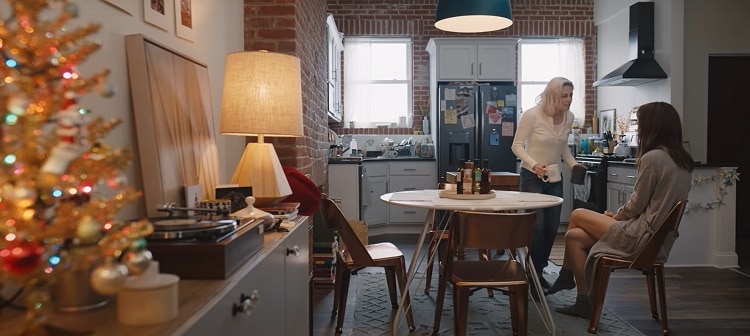 With soft cream walls and exposed brick, cozy throw pillows and soft green curtains, and even a fireplace used as book storage, their home feels contemporary and calm. A place that's loved and lived in.
In fact, for the scene where Harper wakes up in bed next to that stunning arched window with a view over Lawrenceville, the wall behind her was added temporarily so the bed could be positioned there. What an extra cozy touch!
The Caldwell mansion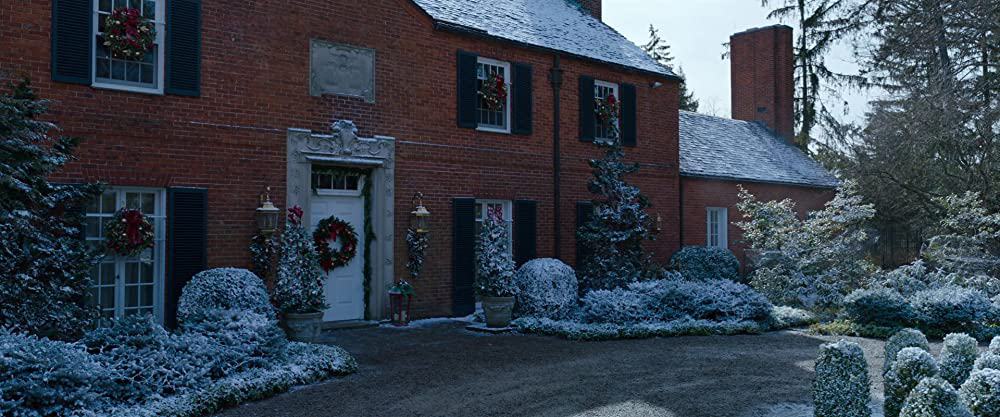 Though the movie does a great job convincing us that this is a real home, it turns out that the entirety of the Caldwell manor's interiors on Happiest Season were designed and built from scratch on a soundstage at 31st Street Studios in Pittsburgh – incredible!
And while a real-life house was used to shoot exterior scenes of the Caldwell house, no information has been made available as to where we might find this idyllic home.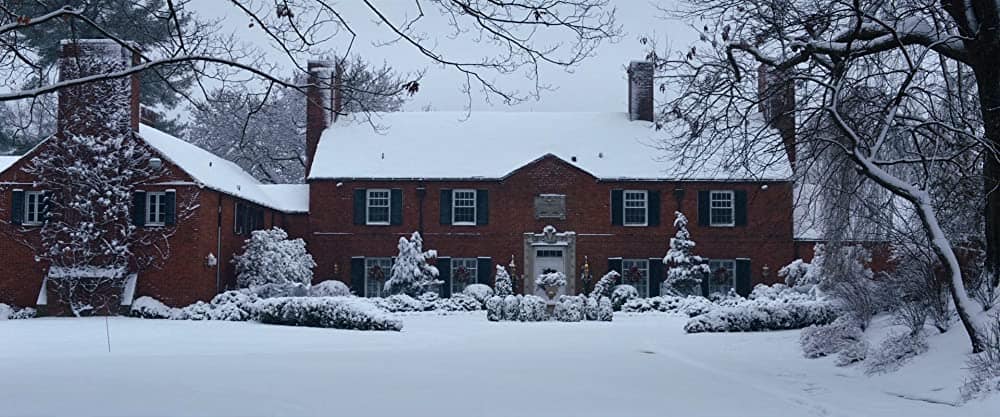 Unlike Abby and Harper's place, Ted and Tipper's grand country home is filled with dark wood furnishings, wainscot walls, and dramatic gilded wallpapers. I love how the main entranceway and living room have clearly been designed with entertaining in mind.
Meanwhile, the sage green and white marble kitchen is fresh and welcoming with a large island and cute L-shaped window seat to accommodate the whole family.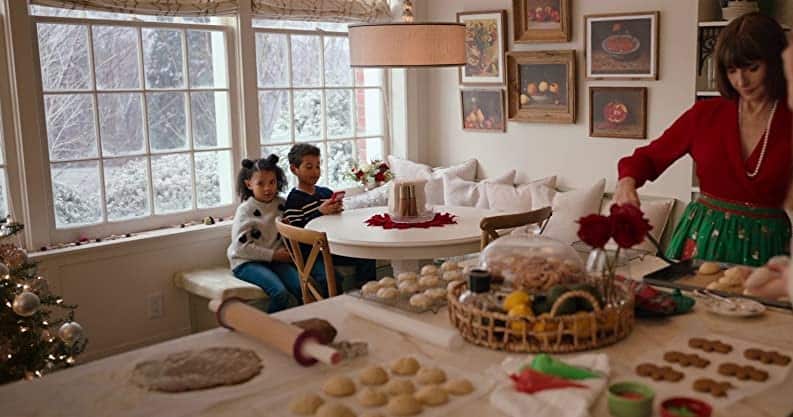 Production was incredibly clever with their decorating and styling of the home too.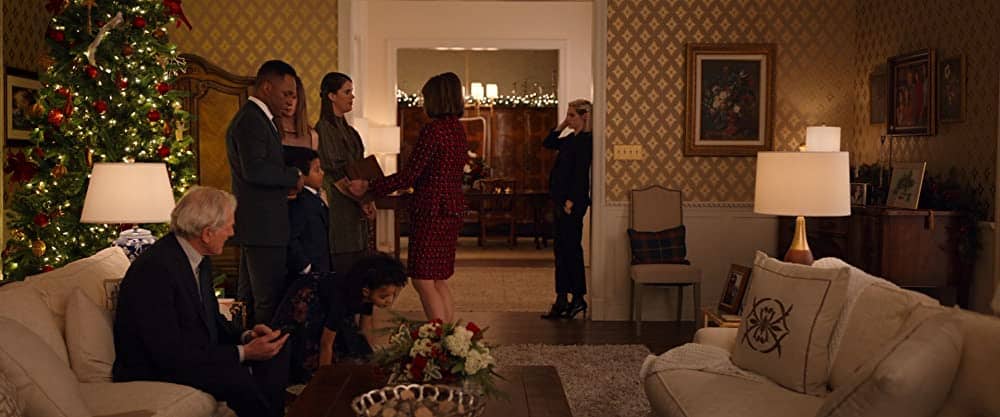 Sloane and Harper find their rooms just as they left them, complete with countless trophies and even some misdirecting male heartthrob posters inside Harper's closet door. 
In the basement, we have Jane's room. Set designers filled her space hand-me-down furniture and decor and even erected a couple of storage shelves in her old room, hinting at her family's lack of consideration towards her.
Oh, and if you noticed the wild leopard wallpaper in the basement bathroom, DuVall says they imagined this was the only area in the home where Jane was allowed to pick the decor herself. Good choice Jane!
John's apartment
Though there's little info on the exact location of John's apartment or whether it's even a real place, I couldn't not mention it! I think it's the coziest residence in the entire film with its warm terracotta walls, black-framed windows, and imposing fireplace.
It's also perfectly styled with the chicest table lamps, frameless art pieces, and geometric scatter cushions.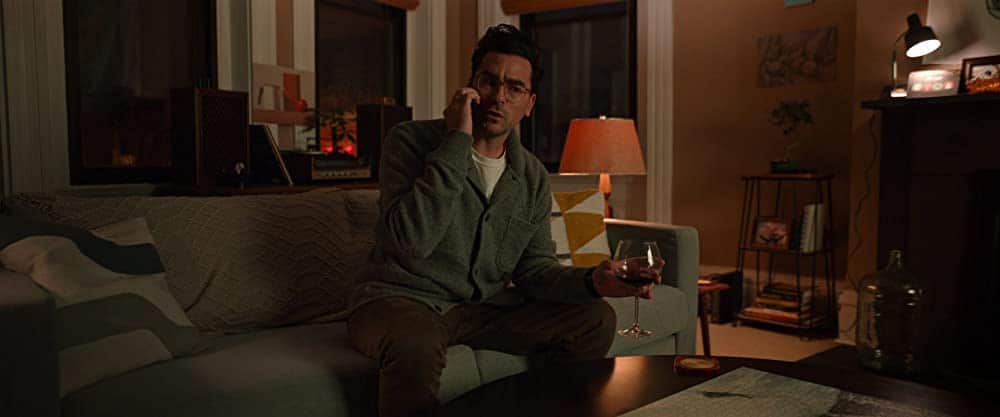 Falling in love in Pittsburgh
Since it's hard to imagine this movie taking place anywhere else, I was surprised to learn it was originally supposed to film in New York.
Luckily, Writer/Director Clea Duvall realized they couldn't afford to film there and thought Pittsburgh was a much more original setting anyway. She promptly rewrote the script to fit this super-cool city!
Locals or those who have visited the area will certainly recognize some of the locations used in the movie such as The Vandal coffee shop (which Clea Duvall stumbled upon whilst out for lunch on a location scout), the Real Luck Café (a tribute to LA's now defunct Oxwood Inn) and Skelton Jewelry. You'll see on the wall that the name was changed to the 'Maggie Srmayan Jewelry Design' after the movie's set designer.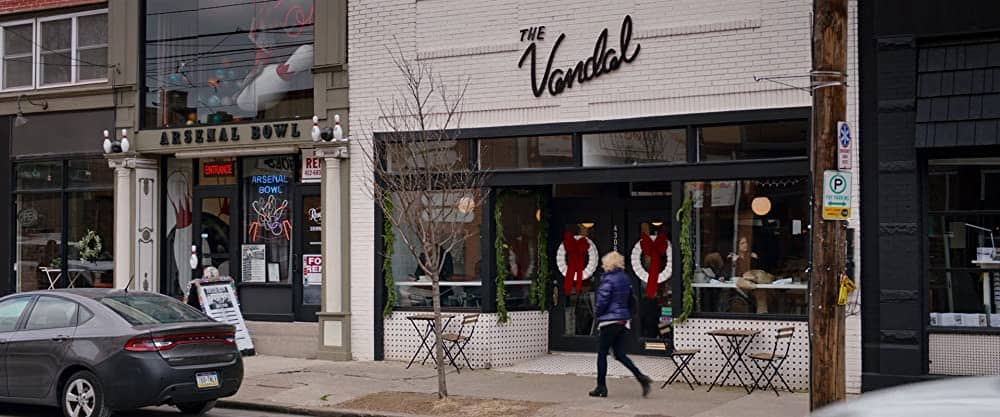 The coolest Christmas premiere of all time!
Since 2020 saw movie theatres close in response to the pandemic, the team behind the Happiest Season premiere was compelled to shake things up for it to go ahead on November 17th.
The result? A Covid-safe, drive-in movie experience at The Grove with spectacular views over the LA skyline. Guests were even treated to snack boxes and hot apple cider for the festive occasion!
The Happiest Season for all
Christmas films are created to bring joy and laughter to everybody, but Happiest Season accomplished its mission in more ways than one.
Around a month before filming began, a casting call was placed for several featured roles and background performers. It included 'an exotic fish store owner', a 'striking jeweler', a 'hot husband', and members of the LGBTQ+ community for Abby & Riley's bar scene.
In an interview with the Post Gazzette, Dawn Keezer, director of the Pittsburgh Film Office, said it was "… a great way to start the new year with a new film providing jobs and new revenue to southwestern Pennsylvania."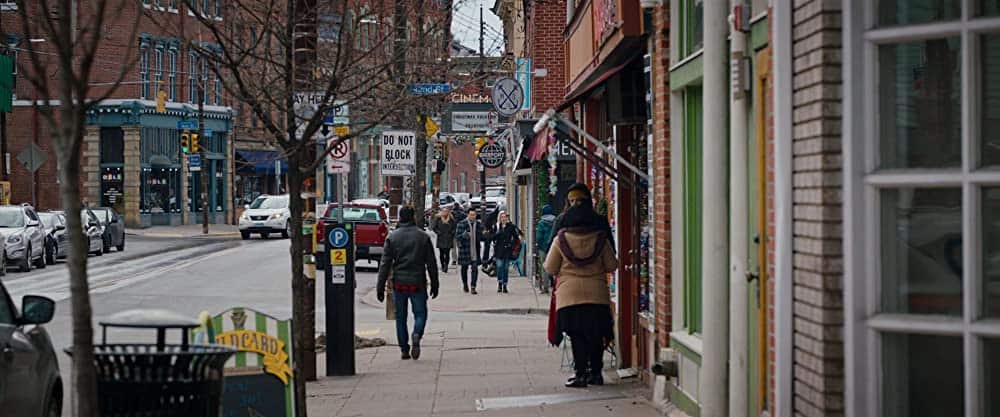 Meanwhile, at the premiere, attendees donated blankets, socks, and winter coats to benefit the Los Angles LGBT Center's youth.
Happiest Season also marks the first-ever LGBTQ+ holiday movie to be made by a major Hollywood studio and also made history for having a soundtrack written and performed entirely by LGBTQ+ artists including Tegan & Sara, Brandy Clark, Anne Marie, and Sia.
Will there be a Happiest Season sequel?
If you loved the movie as much as I did and are dying to know what happened to the characters after those cute Instagram posts during the end credits, I have good news for you.
Though nothing has been confirmed (yet), co-writer Mary Holland (who also plays Jane), told Us Weekly she was '…very, very open and very curious of where [Clea Duvall] sees it going'. Meanwhile, when asked by People if she would be open to a sequel, fan fave Aubrey Plaza who plays Riley said she was 'here for it'.
I'm also trying hard not to read into the fact that writer/director Clea Duvall flat out told Variety in December last year that she 'would love to do a sequel' and that she already has a couple of ideas for a second installment! During Hulu's special Christmas day Q+A with the cast, Clea even asked the stars of the movie, "If there were to be a sequel… where would you want your characters to go?" I'm keeping everything crossed!
More holiday movie homes & locations
The Real-Life Home Alone House: Then and Now
Where's the House from 'Home Alone 3'?
Dunnock Manor, the Sprawling Family Home in 'Father Christmas is Back'
Is the 'Gilmore Girls' House Real? Lorelai And Rory's Cozy Stars Hollow Home