With over 58 million streams during its first 28 days on Netflix, it's safe to say that Emily In Paris has something truly compelling to offer.
Call me crazy but I think the enviable apartments, exquisite landmarks, and beauty shots of Paris in the summertime might have a little something to do with it!
Whether it's your guilty pleasure or proudly your favorite show on Netflix there's no denying that Emily In Paris hits a home run when it comes to sets and shooting locations.
From picture-perfect La Maison Rose and Emily's charmingly modest chambre de bonne to Pont Alexandre III and the hallowed halls of the Versailles Palace, each and every scene has your eyes darting all over to take in every square inch of Parisian beauty.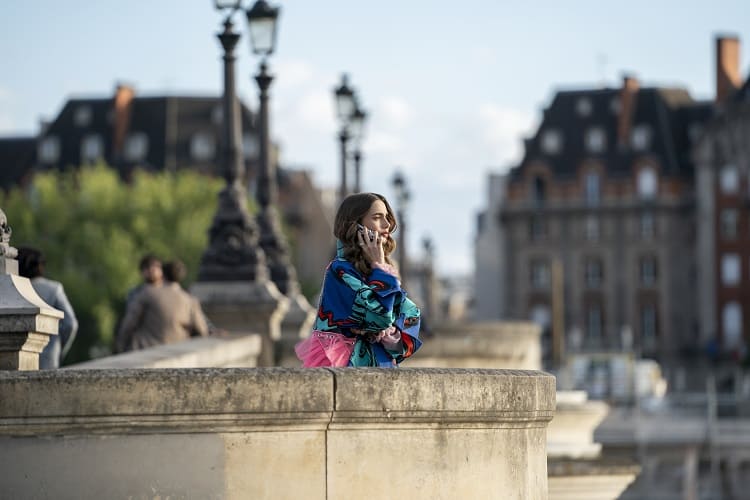 But are all of these places real? Could you really eat dinner at Gabriel's restaurant or claim a desk at Savoir? I had to know! Now that I do, I can safely say, a trip to the city of lights is at the top of my to-do list!
"These walls are made of straw and horsehair!"
Emily Cooper's apartment in Paris
As much as I fantasize about leasing (or at least visiting) it one day, sadly, Emily Cooper's apartment isn't real.
It's a seriously convincing set created by Oscar-nominated art director and production designer on the show, Anne Seibel.
And what a set it is! Exposed beams, vintage wood furniture, chic neutral textiles, and one of the most stunning views you could hope to have.
The only downside to Em's crib? It's at the top of a million stairs!
Fun fact, unlike the apartment, those stairs really do exist in Paris but only feature in season one. If you're scratching your head because you definitely saw them on multiple occasions during season two, you'd be right.
However, those stairs are actually a replica! When the team returned to the location ahead of shooting their second season, the owners had repainted. For continuity, Seibel had an enormous replica set of stairs built and I for one see zero difference!
Though you can't go inside Cooper's cute digs, you can definitely visit her building.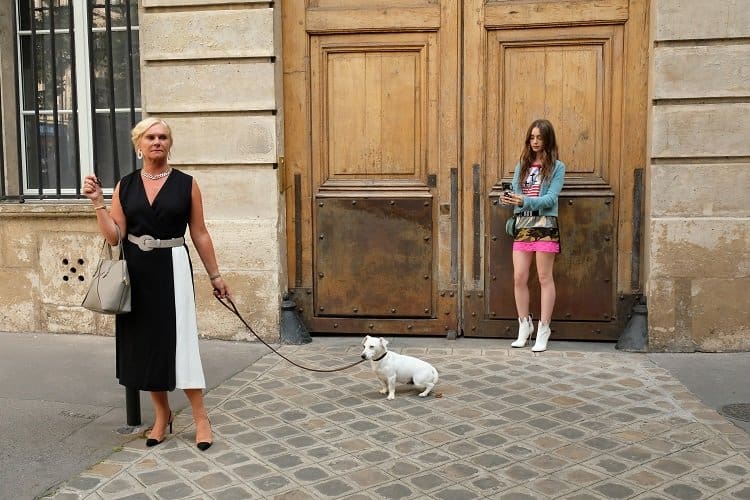 Scenes outside Emily's and Gabriel's apartments are shot at the very real 1, Place de l'Estrapade in the 5th arrondissement.
An idyllic location just a five-minute stroll from the world-famous Panthéon monument.
And yes, you'll also find the exterior of Gabriel's restaurant and Emily's favorite Boulangerie right down the street! Speaking of which…
Is Chez Lavaux real?
If you're hoping to stop by Gabriel's restaurant for a bite on your next Parisian excursion, you kind of can! Just don't expect any of the hot chef's Norman-inspired cuisine when you do.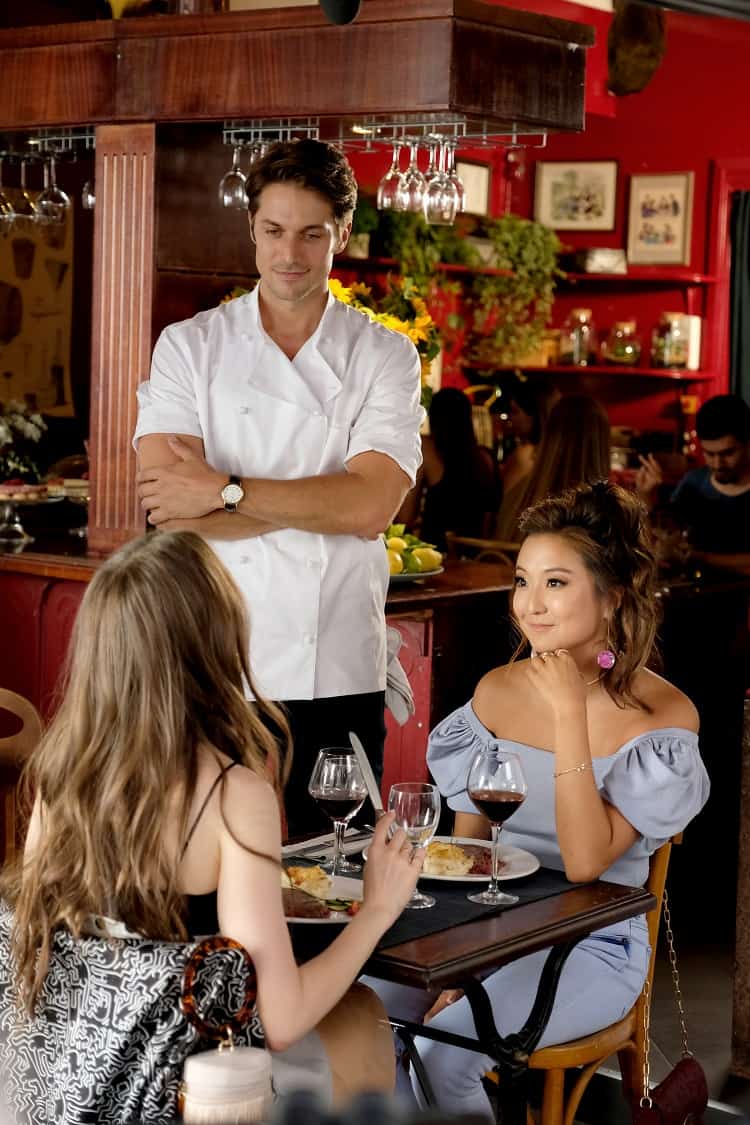 Exteriors shots for Chez Lavaux (formerly Les Deux Comperes) are filmed outside Terra Nera, a small 19th-century butchers shop turned Italian eatery.
As for the inside, it seems most of season one's dinner scenes were filmed inside the real Terra Nera. Once Antoine invests and changes the restaurant's name to Chez Lavaux however, they created new season two interiors on a set.
Savoir
Working from home in loungewear might be nice, but breezing into those luxurious Savoir offices in designer duds every day would be a dream (especially since Emily's team apparently doesn't start working until 10.30?!).
If you fancy swinging by this luxurious location next time you're in the 1st arrondissement, the exterior of the fictional marketing agency is located at number 6, Place de Valois.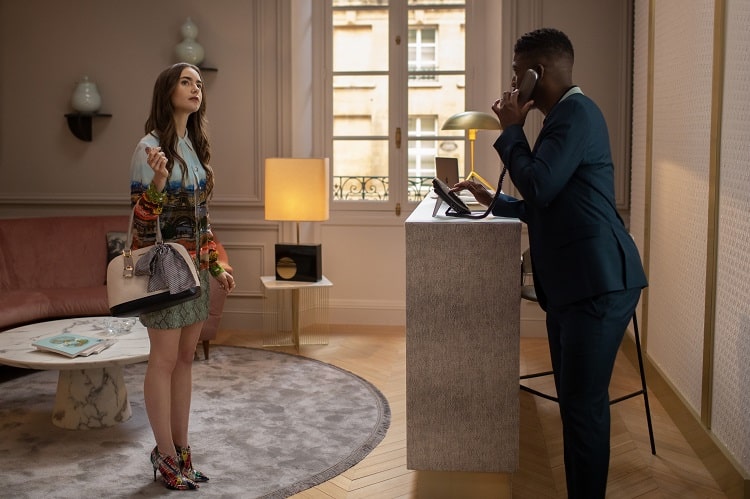 It's a super trendy square in which the Savoir gang can often be found enjoying lunch and a few glasses of breakfast wine together. Their favorite spot? The real life Le Bistrot Valois.
Camille's Family Château
Without question, Château de Lalisse was one of the prettiest locations in the whole of season one.
That's why I'm so happy to tell you that Camille's family home, and the birthplace of champére, is totally real (minus the pool!).
Luckily, Anne Seibel is good friends with the owner so was able to secure the location for filming early on. Even the scenes inside the home were filmed here with a few minor adjustments to the furnishings.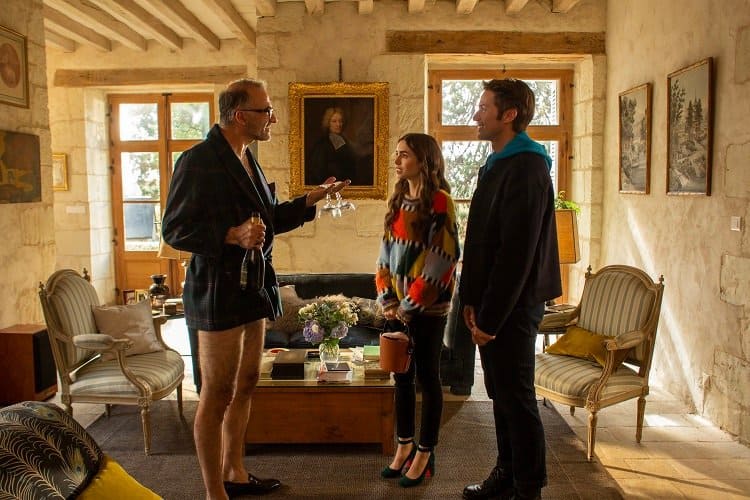 Those were slightly updated with pieces sourced from antique shops and flea markets by set decorator Christelle Maisonneuve.
The castle which dates back to 1268 now operates as a winery called Le Château de Sonnay located in Chinon. That's about a three-hour drive outside of Paris meaning the awkward road trip that Camille, Gabriel, and Emily take together is absolutely plausible.
Real Emily In Paris Locations You *Need* To Visit
The offices and apartments on the show might be largely filmed on sets but there are plenty of breath-taking locations in EIP that no trip to Paris would be complete without visiting.
Versailles
Opulent, grand, and inordinately luxurious, I'm not ashamed to say that I audibly gasped watching the season two fashion show that takes place inside Versailles Palace.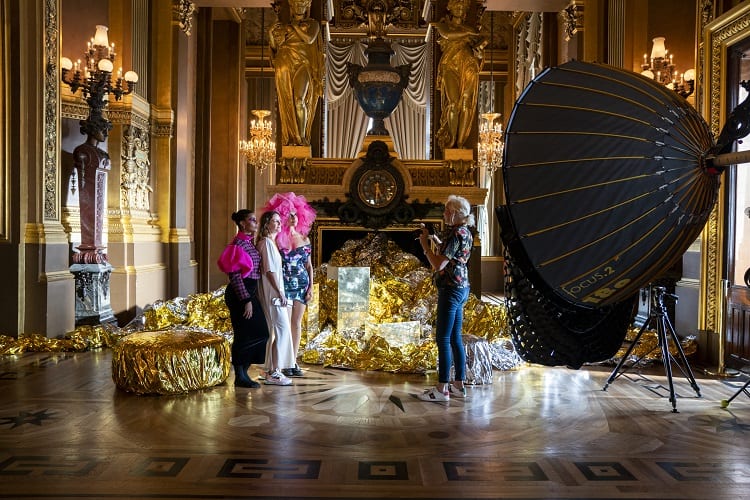 If you did too and want to see it for yourself, the palace is located just 10 miles outside the city with the grounds open and free to visitors.
Palais Garnier
Forgive us for being a bit "ringarde", but we'd love nothing more than to go see Swan Lake in a palatial setting, then connect with a fashion icon over our shared love of Gossip Girl (which we've covered extensively here).
We're sure that Emily's short-lived boyfriend, the snobby Thomas, wouldn't agree. But even he has to admit that the location itself is downright superb.
The ballet scene was filmed at Palais Garnier, also known as Opéra Garnier, which is part palace, part opera house (that fits 1,979 seats). In real life, you'll find it in the 9th arrondissement of Paris, France.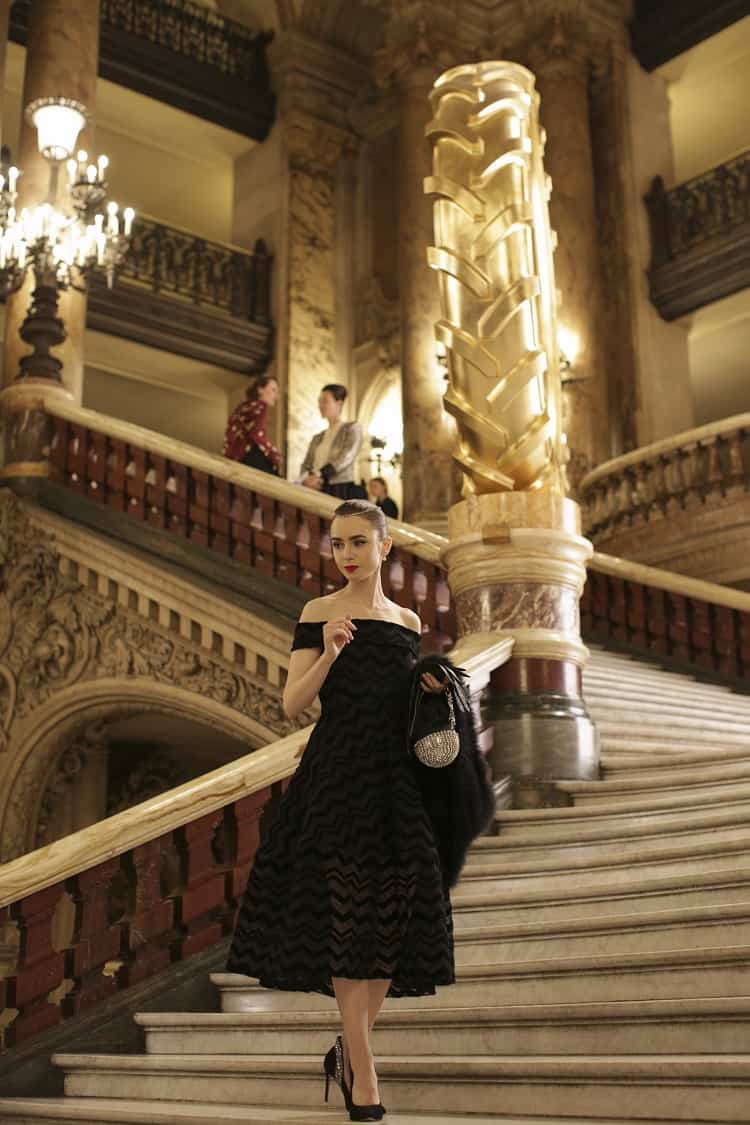 It was built for the Paris Opera between 1861 to 1875 at the behest of Emperor Napoleon III, and it's a superb example of Beaux-Arts architecture combined with Baroque Revival.
St Tropez
Just a six-ish-hour train ride from the bustling center of Paris, you'll find the sparkling St Tropez coastline.
However, that's not where the cast of Emily In Paris found themselves filming those iconic season two scenes! They were actually 90 minutes away in a stunning coastal fishing village called Villefranche-sur-Mer.
Now confirmed for seasons 3 & 4, I can only imagine the indulgently picturesque places Emily In Paris will take us all to next!
More stories you might like
Where is the Castle from The Royal Treatment? And is Lavania a Real Place?
Where is the House from Firefly Lane? Tracking Down Kate's Waterfront Mansion and Tully's Posh Penthouse
Is it Real? The Story Behind Carrie Bradshaw's Apartment in "Sex and the City"
Where is Virgin River? The Lovely Locations & Cozy-Chic Cabin in the Popular Netflix Series