*This article contains affiliate links and may earn us a small commission when you click and make a purchase through one of these links. Thank you for helping us grow and deliver more useful content to our readers.
---
What says "fancy home" better than a hot tub?
The perfect way to unwind, relax, and completely unload the burdens of the day, a hot tub is also a great intimate party feature and a wonderful way to spend more time with yourself — or a special someone in your life.
And no, you don't have to be rich to afford adding a hot tub to your home, as you're about to see.
If you want to get a hot tub for your home, but have a tight budget, know that there are lots of hot tub options out there, and Amazon carries quite a few really good ones that won't cost a lot of money (and come with rave reviews).
Plus, if you want an affordable hot tub but are either renting or don't want a long-term commitment, know that many of the inflatable models out there come with most of the perks of regular hot tubs, only without the hassle. You can install the inflatable hot tubs anywhere, and they are portable (although you do have to drain them, then refill them when you set them up on a new location). Do a hot tub comparison and then narrow it down to the one that best fits your needs.
Here are five best hot tubs worth considering — that are only a few clicks away and won't break the bank:
This inflatable spa is one of the least expensive hot tubs on Amazon. You can set it up quickly and with ease on any flat surface.
Despite being on the low end when it comes to pricing, this nice hot tub from Coleman comes with bubbling jets to massage the muscles and help you fully relax, plus a digitally controlled pump that has a touch control panel. It is easy to clean too, with easy-to-change filter cartridges that will make sure to keep your hot tub water clean and refreshing. The tub has a cushioned floor with a drain valve.
---
This inflatable tub is aptly named, as it glows up at night due to the LED lights installed inside the water, making it feel more luxurious and sophisticated (hence the Paris moniker).
There are different colors for you to play with, so that you can choose the most relaxing color for your midnight hot tub time. The Bestway SaluSpa has around 90 bubble jets and there is a remote control that comes with the tub. It is among the best Jacuzzis you can get in this price range.
---
Instead of the usual round shape, the Coleman SaluSpa introduces a square model, which is a refreshing change. Their inflatable tub has more than a hundred air jets so you truly can relax and unwind, with three extra seats in the hot tub to welcome your closest friends. This tub came out recently to raving reviews, which makes it a great potential addition to your backyard or indoor home spa.
---
Another fresh release, this bubble massage spa set gets its name from the special care it takes of your well being. With a built-in hard water treatment system that makes water gentler on skin for a soothing experience, this affordable hot tub allows you to pamper yourself in relaxing, heated water while being surrounded by soothing bubble jets.
The easy-to-use control panel on this garden hot tub activates the 120 high-powered bubble jets for a refreshing massage, while the heating system adjusts to fit your personal temperature preferences for the perfect spa experience — right in your own backyard.
---
If you're looking to get the best bang for your buck, make sure to check out Intex's plus-sized outdoor hot tub. Slightly larger than most of the other options in our list, this one fits 6 people and has been fitted with 170 soothing high-powered jets that give you the ultimate spa experience in relaxing water up to 104 F (40 C).
It also comes with LED lights to set the mood for your personal backyard relaxation corner. Ready for water in about 20-minutes, the package also includes an insulated cover, heater/filter/blower/hard water system, multi-colored LED light, 2 filter cartridges, 2 headrests, thermal ground cloth, inflation hose, carry bag, floating chlorine dispenser, and test strip — basically everything you need to get things running the same day your Amazon order arrives.
---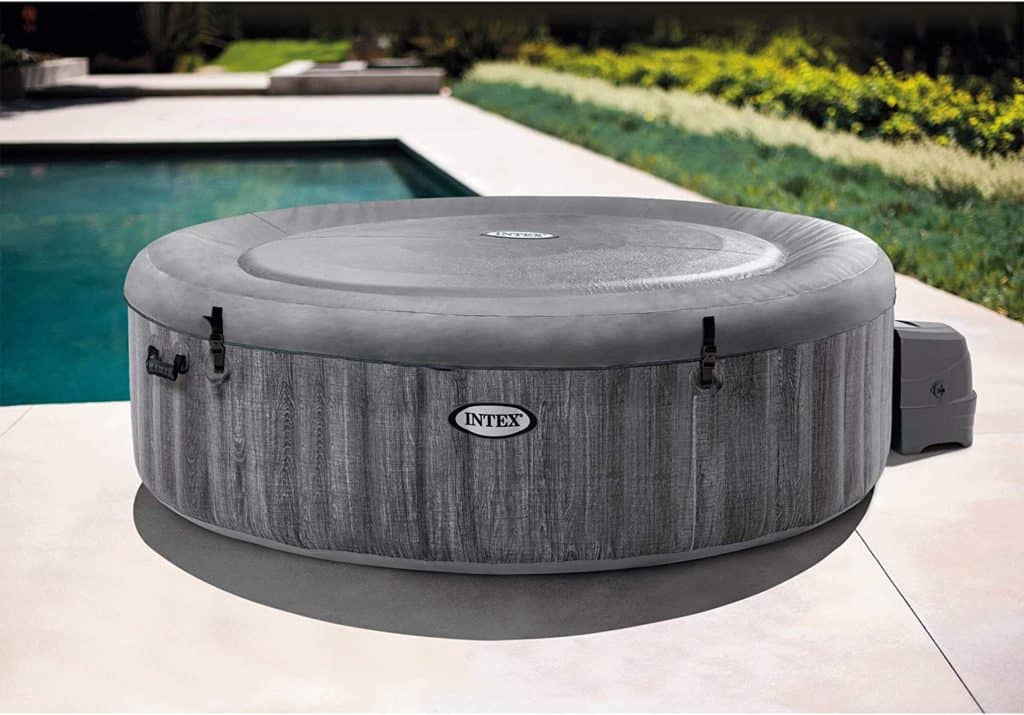 Now, if you find the above options to be too simplistic in terms of design, a great alternative for you might the Greywood Deluxe version from Intex. Similarly to the options above, the Greywood comes with 170 bubble jets, built-in hardwater treatment system, an insulated cover, and plenty of space to fit up to 6 people. But what sets it apart is a stylish design — that mimics a grey wooden surface — and a nice wireless controller that lets you play around with the settings to your liking. If design is a big draw for you, this is a great option for your backyard or home spa.
---
More ways to add a note of luxury to your home

10 Beautiful Tiffany-Style Floor Lamps
12 Mid-Century Modern Bar Stools to elevate your kitchen
Celebrity-favorite astrology candles will add a unique personal touch to any space
10 of the Most Stylish Minimalist Wall Clocks on Amazon