Fall is one of the most exciting seasons of the year. The trees, the smells, the comfy sweaters and pumpkin spice lattes; it's a cozy, wonderful time and who wouldn't want to enjoy that warm vibe all year long?
And since this is the season that prompts us all to spend a little more time inside, homeowners and renters alike tend to step up their interior decor game and invite the fall into their homes, adding notes of warmth and pops of color that are typical for the fall season.
If you're one of the many people that love fall and you're looking for ideas on how to decorate your bedroom with seasonal elements, here are some great ideas for you to try.
1. Scented candles
When it comes to decor, we often think about how the room looks. Other senses are often ignored. With fall, it's hard to ignore the power of scent as there are plenty of smells associated with this season.
Some good scents to bring into your bedroom during the fall season include: fresh fig, warm wood, cinnamon, oak moss, sandalwood, frankincense, patchouli, pumpkin, bergamot, apple, raspberry, clary sage, and so much more. Get several candles in these scents or better yet, get them in various blends. Essential oils could also do the trick on the odor side, but they lack the visual element that a well-picked, nice looking candle would bring.
To step things up a little, you can pair the candles with some nice, seasonal elements to create an arrangement where the candles are the centerpiece. Just remember that candles are flammable, so if you're adding any seasonal flowers or items that might be lit up, keep them at a safe distance from the flame of the candle.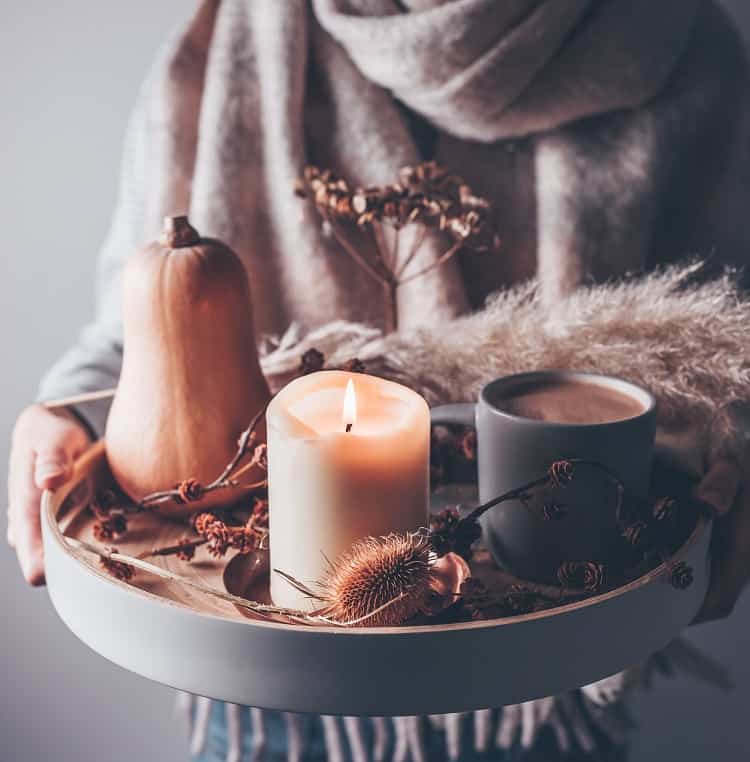 2. Ambient lighting
The right lighting can create a relaxing mood in your bedroom. This fall, you'll want ambient lighting that'll make you want to snuggle up in your sheets and never leave.
Instead of the usual white light bulb, opt for ones that emit a warm glow like orange or yellow. This will really go well with your scented candles, plus it has the added benefit of making you fall asleep faster.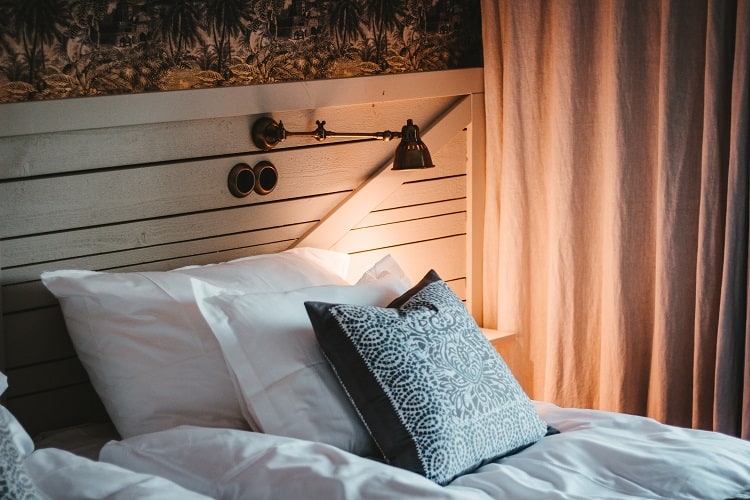 3. Warm palettes
Another easy way to decorate your bedroom this fall season is by changing up the color palettes. I'm not saying to go crazy by painting your walls — especially if you're a renter and don't have the go-ahead from your landlord to repaint the walls. But there are many other ways to play with colors that don't involve paint, fumes, or a full day's worth of work.
Simply replace your current bed linens with some warm colors like orange, burgundy, brown, terracotta, red, and purple. You can also apply this in other areas of the bedroom such as your rugs and curtains, and make use of some nice wall art to supplement the fall color effects.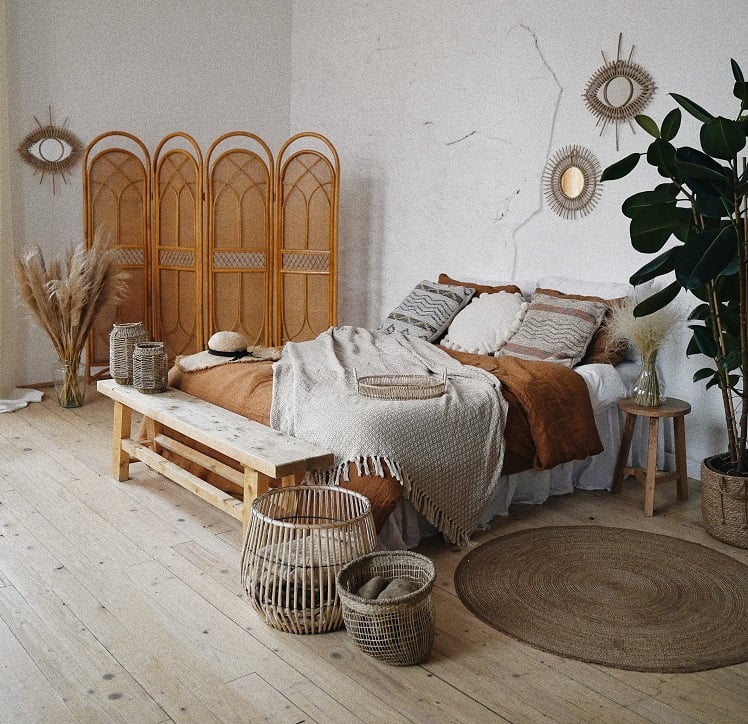 4. Cozy bedding
Since this season is all about getting cozy, you want to make sure that your bed is conducive to rest. Weighted blankets are the new fad so you may want to consider getting one. But in addition to that, you also have to think about the fabric.
You'll want to keep warm this fall so consider replacing your current bed sheet and pillows with thicker ones made in velvet, fur, wool, or flannel. They're wonderful fabrics that do more than just make you warm, they also add texture to your room decor.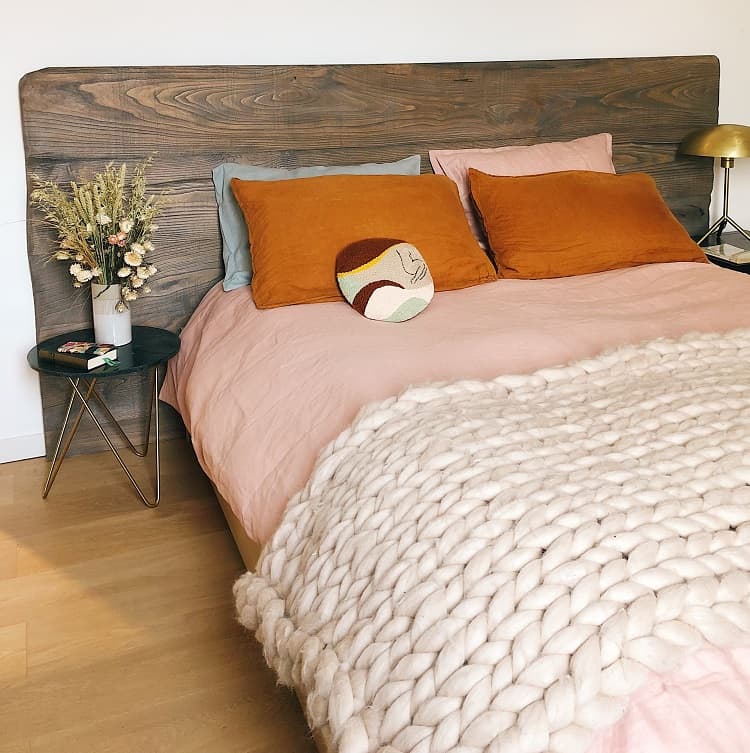 5. Fall accents
Replace last season's accessories with fall accents. Some good ideas you can do are a vase of autumn flowers, a tray of pinecones, or even just a fall scented candle.
6. Add in the rugs
One rug is nice but two rugs is even better. This ups the cozy factor allowing more opportunities for you to get warm. If there's already one beside your bed, place the second rug in an area where you are likely to spend a lot of time like by the window or the foot of the bed. Opt for a rug in a contrasting color so that it doesn't look too matchy-matchy.
7. Embrace the dark
We know natural light is great but fall is one of the rare times where you're allowed to embrace the dark. This doesn't mean you have to completely remove natural light from your room altogether, but you'll want to have the option to darken the room if needed. For this, you'll want to put up curtains in a dark color. This allows you to easily pull them together if you want to get extra comfy in the evenings, or even during daytime.
There are plenty more ways to make the bedroom more appropriate for fall but these are the easiest, most effective ways to do it. We hope you enjoyed these tips.
Now onto you. What decor changes do you make in your home during the fall season? Share your thoughts in the comments below.
More tips for your lovely home
Here's Everything You Need to Set Up a Meditation Corner in Your House
How to Properly Furnish a Small Bedroom to Fit a Large Bed
How to Add a Touch of Luxury to Your Home without a Costly Renovation