Cats love playing, jumping around, and hiding, and they're champions at scratching up furniture, walls, and carpets. And since we love keeping both our furry little friends happy and our furniture intact, we're always looking for great entertainment options for our furry little friends.
Whether you live in a small apartment or a spacious house, cat condos might be just the thing you're looking for. They give your feline friend a cool space to spend their time, rest, and sharpen their claws, not to mention that they usually come with a cute hanging toy that they can torture all day long.
By owning such a piece you're making sure your favorite furniture pieces around the house remain intact while your cat is entertained and enjoys its own little dedicated playground.
And if at first your kitty doesn't seem to have much interest in its new condo, don't worry — a little catnip scattered here and there will do the trick!
Our advice is to buy a cat condo that will still be useful after your cat outgrows it, but other than that, the list of options is endless.
And since there are thousands of products out there, we've put together a list of cute, stable, and durable cat condos you can buy on Amazon. Enjoy!
*Please note that this article contains affiliate links, which means we might get a small commission off of any purchase you make as a result of this visit. Don't let that stop you from shopping, though; we really appreciate all your help and promise to give back more great content in return!
Petpals Hand Made Paper Rope Cat Tree Condo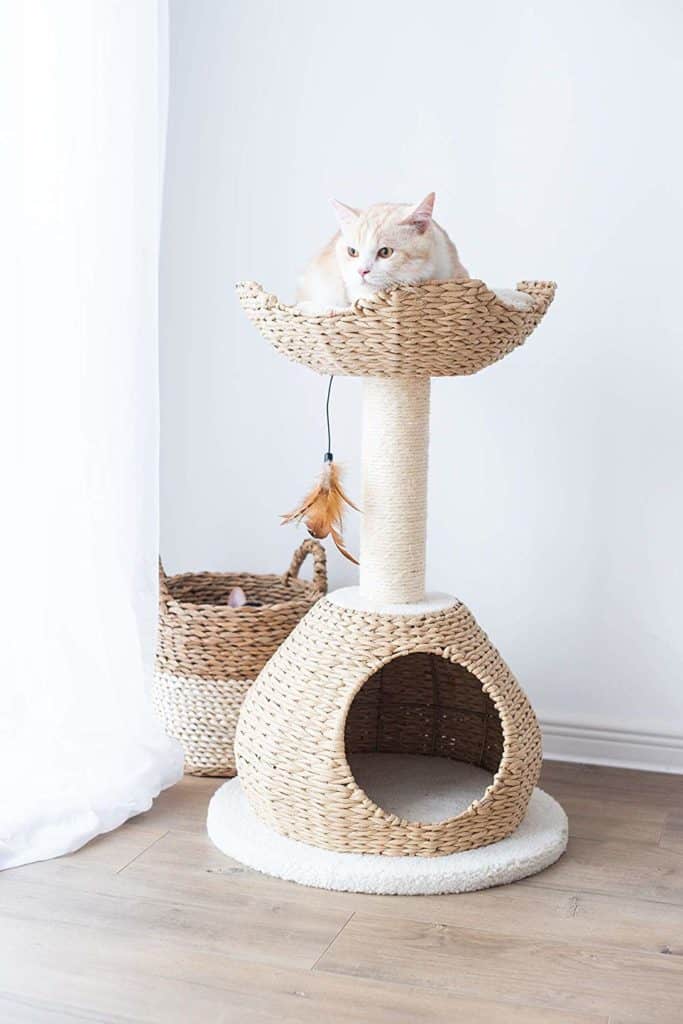 Made out of plush and paper rope, this PetPals cat condo has a stylish design that flows with your home decor.
It's ideal if your house is not too roomy and your feline will surely love it. It includes scratching posts, one lounge, a perch and pillows. And just in case your cat wants to chew on the material, know that it's safe.
FEANDREA Cat Tree for Large Cats
A stable cat tree great for two kitties and perfect for one since there'll simply be more places to hide-out and nap.
The dual condo and the top luxurious lounger are made out of plush; the scratch & stretch posts are wrapped with natural sisal rope to allow scratching and stretching. Basically, a great compact playground for your indoor cat.
BEWISHOME Corner Cat Tree Condo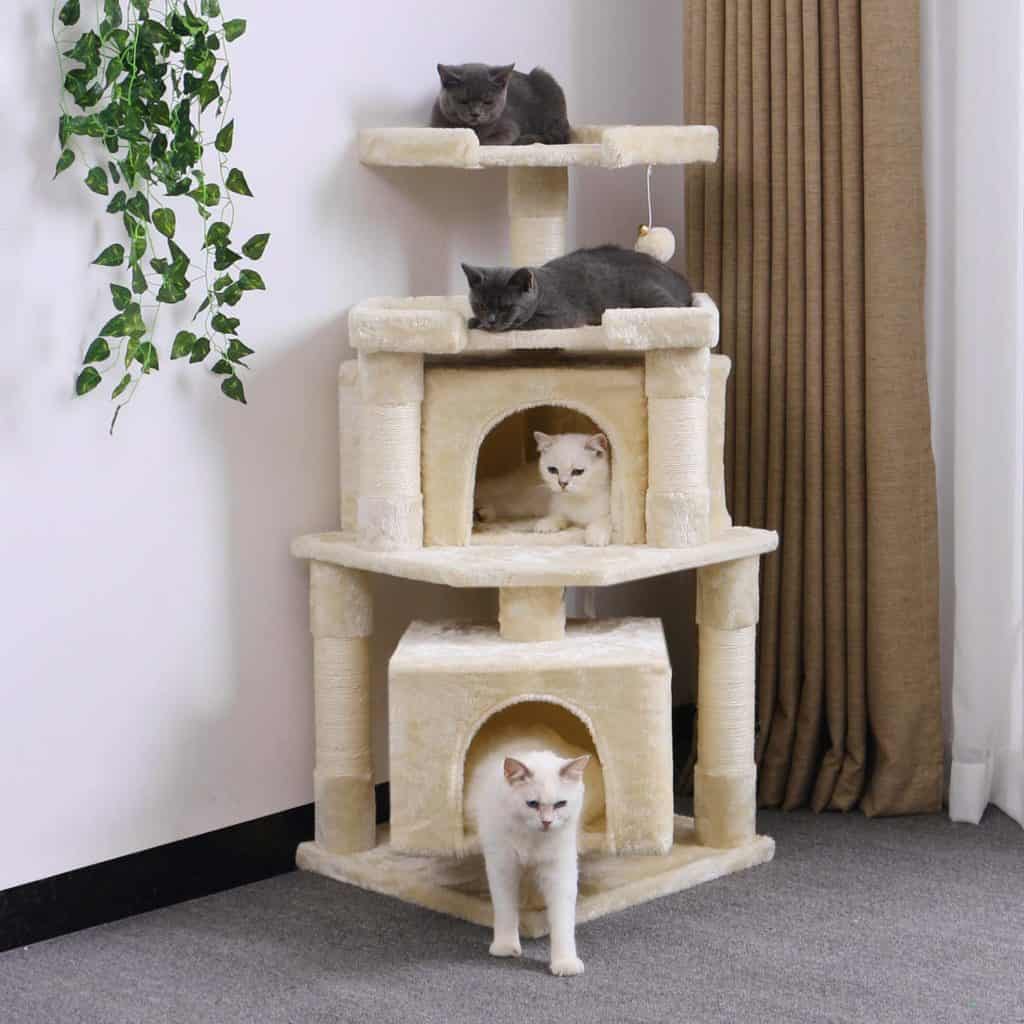 This super solid construction is roomy and will compliment any room in your house.
The multi-level cat tower is composed of good quality plush material, has two large platform beds, two spacious hideaway houses, sisal scratching posts and interactive jingly balls for your kitties to play with.
This cat mansion also comes with a wall anchor strap to attach it to the wall for extra stability.
TRIXIE Miguel Fold and Store Cat Tower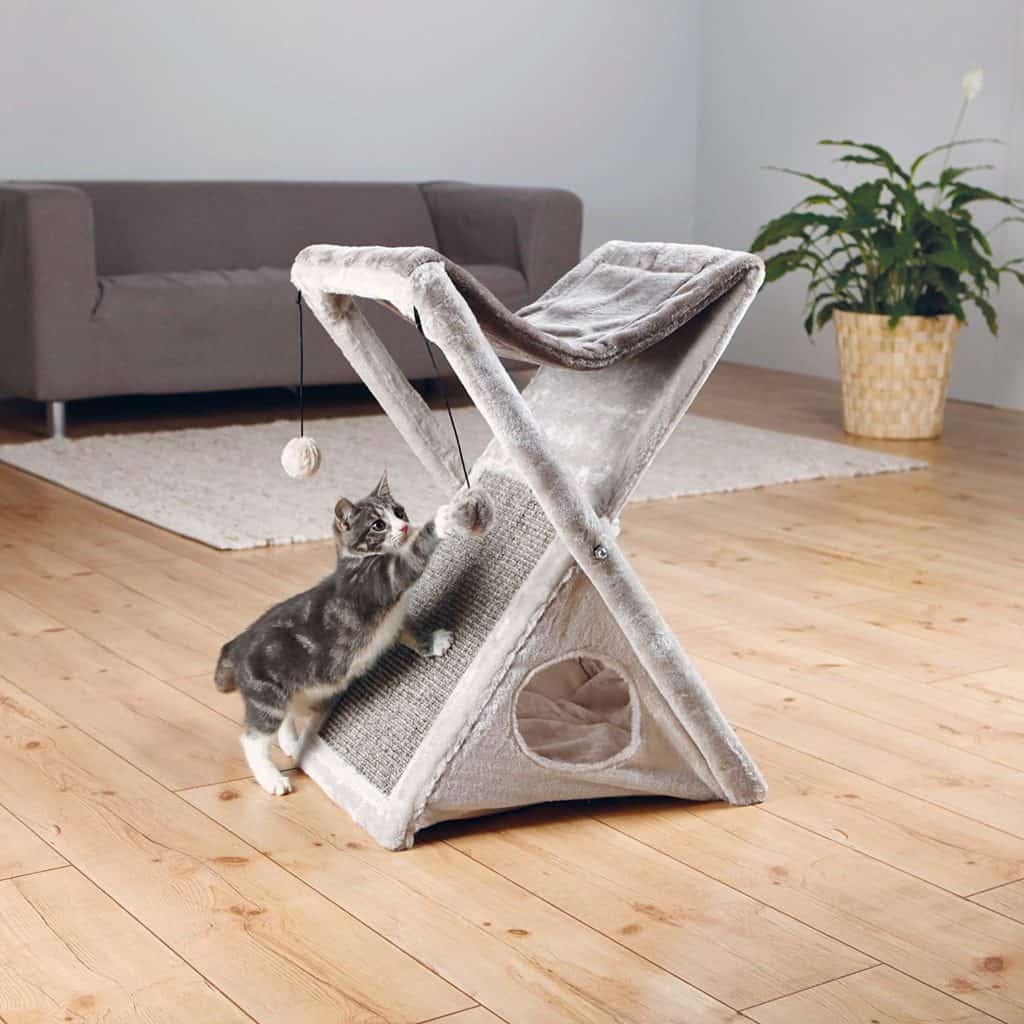 Here's an ideal cat tower for small spaces which we also find useful if you and your kitty are traveling a lot — it will help her adapt quicker to your new home.
It comes with a toy lying hammock wrapped in soft plush, a sisal scratching surface and a removable cushion insert that can be machine washed. Cozy, cute and really easy to use and store.
Petsfit Weatherproof Outdoor Cat Condo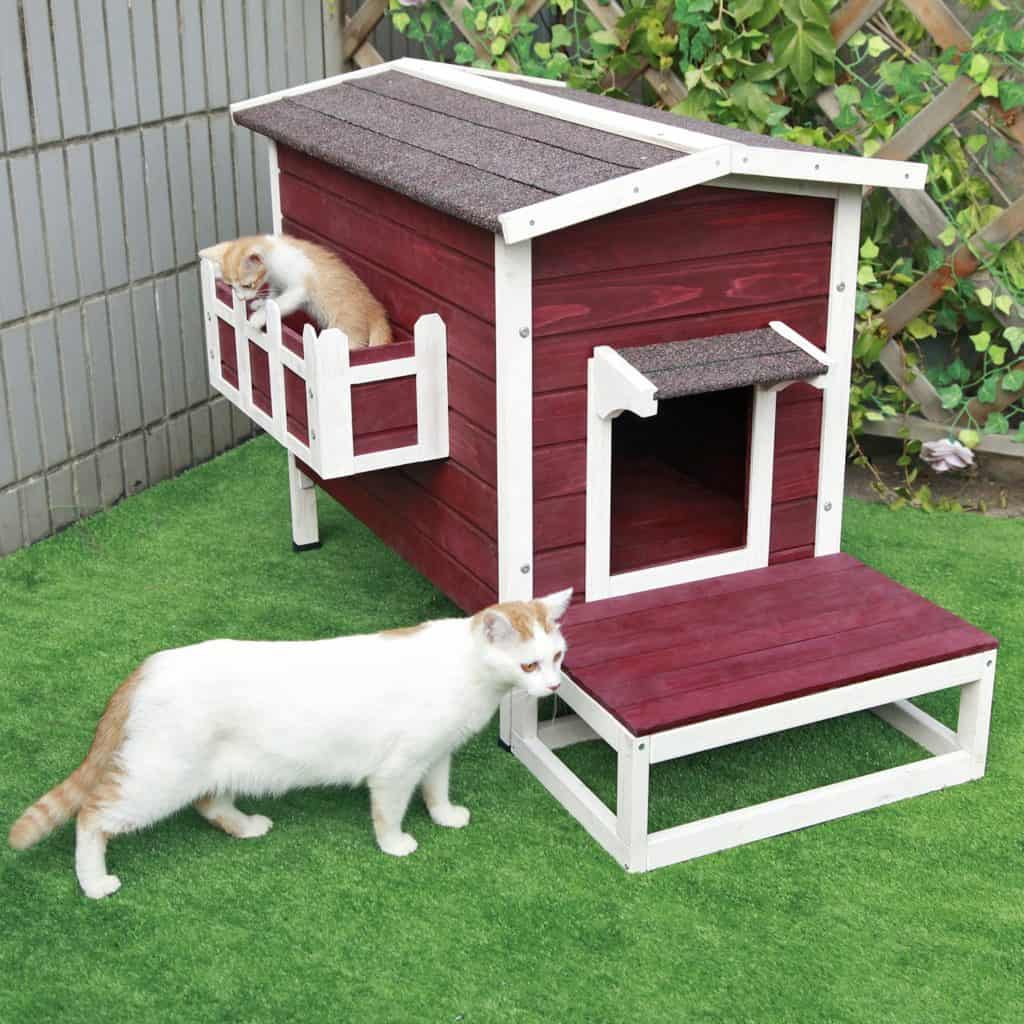 For those of you who own an outdoor cat, we've found a weatherproof cat house that'll make your garden fancier.
Now your furry friends can wander around as much as they'd like, then come back to their own tiny home. The cat house is slightly elevated which will keep rain from getting inside and the bottom floor can be removed for easier cleaning.
PetPals Paper Rope Bowl Shaped with Perch Cat Tree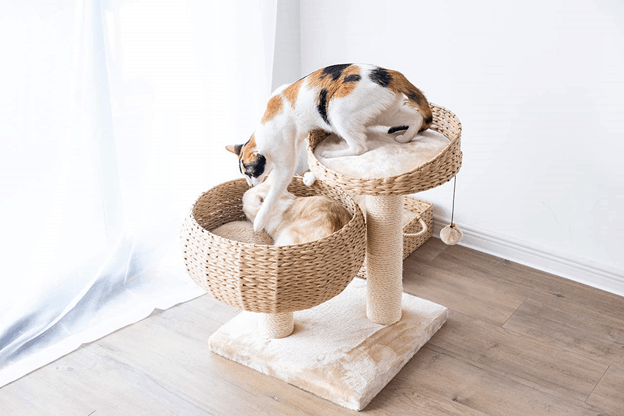 Due to its neutral color, this cat tree will look great with almost any interior design and it's perfect for a smaller place.
It's cute, comfy, and very stable; has two places for your cat to rest, a scratching post and a fluffy hanging toy for when your pet is not feeling lazy.
Ace – PetPals Four Level Perch and Condo Lounger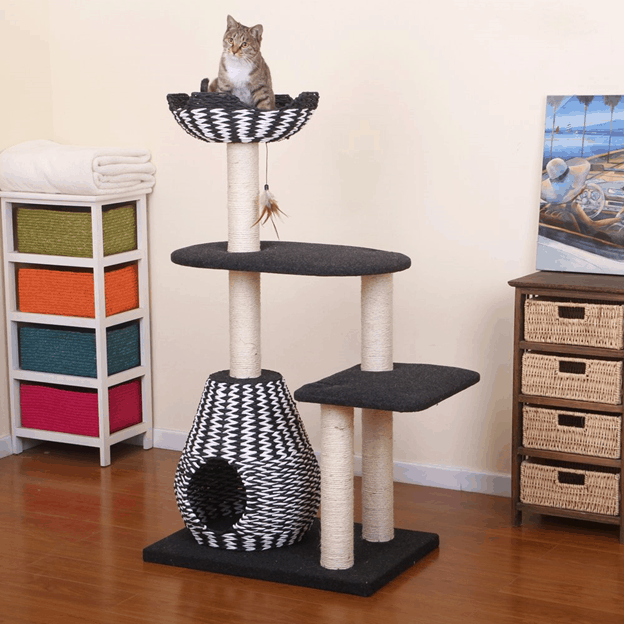 Made out of durable recycled paper rope, this black and white cat condo is both stylish and eco-friendly.
The Ace condo has a hiding place and a top "bowl" from where your cat can rule the world, a dual scratching post and a feather toy that will keep your cat entertained. It also appears to be super easy to clean.
MYZOO Luna Cat Tree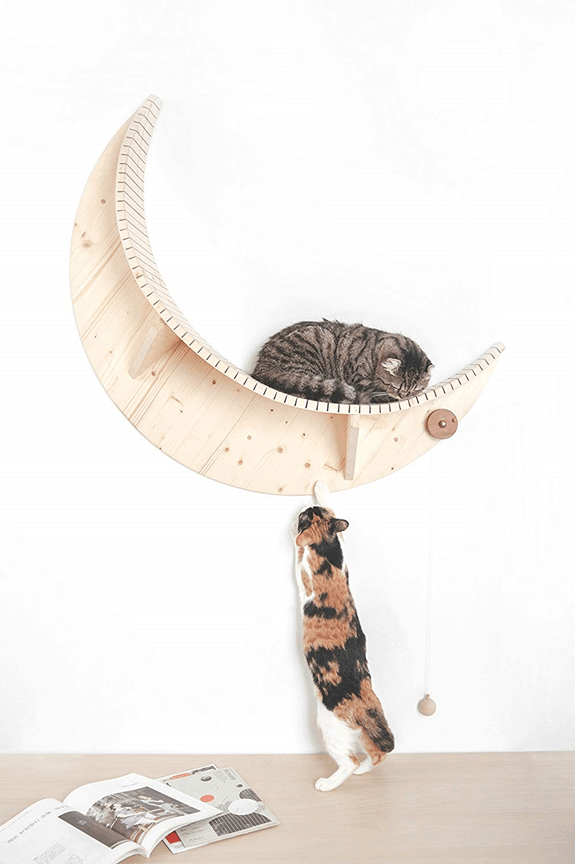 Purr-fect for modern interiors, the Luna cat tree is definitely different from what we're used to.
It's elegant, crescent in shape and equipped with a slotted platform for easy and safe mobility. If you're looking for a cat lounge that you can hang on your wall, this is it!
Vesper Cat Tree – Oak Furniture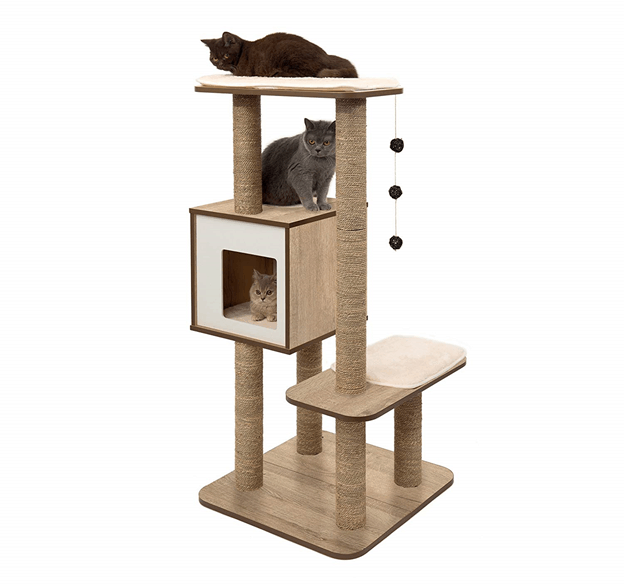 The Vesper High Base is made for cats that love to sit up high, observe and judge – so basically, for all cats.
You obviously need some space for it, although it's quite slim. It has everything you want in a cat condo, and just in case it doesn't look comfortable enough for your pretentious cat, note that it does come equipped with memory foam cushions.
Keter Knit Cozy Luxury Lounge Bed & Pet Home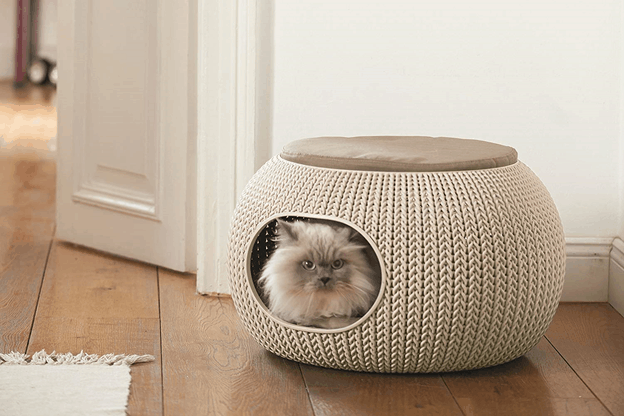 Here's a cat home that you can place either inside or outside your house, as it resists damage from the elements out on the porch and the plush cushions are washable.
It's versatile and would surely enrich any decor. It looks like a fancy tabouret, but it's not, so you should resist the urge to sit on it. The Keter Cozy Pet Home is best for small to medium-sized pets.
PetPals Cat Tree Cat Tower for Activity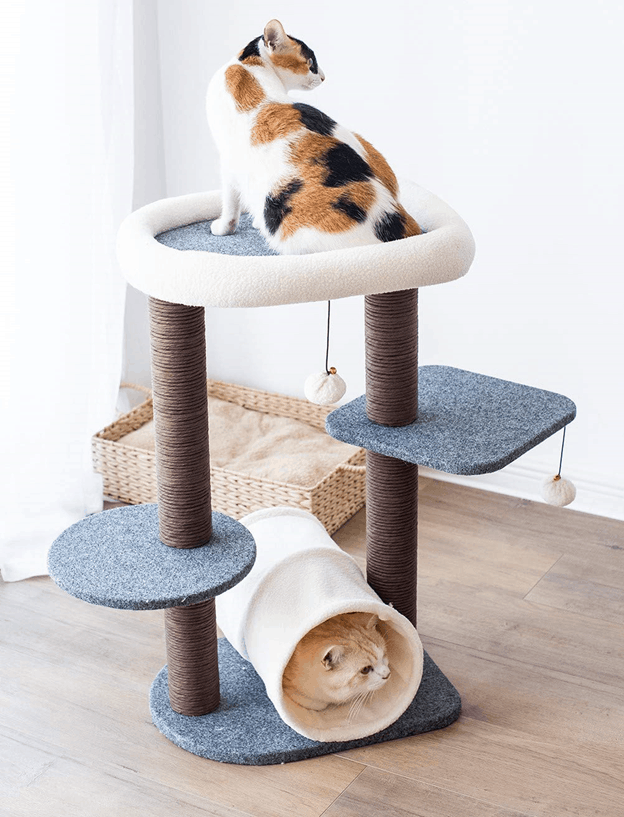 If your furry friend is really active or you'd like it to be more energetic, this type of cat condo should do the trick.
This Cat Tree Activity Tunnel Tower features three different perch styles with soft ring edges and the tunnel will help tune your cat's senses in a familiar habitat. Purr-fect for playing hide and seek in a small space.
MYZOO Spaceship Alpha, Warm and Cozy Pet Bed
Got a geeky home decor? Then you'll love the Spaceship Alpha cat condo.
Besides looking like a cool furniture piece in the shape of a capsule, it serves as a cozy bed and the transparent acrylic provides a secure environment for your feline friend.
MYZOO actually designed a Spaceship Series, so if we got your attention, you can also check out the Beta and Gamma versions.
Tangkula Triangle Weatherproof Cat House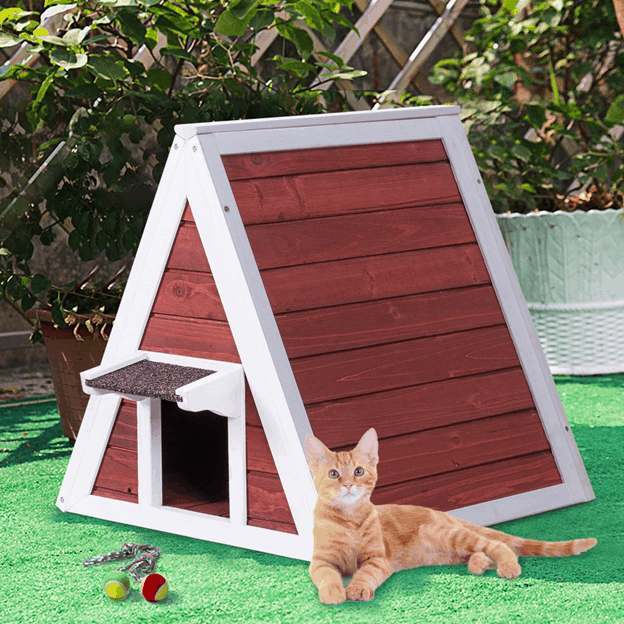 The stylish appearance of this cat house will definitely contribute to a nice garden scene, but you can also install it indoors.
The eaves' design allows your pet to enjoy a dry and warm environment, isolated from rain, snow and hail. It's simple, but eye-catching, and most importantly, it makes a safe and relaxing space for your cat.
More tips for your fancy home
These are 'Queer Eye' Bobby Berk's Top 6 Choices for Wall Décor
10 of the Most Stylish Minimalist Wall Clocks You Can Buy on Amazon
The 15 Best Luxury Candles on Amazon to Brighten your Home & Complement your Decor