Our homes should be oases of calm where we can retreat to from the hectic world we live in.
But that's easier said that done, especially since every corner of the house stands as a reminder of something we didn't quite get to yet; whenever we walk past our desk, we're being reminded that there's work left to be done and bills to be paid; when we enter the kitchen, we may be reminded that we forgot to cook dinner so we should probably order some takeout… again!
But what if you had a place in your house completely devoted to chasing away stressful emotions? A space with comforting surroundings where you can clear your mind – a meditation corner.
There are no specific rules for creating one, but first, choose a space that simply feels good.
You need to make sure that it's constantly clean and uncluttered, and you may also want to account for lighting, depending on what time of the day you want to meditate.
Once you've decided on it, all that remains is for you to decorate and personalize your meditation corner. And we've got you covered here! Check out the following meditation items and choose the ones that'll help you transition into a quiet mindset. Namaste!
Meditation pillow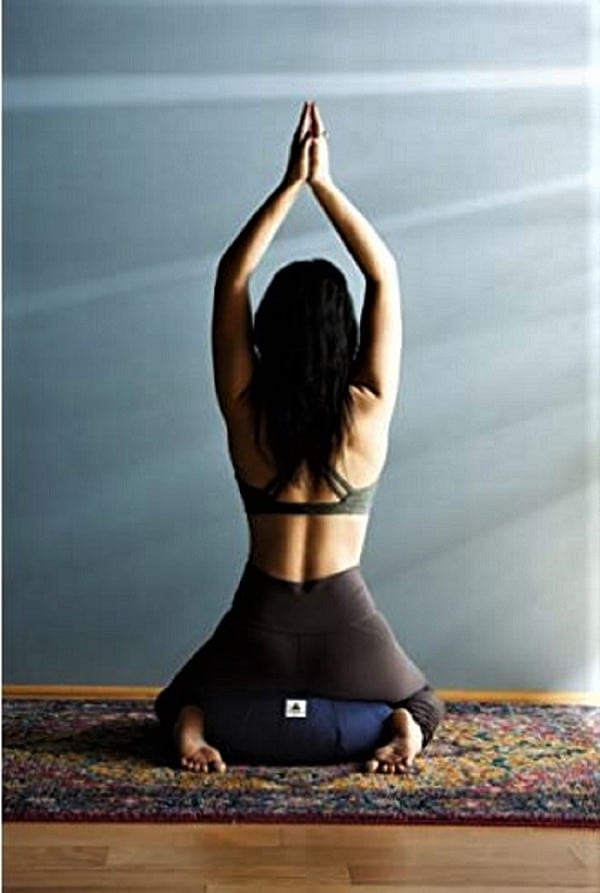 What's best about creating a meditation corner is that you don't need expensive stuff, but you do need comfort. This meditation zafu will allow you to maintain perfect posture during your practice, by propping your hips up higher than your knees.
If you don't feel comfortable enough, you can easily remove some of the pillow's filling.  
If you already have an old meditation pillow, consider making it brand new by changing its cover. We personally love this one.
Tibetan singing bowls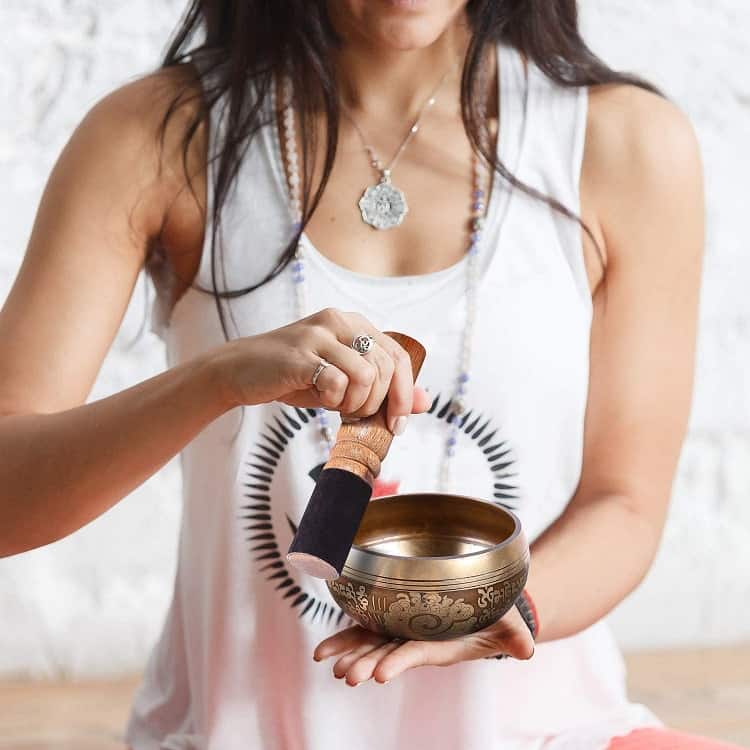 Tibetan singing bowls have been used for centuries for healing and meditation purposes. When played, the sonic waves help induce deep meditative and peaceful states.
Handcrafted by artisans in Nepal, the Ohuhu singing bowl is as beautiful to look at as it is to hear, producing a profound sound healing experience. Besides, it's easy to carry around, so you can take your bowl wherever your practice takes you.
Meditation bench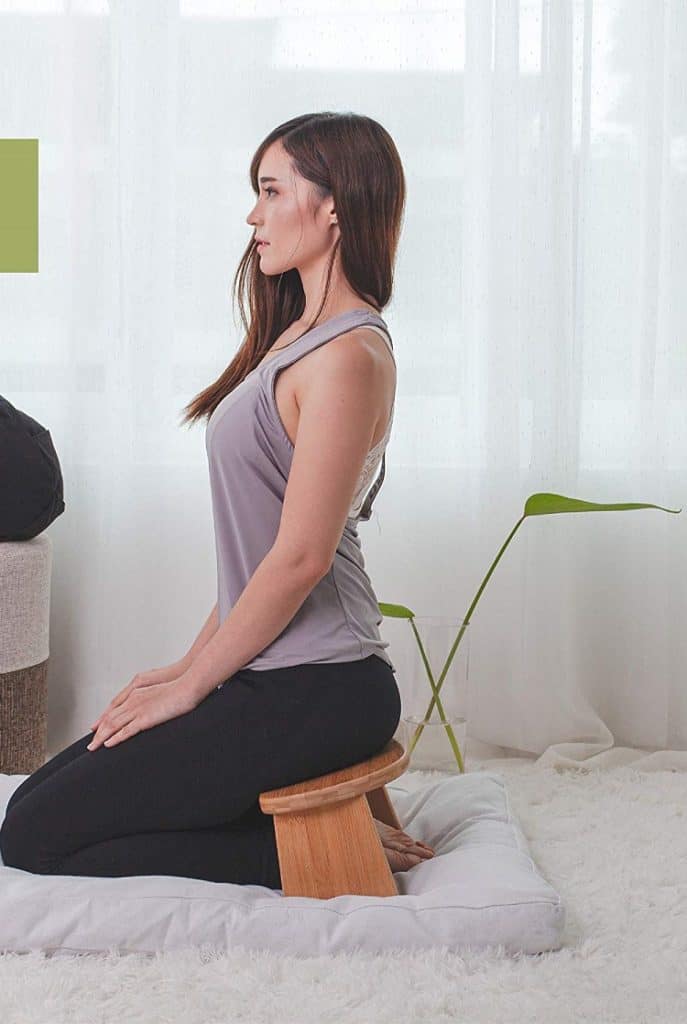 Another item that you can add to your peaceful corner is a meditation bench. For those of you who find it difficult to meditate using a zafu cushion, a bamboo bench will offer ergonomic support and comfort.
Because proper posture is key to in the meditation practice, this bench is ideal for the traditional Japanese kneeling posture, called "seiza" position.
Small bamboo coffee table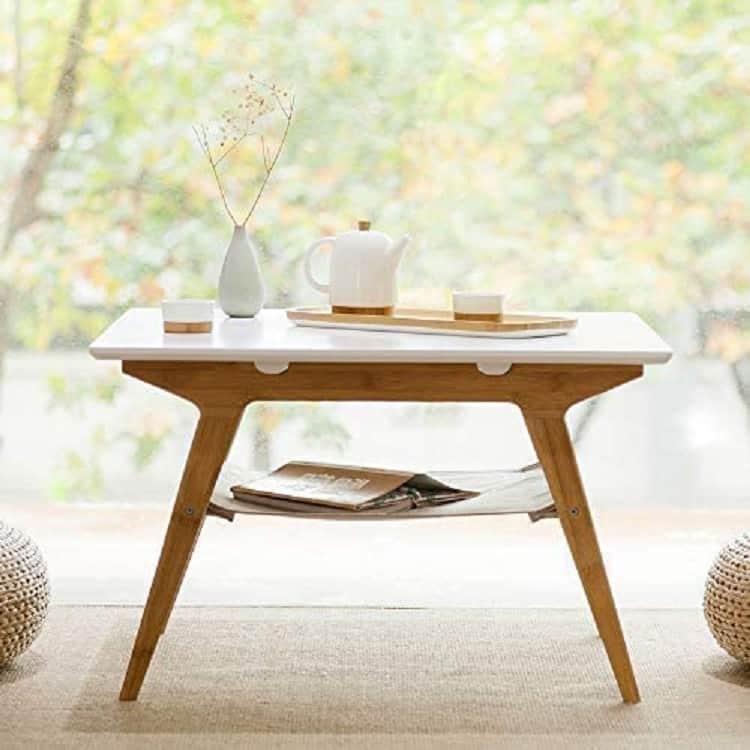 Create a stylish and tranquil space for your meditation practice with this small coffee table.
Made from eco-friendly natural bamboo, this piece is highly versatile and ideal for accompanying your session with a nice cup of tea, or you can simply use it to place other meditation items.
Wall tapestry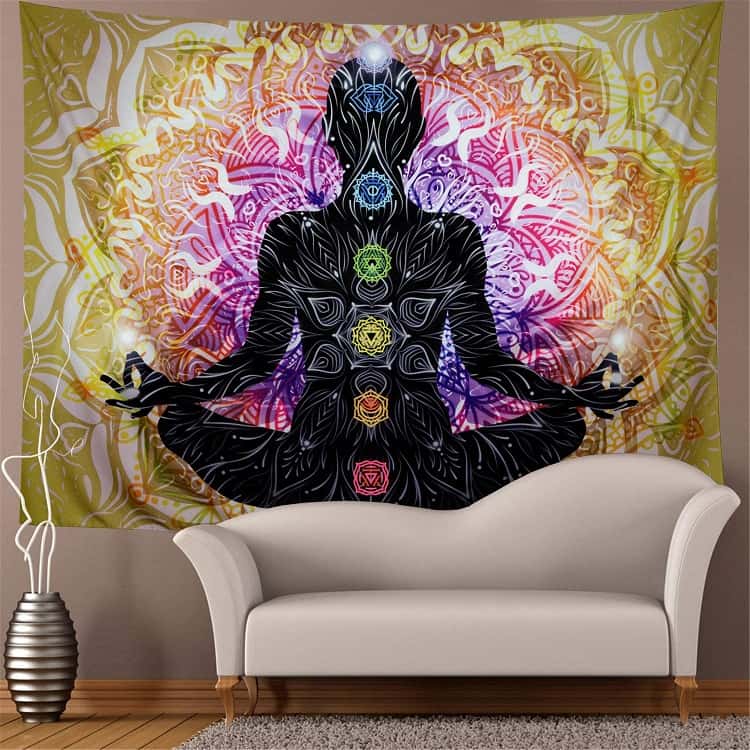 Some people like to keep their meditation space simple, but others like to go all the way and decorate their walls as well.
If you think that a drawing of different yoga elements will help induce a deeper meditative state, then you should probably consider this Indian mandala tapestry. Made out of lightweight polyester fiber, the material is soft and you can also use it as a meditation mat.
Citrine & amethyst crystal tree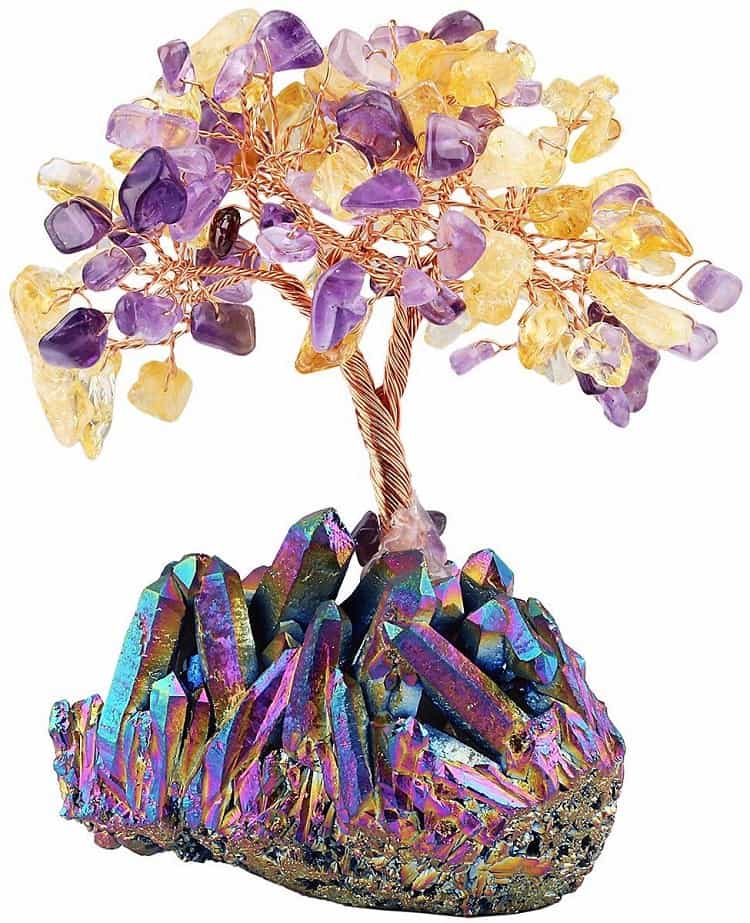 You don't need a special place when it comes to beautiful ornaments, but a replica of the traditional Chinese "Wishing Tree" would definitely fit better in your meditation corner.
Made out of natural titanium, coated rock crystal cluster base with crystal quartz leaves, this wishing tree is considered by many to be a symbol of good luck, wealth and prosperity.
Empowering question cards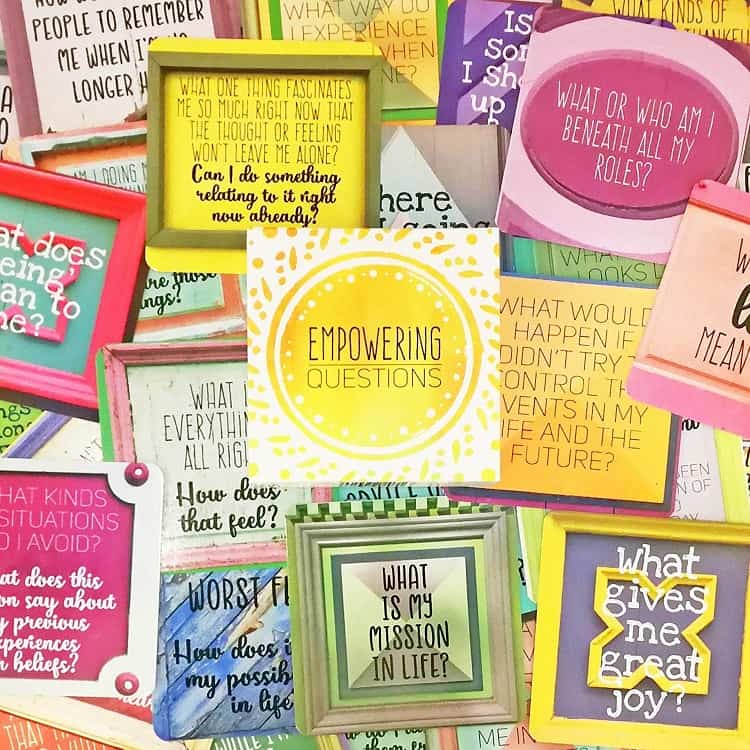 We all need to start an inner conversation every once in a while. Gaining deeper insight into who we really are takes some work — and requires that we ask ourselves the right questions.
These adorable Empowering Questions cards contain all the right questions that'll trigger positive answers. They're an easy way to bring mindfulness to your life by getting to know yourself and start working on the aspects that matter to you the most.
Tealight candle holders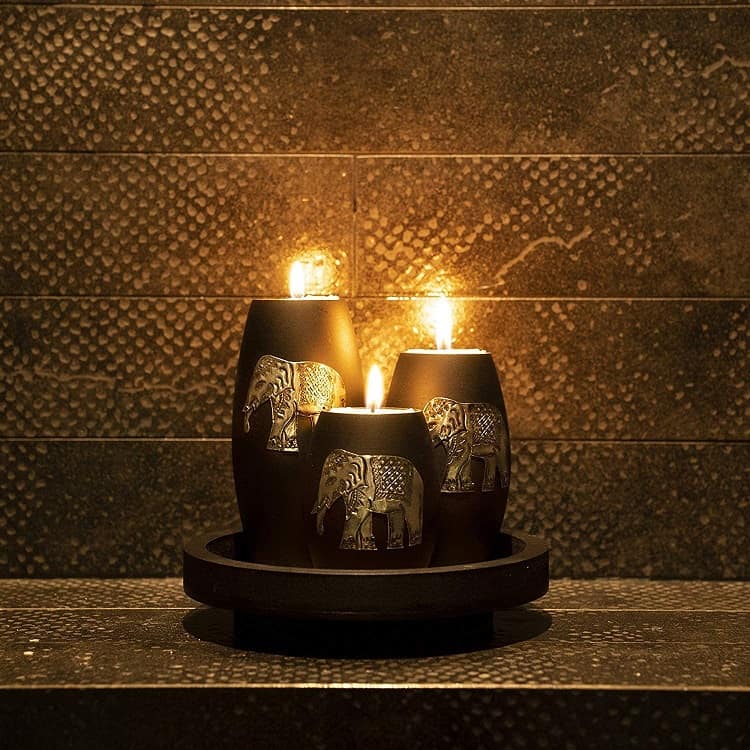 Everyone loves candles. They lighten up the space and create an enchanting and intimate ambiance.
These beautiful antique wooden candle holders will add coziness and a warm touch to your relaxation space. They go very well with both modern and rustic decor and they would also make a great gift for your friends.
Lotus back-flow incense holder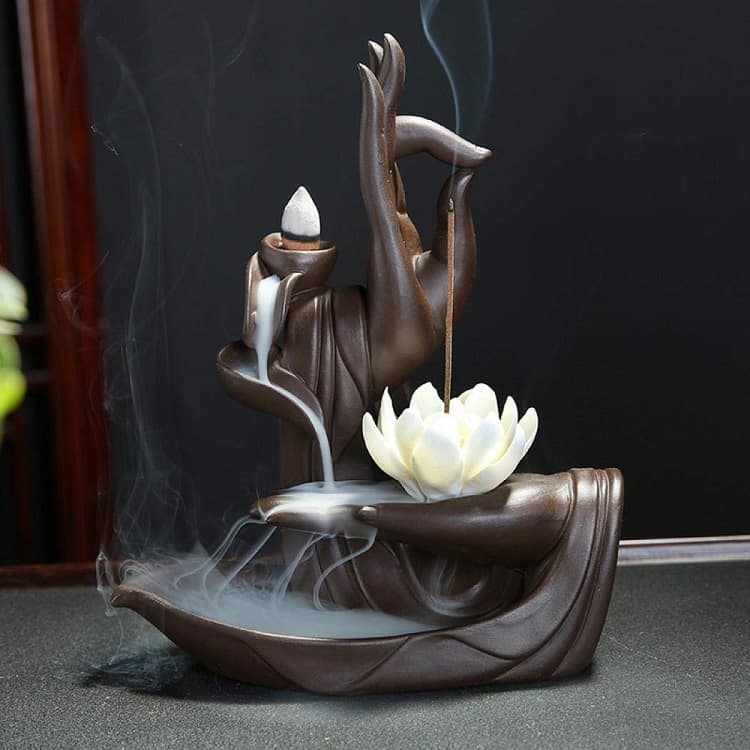 Surround yourself with a soothing scent as you focus on your meditation practice with this back-flow incense holder. The aromas will help you relax and let your imagination run free.
The Lotus back-flow incense holder is also great for welcoming your guests. It will create a pleasant atmosphere and why not, reflect your elegant taste.
Japanese Zen garden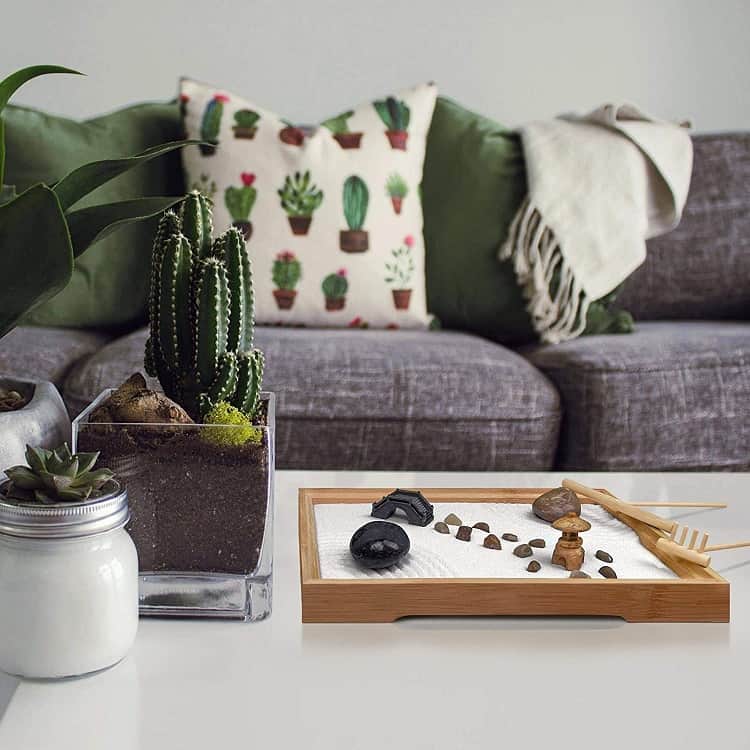 Japanese Zen gardens are a great way to quiet your mind, improve your focus, and develop an overall sense of well-being.
Japanese Zen gardens are places of quiet contemplation and reflection so these tiny versions of them are designed accordingly. You can place one within reach in your meditation corner for tension relief and to help increase mindfulness.
Relaxation fountain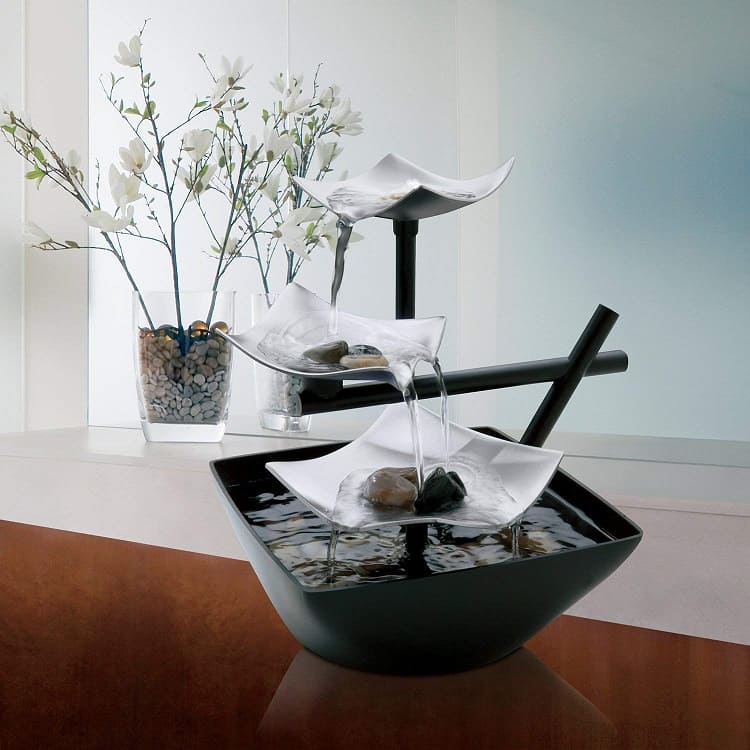 Another item that will turn your meditation corner into a haven is a tabletop relaxation fountain that will bring the serenity of nature indoors.
With a design that would look great in any setting, this relaxation fountain will instantly put you at ease. Get ready to enjoy the soothing natural water sounds, accompanied by a unique lighting feature for added ambiance.
Folding screen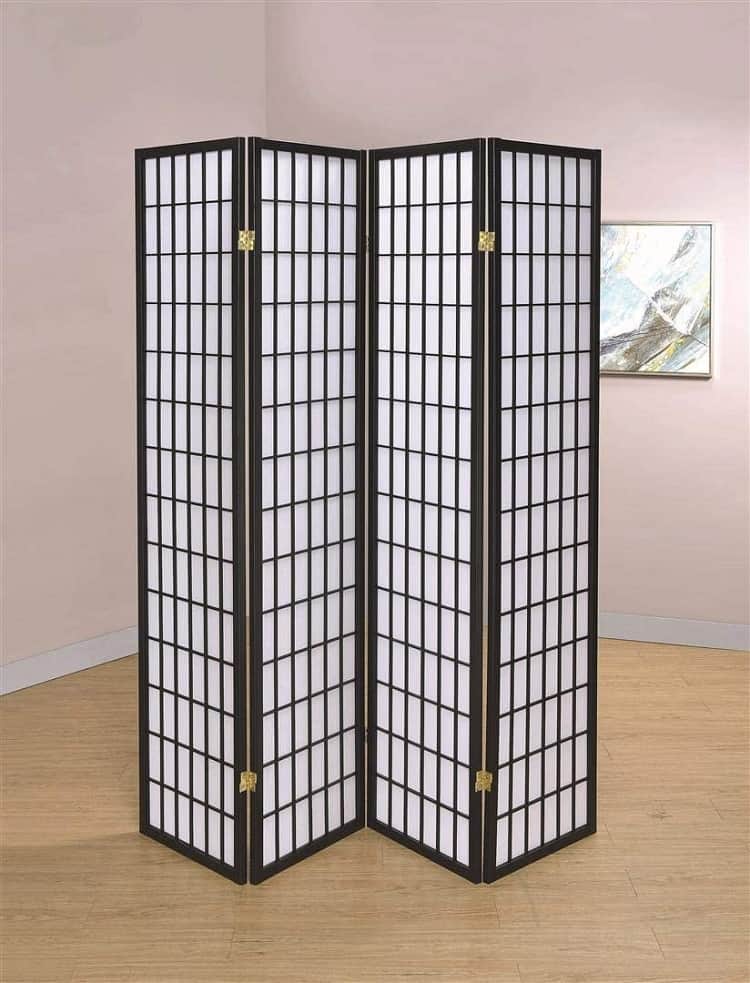 If you want more privacy and less distraction for your meditation corner, you should consider breaking off the area from the rest of the house. And no, you don't have to build a wall for this, you just need a folding screen.
This black & white four-panel screen is made out of pine and fabric and it would nicely fit in any décor.
So that's about it — now you've got everything you need to create your own meditation corner. We're sure that there are many other things that you can use to bring serenity into your home and we'd love to hear your ideas.
Some zen celebrity homes to inspire you
Gwyneth Paltrow's house in Montecito is her "Forever, Forever Home"
Where Does Tommy Lee Live Now? Inside his Japanese-Style House in L.A.
Doja Cat's house is a $2.2M Beverly Hills Home With Distinctive Flair
Shayna Taylor's House, Once Shared with Ex Ryan Seacrest