A home's attic may just be the most overlooked space of the house.
Often used simply for storage, this space has the potential of turning into a sleek living space, hobby room, home office or even a guest bedroom, if given a good amount of tender love and care.
Most people don't consider using their attic space due to the absence of finished walls and proper lighting.
But with the right knowledge and some fairly small additions, you can convert your attic into an elegant getaway that not only adds value to your property but can also be used as a place to relax and unwind.  
Wondering what it takes? We thought we'd give you a hand by looking at some of the most crucial elements you need to consider if you're thinking about turning your attic into a living space.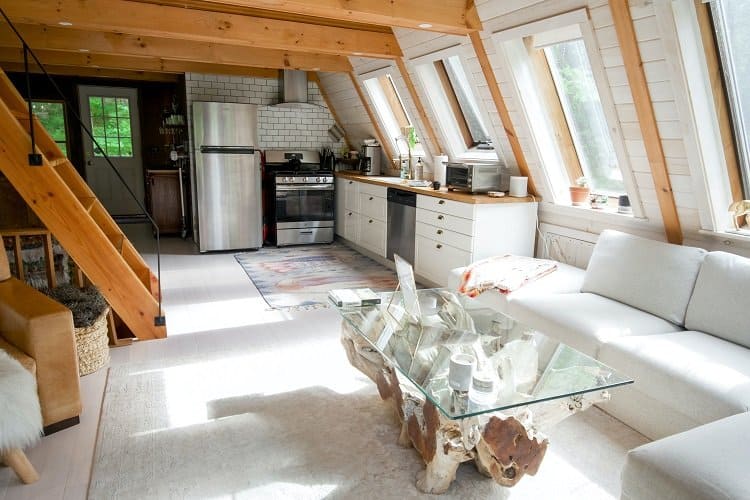 Turning your attic into a livable area
Now, while there are quite a few elements involved when converting an attic, taking them one step at a time — maybe even spacing out the work and giving yourself lots of time to get it done — will make the whole process seem less daunting. Here are some of the major improvements you need to account for:
Wire your attic for electricity
While this isn't an extensive project, you will need to hire a professional to help you out and get this one out of the way. Whether or not your attic is already wired, you'll need to hire an electrician to check your wiring and make sure it's up to par; and if it's not, they'll have to wire it all together.
Either way, get this one out of the way well before you start working on the walls or floors, otherwise, you might find yourself in a position to ruin your freshly redone walls to set up wiring.
Strengthen the attic's floors
If you plan on adding furniture to the space, especially larger pieces like a bed or an armoire, you'll have to account for the extra weight and strengthen the floors.
This is another aspect you might want to contract out to a professional, given that you need to make sure both your floors and your home's foundation and framing can handle the extra weight.
Insulate the attic
Since all the walls (along with the roof) are exposed to the outside, your attic is likely the hottest and coldest room of the house, depending on the season.
That's why you'll want to take extra steps to insulate it properly, and depending on the area you're in and how cold/hot it gets, fix the space up with PTACs (package terminal air conditioners) to maintain the right temperature. You might also want to consider adding drywall or add extra wood or shiplap to the exterior walls.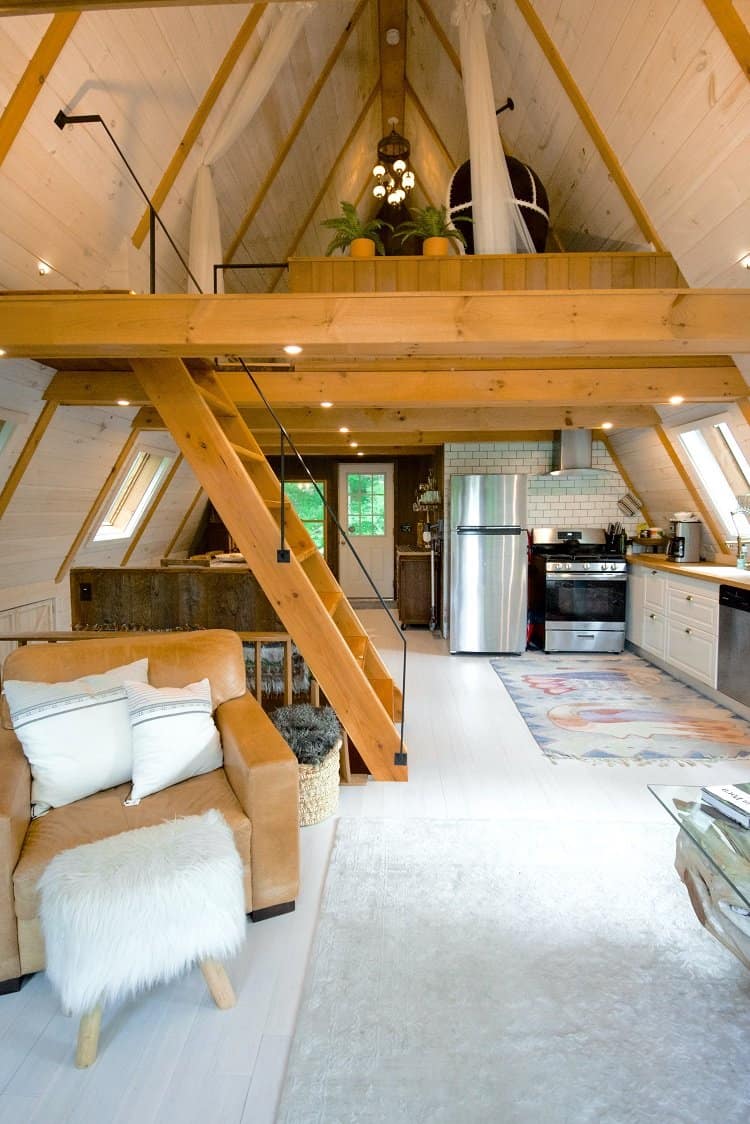 Install plumbing
If your attic conversion also involves adding a bathroom to your newly created living space, you'll need to account for plumbing.
This part might add up and bring your expenses up considerably (especially considering all the other elements you'll have to purchase and install in your bathroom, from the toilet to vanity, fixtures etc.) so think it through before adding it to your wish list.
Especially since you can't really space them out very much, and you'll need to buy the toilet/bathtub and all the other elements before plumbing starts — as you'll need to connect them. Also, remember we were talking about strengthening the floors of your attic?
Water adds tons of weight, so you'll have to plan your structure reinforcement accordingly if you're gonna move forward with the addition of a bathroom. For more info on what it entails to install a bathroom in your attic, here's a handy guide.
Get proper lighting
If you're going all out with your attic conversion (and have the funds to back it up), you'll want to consider adding some nice skylights or windows. But this can ramp up your costs considerably, and make the whole process far more complicated.
So instead, why not flood the place with light through some good old light fixtures? Mix things up with a combination of LED lights, overhead lighting, and tall lamps — and pick bright bulbs to get as much light in as possible.
Paint the walls and ceiling
You're almost done with your DIY attic remodel, so now it's time to start making it look pretty. Even if your attic has finished walls and ceilings, you'll want to add a fresh coat of paint to make the space look brand new and inviting.
To make the space appear airier and to compensate for the lack of windows, choose bright colors for most of the walls (though an accent wall that stands at the opposite end of the entrance is always a stylish addition).
Add furniture, appliances & décor elements
The next step in setting up your attic living space is to make it practical and beautiful. This entails adding furniture, design elements, and whatever appliances you think you might need for the space.
Think TVs, a mini fridge, a nice stereo system, low, sleek A/C units, whatever you find most practical depending on how you want to use the newly-created room of the house.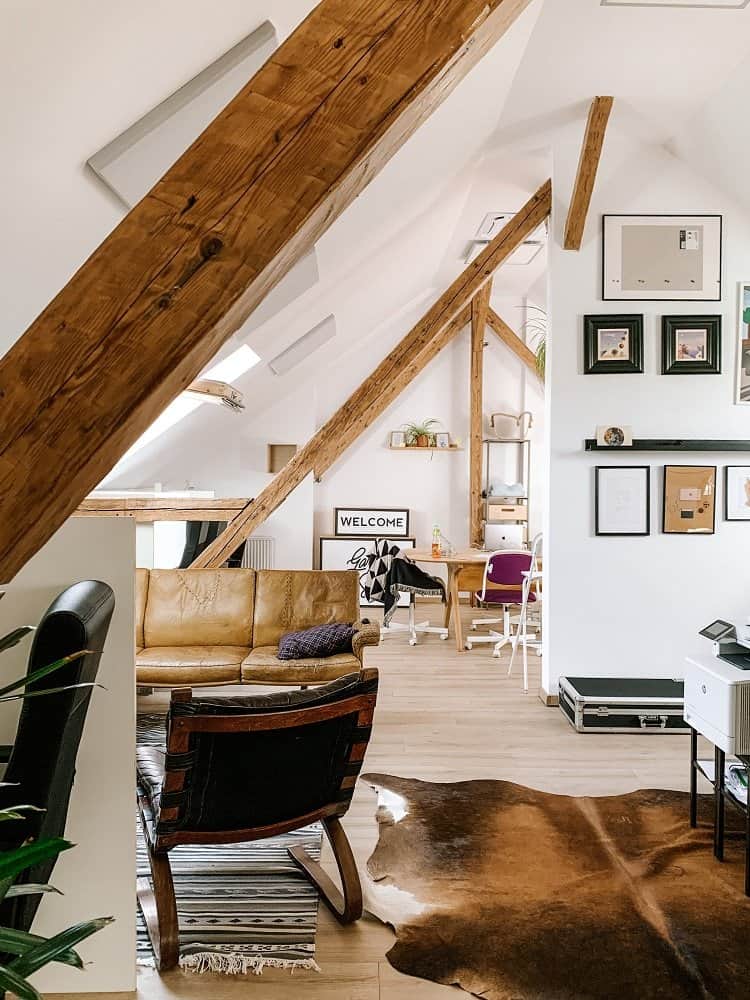 Maybe you want to have it ready as a guest bedroom, or a teen kid's room, a hobby room, a much-needed home office or a place to relax and meditate in.
Each potential use comes with its own individual needs, so it's up to you to get creative from this point forward (though here are some great tips if you're setting up a meditation room).
Last but not least…
If you're seriously considering turning your attic into a living space, there's one hurdle you need to get out of the way before embarking on any of the above changes: checking with your local permitting office to see whether or not you'll need a building permit for converting your attic space.
Not all cities require their residents to pull out a permit for this, but it's better to know for sure instead of winging it. Your home insurance and later property valuation might take a hit if you don't account for this aspect.
Trending stories
The Home Alone house in real life
Edward Cullen's house in Twilight
The Breaking Bad house, where Walter White lived