While the bathroom is one of the most commonly used rooms of the house, it rarely gets the same amount of love (or attention) as the rest of them.
In fact, with proper care and constant cleaning, you may not even feel the need for a bathroom upgrade. Except for right after a nice vacation, when you've pampered yourself in the most beautiful settings.
After a week of using the lavish powder room in your luxury holiday getaway, coming back home to your own bathroom may feel a little disappointing.
However, there are ways to bring that exotic paradise experience to your own bathroom even when on a budget.
Let's go into a list of changes homeowners like you can use to turn their bathroom into a luxury space, based on examples found around the world.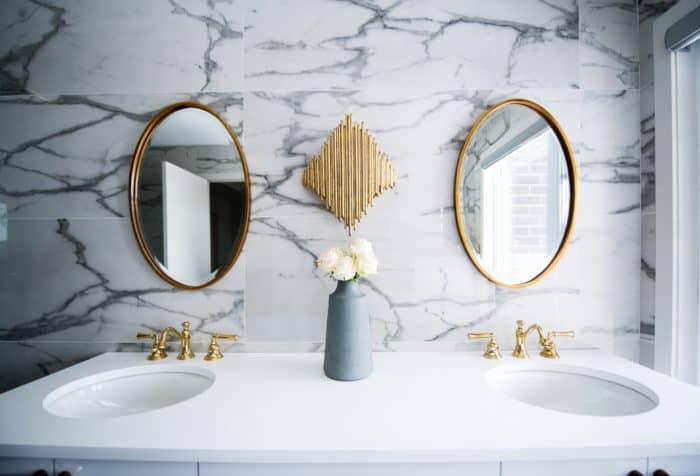 Funky wallpaper or bold-colored paint
Take a hint from designer bathrooms and decorate your bathroom walls with dynamic wallpaper. Elle Decor features designer Miles Redd who opts for bold black and white botanical-patterned wallpaper when designing a powder room in the Hamptons. This type of design gives the space movement and energy.
Bathroom wallpaper these days can be anything from pineapples to paisley, or even bamboo. The wallpaper's vibrant prints and colors evoke the feeling of being in an exotic location.
If funky wallpaper is too much for you, consider using bold-colored paint for your bathroom walls. Living Coral, Pantone's Colour of the Year, goes well with neutral furniture and emerald accents. Color can help statement décor stand out, while also creating a sense of peace and balance in the room.
Using natural materials
When talking about bathroom design, Australian interior designer Lauren Li suggests creating a spa-like escape by using raw natural materials in the bathroom.
Natural materials bring authenticity and character to the room. Making use of wooden flooring or shelves in the bathroom makes you feel like you're still inside a sauna in a luxury mountain lodge.
Stone can also be used as material for basins or as part of the shower. Stone fixtures help illuminate the room, making it feel warm and peaceful.
Consider popular styles from Down Under by incorporating natural materials as a great way of uniting the outdoors with the indoors, allowing you to enjoy a part of nature while taking a relaxing bath.
If authentic raw materials are too expensive, you can always opt for faux-marble or timber-looking porcelain tiles. This will no doubt bring you back to your days relaxing on your luxury weekend hideaway.
Statement pieces
Multiple upgrades to your bathroom at once can be very costly, so it is important to consider upgrading one piece of your bathroom first to make it a statement piece.
A popular style in the UK is to design your bathroom around a vanity unit with the same craftsmanship a piece of furniture would have.
Elaborating on the topic, designer Justin Van Breda says, "The idea [is] that you should be able to design your whole bathroom around them. They're decorative without being flouncy."
Also consider having a well-designed bathtub as a focal point. The bathtub becomes the central design of the whole bathroom, which creates balance and peace—something you could only hope to bring home with you from a luxury hideaway.
Moreover, if you have a large or open-air bathroom, you can also consider installing an affordable hot tub such as the Lifesmart Simplicity Plug and Play four-person hot tub for the same effect.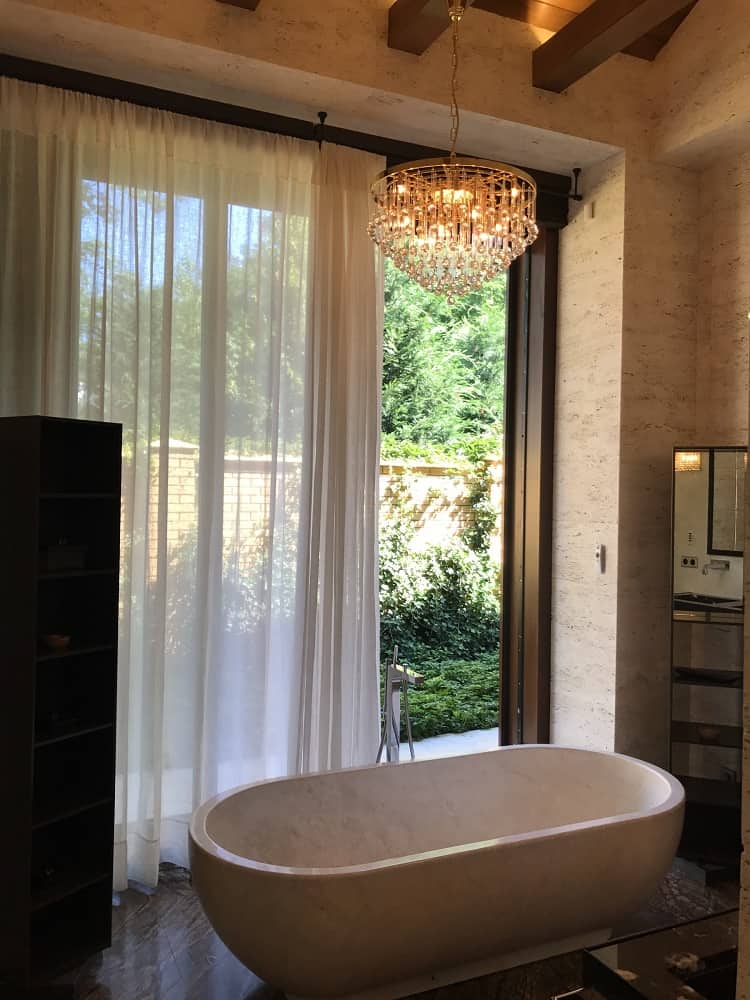 Modern plumbing systems
If you're upgrading your shower or bathroom fixtures to create a focal point as per the above UK trend, it's best to make sure that you get the plumbing and heating system checked.
I know you're now thinking, "pipes and plumbing, there's nothing exciting or lavish about that!" But there's no way around it, you will need to take into account this crucial aspect when renovating your bathroom.
A faulty boiler can easily end up adding extra costs to your renovation in the long term, especially if you need to rework the plumbing after making changes.
The UK plumbing specialists with HomeServe advise that you get your boiler serviced to check for any defects and to see whether it needs to be repaired or replaced.
Making sure your plumbing system is up to date will ensure you have efficient heating and steady pressure in your new luxury bathroom. After all, it is no good designing a luxury bathroom if the plumbing can't match your design ambitions.
Minimalist bathroom designs
Luxury is often associated with ornate detail, but minimalist designs can be luxurious too. Scandinavian designers are leading the way when it comes to these fashion-forward, bare interiors.
There are many ways to go about this, such as going for an all-white bathroom, from the tiles and sinks all the way to your bathtub.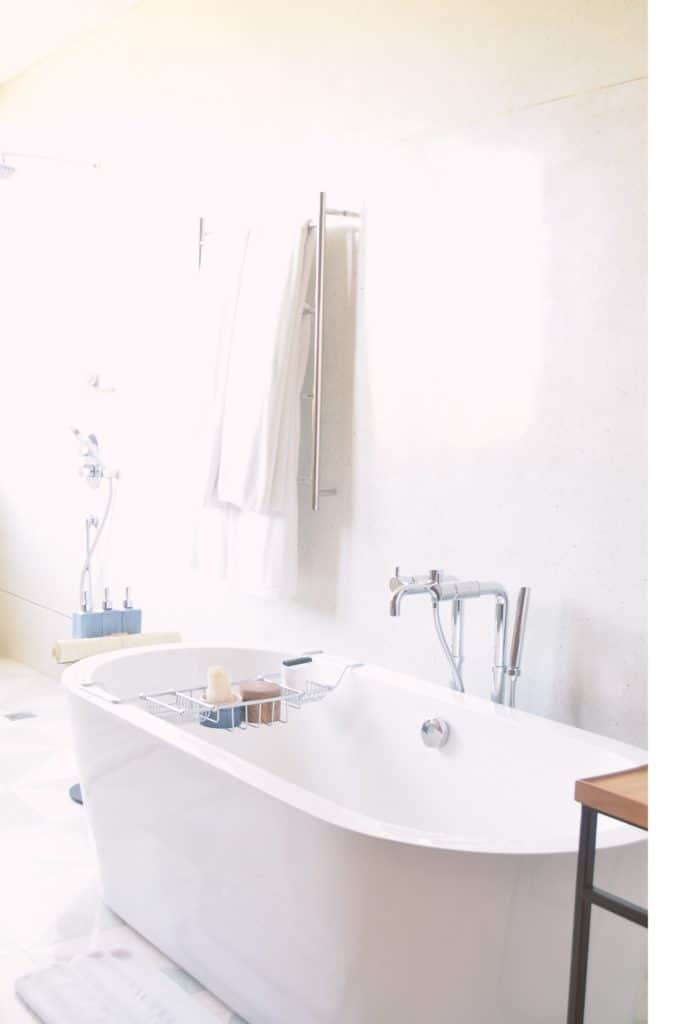 Scandinavian designs are also taking it in the other direction by opting for moodier themed bathrooms, incorporating black floor hex tiles or dark wooden decór.
Whichever you may choose, modern minimalist designs have at their heart a common goal to make you feel like you're in a Scandinavian spa overlooking the fjords.
6 Smart Home Devices to Keep Your Pets Safe, Well Fed and Entertained While You're Away
10 of the Most Stylish Minimalist Wall Clocks You Can Buy on Amazon 
How to Successfully Integrate Smart Home Tech into Your Own Home
How to Make Your Home Cat-Friendly